At the summit, senior officials reviewed the entire preparation work for the 35th ASEAN Summit and related high-level conferences, including the agenda, agenda and over 40. The document is expected to submit to senior leaders for recognition and approval.
On this occasion, Thailand reviewed the implementation of major priorities and initiatives in the ASEAN Presidency Year 2019, including the ASEAN human resource development initiative and the building of a reciprocal roadmap between the ASEAN Vision 2025. and the United Nations Agenda for Sustainable Development 2030. On the sidelines of these conferences, a signing ceremony of the Memorandum of Cooperation between ASEAN and the World Football Association (FIFA) is expected to take place. for FIFA to increase support for regional football development.
In addition, senior officials also discussed a number of issues related to relations between ASEAN and partners, including the preparation for the ASEAN-Korea Commemorative Summit scheduled for late November / In 2019 in Busan, the ability to host the annual ASEAN-Australia Summit begins in 2020, further promoting the implementation of the Declaration on the Conduct of Parties in the South China Sea (DOC) and negotiating the Code of Conduct of Parties in the East Sea (COC) between ASEAN and China as well as prospects for developing relations between ASEAN and the Shanghai Cooperation Organization (SCO).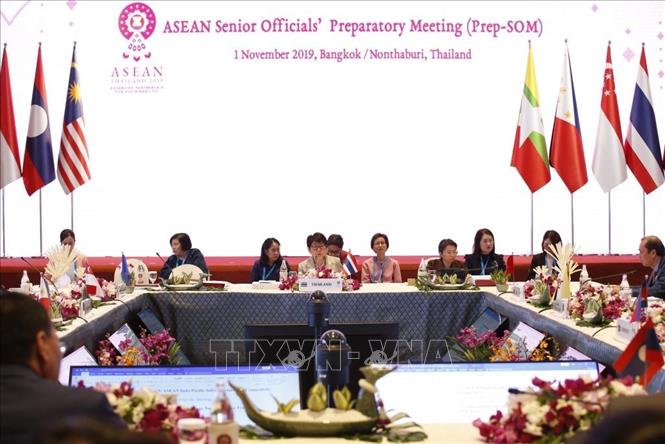 At the conference, the countries also expressed high consensus with a number of Vietnam's initiatives and proposals to further promote ASEAN political-security cooperation in 2020, including conducting mid-term review. The Blueprint for Building the ASEAN Political-Security Community 2025, strengthening the ASEAN Regional Forum (ARF) and strengthening the role of the ASEAN Maritime Forum in coordinating maritime cooperation activities in the region.
According to the program, the 35th ASEAN Summit and related summits will take place in Bangkok and the IMPACT Muang Thong Thani Convention Center in Nonthaburi Province from 2-4 November.