news
The successor to the "Gemini PDA"
The smartphone "Cosmo Communicator" equipped with a real keyboard. It's a kimono, but it's irresistible to those who stick it
Twitter

LINE

Ending

share
Links International has announced that it will introduce the "Cosmo Communicator" mobile device from Planet Computers in the UK to the Japanese market. It is scheduled to be released at the end of September 2019, with an estimated selling price of around 100,000 yen. Since I have seen the actual machine at the presentation held in Tokyo, I will report the details such as specifications.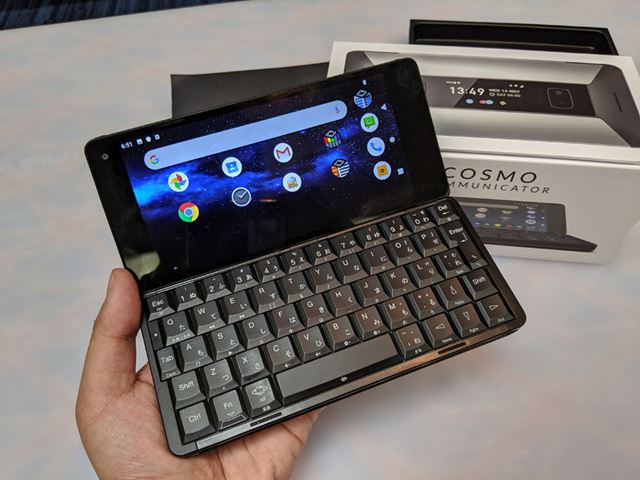 Smartphone with keyboard "Cosmo Communicator"
A smartphone that can be folded, an Android device that can be used like a notebook PC when opened
"Cosmo Communicator" is a device equipped with a 5.99 inch full HD display (2160 x 1080) and a keyboard. It is equipped with Android 9.0, and while it has the same functions as a smartphone, such as answering a call or installing an application from Google Play, you can also use it like a laptop using a keyboard. The developer Planet Computers has previously released a mobile device equipped with Android called "Gemini PDA", and "Cosmo Communicator" will be the successor.
The basic specs are MediaTek "Helio P70" CPU, 6GB memory, 128GB storage capacity (up to 512GB microSD), and 4,220mAh battery capacity. The "Helio P70" is a CPU with middle class performance, although it has few smartphones. The main body adopts a foldable mechanism and can be used like a smartphone when folded and a mobile PC when opened.
* Postscript: September 9, 2019
There was a mistake in the name of the CPU, so it was changed to "Helio P70".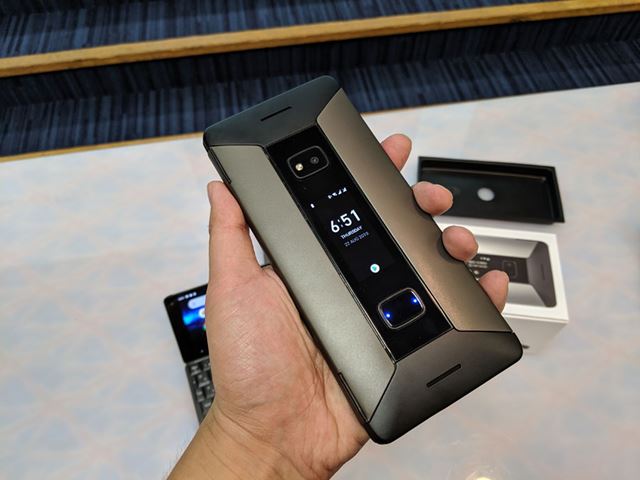 When folded, the size is 170.1 (length) x 70.93 (width) x 10.73 (thickness) mm. The weight is 326g. It's bigger than a large-screen smartphone such as the 6.4-inch "iPhone XS Max", and I felt it was thick and heavy even if I held it by hand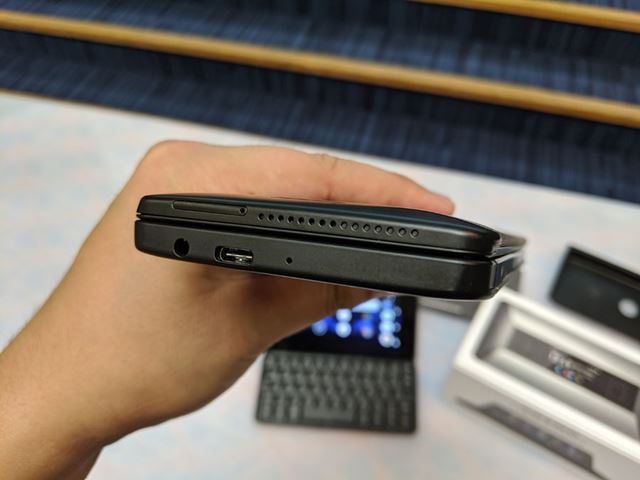 When folded, it is about the thickness of two smartphones.
On the back is a 24-megapixel camera, a 2-inch organic EL panel (touch screen), and a fingerprint authentication sensor. The touch screen can be used to display notifications such as phone calls and emails, and to perform simple operations such as the display for taking selfies, turning Wi-Fi and airplane mode on / off.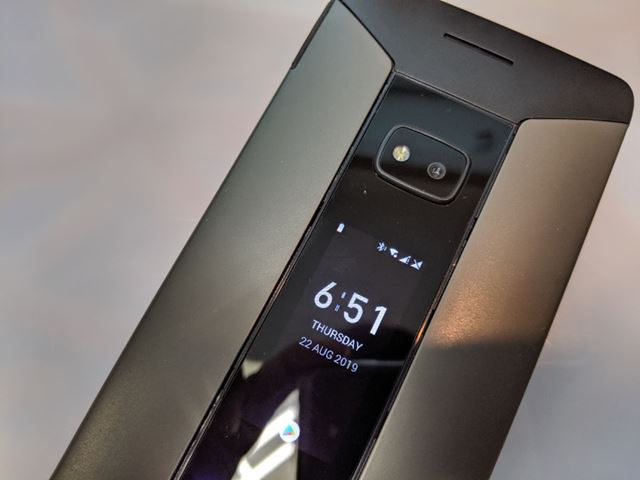 By installing a display on the back, it is designed so that you do not need to open the terminal when checking notifications or changing settings easily
The interesting thing is that the fingerprint authentication sensor is a physical button type, and it corresponds to the operation of receiving an incoming call and ending the call. Also, by installing call speakers on both sides (top of the camera and bottom of the fingerprint authentication sensor) and microphones on both the top and bottom of the terminal, you can receive calls even when inverted ..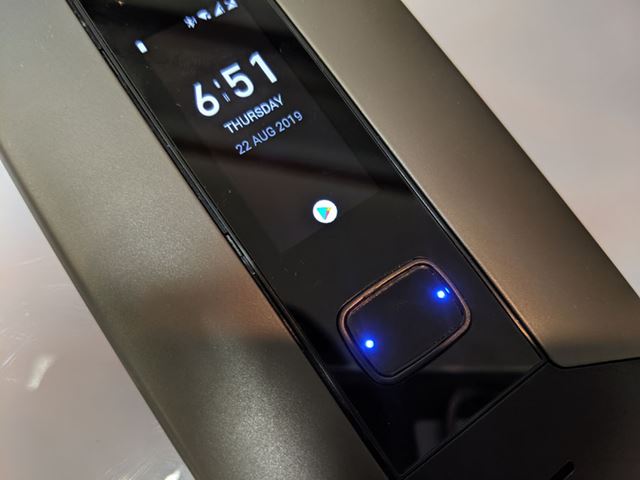 The blue light is on, the fingerprint authentication sensor that doubles as a physical button
The 5.99-inch display mounted inside the terminal supports multi-touch operation. An in-camera with 5 million pixels is mounted on the upper left of the display. If you use this in-camera, you can make a video conference like a laptop.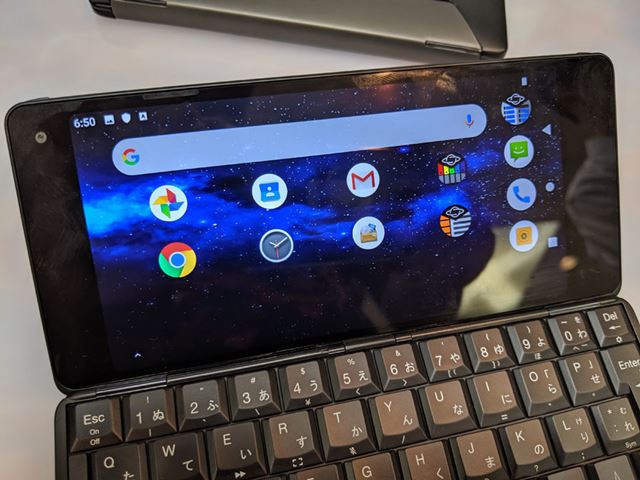 It has a keyboard so it can be used for work. This is a charm that general smartphones do not have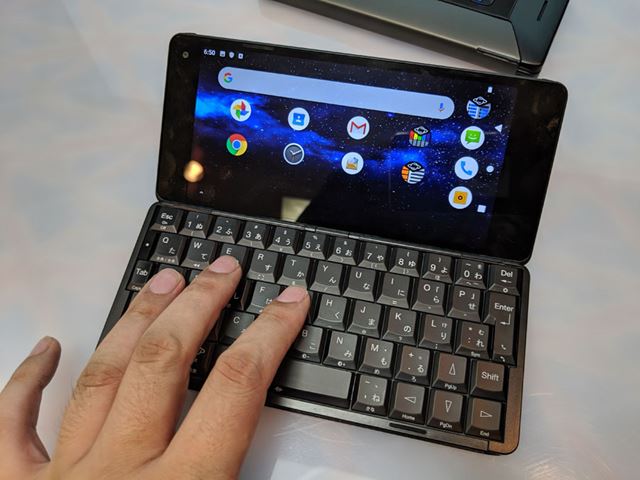 The keyboard has a solid keystroke feeling and is equipped with a backlight with adjustable brightness.
"Cosmo Communicator" is compatible with Sailfish, Linux (Debian / Kali), etc. in addition to Android. You can install up to two OSs and use them as needed. This will be a nice feature for professional users.
In addition to a 3.5mm audio jack, the interface has two USB Type-C ports, both of which support charging, file transfer, and video output. The SIM card slot can store two nanoSIM cards (one is exclusively used with a microSD card) and supports dual 4G. It is said that it also supports VoLTE, but it has not been certified by major manufacturers. IIJmio is the only service in Japan, but it also supports eSIM cards.
The compatible bands for communication are LTE FDD 1/2/3/4/5/7/8/11/18/19/26/28/41/71 and WGSM 850/800/900/1800 / 1900MHz. Wi-Fi supports IEEE 802.11 ac / a / b / g / n. Other functions are Bluetooth 5.0, GPS (Glonass / Beidou / Galileo), and various sensors (acceleration / compass / light / gyro).
"Cosmo Communicator" is a product that is quite squishy, ​​but irresistible to those who stick it. If you like gadgets, check it out.

Yuuji Mizukawa (Editor)
An omnivorous writer with an eye on the latest gadgets and games. I'm also interested in health care products because I've been getting a little messy lately. On holidays, I play games and watch movies.
Twitter

LINE

Ending

share
Related article
[Featured product to be released this week]"Surface Go 2″ that has grown to 10.5 type has appeared from Microsoft

5G smartphone for maximizing hobby, Sony "Xperia 1 II" 1 week use review

Amazon Fire HD 8 2020 model announcement! CPU / memory / storage / LCD all powered up

Both are high cost! Motorola's "moto g8" for 20,000 yen with 3 eyes and "moto g8 power" for 4 eyes with 30,000 yen

Full metal body for about 60,000 yen! 8-inch UMPC "MAL-FWTVPCM1" review

"Xperia 10 II" comes up from Y mobile! Available from late May

Approximately 870g with 14 type! Lightweight mobile notebook "Expert Book B9" from ASUS
.