#selfbroadcast #GMV #broke #million #consecutive #days #China #Jewelry #debuted #position #Kuaishou #selfbroadcast


In the past Kuaishou 616 Top 100 Brand Self-Broadcasting Competition, "China Jewelry" not only set a record for brand self-broadcasting growth with a chain growth of 21,519%, but also maintained its self-broadcast GMV breaking million for three consecutive days. At this time, it is less than a month since it officially opened its self-broadcast in Kuaishou.
As an important starting point for the rise of new brands in the new consumer era, brand self-broadcasting has undoubtedly become a hot vocabulary in the past two years.During the Kuaishou 616 Quality Shopping Festival this year, in May, 86 domestic brands launched Kuaishou self-broadcasting. The GMV increased by 115% month-on-month. The Hailan House and Handu Yishe, which are closely behind China Jewelry, also achieved 411 respectively. % And 208% month-on-month growth. These data directly prove that the self-broadcasting brand of Kuaishou platform is experiencing rapid and cascading growth.
Looking back at the self-broadcasting reform of Chinese jewelry, it can be said that it has taken a clear development path. Since entering Kuaishou in November last year, it has firstly distributed feedback on water products from the master, and then started the brand self-broadcast.In mid-May this year, the official account of Kuaishou, the "Official Flagship Store of Chinese Jewelry", was officially born. In just one month, the number of fans reached 140,000. It ranked No. 2 in the second stage of this year's Kuaishou 616 Quality Shopping Festival. 1. The self-broadcast GMV exceeded 7 million yuan.
Looking at the entire live broadcast e-commerce industry, brand self-broadcasting is undoubtedly the general trend in this field. It can not only save the cost of brand inviting anchors, but also help brands achieve fan precipitation and operation, and obtain more long-term value. However, the ideal is very full. When the new format of live broadcast, which is quite threshold, is really in front of the brand, there are still many problems waiting to be solved.
C position
Just over half a year ago, China Jewelry had not thought about store broadcasting at all.
After a full year of 2020, live broadcast delivery began to calm down at the end of last year, and the entire industry is also thinking about new trends, but most people still take a wait-and-see attitude.At that time, a large number of live broadcast talents flocked to various short video and live broadcast platforms. At first, China Jewelry just "followed the Internet celebrities", and established brand live broadcast exhibition halls in Liaoyang, Anshan, Linyi, Hangzhou, Guangzhou and other Internet celebrities gathering places. .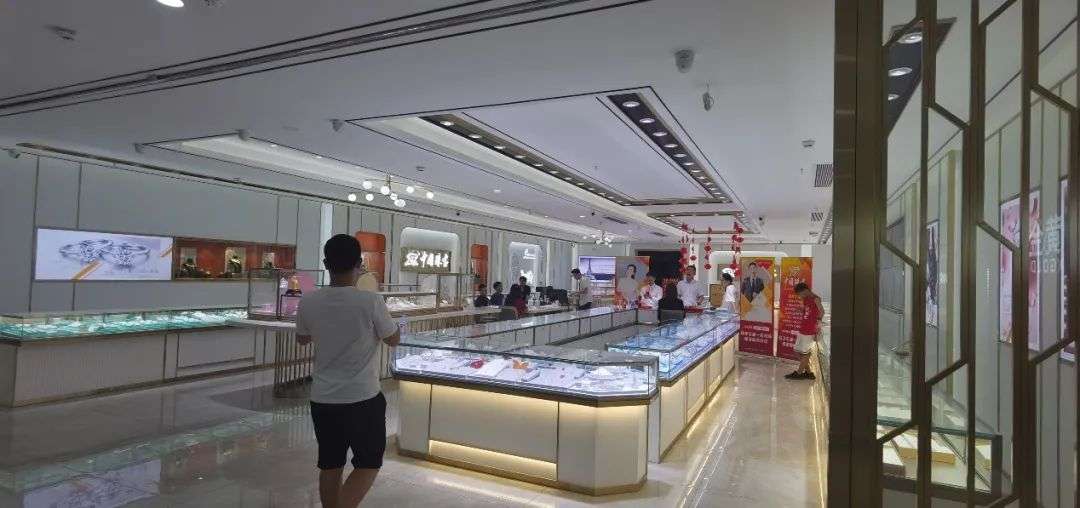 "Basically, it is a live broadcast booth of about 80-150 square meters. We have laid out samples for live broadcast in each live broadcast exhibition hall," the person in charge of China Jewelry told 36Kr.
Even though the Chinese jewellery is very active, the feedback from some anchors was not friendly at first. The jewelry category itself is a non-standard product. Initially, its category on the live broadcast platform was not perfect, and the quality of the goods was uneven, which caused a large number of anchors to worry about harming the interests of fans and dare not to bring goods for jewelry.
But the live broadcast cannot be missed. In desperation, through active communication and small-scale docking attempts, China Jewelry gradually established a fixed co-host in Kuaishou.In the end, through the Daren account to connect the distribution link of the Goods Alliance, it has been possible to achieve a single product link exceeding 100,000 GMV.
The jewellery category is growing very rapidly in Kuaishou e-commerce. On the one hand, the platform has formulated rules to improve the business and shopping environment. On the other hand, it is also in urgent need of high-quality brands such as China Jewelry. The operator of Kuaishou e-commerce finds Chinese jewelry and makes suggestions: Chinese jewelry should make continuous content output based on the brand's personality. For this suggestion, China Jewelry approves. Considering the production threshold of short videos, sitcoms and other content, China Jewelry is still looking for suitable team candidates so far. The store broadcast was officially launched in April this year. After nearly half a month of preparations, the first test came on May 14 this year. Because the input-output ratio data was very gratifying, it finally officially opened China Jewelry. The shop broadcasts the door.
From the initial distribution of products suitable for Kuaishou platform by Daren, to the official opening of self-broadcast accounts, China Jewelry has also taken a route that meets Kuaishou's expectations.From the perspective of Kuaishou, different brands have different characteristics. Every brand has different demands on short video and live broadcast platforms. Some people do it for sales, some do influence, and some do marketing.
"Generally, our first step is not to suggest that brands directly start self-broadcasting immediately. We may suggest to be a master distributor first," said Xiao Gu, the person in charge of Kuaishou e-commerce. The advantage of this is that the target population can be quickly tested at a lower cost and the matching degree of the goods can be understood. "Finding the target group, and then targeting the target group's advertising products, and finally a closed-loop trading system."
The biggest feeling of Chinese jewelry is that in the past, in the distribution system, consumers often recognized the anchor itself rather than the brand, resulting in multiple live broadcasts without any accumulation of the brand. The biggest feature of store broadcasting is that fans can settle into the private domain of its own brand, where brands can conduct repurchase operations in short video and live broadcast scenarios.
Similar to Chinese jewelry, Saturday Fu also increased its investment on the Kuaishou platform this year, and the most obvious effect is that "One of Kuaishou's advantages is that the rate of increase in followers is much faster than that of other platforms, and the repurchase stickiness is also several times that of other platforms. ", the relevant person in charge of Saturday Fu told 36 krypton.According to the financial report information of Kuaishou, the average repurchase rate of Kuaishou e-commerce users has increased from 45% in 2019 to 65% in 2020.
At the same time, the person in charge of China's jewellery live broadcast also has a clear perception. As the amount of live broadcasts gradually accumulates, their portraits of the target population of their own brands are becoming clearer. "On the Kuaishou platform, which age group my target customers are, which consumption level, and which regions are mainly concentrated in, these data will become more and more accurate."
Only for the brand, from the distribution to the self-broadcasting model, its delivery logic has changed, and the challenge has also come.
For a more sticky community like Kuaishou, it is necessary to put forward higher requirements for brand self-broadcasting. First of all, you must not have a sense of distance, and you must integrate with the old iron of Kuaishou to build a sense of trust.The most typical representative is the domestic make-up brand "Han Xizhen", which was personally broadcasted by the brand founder Wang Ni as a "boss lady", thus establishing a stronger sense of trust with fans.
In Wang Ni's view, brand self-broadcasting is not only selling goods, but also building a two-way communication bridge. On the one hand, it allows consumers to understand the core concept of the brand, and on the other hand, it can also collect feedback from consumers.
Perfect presentation of STEPS business methodology
In the report card of this year's e-commerce festival, "brand self-broadcasting" has become a direction that all major platforms attach importance to. As many brands are experimenting with self-broadcasting in Kuaishou e-commerce, Kuaishou's system and methodology have matured day by day.
As we all know, Kuaishou e-commerce started around Double 11 in 2018. The first sales festival allowed Kuaishou to see the potential of e-commerce business.
From the perspective of Kuaishou, the development logic of its e-commerce business has always evolved based on the changes and upgrades of the platform's own user needs.For example, starting with recording and sharing, Kuaishou has formed a good community ecology, where users initially consume content, which in turn evolves other consumer needs. As early as 2018, Kuaishou discovered that 2 million people on its platform asked "how to buy" and "how much money" in the comment section every day, which gave Kuaishou e-commerce a reason for its birth.
With the explosion of fast hand e-commerce business, it itself began to feed back the community ecology, thereby promoting mutual growth. Due to the rapid growth of the e-commerce volume of Kuaishou, in order to better meet the needs of users, Kuaishou has focused on the infrastructure of the e-commerce industry in the past year or so. It is the first to build a supply chain system, enrich the product pool, and establish the "source". Good goods" basic disk.
The "online" trend at the beginning of 2020 is another turning point for Kuaishou e-commerce. At that time, a large number of brands were looking for online opportunities, and Kuaishou e-commerce was also exploring branding at that time and looking for new ways for expansion. , "Cargo Alliance" was born.In May 2020, Haowu Alliance officially closed the beta on the Kuaishou platform, which solved the pain points of people getting high-quality goods, and also opened up new sales channels for brands. This later became an important measure for Kuaishou to support the ecological development of small and medium businesses. one.
Nowadays, Kuaishou is constantly adding to the satisfaction of consumers and brand merchants. Therefore, brand self-broadcasting has become a more logical focus of this year. Through the development and support of new brands, the brand will expand its sales channels while satisfying more consumer needs.
In order to complete this process more efficiently, Kuaishou internally summarized a set of brand business management methodology-referred to as STEPS, which represents Self-operation (brand self-broadcasting), Traffic (public domain traffic blessing), Elite distribution (daren distribution) Cooperation), Private domain (private domain business repurchase) and Specific supply (brand channel special supply) five aspects.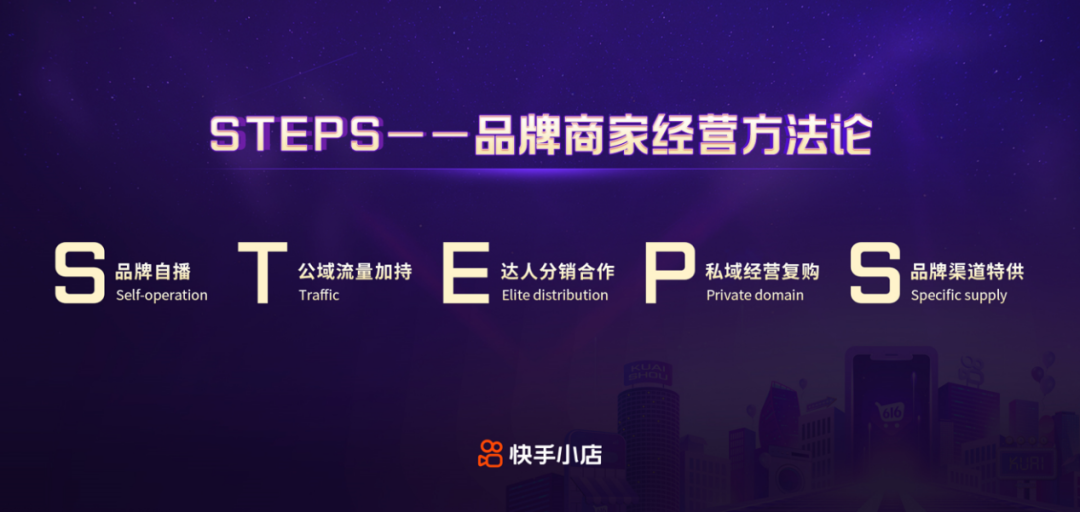 In other words, for those inexperienced businesses, Kuaishou provides a complete set of solutions that can greatly reduce the threshold for brands to set up self-broadcasting.
According to China Jewelry, when its store's official account was launched on the first day of Kuaishou on May 14th, the account had less than 300 fans. By casting Kuaishou vermicelli, it achieved higher exposure in Kuaishou public domain, and at the same time, it was quickly followed by sending benefits and guiding attention. After completing the accumulation of original fans, the number of fans reached 140,000 in one month, achieving a growth rate far surpassing other brands' self-broadcasting.
In the view of Chinese jewelry, this is also related to the category,Jewelry, as a non-standard consumer product with high unit price, itself tests the trust relationship between brands and consumers, And brand self-broadcasting starts from the perspective of brand building and spreads brand propositions, which in itself shortens the distance between the brand and consumers.
In addition, China Jewelry strictly follows Kuaishou's steps brand business methodology, so it stands out in this year's Kuaishou 616 Quality Shopping Festival.
As for the so-called brand channel special supply, Chinese jewelry has the same perception as Kuaishou.
For Kuaishou, the special supply model is essentially to better meet the needs of platform users. According to China Jewelry, Kuaishou fans have a particularly high degree of recognition for the gold jewelry category. In this year's Kuaishou 616 Top 100 Brands Autobroadcast Competition, China Jewelry has added a number of large-scale gold products. In addition to providing special products for the live broadcast platform and realizing C2M customization, China Jewelry also comes with more welfare gifts for the situation where prices cannot be broken."While maintaining the quality, we will give special gifts, sometimes sterling silver accessories, sometimes pure gold pendants, and some digital products such as tablet computers, air fryer, and air purifiers. "
The same example is the domestic down jacket brand Gofan. When choosing to settle in Kuaishou, Gofan chose to bind with Super Dan. Therefore, the two parties jointly created a special down jacket customized by Super Dan, which realized the reverse customization of the brand in the live broadcast e-commerce scene, and finally created a special product for the live broadcast platform.
This concept of starting from the needs of platform users also makes Kuaishou fans show high stickiness, and Kuaishou e-commerce has the highest level of repurchase rate in the industry.Nowadays, Kuaishou's determination to develop brand self-broadcasting has made many brand merchants unanimously optimistic. At present, the saliva baby under the snack category can also deliver more than 50 million live-streamed snacks in May during the off-season of snacks. China Jewelry also plans to further increase its investment in brand self-broadcasting based on a reasonable input-output ratio. On Saturday, Fuze expects it. The store broadcast system will reach a monthly GMV score of 100 million in June.
Self-broadcasting is king
To some extent, Kuaishou and these brands are in need of each other.
In essence, short videos and live broadcasts and many talents have jointly reshaped the growth path of the brand, and Kuaishou also played a key role in this round of brand incubation.
Heweifang, a brand of snail noodles from Guangxi, has been deployed in traditional e-commerce channels before but the improvement is not obvious. The outbreak of live e-commerce has led to the cooperation between Heweifang and Kuaishou, and the results of 4 million GMV per night have also changed. The direction of the brand Heweifang. Last year, Heweifang's sales on the Kuaishou platform accounted for 60% of its total sales.Through the establishment of influence in Kuaishou, the effect has even been fed back to traditional e-commerce platforms, allowing Heweifang's sales to achieve another breakthrough.
The brand saliva baby, which has also grown on the Kuaishou platform, is a regionally old domestic brand. The roasted products of saliva baby are distributed in various county-level cities in China, but the brand reputation is not very strong. Kuaishou provided a new growth idea for the saliva babies. In January this year, the saliva babies achieved a monthly GMV of 60 million in Kuaishou. This allowed the saliva babies to discover the value of Kuaishou, and finally decided to deepen their cultivation for a long time, making Kuaishou its important Sales channels.
The breakthrough growth of these brands is not an isolated case, but a true reflection of the changes in today's consumer era.
With the continuous changes in the past network environment and the continuous maturity of various Internet infrastructures, consumer behavior is showing a highly discrete state. Even short video and live broadcasting, as the largest industry with the longest daily usage time of users, are reshaping the decision-making link and decision-making mind of every consumer with the momentum of force majeure.
From the perspective of Kuaishou, the rise of the post-95s and 00s generation has also brought new ways of purchasing and consumption by people."Changes in content consumption and changes in duration will correspond to different brand business models, which will eventually create new channels, bring new dialogue and marketing methods, and reflect the innovative capabilities of the product itself.", Said Zhang Yipeng, head of Kuaishou e-commerce marketing.
From the perspective of brands, no brand does not want to reach and acquire enough consumer groups. This means that brands also need to hold fast hands, so as to obtain deterministic growth in more uncertainties.
Xiao Gu, the person in charge of Kuaishou e-commerce, also stated many times in previous interviews that Kuaishou hopes to find brands that are willing to grow with the platform. In other words, Kuaishou hopes to cooperate with brands that recognize the value of private domain traffic. Because of this, Kuaishou can become a position for brand operation and growth, rather than a simple sales channel.
Today, brand self-broadcasting is beginning to feed back the community ecology of Kuaishou. Kuaishou, who has nearly 380 million daily activities, has become closer to the overall portraits of Internet users at the level of crowd portraits. This means that the needs of Kuaishou users are also diversified, and the demand for brands naturally exists.When Kuaishou does a good job of matching demand and supply, a more prosperous brand development ecology and consumer consumption ecology will also be fermented and grown in Kuaishou.By then, the imagination space it can bring to people will also be infinitely enlarged.
.