Not only "clean eating" and "drinking clean", "clean breathing" are also very concerned issues of the society, especially families with young children. That is also the reason why air purifiers are gradually favored, especially when the weather changes, the role and use of this device is more clearly promoted.
With the ability to purify harmful dirt, bacteria, mold and increasingly integrate more advanced technology, science, air purifier is almost a close companion to bring fresh air for every family. Impressive when coming to the shelf for only 3 million VND, Xiaomi Mi Air Purifier 2H is the ideal air purifier for home.
Control easily with Home Mi and "Assistant virtual" Google Assistant
You are not a technology believer? It is not worrying because just connecting to the Mi Home application, you will easily control Mi 2H remote air purifier and monitor air quality in real time. Besides a host of other smart features like checking room air quality changes (including temperature and humidity), adjusting the mode based on room area, accessing air information. , turn on / off the power and inform the status of the filter.
The Mi Home application will automatically notify you when you need to change the filter, making the family's air always clean so you can promptly replace the new filter. Not only that, Mi 2H air purifier can also be combined with Google Assistant application, which helps you find and entertain extremely easily. You just enter the keyword, the virtual assistant will immediately find and show the results to you or do it with your own righteous voice.
The performance of Mi 2H air purifier is shown thanks to good compatibility with Mi Home and virtual assistant Google Assistant.
It only takes 10 seconds to replace the filter
All air filters will reduce filtering capacity over time and should be replaced promptly. Filters that are not replaced in time will not block harmful substances and may even cause secondary pollution. Cleaning with water or vacuum cleaner does not guarantee that the filter will restore to its original effective state.
For normal air purifiers, users want to remove the filter to remove each layer, but with Mi 2H air purifier, things will be much simpler. By integrating all three filter layers into a single HEPA filter, when replacing the user filter it takes only 10 seconds to pull out the old core and push the new core into, saving a lot of time for the maintenance process.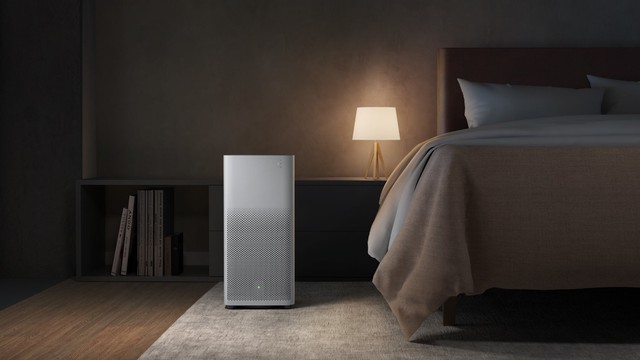 Mi 2H air purifier also includes a temperature and humidity sensor to provide more information about your surroundings.
"Breathe clean" with 3 layers of True Hepa filter 360 degrees
Filters are a key component, determining the air cleaning performance of the machine. Continuing to inherit the self-development of more effective air pressure systems, Xiaomi decided to equip Mi air purifier 2H True HEPA standard filter 360 °, effective air purification to 99.97 %
The first filter, also known as PET primary filter with 360 ° cylindrical core, is 3 to 5 times more rigid than regular filter layers, which will effectively filter dust and animal hair. The second filter is a H13-class HEPA filter capable of filtering particles of 0.3μm or more in diameter including PM2.5 particles, smoke, pet flakes, pollen and even pathogenic bacteria. And finally, a high-quality activated carbon filter helps absorb formaldehydes and other toxic chemicals, as well as deodorizing odors.
Effective noise reduction and power saving features
After a long day of exhaustion, everyone wishes to have a deep and smooth sleep. Whether working hard 24/7 to purify the indoor atmosphere, Mi 2H air purifier with improved aerodynamic technology will minimize noise and wind resistance, help you enjoy the peaceful and quiet of the night. In the night mode, almost no sound is heard from the engine engine. Now you can rest easy with the most relaxing and fresh air!
In addition, the custom engine from Japan's Nidec brand saves energy efficiently, consumes less than 58% energy and consumes only 4.8W of power in Normal mode.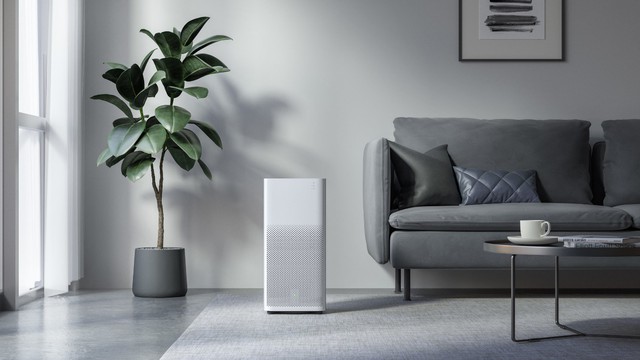 Mi 2H air purifier helps every family member protect healthy breath in every moment.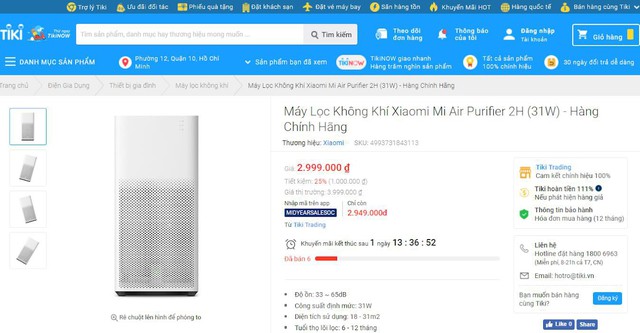 Xiaomi Mi Air Purifier 2H air purifier is currently sold exclusively online on Tiki
Summer shopping extremely exciting on Tiki has officially launched with "Xiaomi Family Festival" with attractive incentives, discounts up to 35%. Also in this event, Mi 2H air purifier will be sold exclusively on Tiki with extremely attractive price of only 3 million VND.

For details, please visit: http://bit.ly/Ngay_Hoi_Xiaomi_Tiki