ElectrodealPro would like to synthesize and share places with large screens to watch Vietnamese football across the provinces across Vietnam to help fans watch the AFF Cup fake soccer final between the team. Vietnam and Malaysia took place on December 11 and December 15.

Related posts
How to watch football on Vidio for users in Vietnam
VietNam-Seria: Xoilac TV Channel watching Vietnam U23 football live
Best Vietnamese football cheer song
Live U20 Vietnam vs France U20 15:00 on May 25 World Cup
How to watch Seagame 29 football using computer and phone
In order to serve football viewers can easily watch the match AFF Cup final Between the Vietnam and Malaysia team, many venues equipped with large screens to display the thrilling football match are eagerly awaited by many fans. Let's go through these The place with a large screen watching Vietnamese football down here.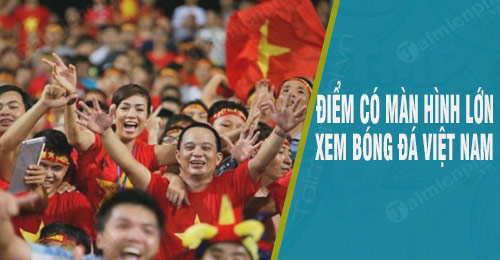 Location to watch the final Vietnam – Malaysia through the big screen in Hanoi
Next Media is the holder of the AFF Cup 2018 copyright, currently licensing a number of outdoor venues for the AFF Cup 2018, including on Hanoi pedestrian street, Nguyen Hue pedestrian street in HCMC, Ha Nam Stadium, 3/2 Square in Nam Dinh, Pleiku Stadium in Gia Lai, 2/4 Square in Khanh Hoa, Lach Tray Stadium in Hai Phong.
=> Watch live Vietnam vs Malaysia
Some locations have large screens that watch Vietnamese football
1, HCMC: Nguyen Hue Walking Street, Thanh Nien Cultural House, Rubik Zoo, Nguyen Tat Thanh University, Hoa Sen University, Hoa Lu Stadium
2, Hanoi: Pedestrian Street, Hang Day Stadium, Fountain Square Area opposite My Dinh courtyard, Times City Park Hill, University of Water Resources, University of Natural Resources and Environment, Thong Nhat Park, Truong Dinh Plaza
3, Thua Thien Hue: Hue University of Science, University of Law – Hue University, College of Industry
4, Can Tho: Luu Huu Phuoc Park
5, Hai Duong: Sao Do University
6, Gia Lai: Pleiku Stadium
7, Cinema: BHD cinema complex
8, Center: Aeon Mall,
9, Nghe An: Ho Chi Minh Square, Thanh Chuong Commune Stadium
10, Thanh Hoa: Lam Son Square
11, Ha Tinh: Cuong Gian commune stadium
12, Da Nang: Danang University of Gymnastics and Sports
13, Khanh Hoa: 2/4 Square
14, Nam Dinh: Square 3/2
15, Gia Lai: Pleiku Stadium
16, Quang Binh: Culture and Sports Center of Ba Don town
17, Lam Dong: Lam Vien Square
18, Hai Phong: Lach Tray Stadium
19, Ha Nam: Ha Nam Stadium
20, Times City Park urban area (Hanoi): Times City Square
Check out the situation at some big screen point
1. Score with large screen watching the AFF Cup final live in Ho Chi Minh Square, Vinh, Nghe An
On Nguyen Hue pedestrian street, Coca-Cola, the sponsor of the Vietnamese team, has also installed a large screen so that football fans can watch the final first leg and second leg of the AFF Cup. Vietnam Vietnam and Malaysia.
In addition, on the morning of December 10, the proposal to watch the final match between the Vietnam and Malaysia team was approved by the People's Committee of Nghe An province. All investment funds are raised by the Provincial Standing Committee from many different places. Currently, the organizers are urgently setting up a large LED screen in Ho Chi Minh Square in Vinh city to be able to timely stream the AFF Cup final 2018 football match.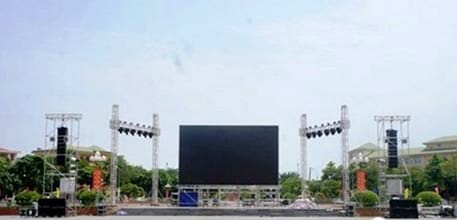 A 70m2 screen is installed in Ho Chi Minh Square
2. Spot with large screen watching Vietnamese football in Hai Phong
On December 10, the representative of Hai Phong football club also proposed to the People's Committee of Hai Phong City to hold a live football viewing on the big screen at Lach Tray Stadium. If approved by the People's Committee of Hai Phong City, the big screen, sound and light are also arranged and installed to serve football fans living, working and studying in Hai Phong. Watch this final match live.
3. Spot with big screen watching Vietnamese football in Hanoi
Not only the large screen is arranged in Hanoi's pedestrian street, but in Hanoi, the big screen for watching the AFF Cup final 2018 final is also arranged and installed in Hang Day Stadium, Hanoi – a football field just performed. The AFF Cup 2018 to hold the Vietnam and Cambodia team (November 24) for the fans to cheer, "send fire" to the Vietnamese players.
4. Score for watching live AFF Cup final first leg and return in Quang Binh
In order to meet the wishes and aspirations of the fans living and working in Quang Binh, the town's Culture and Sports Center has cooperated with businesses to arrange and install LED screens in Ba Don town. Fans can watch live throughout the game.
5. Spot with big screen watching Vietnamese football in Ha Tinh
Like the above provinces and cities, local authorities and businesses in Cuong Gian, Nghi Xuan, Ha Tinh communes have agreed and deployed the installation of large led screens in commune stadiums to help people in Nghi Xuan district. can join the cheerleading atmosphere and watch the final AFF Cup 2018 at Cuong Gian Stadium.
With the large-screen Vietnamese football viewing venues that we summarized above, I hope you will find the most suitable and convenient football viewing locations to blend into the ancient atmosphere. Soccer dancers final AFF Cup matches as well as watching soccer easier.
https://thuthuat.taimienphi.vn/dia-diem-co-man-hinh-lon-xem-bong-da-viet-nam-42673n.aspx
Along with the synthesis of the live scores of the AFF Cup final football 2018, ElectrodealPro also instructs how to watch football on Vidio for users in Vietnam to help readers know how to watch football on Vidio more easily.
.