April 27) QuestMobile released the "2021 China Mobile Internet Spring Report", which mentioned some data related to the mobile game industry.
In March 2021, the top 2 net increments of MAU (monthly active users) are Tencent's Call of Duty Mobile Game and Mihayou's Yuanshen, both of which have net increments exceeding 10 million. Both games will be launched in the fourth quarter of 2020 and are still in the stage of user accumulation, but their revenue capabilities are already considerable.
In addition, NetEase's "Light Yu" accounted for the highest proportion of users after the game, which exceeded 30%. "Call of Duty Mobile", "Watara", Riot Games' "Teamfight Tactics" and Celadon Games' "Dungeon and Lantern" all have more than 20% of post-00 users, which are quite popular among the younger generation. welcome.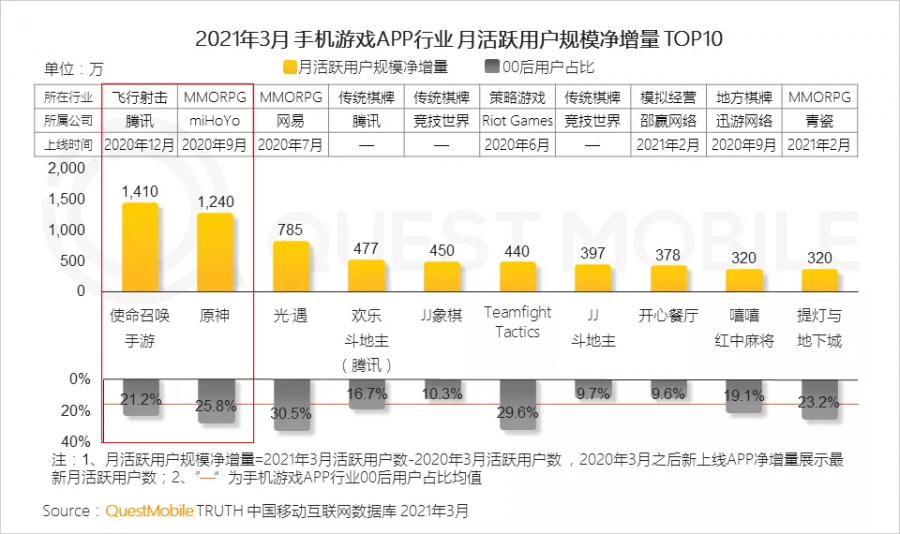 The two games with the highest increments in March have already had good revenue results. "Call of Duty Mobile Game (PUBG MOBILE)" was launched on the Chinese market on December 25, 2020. In the first week of launch, the iOS revenue exceeded 14 million U.S. dollars (approximately 90.78 million RMB). At present, the game is basically available on iOS for four months. Within the TOP50 bestseller list.
"Yuanshen" was released globally on September 28, 2020. It has earned US$302 million (approximately RMB 1.958 billion) in the Chinese market for six months after it went live. It is currently within the top 30 stable iOS best-selling list. In terms of going out to sea, Yuanshen has also ranked first in the game list for going out to sea for four consecutive months.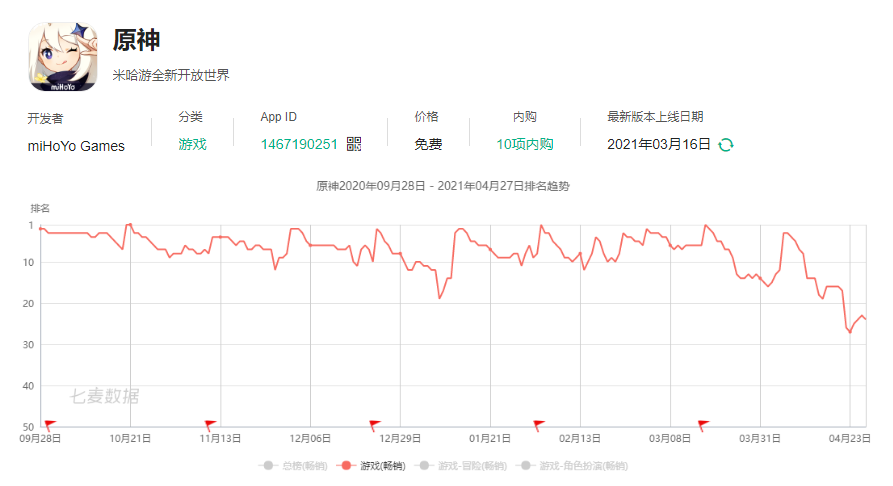 Judging from the game's 7-day retention rate, "Cross Fire: Gunfight King", "Call of Duty Mobile Game", and "QQ Speed", the fan users of the three "terminal games" adapted from the "mobile game" are 3~7 higher than ordinary users. Around 10%.
Most of the games on WeChat Mini Programs are female-oriented games. Among the WeChat mini-program games with MAU>1 million, female-oriented games accounted for 80%. Games such as "Yeluoli Fairy Makeup", "Mini Building Blocks", and "Animal Restaurant" had more than 10 million MAUs in March.
Among them, "Animal Restaurant" was launched on iOS in September 2019. In the past year, it has been in the TOP100 iOS free list from time to time.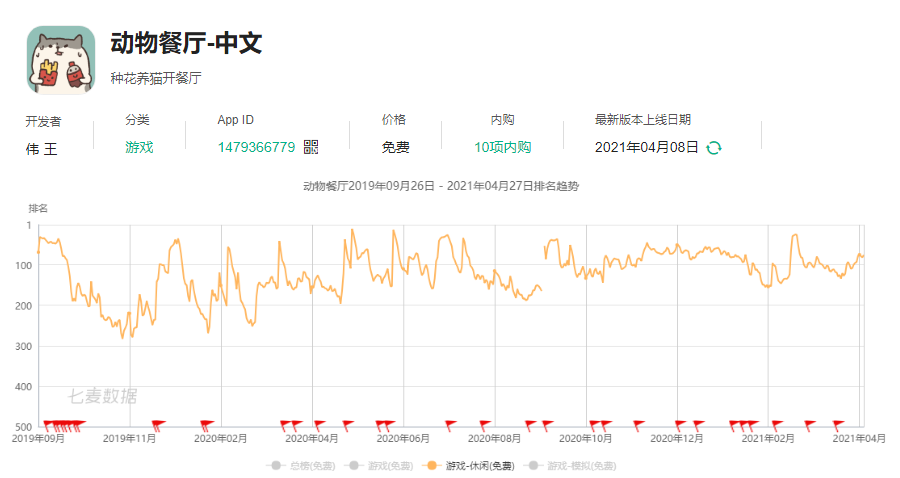 Source: Game News
Address: https://mp.weixin.qq.com/s/SfOwDdBfBm9HQ3QkvYEsMQ
.