In the past few days on many major technology forums, there have been many cases of AirPods Pro owners complaining about active noise cancellation (ANC) – the most valuable feature on the headset – unexpectedly poor performance. go without a known cause. Experts from technology website Rtings.com have started to verify the problem and came to the conclusion: AirPods Pro's active noise cancellation capability is less effective after the 2C54 Firmware update.
"After updating Airpods Pro to Firmware 2C54, we checked and found that the noise reduction performance of the headset was significantly reduced, mainly in the bass range. That means the AirPods Pro's ability to block deep noise (for example, vehicle engines) won't be as good as it used to be. "
This is difficult to detect because Apple does not allow you to adjust the level of noise cancellation. AirPods Pro is designed to automatically adjust the level of noise cancellation based on the actual outside environment. In addition, the Rtings.com team also noted that the midrange band has a slight "backward" phenomenon, and the accuracy of the high sound (treble) is also affected but not significantly.
In fact, the headphone performance is not stable after a software update is not uncommon. Bose and Sony – the two leading names in the commercial ANC headphone market – have had the same problem. Bose faced a month-long debate over the QuietComfort 35 II headset model when some customers insisted that the software update significantly reduced noise reduction compared to performance. original. Sony has had to deal with similar complaints about its 1000XM3 headphones.
Back to the case of AirPods Pro. Rtings.com noticed that Apple made some tweaks to the audio configuration of the AirPods Pro in the 2C54 Firmware update and it is likely that a problem has arisen.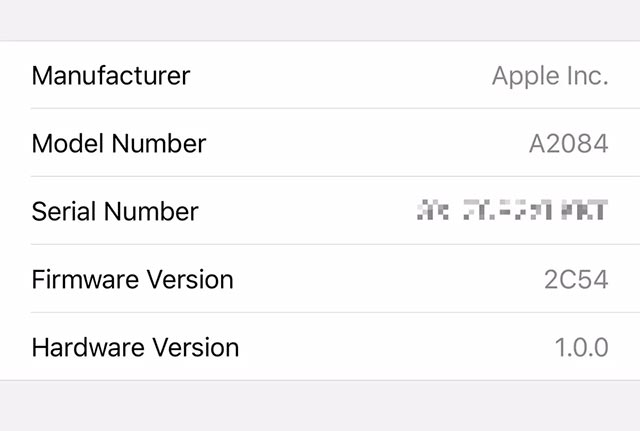 Besides, the fact that Apple automatically imposes new updates on AirPods Pro is also something that makes many customers unhappy. The whole process of downloading and applying a completely new update takes place in the background without notice. Users cannot refuse AirPods software updates, nor is there a way to impose updates at will.
As such, there is absolutely no way for Airpods Pro owners to remove or revert the update they think is in trouble. This is really inconvenient, and Apple recently had to decide to withdraw the Firmware 2C54 before the pressure from the user.
To check which firmware AirPods Pro is running, simply connect the headset to an iOS device, then navigate to the Settings -> General settings -> About -> AirPods -> Firmware version. Note, the old firmware is code 2B588, while the new version is 2C54 (has been revoked).
AirPods Pro is Apple's top-of-the-line headset, and this problem will certainly be solved soon.
.