(Techz.vn) Ho Chi Minh City has planned to deploy a software called "Medical isolation management platform system" to use so that people can make medical declarations at home.
Information from the Center for Disease Control of Ho Chi Minh City (HCDC) said that the unit together with the Department of Information and Communication, the Department of Health of Ho Chi Minh City and Viettel had an online meeting to agree on the plan to deploy the use of Using the "Medical isolation management platform system" in Thu Duc City and districts, wards, communes and towns in the city.
Accordingly, the software "Medical isolation management platform" will help the city manage all isolated cases at home, ensuring supervision of isolation in accordance with the regulations of the Ministry of Health, system timely reporting, proactively in the prevention of epidemics. The quarantine management software system will be deployed on the current infrastructure of the website tokhaiyte.vn and the Vietnam Health Decleration (VHD) mobile application.
Those eligible for home isolation will download the application to their smartphones. Users will declare a phone number, register for facial recognition and activate location using a smartphone. Every day, people isolated at home are required to make a medical declaration. To avoid fraud, the app requires access by facial recognition. The location system on the app will activate GPS-based location to ensure users do not leave the house.
It is expected that the quarantined person will make medical declarations 3 times per day and immediately report if there are abnormal signs of health such as fever, cough, difficulty breathing… Through the software, medical staff will directly monitor Those isolated at home can update each person's health situation and monitor compliance with epidemic prevention regulations.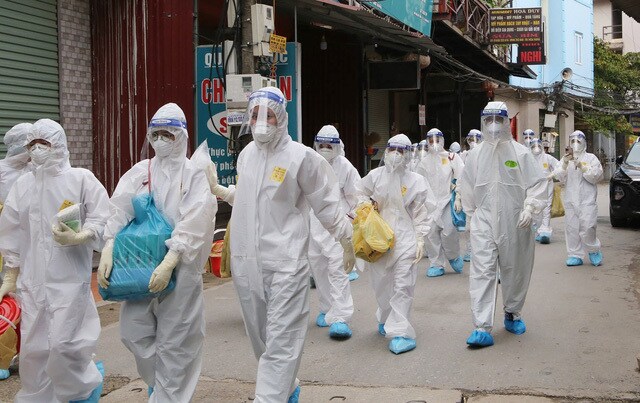 Before the complicated development of the Covid-19 epidemic, Ho Chi Minh City currently needs about 1,500 doctors, 5,500 nurses and technicians to supplement staff for the treatment block. Specifically, the support staff is expected to be assigned to take care of patients at makeshift hospitals for COVID-19 treatment; hospitals treating symptomatic COVID-19; treating patients at hospitals specializing in the intensive care of severe and critical COVID-19 patients. The application of technology to the management plan of isolated cases at home will contribute to reducing costs and considerable manpower for the frontline of the epidemic in Ho Chi Minh City in general and the whole country in particular.
.