Recently, on a series of foreign news sites such as Techradar, Wccftech … simultaneously posted images of "buffalo plows" with super cooling systems. More surprisingly, the author of the system "Mining Rig Watercooling – Buffalo Nuoc Dao Coin" was created by the famous Vietnamese modder, making many people admire.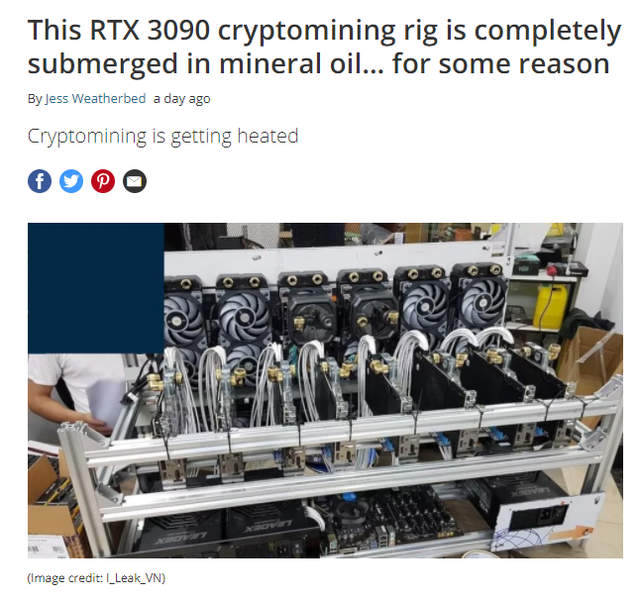 Techradar reported on the "staging of buffalo" super giant, including 10 RTX 3090s
It is known that the cooling system by Mr. Mai Trung Dung – a very famous modder in the field of custom water cooling in Vietnam – and his colleagues at Gland.vn have been researching, conceptualizing and tinkering throughout. 14 days and nights forgot to eat, forget to sleep.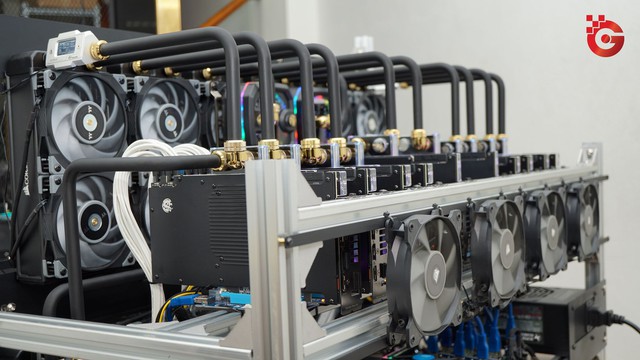 A close-up of the water radiator is extremely smooth for 10 RTX 3090 buffalo
Because mining requires all 10 RTX 3090s to run day and night, emitting a huge amount of heat (which can affect overall performance). So the author of the system decided to make use of his own expertise and passion for making water heaters to create super products.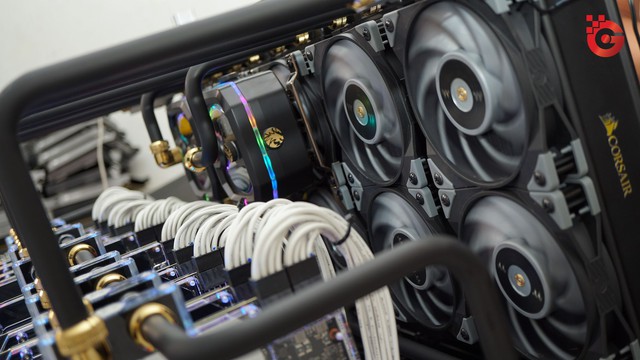 RTX 3090 is the fastest mining card, especially Ethereum mining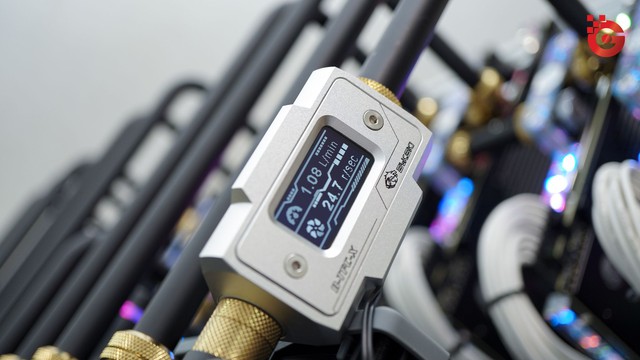 Particularly, the frame is designed to attach 10 cards, arranged equally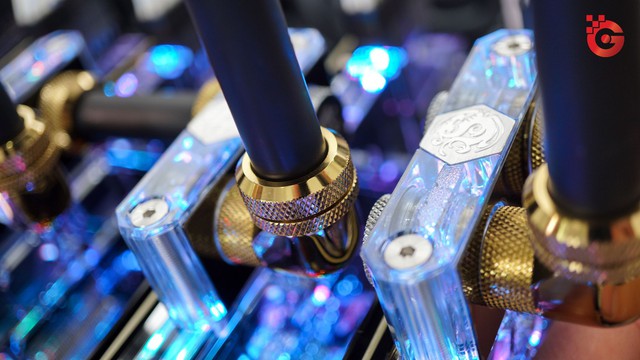 Every detail is carefully calculated, errors are not allowed in any stage
According to sharing from the owner of the machine, drawing up the drawing needs to achieve perfect accuracy, minimizing the probability of maximum error during the installation.
The calculation of the frame to be both aesthetically pleasing but also ensure heat dissipation performance for all 10 VGA cards at the same time also makes Mr. Dung and his colleagues "headache". That is the problem to make the most of the space, not allowed to be redundant or lacking.
"In the last three nights, we stayed up to finish the deadline. The fan was on, the lights were on, the water moved and 10 VGAs received … That's when we were happy because we knew the efforts of the team." It was well paid off. It feels great. ", Mr. Mai Trung Dung shared.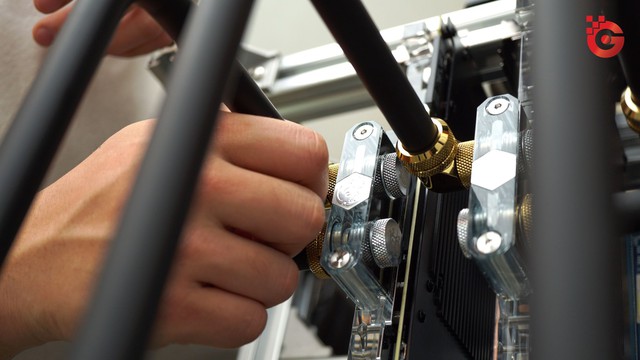 Each guide bar, each screw is checked carefully, no errors are allowed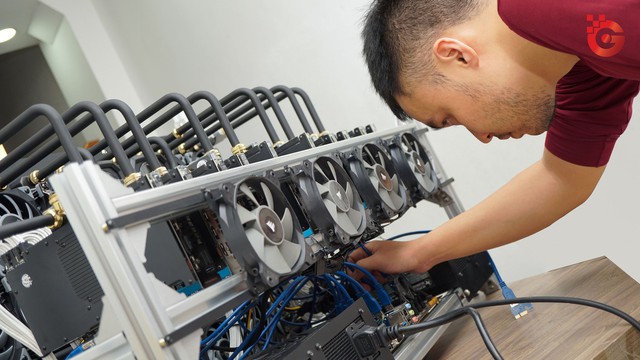 Mr. Dung and his colleagues had to work continuously for 14 days to complete the project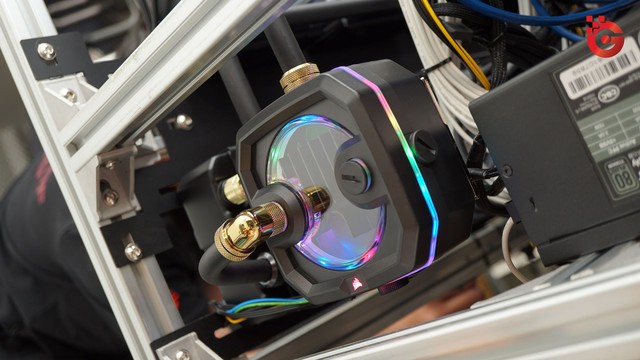 Fan was running, water was moving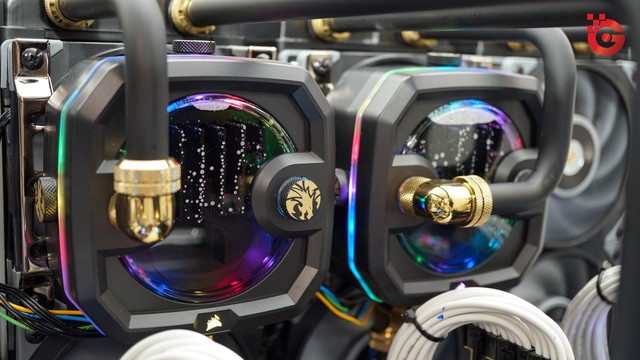 The team's efforts have been paid off
Accordingly, the RTX 3090 is fitted with Bitspower's heatsink block. Each card is fitted with a 280 mm radiator and connected to 3 Super Flower Leadex Titanium 1600W power supplies.
The motherboard used is the MSI B360-F PRO, which supports up to 18 GPUs. When opening up mining, all cards are "cool", no one exceeds 50 degrees C. It is true that using a genuine custom water cooler, investing nearly a billion is different from brothers.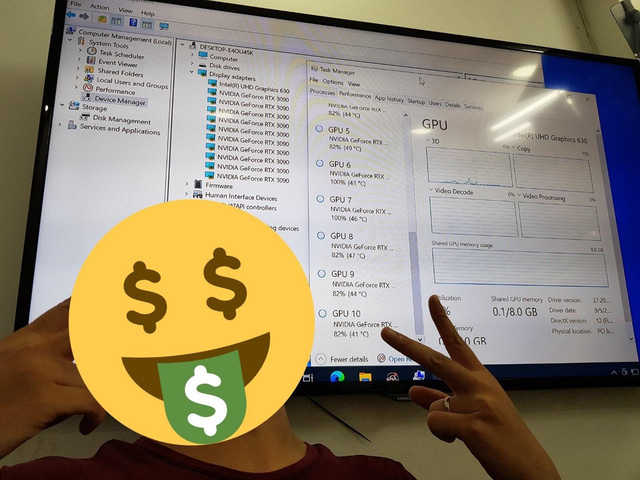 The image shared with all video cards is no more than 50 degrees Celsius
This proves the farmer's playfulness, and at the same time confirms one thing: When you have money, everything is smooth!