#Greater #Bay #Area #Technology #Innovation #Forum #hosted #Hong #Kong #Enlightenment #Center #Hong #Kong #Investment #Promotion #Agency #grandly #held


On May 25th, hosted by TusHoldings Hong Kong TusHoldings Center, a leading Chinese technology and innovation service companyScience and Technology Innovation Forum in the Greater Bay Area,Successfully held online. Hong Kong Special Administrative Region Government Financial Secretary Chen Maobo, Grand Bauhinia Honourable, GBS, MH, JP, Hong Kong Special Administrative Region Government Investment Promotion Agency Director Fu Zhongsen, and Chairman of TusHoldings Chairman Wang Jiwu attended and delivered opening speeches. More than 50 well-known technologies , Investment, industry leaders participated and served as roundtable guests. The event attracted about 150,000 people from 32 countries and regions to watch online.
The Science and Technology Innovation Forum in the Greater Bay Area isHong Kong Investment Promotion AgencySponsored by2021 StartmeupHK Entrepreneurship FestivalOne of the theme activities, byHong Kong Enlightenment Center (Tuition Star Hong Kong)Initiating and hosting,HSBCLead sponsorship. The forum focused on China's cutting-edge technology trends and business models, and comprehensively interpreted the new development opportunities in the Guangdong-Hong Kong-Macao Greater Bay Area from the perspective of Hong Kong.Tencent, NetEaseWaiting for Chinese tech giants,Cloud from Technology, Tuya SmartAnd other tech unicorns,Hong Kong Stock Exchange (HKEx), Jefferies (Jefferies), Zhen Fund, Sands River Venture Capital Fund, Qingsong Fund, Wuyuan Capital, Lenovo Venture Capital, Light Source Capital, TusStar, China ResourcesOther financial and investment institutions started discussions on topics such as technological innovation driving industrial upgrading, global technological trends and competition.
This online forum integratesKeynote speeches, round tables, workshops, business docking, virtual boothsIn various forms, the booth area attracted more than 80 group companies and technology companies from all over the world.
The government, industry, technology, and finance will jointly explore the unlimited development potential of the Greater Bay Area
As a national key development strategy, the Guangdong-Hong Kong-Macao Greater Bay Area has moved from the theoretical framework and infrastructure construction to soft integration. This forum invited representatives from the government, industry, technology, finance and other fields to discuss the development potential of the Greater Bay Area.
The Financial Secretary of the Hong Kong Special Administrative Region Government, Chen Maobo, stated in his opening speech that the SAR government is committed to promoting the establishment of an international technology innovation center in the Greater Bay Area, assisting Hong Kong technology start-ups to expand their business in the Greater Bay Area, and providing support for those interested in entering overseas markets. Mainland innovation and technology companies provide support and actively play the key role of Hong Kong in "bringing in" and "going out". Good progress has been made in innovation and technology cooperation in the Greater Bay Area. For example, Guangdong Province launched the Guangdong-Hong Kong-Macao Joint Laboratory Project in 2019. Among the first two batches of 20 laboratories, 19 all Hong Kong universities participated in the construction. In addition, the relevant departments of Guangdong Province, Guangzhou City and Shenzhen City have so far approved more than 160 million yuan to universities and scientific research institutions in Hong Kong for research and development projects or the establishment of laboratories, which has greatly promoted the flow of scientific research resources in the region.
Hong Kong Special Administrative Region Financial Secretary Chen Maobo delivered an opening speech at the Greater Bay Area Science and Technology Innovation Forum
Wang Jiwu, chairman of TusHoldings, said in his opening speech that technological innovation is a systematic project involving technology, investment, industry and other links. It is indispensable. The combination of technology and capital is the key. The Greater Bay Area has sufficient innovation resources and For the element links, what is needed at present is to open up all links and integrate regional industries, and coordinate with the world.
Whether it is technology or financial innovation, the ultimate goal should be to serve the real economy. Fang Xiao, the head of HSBC Hong Kong Industrial and Commercial Finance, said in the keynote speech that the development of the Greater Bay Area should play the role of a dual engine of "finance + innovation and technology", and technologies of different scales Innovative enterprises can enjoy the advantages of the global financial network and cross-regional market.
In terms of how to achieve innovation and synergy in the Greater Bay Area, Wang Fuqiang, director of the Industrial Planning Department of China International Economic Exchange Center, said in the keynote speech of the forum that we can try innovative synergy pilots, explore the governance model of co-construction, co-management and sharing, and realize the supporting environment for the development of science and technology. The coordination of systems and standards on the coordination of financial and financial support, the use of talents, and intellectual property rights protection.
To give full play to industrial advantages and achieve regional synergy, the guests of this forum unanimously expressed that the integration of the development of the Greater Bay Area needs to play to their own strengths and systematically build a development mechanism.
Technology giants gather, venture capital institutions have dialogues and explore the most cutting-edge technology trends
This forum invited representatives from technology companies and well-known investment institutions that most influence China and the world at the moment, and more than 50 guests surroundedIndustry (Technology), Greater Bay Area, InvestmentThree themes, 11 round-table discussions were conducted to comprehensively analyze the current status and future opportunities of the development of science and technology innovation in the Greater Bay Area.
The Guangdong-Hong Kong-Macao Greater Bay Area is becoming a new hot spot for investment with its sound industrial foundation and strong scientific research and innovation capabilities.This forum round table is gatheredZhen Fund, Jinsha River Venture Capital Fund, Qingsong Fund, Wuyuan Capital, Lenovo Venture Capital, Light Source Capital, TusStar,China Resources, New World, etc.Well-known venture capital and large-scale corporate investment. Among them, Liang Ying, the managing director of Lenovo Ventures, stated in the round table on the investment theme that the Greater Bay Area is a veritable Silicon Valley of China, with outstanding research results from universities in Hong Kong, outstanding talents, and a good industrial foundation in Guangzhou and Shenzhen. The pre-research and post-production model will help the large The Bay Area has become a new center of world development.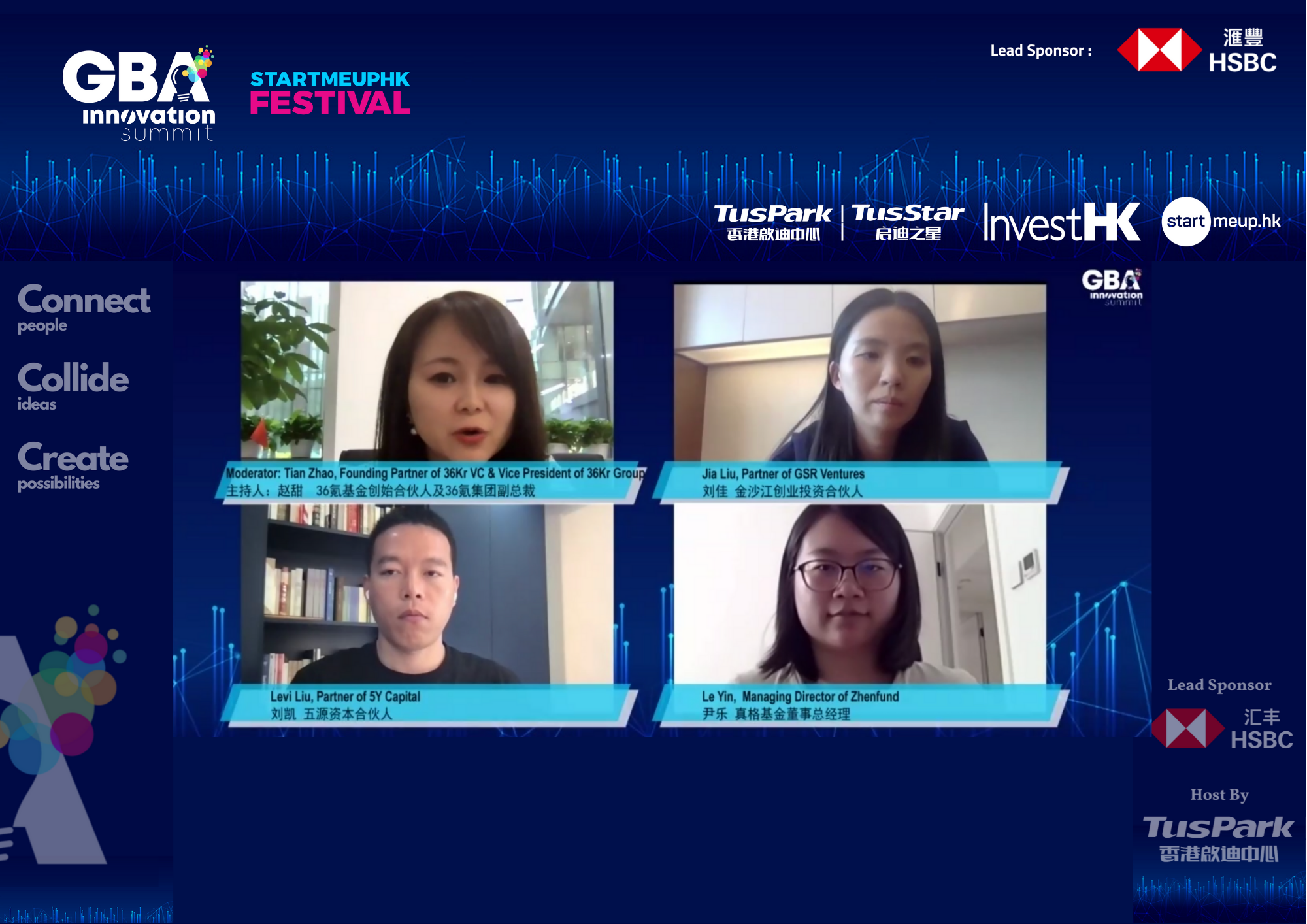 Roundtable Forum-The Golden Track of Venture Capital in the Greater Bay Area
The development of technology will promote the development of industry, and then promote economic development. The forum discussed the gradual maturity of a new generation of technology represented by artificial intelligence, which will empower the process and development of all industries. Advantageous industries in the Greater Bay Area, such as financial technology, will promote the integration of the regional economy with the world.Industry (science and technology) theme links,Forum invited toTencent, NetEaseWaiting for Internet giants,Yuncong TechnologyWaiting for artificial intelligence unicorns,Tuya SmartWaiting for new tech talents,Aqumon, BowtieAnd other well-known financial technology companies that have emerged in Hong Kong.
Hong Kong Stock Exchange, world-renowned investment bankJefferies, Industrial Internet Technology EnterpriseDip TechnologyUnder different themed round tables, other guests and representatives interpreted the unique development foundation and advantages of the Greater Bay Area in the fields of intelligent manufacturing, financial technology, green technology, and cross-border commerce from different dimensions. Chen Cong, head of the Hong Kong Stock Exchange's China listing and issuance service department, said that the total amount of IPO funds raised by the Hong Kong Stock Exchange in the past ten years is the largest in the world. One of its important missions is to promote the interconnection of capital markets and further enhance the convenience of cross-border investment and financing. , Connecting China and the world.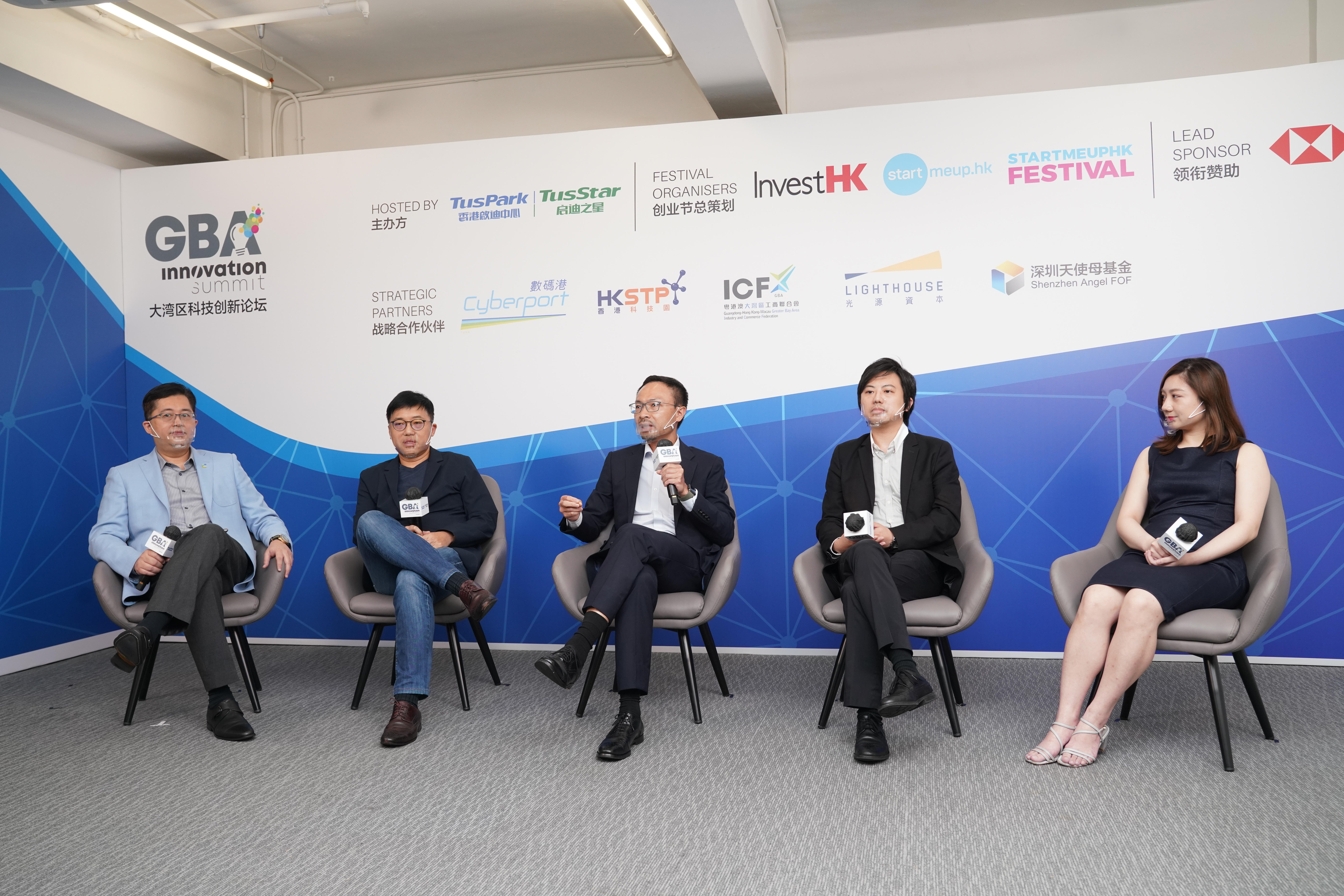 The Hong Kong line of the Greater Bay Area Technology Innovation Forum ends
All-weather workshops one-stop support for technology and innovation companies to land in the Bay Area
Forum is set24/7 workshops,From policy support, accounting and finance, laws and regulations, brand marketing, talent recruitment, etc., it solves various problems of start-ups from registration to development.
Policy SupportIn the session, the forum invited local governments such as Guangzhou and Jiangmen to interpret the different development advantages of cities in the Greater Bay Area, and provide policy guidelines for overseas, especially Hong Kong and Macau start-ups, to enter the Bay Area;Accounting and finance and laws and regulations are planned by well-known accounting firm PricewaterhouseCoopers (PWC) and law firm CMS, Systemically explain the common company registration, equity structure, ESOP, taxation, financing terms and other content of start-up companies.In the business growth segment, NetEase Smart Enterprise, iClickWait,From the perspective of brand communication and market operation, we shared Chinese brand, media, B2B marketing, online marketing and other strategic resources with participating companies. Talent agencies, Anstad Human Resources, PERSOLKELLY Hong Kong, etc. shared international talent recruitment, Chinese talent strategy, etc. .
The forum attracted more than 80 people from all over the worldVirtual booth, Including group companies, Hong Kong and Mainland China technology companies, etc.
About Hong Kong Enlightenment Center
As a leading enterprise in China's technological innovation service,EnlightenRelying on the establishment of Tsinghua University, through the "incubation, investment, merger and acquisition" model, more than 300 incubators, science parks, and science and technology cities have been established in more than 80 urban areas in China and around the world. A development network including business cooperation, professional institutions, investment and financing, and industrial chain has been constructed.Hong Kong TusHoldings was completed in Kwun Tong, Hong Kong in 2015, and officially launched its technology incubation business at the end of 2018. It has become one of Hong Kong's most commercial and technological innovation service organizations.
About StartmeupHK Entrepreneurship Festival
Open, diversified, free, finance, commerce, technology, Hong Kong is one of the most innovative and exciting cities in the world, and one of the most dynamic technology hubs in Asia.StartmeupHK FestivalInitiated and hosted by the Hong Kong Investment Promotion Agency, after five years of development, it has become a prestigious entrepreneurial feast in the pan-Asian region and even the world, aiming to build a communication platform for global technology innovators.
.