In recent days, the corona virus disease (Covid-19) has been booming in many European countries and showing signs of increasing in Vietnam with the number of infections has reached 39 people (according to statistics on 11th / 3/2020). This makes people interested in Formula 1 racing in Vietnam feel worried about the future of the F1 race in Hanoi on April 3-5 – 2020.
Recently, on the social network, there were screenshots of messages believed to be of members of the F1 event organizers in Vietnam. The content of this message is as follows: "Today's meeting of the F1 president and the Hanoi government confirmed that the race was postponed. However, the exact policy for the Covid-19 issue will be announced to customers from March 15"If this information is correct, the fate of the F1 race in Hanoi will be decided on March 15, 2020.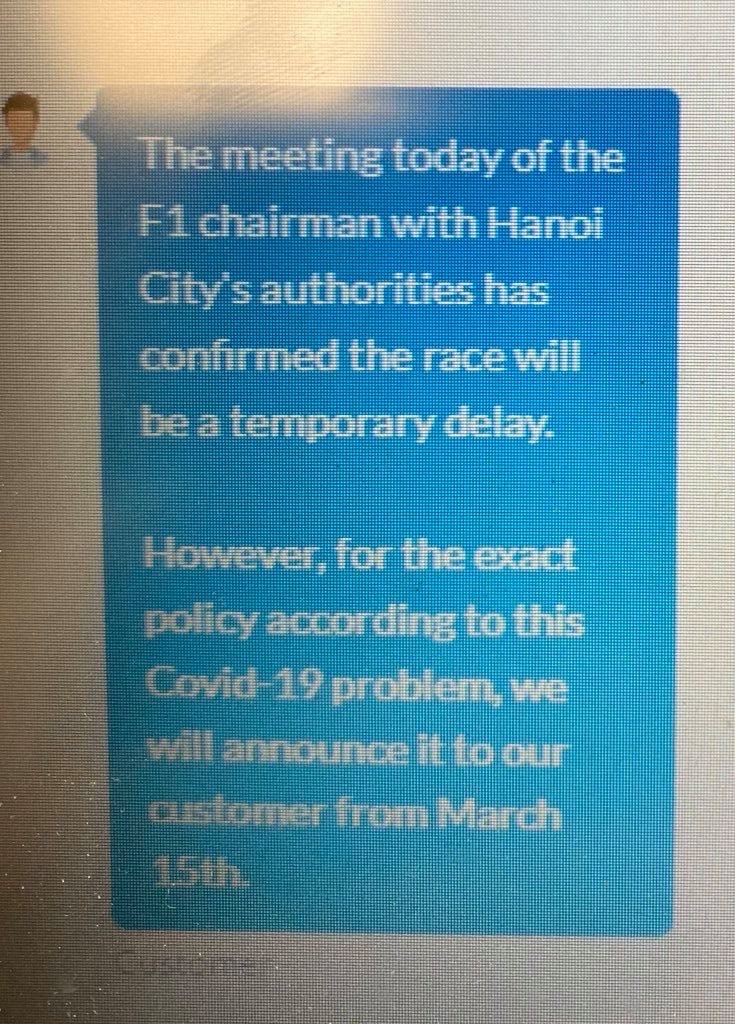 Earlier, on March 12, 2020, the Vietnamese side also issued a notice to stop granting visas to passengers from the European Union (EU) and the UK. This will probably be a major barrier for racing teams as two teams from Italy, Ferrari and Alpha Tauri, will certainly have to isolate 14 people upon entry. Meanwhile, they still attend the race on March 15, 2020 in Australia and March 22, 2029 in Bahrain, although Bahrain race has announced to ban the audience.
It can be said that this is a quite stressful time for both F1 organizers and the Hanoi government when making decisions to proceed or postpone the Formula 1 Vietnam Grand Prix race 2020. We will continue to send to the Read the latest news about F1 in Vietnam in the following articles.
Hoang Hien
.