Microsoft is currently planning to update the Excel app for iPhone to add a very interesting new feature that allows quick and convenient entry of spreadsheets and tables via the camera itself. be. Accordingly, users only need to take the iPhone to take photos of the data sheets on paper, not need to type again, the software will automatically turn them into a digital version stored on the machine. This digital version of course can still be edited or used as a template to import other data as usual.
This guy broke up with Microsoft Excel to come to Google Sheets after a long time with, and this is the reason
This feature actually first appeared on Android in March, allowing Android smartphone users to take pictures of paper tables (hard version) and convert to digital version (soft version) for editing. and in-app use on the device itself. In addition, you can also import hard data through the Excel for iPhone application in the way above and then continue to edit the soft version using Excel for Windows or Mac application as usual without any difficulty. Come on.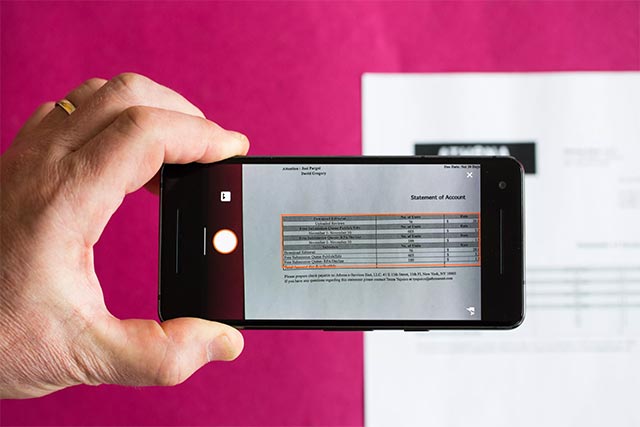 Users are about to be allowed to edit Microsoft Word, Excel and PowerPoint files in Google Docs
This feature sounds simple, but in fact, to be able to bring it to the Excel app for iPhone, Microsoft must use artificial intelligence. Accordingly, Microsoft has combined optical character recognition (OCR) with machine learning models to convert hard data on paper into soft digital boards while ensuring content is recognized. and completely accurate conversion. More specifically, the image recognition feature automatically detects and categorizes between different types of data, such as financial spreadsheets, work calendars, task lists, timetables, and more. other.
It can be said that this is one of the most impressive and useful features that Microsoft brings to its mobile office applications. Through the feature of converting hard data into digital data, Microsoft has shown that they know very well how to combine their various technologies and utilities to launch more useful features in the future, These are PDF Reflow, Office Lens and Seeing AI.
5 best alternatives to Microsoft Excel
This new feature will be immediately rolled out to the Excel iPhone application in 21 different countries (not yet in Vietnam). Can be downloaded from the App Store for iPhone or Google Play Store if you are using an Android device.
.