Apple introduced the iPad in 2010, but it was not until October 2011 that the Facebook app for iPad was available. During this time, a Facebook engineer even gave up and wrote on a blog that the reason for the delay was because of strained relations with Apple.
In July 2011, Apple's then chief software officer Scott Forstall sent an email to former marketing executives Phi Schiller and Steve Jobs. In the letter, he talked about talking to Mark Zuckerberg about the Facebook iPad app. He told Mark that Facebook shouldn't include "embedded apps". "It's not surprising that he's unhappy with these as he sees them as part of the 'overall Facebook experience' and isn't sure if they should make iPad apps without them," Forstall wrote. .
At the time, Facebook was turning the social network into a platform for games and apps. The most famous is the farm game Farmville, where gardeners in their Facebook account. Facebook wanted Apple to make concessions and made four suggestions, but Steve Jobs wanted to remove the third suggestion. In particular, he also misspelled Facebook's name as "Fecebook".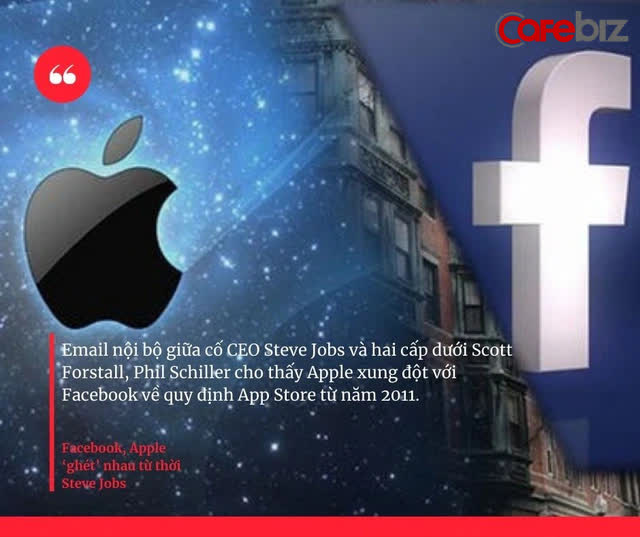 Three days later, Forstall followed suit and had a long conversation with Mark. Facebook doesn't like the idea of ​​banning the Facebook app from linking to Apple's Safari. Schiller responded: "I don't understand why we would want to do this. All these apps are not native apps (developed by Apple – PV), they have no relationship or permission from us, they don't use use our API or tools, they don't use our store…".
In recent years, relations between the two US tech giants have continued to heat up when last year, Facebook publicly criticized Apple for abusing control of the App Store and iPhone to "hurt developers and users". . Apple CEO Tim Cook criticized the way Facebook handles user privacy. Apple also used Facebook as an example for the new "do not track" feature in iOS 14.5.
For years, Apple's Tim Cook has said that Facebook treats its users like a product to monetize ads and is blatant about their privacy. Meanwhile, Mark Zuckerberg said that Apple products are very expensive and it has an implicit motive to direct criticism towards Facebook.
Last year, according to the New York Times, Apple even cut off Facebook's developer tools.
The latest chapter in the battle between the two companies that took place last week has made relations even worse.
Rub salt into the wound
Earlier this year, Apple announced it would introduce the App Tracking Transparency feature to give people greater control over their data.
Crucially, customers can choose which of their data – previously handed over by default – will be used by apps like Facebook.
That's a big deal for Facebook, which sells targeted ads for a lucrative profit. Facebook has said publicly that this will damage their company's business.
However, Apple has postponed the proposed changes until next year, giving developers time to prepare. In a letter outlining why the change was delayed last week, Apple's Jane Hovarth was unable to stop commenting directed at Zuckerberg's company: "Facebook executives have made it clear their intentions are to collect as much data as possible. This disregard for user privacy continues to expand."
Facebook countered that: "They are using their dominant market position to prioritize their own data collection, while making it nearly impossible for their competitors to use the same data sets. They claim it's about privacy – but it's about profit."
That was like rubbing salt in the wound for Apple, which prides itself on its belief that it has a better business model than Facebook.
Since 2010, Apple co-founder Steve Jobs has warned Facebook about privacy. And in 2018, Mr. Cook, Apple's current chief executive, said he could have followed Facebook's lead in using the data to sell ads but "we decided not to do that".
One of the most popular TV commercials in the US this fall is Apple's privacy campaign. In the ad, many people uttered embarrassing things they had searched the internet for to random strangers. The ad's tagline was: "Some things shouldn't be shared – iPhone helps you keep it private."
So Apple clearly believes that privacy belongs to everyone, and it would be strange for Apple to undermine this belief of theirs, as Facebook accuses.
It's not fair to the developers
However, many political parties have described Apple as a monopoly. The company is taking a series of legal actions, after allegedly abusing its App Store to impose unfair terms on developers.
And then there are accusations that they don't pay enough tax on the profits, which Apple has denied.
In 2014, when Cook first publicly criticized Facebook for treating its customers as a product, the Facebook executive hit back, telling Time magazine: "I'm disappointed that more and more people are getting on with it. equate an advertising business model that doesn't work for your customer somehow. What do you think, because you're paying Apple, that somehow you fit them? , then they will make their product a lot cheaper".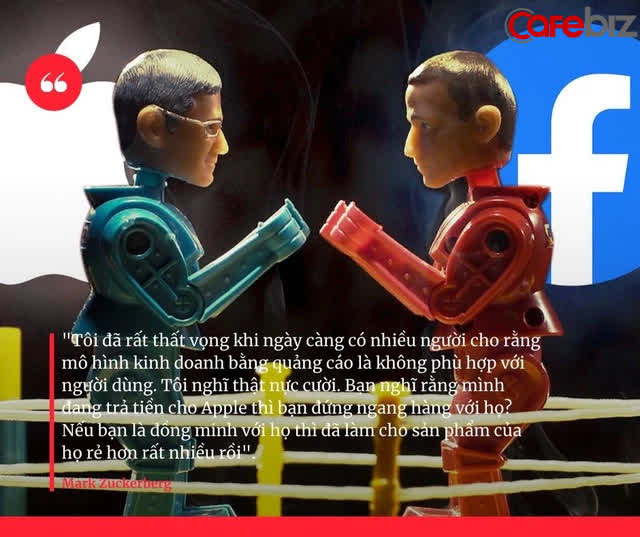 In an interview published on the cover of Time Magazine in 2014, the head of Facebook criticized Apple and Tim Cook's stance on privacy. "I was very disappointed when more and more people thought that the business model by advertising was not suitable for users. I thought it was ridiculous," Zuckerberg said. "You think you're paying Apple, so you're on par with them? If you're allied with them, you've made their products a lot cheaper."
Strange war
What's even more bizarre of this mutual contempt is the dependence of the two companies on each other. The iPhone would be less appealing to many customers if Facebook (along with WhatsApp and Instagram) wasn't on their phones. Conversely, would people look to other social media platforms if they couldn't use Facebook on iPhone?
Both companies having a healthy and strong working relationship is a reasonable prospect, but it is not.
Apple expert Carolina Milanesi is one of many who believe that the two companies see the world differently and that the rivalry between them is cultural and personal.
Philosophically, they're very different. When you're looking at Apple, if the company feels hate about the way Facebook is behaving against their customers, then why are we including Facebook? as an app on Apple devices?"
And that is the crux of the matter. So far, this is how the two companies don't get along. But it's a mock war: really, the relationship between the two companies is symbiotic.
However, what Apple is currently proposing is not contrived. Apple's privacy obsession doesn't bode well for Facebook. Apple's new rules will hurt this social network.
Of all the possible rival pairs in the big tech sector, Facebook and Apple seem the least likely. Google is Facebook's obvious competitor; and Microsoft and Google are Apple's. But privacy issues have sparked a long battle between Facebook and Apple.