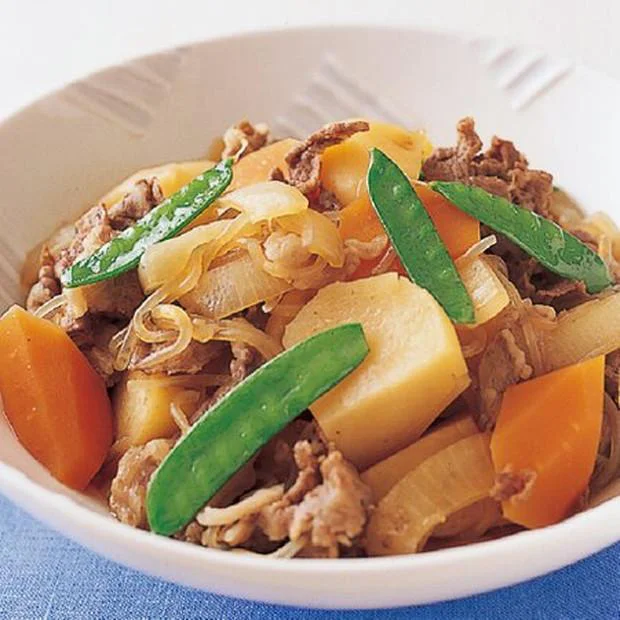 Meat and potatoes
Yuzukosho Nikujaga
Salt butter meat potato
Tomato and tomato range meat potatoes
Rich horse meat potato
Japanese classic side dish, meat potatoes. Have you ever made it in the microwave? If you're wondering, "Does the ingredients really taste?" Or "Vegetables are going to harden …", give it a try! Even if you don't use fire, you can make Hokuhoku Nikujaga with the taste soaked in the ingredients ♪
Meat and potatoes
[Materials for 4 people]
Chopped beef … 300g, potatoes … 3 pieces, carrots … 1/2 pieces, onions … 1 piece, silk pods … 12 pieces, shirataki noodles … 1/2 balls, combined seasoning, soup stock … 2 cups, soy sauce … 5 tablespoons , Sugar … 4 tbsp, liquor … 3 tbsp
[How to make]
1. Cut potatoes into 4 to 6 pieces and soak in water for about 5 minutes. Cut carrots into bite-sized pieces. Cut the onion in half lengthwise and cut into 1 cm widths at right angles to the fibers. Silk pods remove streaks. Cut the shirataki noodles into small pieces.
2. Mix the seasoning ingredients in a heat-resistant bowl. Add 1 excluding silk pods, wrap gently, and heat in the microwave for about 10 minutes until the bamboo skewers pass through the potatoes and carrots.
3. Add beef, mix, wrap gently and heat in the microwave for another 10 minutes. Take it out, add silk pods, mix gently, wrap and leave for about 2 minutes, then cook with residual heat.
(402kcal for 1 person, 2.9g salt)
A classic recipe that is perfect for a side dish of rice. Vegetables cannot be cooked unless they are soaked in the broth, so the point is to add the broth until the ingredients are covered. Beef is added later to prevent it from becoming too hard. After lentin, put it a little and the taste will be absorbed.
..