A Chinese man surprised everyone by the way of transporting 90 expensive iPhones at the same time from Macau (China) to the mainland.
Two days before Christmas, a customs officer at the Gongbei border gate in Zhuhai city, Guangdong province, China accidentally discovered an abnormality in a man passing through a checkpoint.
Noticing that the man's legs and stomach were extraordinarily bulky, the customs officer stopped checking and found a total of 90 iPhones wrapped around him with tape.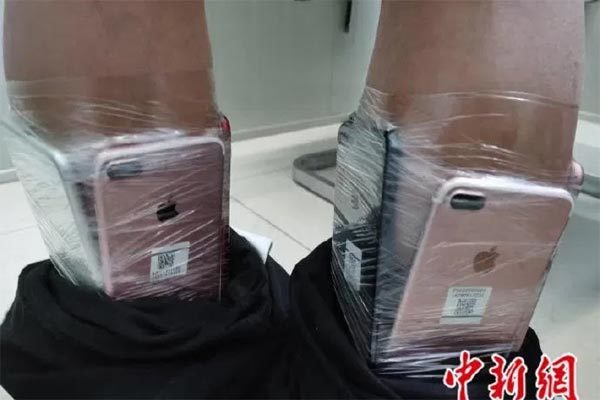 The man used tape to wrap dozens of iPhones around his legs and stomach. Photo: China News
According to Shanghaiist newspaper, over the years, iPhone has become one of the most smuggled items into mainland China through Hong Kong and Macau.
The man who has recently been arrested in Gongbei is an incredible case of carrying illegal iPhones. But he still hasn't broken a record of a woman arrested by Shenzhen customs in 2017 with 102 iPhones wrapped around her chest.
Tuấn Anh