Talking to the Securities Investment Review, Mr. Do Tien Dung, Chairman of the Board of Directors of Hang Xanh Automotive Service Joint Stock Company (Haxaco), said 2019 was an extremely difficult year for the automotive industry. Many businesses fail to meet their set targets, even making a loss.
"If every quarter IV is the most profitable quarter, in 2019, due to fierce competition, many dealers sharply reduced prices, leading to a serious drop in profits," Mr. Dung said.
Entering 2020, Chairman of Haxaco expects that the Company will grow well from 3 factors: Firstly, Haxaco's repair workshops are operating stably, high customer occupancy rate; secondly, the Mercedes manufacturer offers new models of customers' favorites, making it easier for distributors like Haxaco; Thirdly, Haxaco has established 2 luxury car rental divisions in the North and the South, promising to bring revenue and profit in the long term.
This year, the more favorable cars imported to Vietnam are also leverage to help distribution businesses grow.
A report of the Vietnam Automobile Manufacturers Association (VAMA) said that by the end of December 2019, domestic assembled vehicle sales decreased by 12%, while imported cars increased by 82% compared to the previous year. with the same period in 2018.
The whole market consumes more than 322,000 cars in 2019, an increase of 12% compared to 2018.
The automobile consumption market in Vietnam is assessed to have great potential and may reach 1 million vehicles / year by 2030 and the opportunity to equally divide for both manufacturers and distributors of imported cars.
Currently, domestic automobile businesses are investing heavily in production lines, but to be able to compete fairly with imported cars is not easy.
Recently, Thanh Cong Group signed a strategic cooperation agreement with Hwashin Group (South Korea) to build Thanh Cong Hwashin factory to produce automotive components. The factory is expected to go into operation in June 2020.
Leaders of Thanh Cong Group acknowledged that the battle between the domestic automobile manufacturing and assembly industry with imported cars would be increasingly fierce, especially in the context of imported cars having more advantages, overwhelming domestic cars. .
In 2020, a number of policies will be adjusted towards reducing difficulties for businesses. The latest information, the Ministry of Finance is submitting to the Government a draft amendment to Decree 125 on import tax of auto parts in the direction of abolishing import tax for assembling enterprises that meet the specific output of each model vehicle and overall output of the business.
The proposed revised Decree will be submitted to the Government for approval and the National Assembly for approval in the last 6 months of 2020.
In addition, the Government will soon issue a number of amendments in Decree 116/2017 / ND-CP on conditions of production, assembly, import and provision of car warranty and maintenance services. in which imported cars will be inspected by type, instead of the current batch inspection, and from pre-inspection to post-inspection, in accordance with the operation of the current automobile market.
Asean Securities Company (SeASecurities) in the analysis report on the prospects of the automobile industry in 2020 forecast, automobile supply will continue to be plentiful because the import volume tends to increase again thanks to ATIGA Agreement.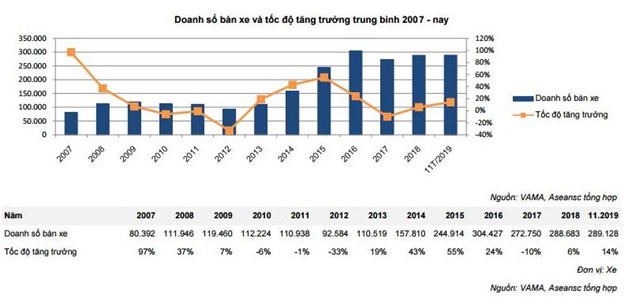 Vietnam's automobile industry is taking advantage of the trend of shifting automobile production from the Americas and Europe to Asia, while Vietnam is increasingly participating in the regional automotive supply chain.
In particular, Vietnam's automobile consumption market is assessed to be very potential, the period of automobile universalization in Vietnam can take place from 2025.
Along with that, the Government is showing determination in developing the domestic automobile industry.
"However, the Vietnamese automobile industry is facing the competitive pressure of imported CBU cars, when Thailand and Indonesia are an attractive destination for the world's largest automobile manufacturers. Meanwhile, policies related to the automotive industry in Vietnam are also not stable and comprehensive, so it has not provided maximum support for businesses in this industry, "SeASecurities said.
.