If Photoshop is too heavy for your computer and too complicated for you, use the following 5 alternative software to edit photos best, create the most convenient banner. These software are free with an intuitive interface and very easy to use, even for the most amateurs.
Related posts
Write text on images in Photoshop CS6
Top 2021 best free photo editing software alternative to Photoshop
Instructions to change white skin color to black in Photoshop
Resize an image in Photoshop 2020 effectively
How to install Photoshop CC on a computer
If you are looking for an alternative to Adobe Photoshop on your computer, follow this article for 5 best free Photoshop alternatives.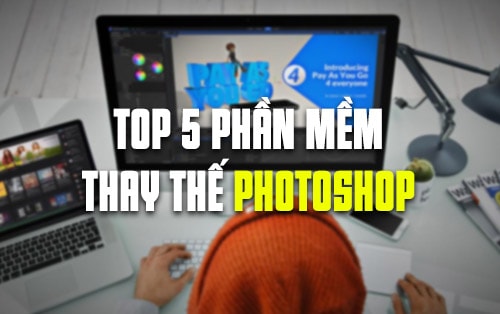 The 5 best Photoshop alternatives to Windows and Mac
Photoshop is not software that can run on all computers and sometimes your computer does not meet the requirements of this software. In addition, not everyone can use Photoshop proficiently when new. For that, you'll need the 5 best free Photoshop alternatives for Windows and Mac computers.
The 5 best Photoshop alternatives to Windows and Mac
1. GIMP
If you've ever used Linux, you've probably heard of the name GIMP or the GNU Image Manipulation Program. Although it works on Linux, GIMP can also be installed on both Windows and Mac.
Readers can download GIMP computer version here: Download GIMP.
Download GIMP version for MAC here: Download GIMP for Mac.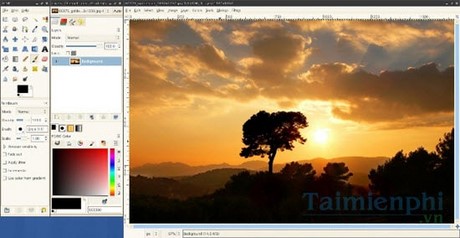 According to user reviews, GIMP is the best photo editing software that can replace Adobe Photoshop on Linux, Windows and Mac. GIMP owns most of the Photoshop features such as layers, toolset … etc. In addition, GIMP is also a very good software to create banners, giving you the optimization in the design that the reuse configuration is much lower than Photoshop. The only downside to GIMP is that it doesn't support RAW images.
To fix this, you can download plugins like UFRaw to help gIMP read and edit RAW files.
2. Pixlr
If you are looking for an online version of Photoshop, Pixlr is your best bet.
To use Pixlr online you visit Pixlr Editor here.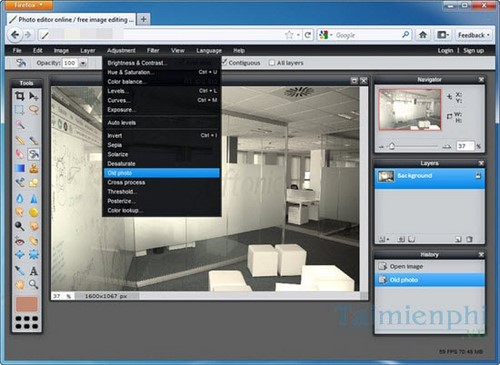 With Pixlr, you can edit images professionally like with Photoshop right in your browser. Pixlr's interface is designed to be minimal, with features that are clearly displayed. Pixlr also has a mobile version. And you will certainly be more surprised to know that the developer of Pixlr is Autodesk, the big man behind the familiar names with graphics people like Maya, 3DS Max and Autocad.
Note: Turn off tabs when using Pixlr so that the application can operate smoothly and without lagging.
3. Paint.NET
While reading this article, you'll want to be looking for a piece of software that is as fast but efficient and full-featured as Photoshop. If so, choose Paint.NET.
Readers can download Paint.Net version here: Download Paint.Net.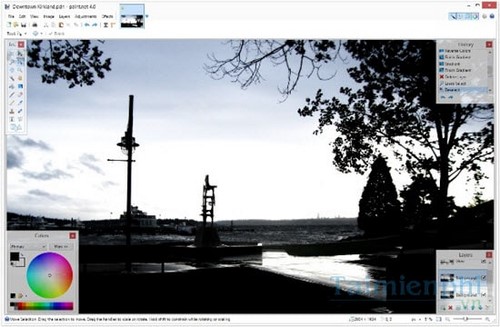 Paint.NET software provides basic Photoshop features such as layers and retouching. However, as a whole, Paint.NET won't be as robust as GIMP. When you need more features, you can install plugins in a wide variety of plugins developed by experts in the Paint.NET community.
Paint.NET eliminates the disadvantages of GIMP when it supports RAW files as well as other popular image formats. Currently, Paint.NET is only compatible with Windows.
4. Seashore
If you are looking for the best Photoshop alternative for Mac then Seashore is a great suggestion for you. Unlike GIMP, Seashore is only supported for Mac only.
To use Seashore, download the software here: DownloadSeashore.
Version Seashore for Mac download here: Download Seashore for Mac.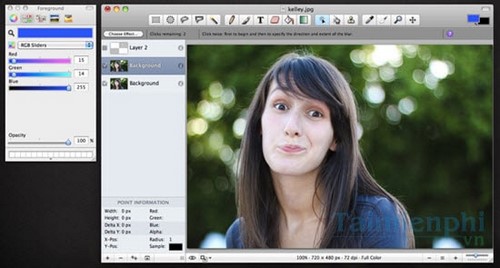 Seashore for Mac is professional image editing software that supports most of the popular image formats today. With its features, Seashore is the number 1 software when you want to replace Photoshop on Mac. Seashore supports the management and editing of intelligent images. You can batch resize photos with one mouse click. Not only that, the software also allows renaming many photos with simple operations.
Seashore offers you many effects to beautify your photos. With an intuitive, easy-to-use interface, Seashore will bring you the best photos.
5. Canva
Whenever I need to design a Facebook cover photo or a poster for a company's music show, I trust Canva..
To use Canva click COME IN.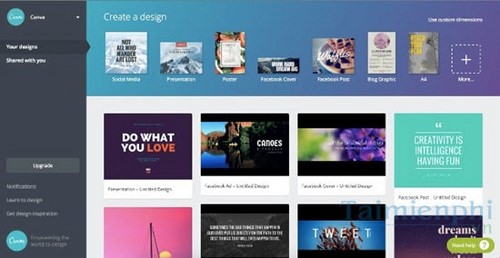 Canva has many useful features that even Photoshop doesn't have. Canva is a web-based application and is free to use. However, Canva does not have many similarities with Photoshop as the above software. Canva is suitable for designing cover photos, greeting cards, posters, infographics, collage …
Above, taimienphi.vn just introduced Top 5 free software that can replace the best Photoshop for your computer. If you want a powerful and professional software like PS, choose GIMP. If you need a fast and simple design, choose Paint.NET (for Windows) or Seashore (for Mac). Among 3 online photo editing software, Pixlr is the most powerful.
https://thuthuat.taimienphi.vn/5-phan-mem-thay-the-photoshop-tren-windows-va-mac-tot-nhat-12724n.aspx
In addition, ElectrodealPro also would like to suggest to you the top best photo editing software in 2016 that you may not have known, see more top photo editing software 2016 and choose for themselves the most suitable software.
.