He arrived for the first time in the battle royale ofEpic Games to celebrate the release of the film Marvel Avengers Infinity War, during season 4 of chapter 1. Three years later, Thanos returns to Fortnite more complete than before, with a cut which is dedicated to it.
So fans of Marvel and the game that connects collaborations like no other, get ready to heat up the credit card because our good old crazy Titan and a little purple on the edge returns to make the infinity gems sparkle.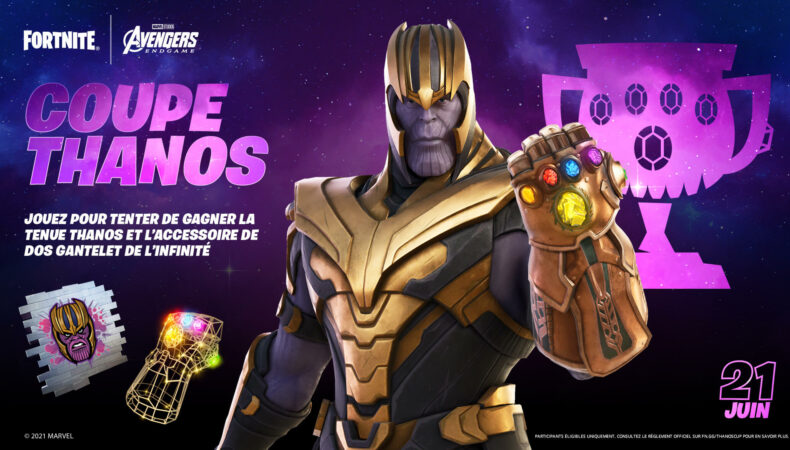 This time players will be able to get Thanos in two different ways. First, the easiest way that hurts the wallet, buy it directly from the Item Shop from June 27, 2021 at 2 a.m.
But if you don't want to get a call from your banker because you've spent too much, you can always turn to the second option: "I get the skin I want in exchange for my legendary skill which scares more people away. a."
For this second possibility the coupe thanos is here. The latter will be available on June 21, and will allow you to collect for free our set of our purple titan, which includes the back accessory in the shape of a holographic infinity glove, and of course its outfit.
If you want to participate, nothing could be simpler, you just need to have an Epic level 30 account, activate the famous double authentication, and of course the most important, form your duo and play a maximum of 10 games in just 3 hours.
Then at the end of the tournament the best teams from each region will receive the ultimate reward, while the others, who have obtained a minimum of 8 points, will be satisfied with a small chocolate medal with the Thanos aerosol, in order to console themselves and to mentally prepare themselves to go to the cash register.
But our good old serial killer returns in this season 7 of chapter 2, featuring an alien invasion with a large ship above the map. Can we hope for other Marvel skins, like for example, the Skrulls, this alien race coming straight from the House of Ideas?


Striklight