TPO – Thailand yesterday, May 21, began deploying a force of professional dogs trained to detect the SARS-CoV-2 virus by sniffing human sweat samples.
According to the Reuters, three of six trained Labrador puppies debuted at Bangkok's Chulalongkorn University. Previously, test results showed the method's success rate was around 95%, with about 2,000 samples sniffed this month.
Researcher Thitiwat Sirprasart said: "The dogs can help with short-term screening. That way, we can isolate people we suspect have the disease from people who don't have the virus."
To detect the virus, dogs are not required to directly smell each person. Instead, sweat samples are collected from people who need to be tested, and placed in small metal containers for dogs to sniff.
When a specimen is detected from a person suspected of having the virus, the dog will stop and signal the trainer.
"The scent of people infected with different viruses will be different," said expert Pattama Torvorapanit.
The project leaders hope that the dogs will be used at airports or train stations to detect sick people, as this method is more effective than checking body temperature.
Thailand is grappling with its most severe outbreak ever, with cases quadrupling to a total of 123,066 and deaths sevenfold since the beginning of April to 735.
An anonymous person spends 27 billion VND to buy a handwritten letter to write Albert Einstein's famous equations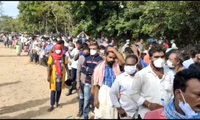 Thousands of Indians line up to receive the 'miracle cure for COVID-19'
Minh Hanh
According to Reuters
.