A woman in Texas, USA was shocked when she received an electricity bill nearly 300 times higher than normal despite being very economical amidst statewide paralysis and power outages due to record cold blizzards.
Broken indoor plumbing and family dehydration for four days a week turned out not to be the worst things Akilah Scott-Amos suffered in a record cold Texas blizzard. . Although this woman was fortunate to have a power outage in a short time, the electricity bill in the month, just received on February 21, amounted to 11,000 USD (more than 253.6 million VND), causing her to panic.
Texans suffer the coldest weather in decades because of blizzards. Photo: Daily Mail
According to RT, Scott-Amos must pay such a "huge" fee because she uses the services of Griddy, a retailer of electricity to individual customers at the wholesale market price at the time of use. The service is quite attractive as the customer can sometimes enjoy low prices when the market is stable. In fact, Scott-Amos usually only pay about 40 – 50 USD in February.
However, in the extreme cold days, sometimes below minus tens of degrees Celsius as recently, due to the sudden increase in electricity demand for heating, the electricity price of Griddy also increased dramatically, from just 0, 05 – 0.06 USD / kWh as before, up to 1 USD / kWh or more. The company recommends that customers switch suppliers if they wish.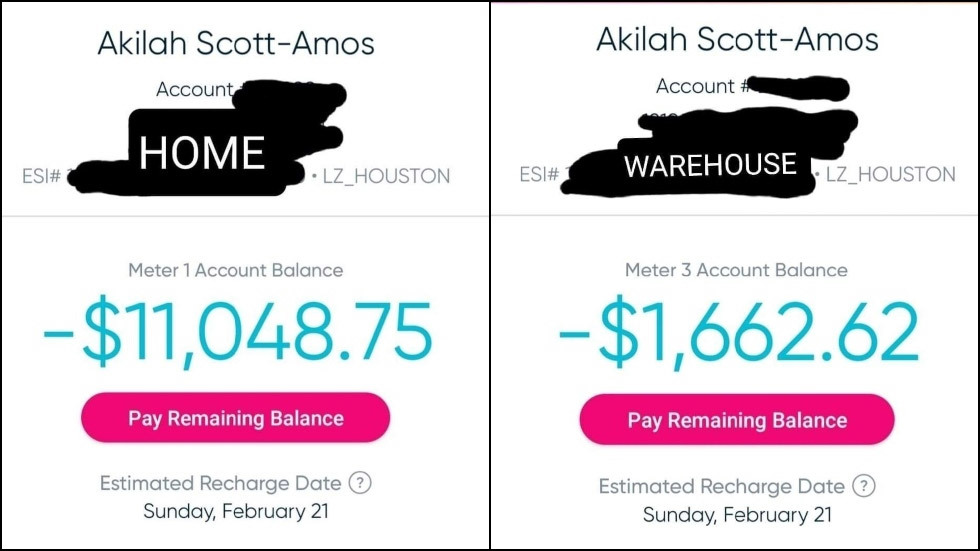 Scott-Amos's February 21 electricity bill. Photo: RT
"I really can't afford the new electricity bill," said Scott-Amos. She claims to be very economical in times of trouble, when more than 3 million homes and businesses in Texas still have no electricity to use. She also was unable to change carriers before February 22.
Scott-Amos said the Texas electric grid was completely incapable of coping with the record cold and it was unfair that working or middle-class families were forced to pay for it. According to her, this could put many people in great financial trouble.
After sharing his story with local media, Scott-Amos received text messages from many Texas families who revealed they were also in a similar tragic situation. She said, she understands that the authorities are prioritizing support for those most severely affected by the blizzard, but those who use electricity pay 300 times the market price to benefit companies. acceptable.
At the moment, Scott-Amos and many like her are not eligible for any help from the state and federal government. She urged the authorities to intervene so that basic utilities would not be overpriced in the midst of the crisis of Covid-19 and record cold weather for decades.
Tuan Anh

Picture of the American 'frozen' life in the snowstorm disaster
Snowstorms have left millions of people in cities in the southern United States suffering from blackouts for days and now a new catastrophe reappears.

Millions of Americans lost power in the middle of record cold, at least 20 people died
At least 20 people were killed when the winter storm swept, leaving millions of Americans out of power amid record cold weather.
.