After a long wait, finally the Galaxy A80 also had time to officially open the shelf in Vietnam market, with a listed price of VND 14.9 million. In addition to the branding factor, this phone also possesses attractive technological highlights to help users have a great user experience.
Galaxy A80 – A top product of the A series with many valuable technology upgrades
In its product line system, Samsung always pays special attention to Galaxy A series, a series of new and most advanced technologies often applied by Samsung on A series products, even before S series and Note series. This can be seen somewhat to Samsung's favor with Galaxy A.
The Infinity-O screen technology was first available on the Galaxy A8s before being put on Galaxy S10. And now, the top product of the A – Galaxy A80 series continues to possess advanced technologies that make a mark for Samsung and the Galaxy A series.
With the Galaxy A80, Samsung has taken a bold "makeover" step when "farewell" the Infinity-O screen and came to the new Infinity generation (New Infinity), a borderless screen that really gives the display experience Marketing is large and complete.
New Infinity screen overflow – Sound technology under advanced screen
Galaxy A80 possesses a display screen of up to 6.7 inches, FullHD + resolution, uses familiar Super AMOLED panels for brilliant color reproduction, good viewing angles and brightness.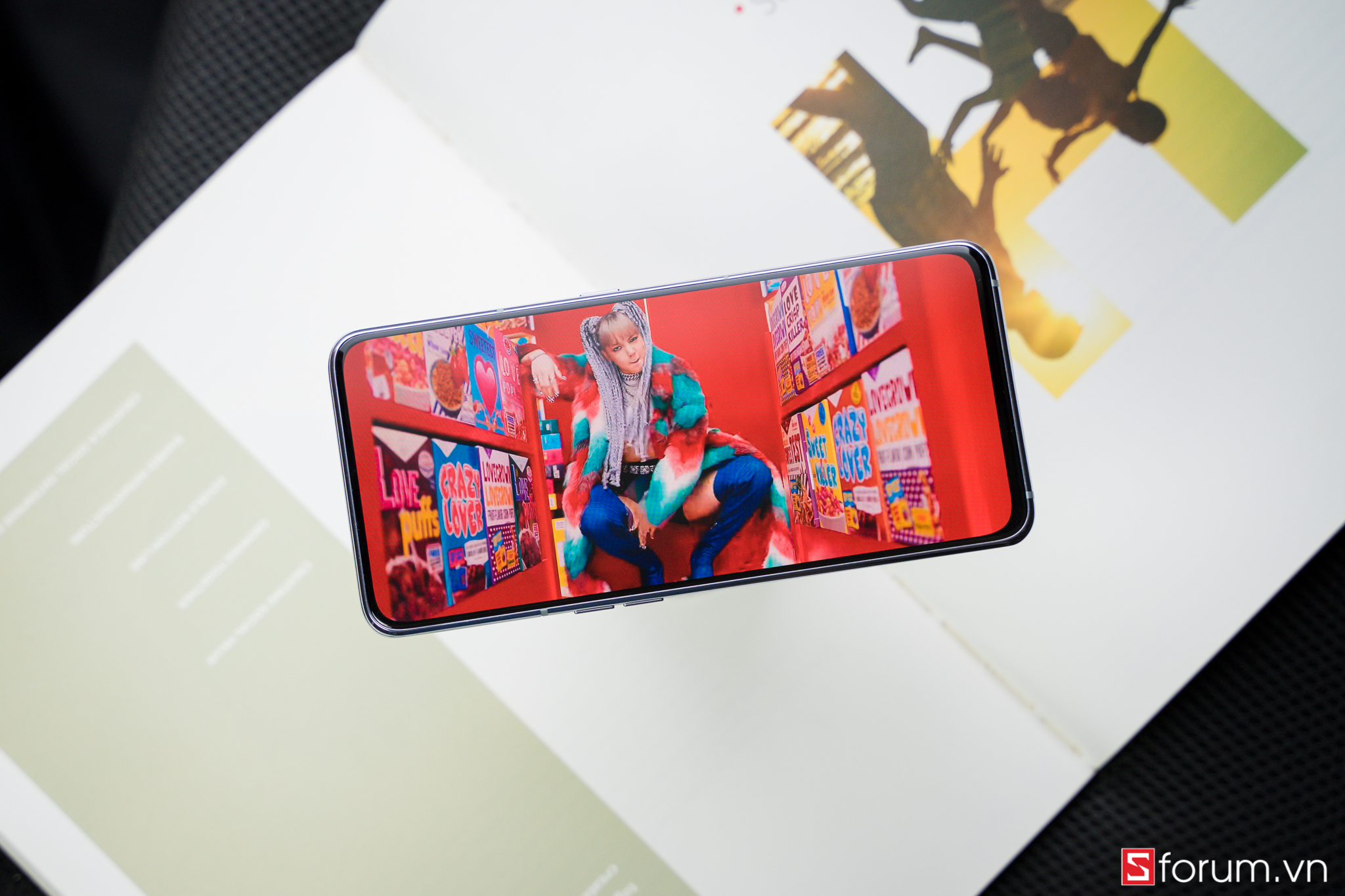 With New Infinity screen technology, Galaxy A80 has a large display space, taking advantage of the maximum size of 6.7 inches, there will be no "rabbit ears", drops of water or camera-containing holes on the screen. . This helps users get a more complete visual display experience, meeting well the demand for entertainment.
Big screen also helps touch operation when playing games without tightening thereby increasing accuracy for each touch, while also increasing the game's winning rate.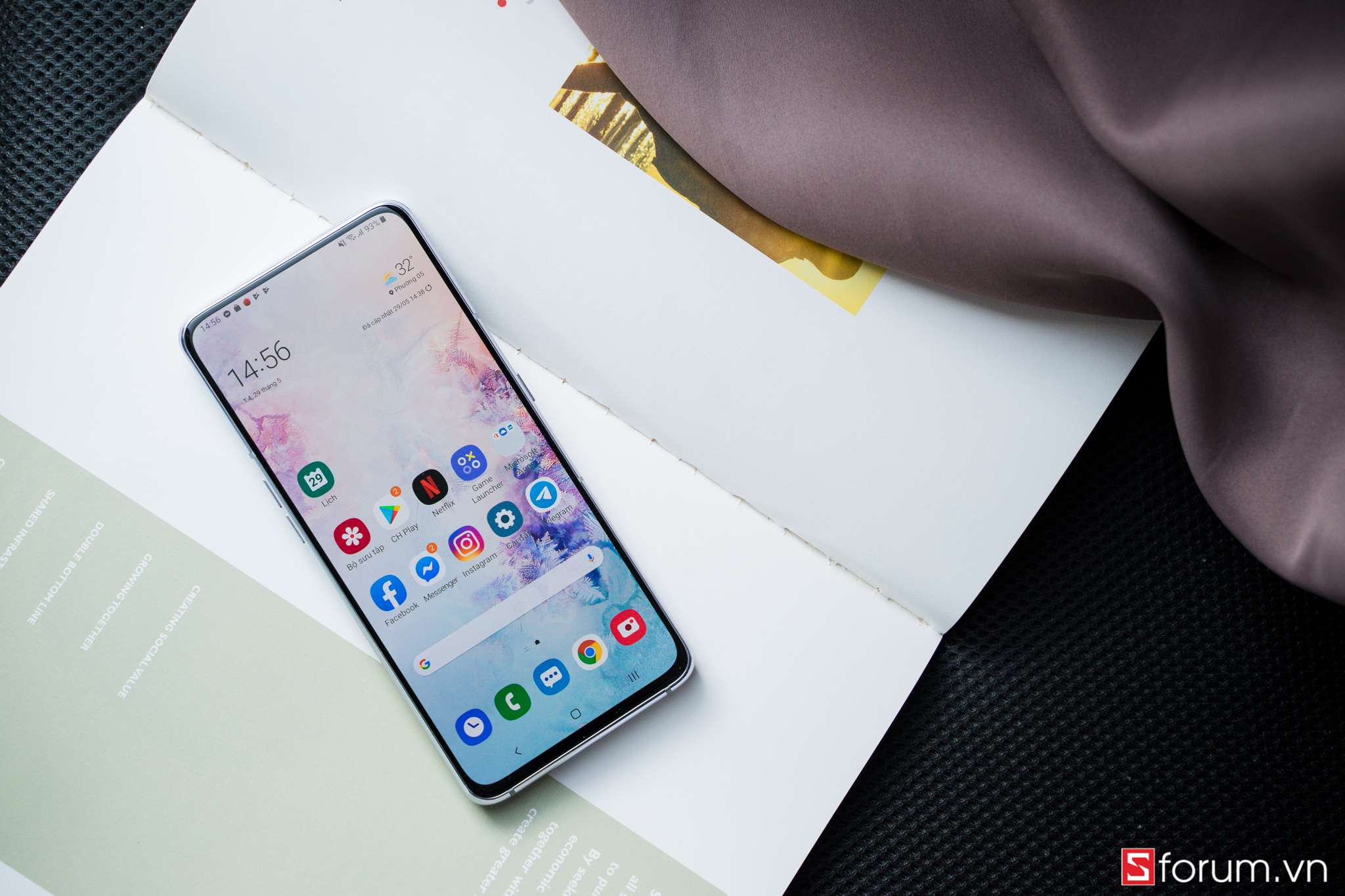 To get the most optimal display space, Samsung has removed the voice speakers on the top edge, instead using the screen itself to make voice calls for listening calls. New technology allows the screen to produce sound with certain vibrations, this sound still ensures the same quality as the normal voice speaker..
Rotating camera cluster, first appeared on Galaxy product line
To get the true overflow display, in addition to sacrificing the speakers, Samsung had to redesign the camera cluster, placing it in a rotating slider module. This module system contains a total of 3 lenses with the following parameters: 48MP F / 2.0 + 8MP wide-angle camera + 3D camera TOF.
In the normal state, this 3-lens cluster will be the rear camera, allowing users to capture everyday moments with flexible and full-angle shooting. But when switching to selfie mode, the module will push up and put 3 lenses into selfie camera, in addition to choosing to take a fixed angle, this way Galaxy A80 gives you more choice of selfie super wide angle very convenient.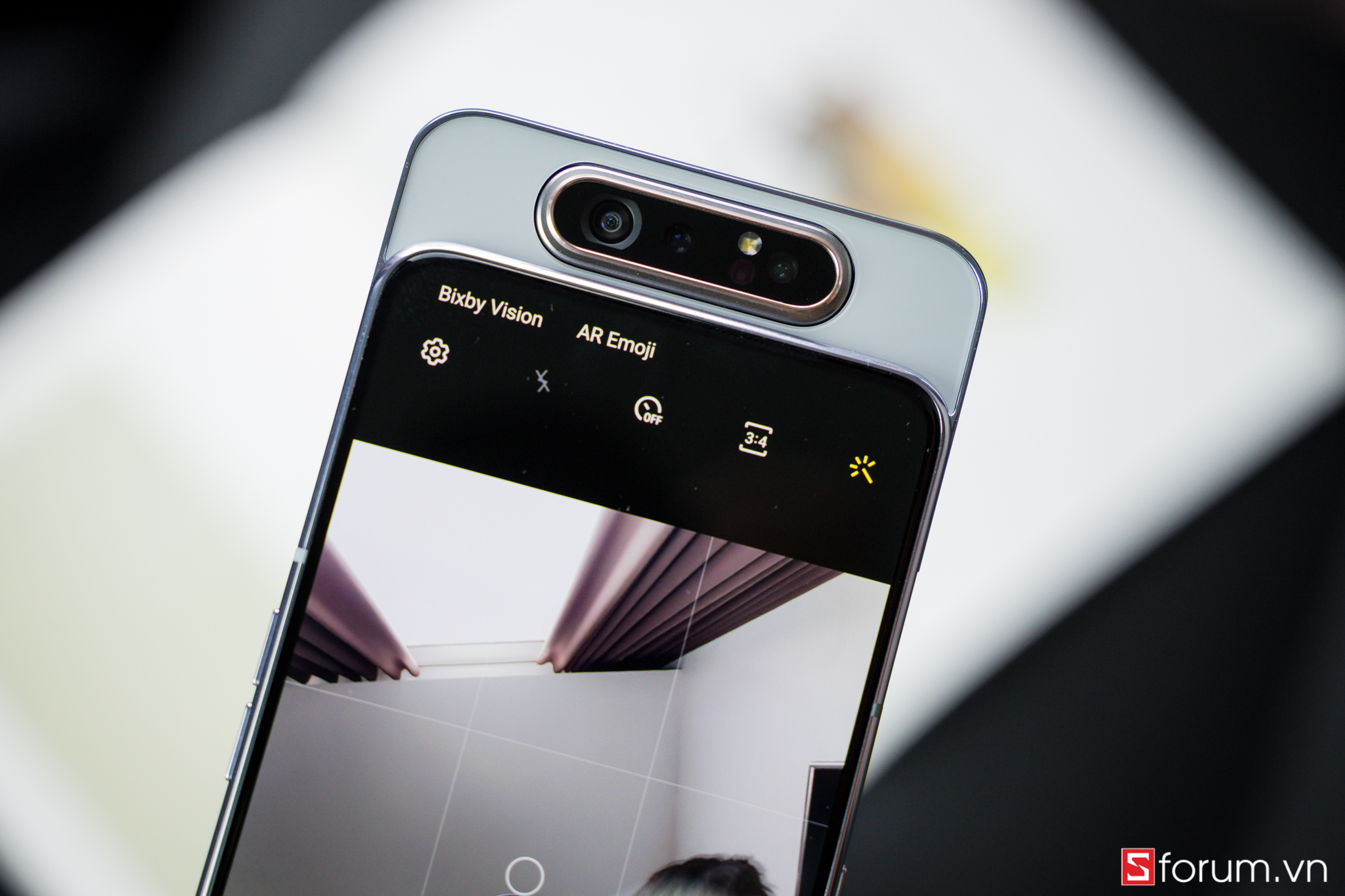 The 3D TOF sensor on the Galaxy A80 does not merely support shooting with a more professional font removal effect. But on the Galaxy A80, the TOF camera also helps users to record video-removing videos as done from dedicated camcorders, which is a completely new feature and only available on the Galaxy A80.
Good hardware configuration: Snapdragon 730G, RAM 8GB
After all, the configuration is still the deciding factor for the user experience and the Galaxy A80 has quite attractive hardware parameters. Specifically, the machine works with the power coming from the Snapdragon 730G processor, a completely new chip from Qualcomm, which is made up of 8 cores including 6 cores. Kryo 470 Silver reaches 1.6GHz and two Kryo 470 Gold cores clocked at 2.2GHz. The Snapdragon 730G is an intermediate processor but has an 8nm process, which helps the device achieve good performance but minimizes power consumption, thereby optimizing the experience time.
The integrated GPU is the Adreno 618, the slightly upgraded version of the Adreno 616 (on Snapdragon 710), promising to provide stable graphics processing capabilities, enhancing the user's gaming experience.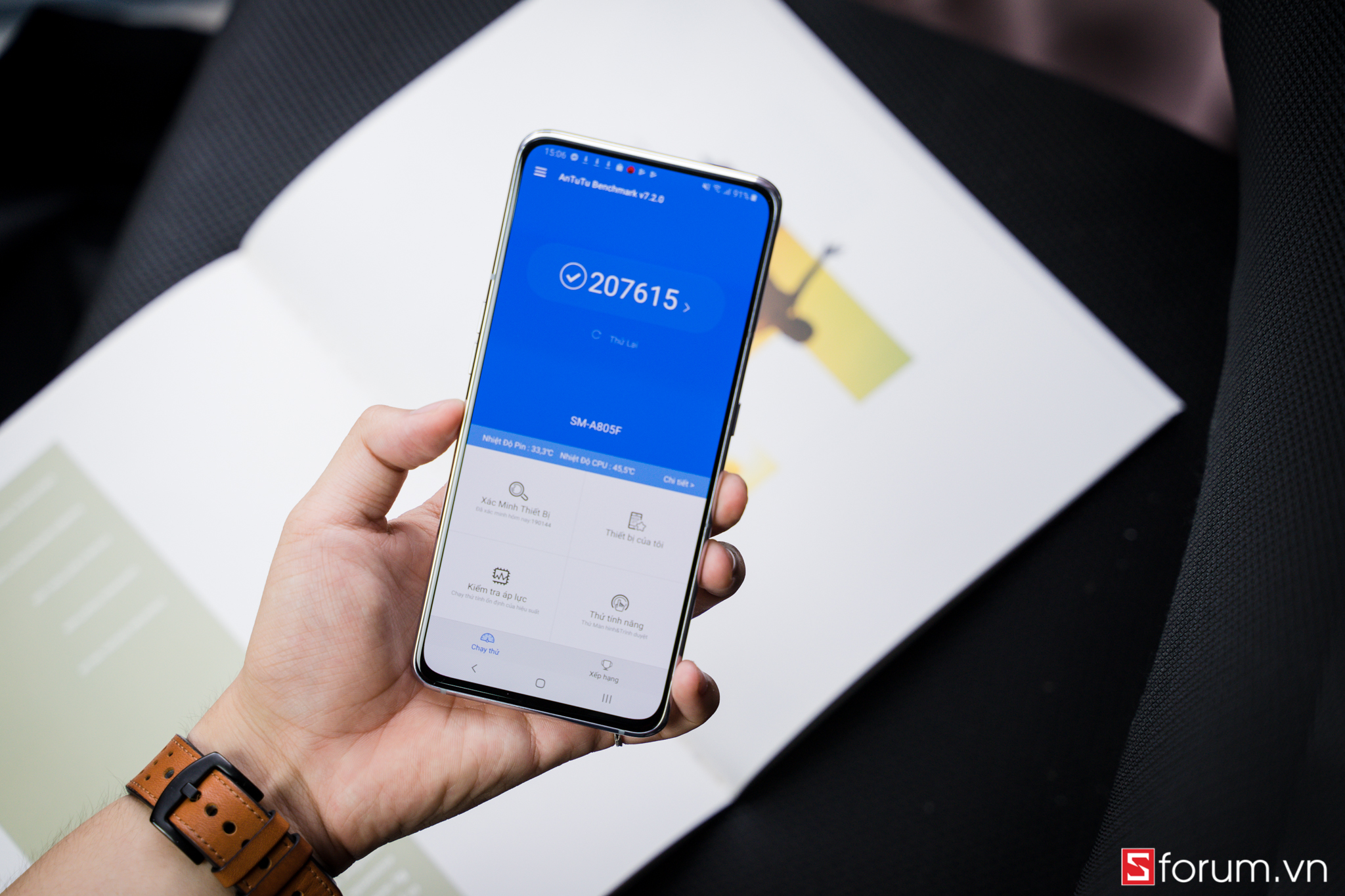 Samsung proved very proud with the Galaxy A80 when equipped with RAM bar up to 8GB, a figure that can be said to be the entertainment demand, handling the work of all users. And working on a customized OneUI interface from Android 9 will help Galaxy A80 achieve good RAM optimization, limit RAM overflow problems and ensure stability over long periods of use.
128GB internal memory is large enough to store personal data from movies, photos, documents … without having to worry about filling up memory or attaching an external memory card.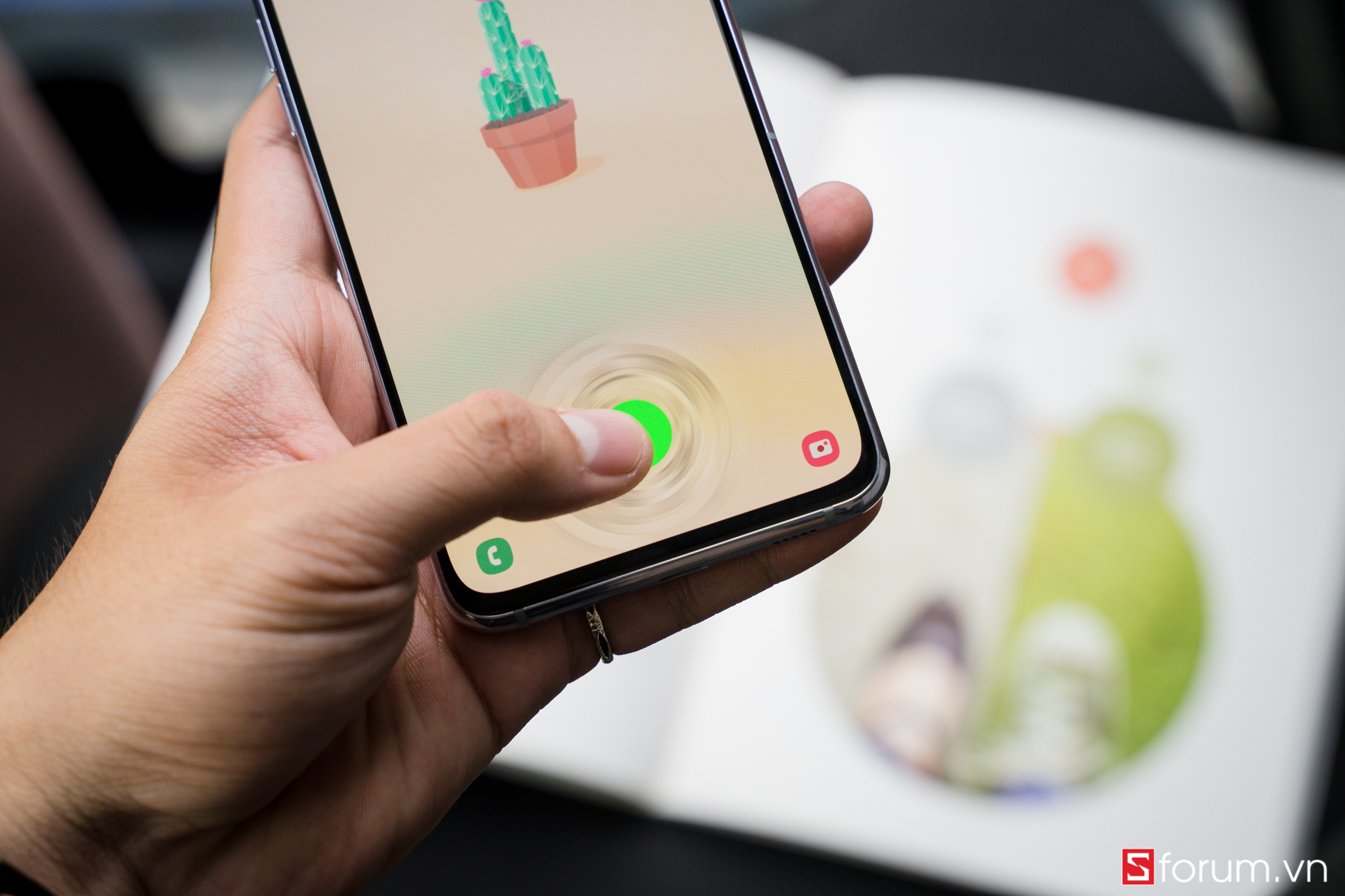 The Galaxy A80 has a 3,750 mAh battery, which is not too large, just enough to use but with the application of 25W fast charging technology significantly shortens charging time and maintains the usage of machine more often.
Fingerprint security mechanism under the screen is also applied by Samsung on the A-series model, optical scanning system but has been customized to increase the recognition and unlockability.
Interim:
It can be seen that, with a price of about 14.9 million, Galaxy A80 possesses many highlights in technology, from the real overflow display, to the impressive rotating camera cluster. Besides, it also has good hardware configuration, fast charging support and optical fingerprint placed under the screen.
It is not wrong to say that Galaxy A80 is one of the most exciting and worthwhile mobile products in 2019.
If you are interested in this product, readers, CellphoneS customers can join the reservation program, taking place from the day July 16 come July 31 with many attractive gifts:
AKG Y500 headphones

Package Data Max S90 with 6GB / month

Accident insurance for products for 1 year

Support 0% installment payment
All information about the order program, customers can contact the hotline directly for free: 1800.2097 or visit the link attached below:
PLACE SAMSUNG GALAXY A80


Hoa Duc