The main features of the Casio G-Squad watch.
GBA-800: Strong first generation, masculine
Since its inception, G-Shock GBA-800 has proved its "power" and quickly became the most popular G-Shock. GBA-800 conquers sports players and people who practice regularly by unique features such as step number graphs with 5 intensity levels, calculate calories burned, record data measured by the clock stop … All is done through connecting to smartphones with Bluetooth, easy and very convenient operation.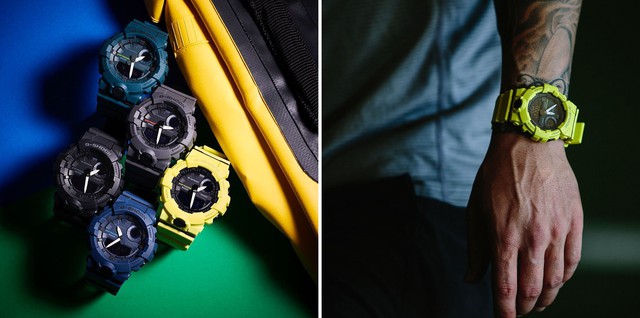 Casio watch G-Shock GBA-800.
Besides, the strong and masculine design of GBA-800 is also pleased with the eyebrow in Vietnam and in the world. They inherited the appearance of the GA-800, which is a combination of hour and hour dials and electronic dials that once caused a fever. The watch face is reduced in detail, weight is also reduced to create a sense of lightness and does not cause discomfort while wearing during exercise.
GBD-800: Style, personality
Also inheriting all the features of the first G-Squad generation, but GBD-800 only has a digital face and a suitable price, so it is very popular with electronic clock fans. They include personality designs and a combination of sporty colors, suitable for most workout or outing, travel outfit.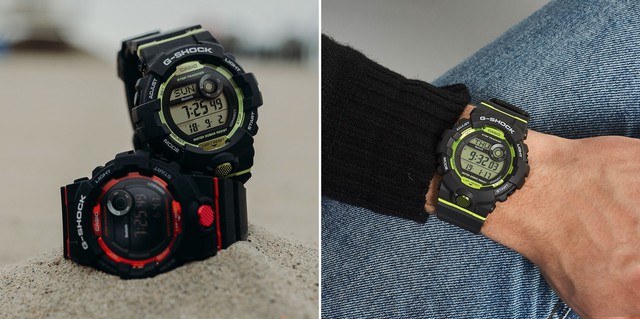 Casio watch G-Shock GBD-800.
Compared to the strong and "mature" appearance of GBA-800, GBD-800 looks younger and "cool". Although they are professional "sports assistants", the two are aiming for people with different interests.
BSA-B100: Young and dynamic
The first Casio Baby-G watch model equipped with Bluetooth smartphone connectivity, BSA-B100 has just become an item loved by extremely girls. This is also the G-Squad watch model that Casio has for girls after the birth of G-Shock G-Squad was well received.
Baby-G BSA-B100 watch is Angela Phuong Trinh's favorite item.
BSA-B100 has a strap structure and similar features 02 male G-Squad models. They are designed to be close to the wrist, thin and lightweight, suitable for long-term training. In addition to the training support features mentioned above, the BSA-B100 also incorporates a reminder feature when the training goal is not reached. Girls can set the number of steps in the day and perform them, and use other features as an effective "sports assistant" for training and health care.
BGS-100: Sweet, feminine
This beautiful Baby-G watch is a typical member of the Step Tracker line – Step number meter. Although Bluetooth connection is not supported, the BGS-100 has memory for up to 30 data recorders. Girls can set the goal of steps from 1,000 – 50,000 steps per time. When the goal has not been reached for a while, the clock will remind you to do so.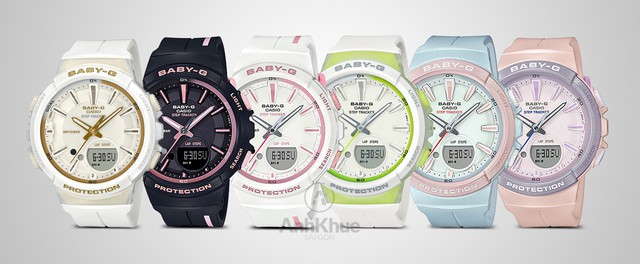 Baby-G BGS-100 impresses with fashion colors.
In addition to the features, the biggest attraction of the BGS-100 is its sleek design and fresh and sweet colors. This sample includes 5 color versions: 3 pastel blue, a stylish pink chalk and a standard white. All are colors "hot trend" of 2019 and very easy to mix with costumes.
It can be said that G-Squad watch is currently considered a new trend of Vietnamese youth in particular and Casio watch lovers in the world in general. In Vietnam, Casio G-Squad watches are distributed by Anh Khue Saigon – Official distributor of Casio watches in Vietnam.
In early June, Welcoming the International Fireworks Festival in 2019 will take place in Da Nang with the participation of many countries in the world, Anh Khue Sai Gon gives special incentives with many attractive gifts such as Helmets Insurance, Cross-over Bags, Backpacks … for customers who shop at the Central region's store system. Promotion is only available from May 31 to June 9. See details at www.anhkhuesaigon.com.vn. Hotline: (028) 3927 3517.