Xbox is going to get more out of the Surface Duo for gaming, and that's going to be amazing.
Xbox Game Pass continues to improve its user experience. Microsoft's service is becoming more and more popular over the months, especially thanks to the regular addition of recent games or the same day they are released. But the Game Pass is not limited to offering a lot of quality games at a very competitive price. Microsoft is also capitalizing on an improved gaming experience, as recently with the FPS Boost.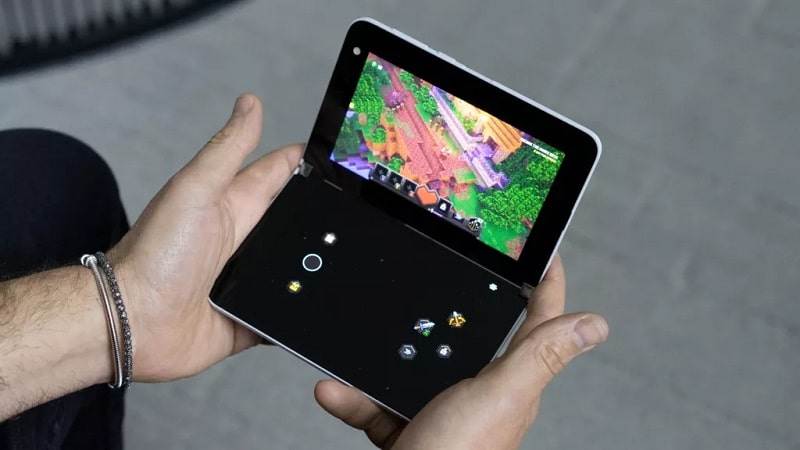 Game Pass: Surface Duo transformed into a portable console Nintendo DS style
The Game Pass user experience keeps improving. After the addition of FPS Boost, which improves the image refresh rate for a large number of games, today it is a major improvement that is offered on the Surface Duo for more than 50 games, and which will Greatly improve the integration of the Game Pass on the go. Besides the addition of xCloud on mobile devices, Microsoft's ecosystem is therefore becoming more and more portable.
In practice, the concept is quite simple. The Surface Duo has two screens, a little in the manner of the Nintendo DS at the time. It is therefore possible to assign the joystick controls on the bottom screen, and display the game on the top screen. The Surface Duo thus becomes a portable console. An excellent concept, which will not be optimal for all games, but will allow extremely efficient nomadic use of the Game Pass.
As the global shortage of next-gen consoles continues, the Microsoft ecosystem is becoming increasingly attractive to gamers. Usable on PC, and on mobile thanks to xCloud, which could soon offer a 1080p display, Microsoft's service is not linked to a particular hardware. Phil Spencer has also himself confirmed that console sales are no longer a priority for Xbox. At a time when new generation consoles are still very difficult to find, there is no doubt that more and more players will be tempted by the formula offered by Xbox.
Streaming: Google Stadia, GeForce Now, Microsoft xCloud, which Cloud Gaming offer to choose?
Source : screenrant.com


Alex Herbil