Spot sales do not need to make an appointment RTX3060 game book new year recommendation
February 20, 2021 18:15
Author: Zhang Fan
Editor: Zhang Fan
Article source: Paobao.com original
The RTX30 series of game books are currently quite popular. If you are already impressed by it, you may wish to pay attention to the RTX3060 graphics card model. Many brands are sold in stock without an appointment. After placing the order, they will be delivered to your home immediately. No waiting for exciting games!
Although the RTX3060 is currently the lowest-positioned one among the RTX30 series of notebook graphics cards, according to the actual measurement of our bubble network, its game performance is still very good, far exceeding the previous generation of RTX2060 notebook graphics cards.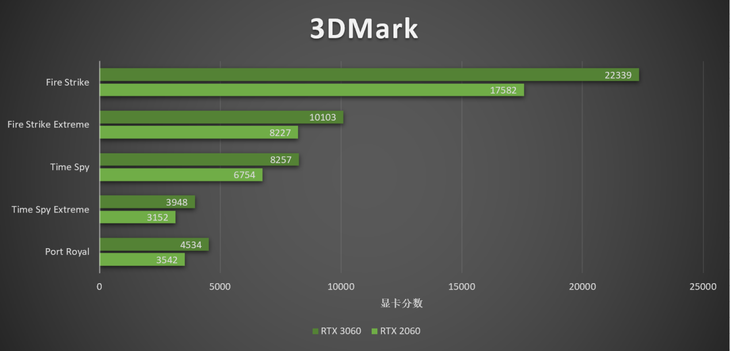 The GeForce RTX 3060 notebook GPU has 3840 CUDA cores, which is even more than the 3584 CUDA cores of the desktop GeForce RTX 3060 graphics card released at the same time. It can be said to be relatively rare. In terms of video memory, it uses GDDR6 video memory that is also 192bit wide, but the capacity is not the 12GB of the desktop, but 6GB.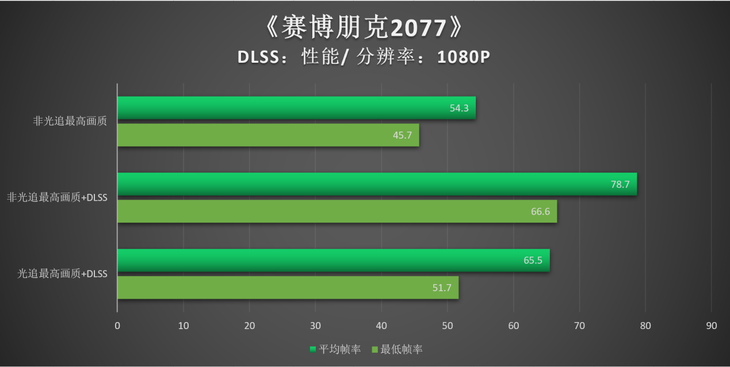 With the new generation of DLSS technology, RTX3060 notebook graphics card can play "Cyberpunk 2077" and other new generation of light pursuit game masterpieces is no problem. DLSS technology can be said to be a big move for RTX graphics cards to play light chase games. Especially in the spring of 2020, NVIDIA released DLSS 2.0 technology, which can more fully release the performance of GeForce RTX series graphics cards, and then make light chase in the new era. The game runs smoother and the picture quality is more superb. Later in the fall of 2020, NVIDIA also released DLSS 2.1, which is considered a further improvement to DLSS 2.0, mainly adding support for 8K resolution and dynamic resolution, and compatible with VR virtual reality games.
Well, in the face of such a fragrant RTX3060 game book, gamers of course deserve it! Next, I especially recommend four popular and spot-sale RTX3060 game books, including Mechanic T58-V, Thor 911MT, Shenzhou Ares Z8, MSI Jueying 2 GS66, you can buy as you like and enjoy the fun!
Machinist T58-V>> purchase link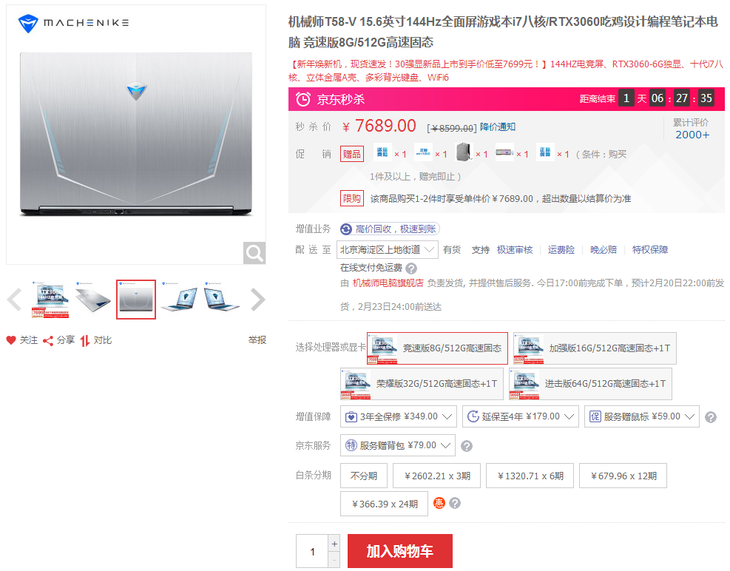 The mechanic T58-V is equipped with a GeForce RTX 3060 laptop GPU, an octa-core Core i7-10870H processor, a 144Hz gaming screen with ray tracing, DLSS and other technologies, allowing players to enjoy more realistic and smart game screens!
In addition to strong performance, the T58-V's appearance is also quite high. The appearance is made of aviation-grade aluminum alloy metal material. After the drawing process and multiple polishing and stamping processes, the three-dimensional effect is more obvious. The backlit LOGO mechanical heart and high-speed drilling warning light belt are decorated, which greatly improves the overall body Face value. The keyboard of the T58-V is a colorful backlit keyboard with a variety of colors adjustable, which can be switched according to your preferences, highlighting your own personality!
Powerful heat dissipation design is also one of the magic weapons of T58-V. It uses a three-exhaust air duct design, with a large air inlet at the bottom of the fuselage, and the air outlets are distributed at the rear and left and right sides of the fuselage. At the same time, the design of four heat pipes, 3+3 surround layout, large-area copper metal heat plate can quickly conduct heat.
Thor 911MT>>Purchase link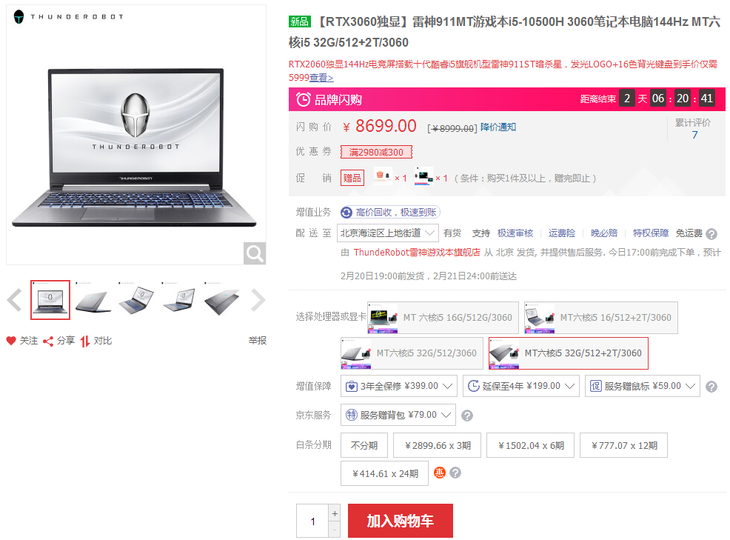 The innovatively designed aviation aluminum alloy body of the Thor 911MT gaming notebook has shaped futuristic texture lines, combined with the new blue luminous LOGO and luminous light strips, highlighting the concept of the future, walking at the forefront of fashion, and looking full of technology sense. At the same time, after painting, printing, laser engraving and other processes, the 911 MT is equipped with an excellent-textured top-engraved keyboard, backlit on both sides of the keycaps, and excellent light and shadow effects, breaking the dullness of ordinary notebooks and showing their personality.
The performance of the Thor 911MT gaming notebook is very powerful, equipped with Intel's tenth-generation Core i5-10500H processor, with six cores and twelve threads, and the maximum core frequency is up to 4.5GHz, which is consistent with the nine-generation Core i7-9750H. An i5 can have the performance of the previous i7, which is great value! Coupled with the large-capacity memory, multitasking is more efficient and smooth.
The heat dissipation effect of the Raytheon 911MT gaming notebook is also very good. It uses four copper pipes to dissipate heat in layers, covering two core heating components (CPU and GPU), and the gas is emitted from both sides of the machine by the turbo frequency modulation fan to ensure the system in the gaming environment. Safe and stable operation. In addition, the thickness of this notebook is 28.9mm and the weight is only 2.5kg. It is not only convenient to carry, but also looks slim and beautiful.
Shenzhou Ares Z8>>Purchase Link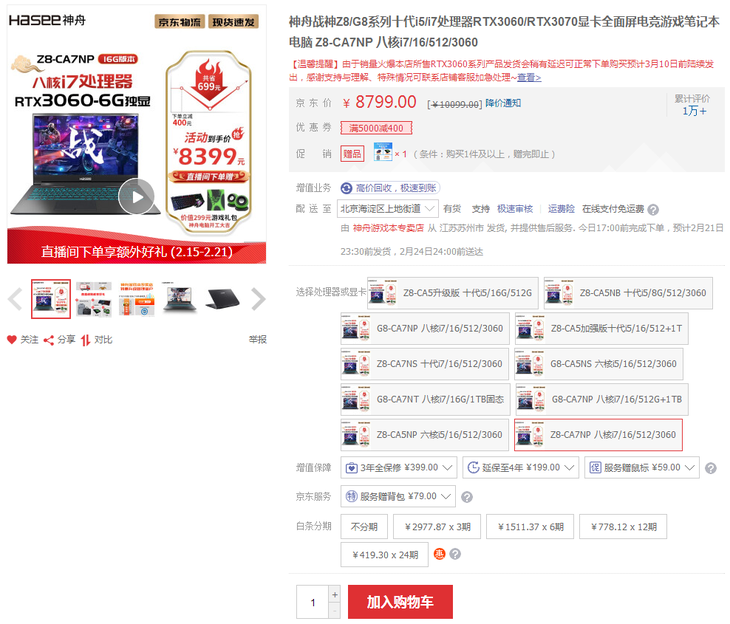 The Shenzhou Ares Z8-CA7NP gaming notebook has a core i7-10870H octa-core processor with a hard-core combination of RTX3060 graphics cards, and the game performance is very attractive.
The Core i7-10870H processor is very powerful, with an 8-core 16-thread design, and its specifications have reached the advanced level of today's mobile processors. In particular, this processor also supports Turbo Boost MAX Technology 3.0, which enables this processor to achieve ultra-high turbo frequencies up to 5GHz. The outstanding performance brought by it is quite significant in gaming applications, which is still beyond the reach of competitors.
With the blessing of a powerful hard core, the Shenzhou Ares Z8-CA7NP gaming notebook is also equipped with a 144Hz refresh rate, high color gamut 15.6-inch IPS gaming display. 144Hz has a refresh rate that is more than twice that of an ordinary 60Hz display, and can display up to 144 frames per second, which can present a silky smooth game screen for players.
MSI Jueying 2 GS66>>Purchase Link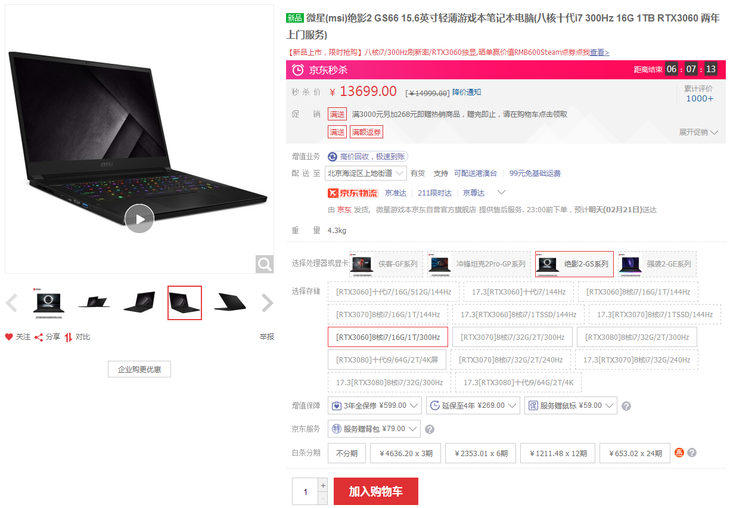 MSI Jueying 2 GS66 is a high-performance thin and light gaming notebook. It is not only portable, but also equipped with i7 processor, RTX3060 optical chase graphics card, 300Hz professional gaming display and other powerful configurations. Its strength cannot be underestimated! Some use the 10th generation Intel Core H series mobile processor Core i7-10870H, 8 core 16 threads, the highest core frequency can reach 5GHz. In this gaming era where the number and frequency of processor cores are very high, the 10th generation of Intel Core H series mobile processors can undoubtedly make MSI Jueying 2 GS66 more combative.
The GeForce RTX 3060 has real-time ray tracing technology, which can simulate real light running routes. The enemy seems to be in front of you during the game, which is full of realism. Combined with the 15.6-inch, 300Hz ultra-high refresh rate high-color gamut professional gaming screen equipped with this gaming notebook, it can provide players with quite exciting picture quality. In particular, the 300Hz refresh rate allows you to experience a new high-definition world that is different from ordinary 60Hz screens in one second, significantly eliminating screen tearing.
As a mobile game weapon, MSI Jueying 2 GS66 is also equipped with a battery with a capacity of up to 99.9Whr, and supports 100W PD fast charging, so that the machine can be fully resurrected in a short period of time, continue to fight side by side with you, and also mobile office Not to mention. This gamebook uses MSI's original Cooler Boost Trinity+ cooling system, equipped with 3 fans and 7 heat pipes, and 0.1 mm thick blades can effectively increase air pressure and airflow, thereby ensuring its high performance and stable output under large games.