Due to the influence of the Covid-19 epidemic, people in many Southeast Asian countries have welcomed a Lunar New Year unlike any previous year.
Traditionally in many Asian countries, the Lunar New Year is an opportunity for many families to reunite and organize meetings and celebrate Tet together. This year, however, the effects of the Covid-19 epidemic have turned these activities upside down completely
An SCMP report shows how some people in Singapore, Thailand, Malaysia and Indonesia have managed to celebrate a special Tet in the middle of the Covid-19 season.
Singapore
The measures have been tightened by the Singapore government since January 26. Accordingly, households are only allowed to invite up to 8 guests per day, not to visit more than 2 households / day and only visit family members during the Lunar New Year.
Some Singaporeans have "circumvented the law" by dividing their family members into groups of 8, and visiting alternately on different days. But for Patsy Tan, a retired printing press manager, this compliance will be stricter.
In addition to having lunch with her siblings (each with no spouse or children), and visiting her mother-in-law's home, Ms. Tan will not meet anyone else during Tet. Instead, she has spent the past 2 weeks visiting each member of her extended family. According to Ms. Patsy, the advantage of this is that it will make the interactions more meaningful and personal than traditional crowded gatherings.
Mrs. Patsy Tan (in the middle) during a New Year celebration with her family last year. Photo: Handout
Patsy Tan has also scaled back its Tet meals. Instead of organizing a party with all 18 members of the big family as she did for the past 40 years, she would only cook simple meals at home with her husband and children.
"The Lunar New Year is always about family cohesion, so for me, this year will be for my own family. This will be a time for the most important people, "she said.
Thailand
When it comes to the Lunar New Year activities in Thailand, few places can compare with Phuket, the ideal destination for Chinese tourists, also home to a large Chinese community.
Things have turned bleak this year, however. According to Amnuaywit, the owner of a hotel on Phuket's Patong Beach, since Thailand closed its airspace in April last year, the number of tourists to Phuket, including domestic people, has been much more sparse. The island was now more tranquil than ever.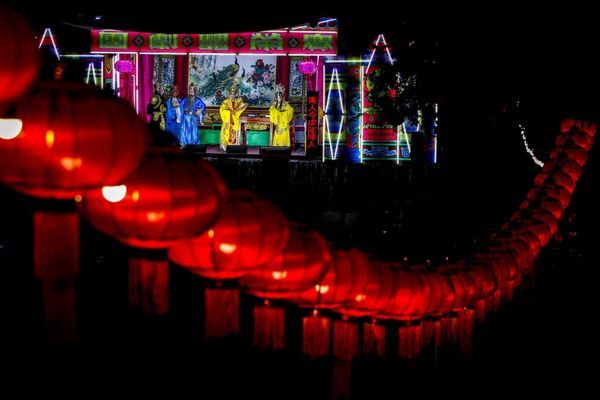 The drama actors wore a protective plate and performed outdoors in Bangkok, Thailand on January 3. Photo: EPA-EFE
Despite the increase in Covid-19 cases, in an effort to promote Chinese New Year tourism, the Phuket government last month canceled a 2-week quarantine requirement for visitors from Bangkok and other provinces of Thailand. However, a series of activities to celebrate the Lunar New Year here, scheduled to be scheduled from February 19 to 21, have been canceled.
Ironically, this is more consistent with the tradition of the Chinese in Phuket. According to historian Pranee Sakulpipatana, these communities do not like grand celebrations, they only hold small-scale home worship services and meet their loved ones during Tet.
Malaysia
With the Malaysian government restricting travel and limiting the size of gatherings of people, Erica Cheong will have to celebrate a quieter Tet. However, the female manager of food shipping business Embun Eats has taken the time to improve the recipe for her menu, including Yee Sang fish salad, a specialty of Malaysia's Tet.
Erica said sourcing ingredients for cooking has been more difficult this year, due to the disruption of travel and supply chains due to the Covid-19 outbreak. Even so, her business can still connect with suppliers by means of remote communication.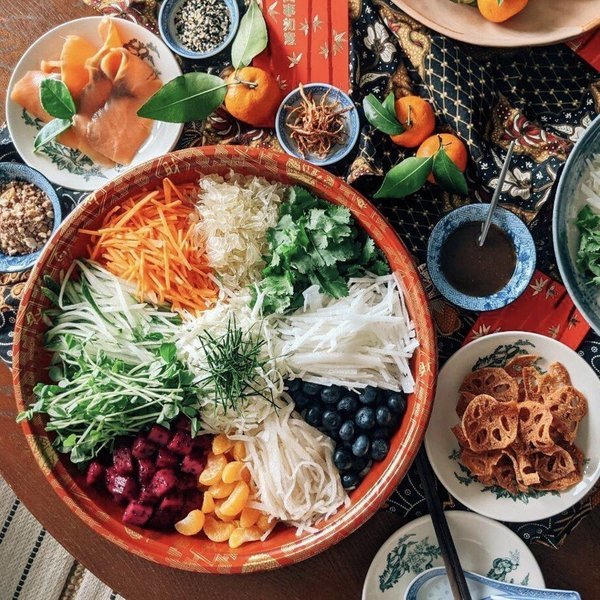 Yee Sang fish salad dish, a specialty of Malaysia Tet. Photo: Embun Eats
Malaysia recently loosened restrictions during the Lunar New Year, allowing Tet meals with a maximum number of 15 people, provided that diners live within 10km of the owner's residence. home.
However, with the number of Covid-19 infections still rising, some Malaysians feel the original regulations are still safer. According to Ho Wen Hui, a Malaysian lawyer, allowing family members living elsewhere to be reunited and celebrate Tet will only increase the risk for the elderly.
Indonesia
According to the tradition of some countries, the second day of the Lunar New Year is the time when a daughter gets married to visit her parents, to give gifts of cakes and money to celebrate her longevity.
But for Marina Basuki, her second day of Tet has been going on for five years. Although married a Malaysian husband and moved to Kuala Lumpur long ago, the 62-year-old woman over the years has to return home to take care of her elderly mother.
In 2017, when Marina's mother died, her father fell ill in turn, causing her to continue to stay in Indonesia for a while longer. Marina's husband has to constantly travel between Jakarta and Kuala Lumpur to take care of his family.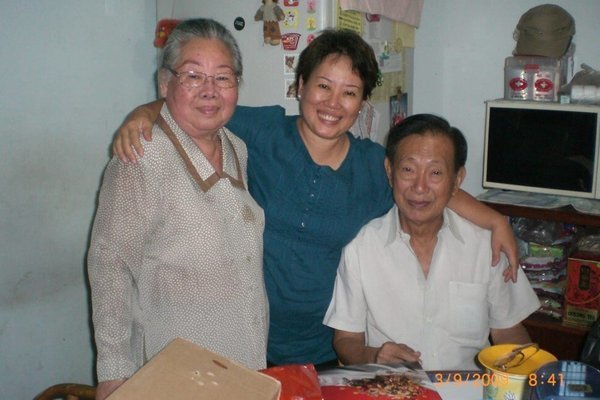 Marina Basuki and her parents in Indonesia. Photo: Handout
In December 2019, Marina's father passed away. Her husband went to Indonesia to attend the funeral, and that was also the last time the two of them could meet.
In the past, Marina and her 3 younger brothers would gather at their parents' house to hold a big New Year celebration on New Year's Eve and the following days. But now, like thousands of other Indonesians, she has to celebrate Tet alone, away from relatives at the right time when family affection is highest.
"This year, I will be celebrating the Chinese New Year by myself in my apartment in Jakarta," shared Marina Basuki, "And of course, I miss my husband very much. I will chat with him on New Year's Day via Whatsapp ".
Ms. Marina also plans to get up early and go to the temple to pray on the first day of the New Year, as the number of people going to the temple this year is much less.
"I will go to the temple to pray for peace and then return home. This year, the first day of the New Year will be like any other day, "said the 62-year-old woman.
Vietnamese-English

The image of the atmosphere to welcome the New Year's Eve around the world
Despite the effects of the Covid-19 epidemic, the New Year's Eve celebration is still relatively bustling in many parts of the world.

Covid-19 changed the way Koreans give Tet gifts
The fear of pandemic corona virus caused many Koreans to abandon plans to visit family and friends on Tet holiday, but giving gifts becomes more special.
.