As we all know, Sony is a famous smartphone brand with the second most loyal fan base in the smartphone world. Sony is also not a careless manufacturer when it recently confirmed that it will launch two new flagship models, including the Sony Xperia 1 III (hopefully when the device launches, it will be as expected) . Now, let's review the rumors about Sony Xperia 1 Mark III in this article.
See also: Sony Xperia 1 III fully exposed in 360-degree video: Super-sharp 4K OLED screen, camera with more periscope lenses
The article will be updated continuously as soon as there is the latest information about the Sony Xperia 1 Mark III.
Sony Xperia 1 III has many improved camera features and audio experience (Update until 10/04)
Earlier on April 1, 2021, Sony confirmed that it would launch a new Xperia smartphone on April 14 and shortly after, it released two teaser videos. Both videos emphasize the camera system and the audio experience.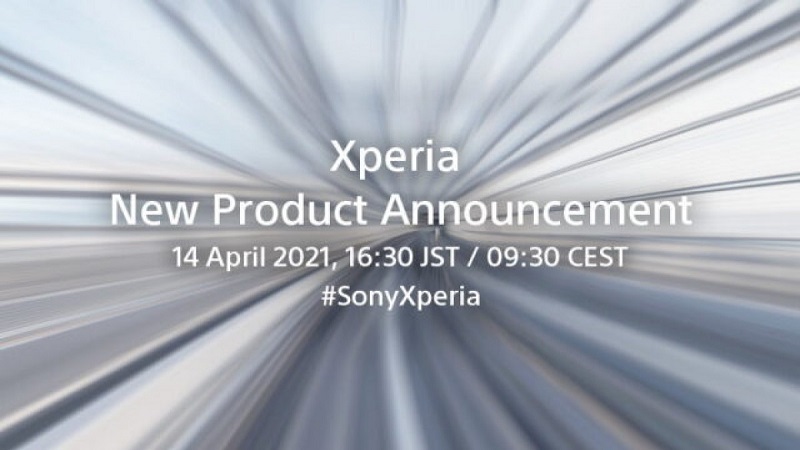 Returning to the two teaser videos, the first one shows some of the new features in the camera system and a stunning audio experience on the upcoming Mark III series. However, I feel quite vague and it is not clear whether those features will be available on the Xperia 1 III or the Xperia 10 III.
In the second video, Sony mentioned entertainment capabilities on the new Xperia Mark III line, such as watching movies, playing games, listening to music, … but mainly the camera features are enhanced. level. In addition, in the video there is also the appearance of some products in the Sony ecosystem such as headsets, PS5 game consoles, TVs, .. most likely related to the Xperia 1 III and Xperia 10 III duo. .
In general, through the two teaser videos above, I am feeling very excited about the new product launch event of Sony and hope that the company will bring many surprises to users.
Sony Xperia 1 III has a unchanged design but the rear camera parameters are extremely good
According to the two teaser videos above that I have shared, the design of the Sony Xperia 1 III may not be too groundbreaking and similar to the Xperia 1 Mark II senior. We still have a smartphone with the Ambient Flow design language, the metal frame and the glossy glass back, softly curved for a comfortable, smooth grip.
However, on April 6, 2021, accessory maker Olixar revealed the overall design of the Xperia 1 III through case pictures and those images show that the device's camera system already exists. change. Specifically, the Xperia 1 III will have a new Periscope Tele lens with the ZEISS T * logo (anti-reflective coating for enhanced image quality) on the module.

Convenience of the rear camera, the Sony Xperia 1 III is said to have a cluster of three cameras including: 64 MP main sensor unknown, 12 MP super wide-angle camera and 12 MP periscope lens. In particular, periscope lenses are believed to be developed by the Cyber-shot division of Sony. With the new periscope system, the Xperia 1 III promises to be upgraded to 5x optical zoom or even further without sacrificing image quality.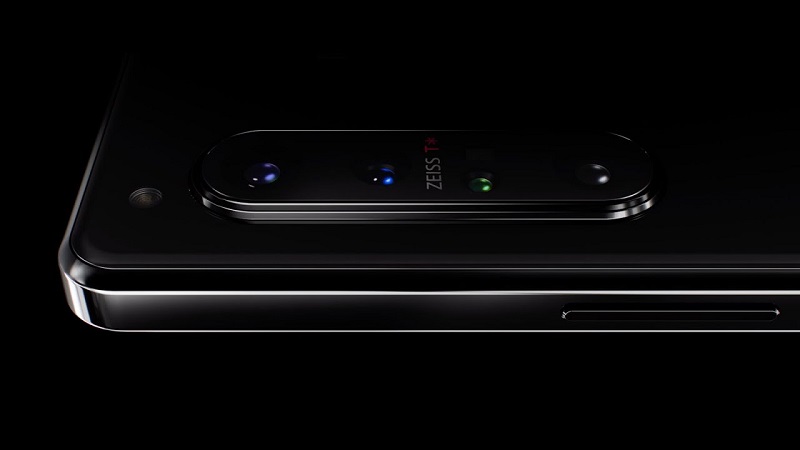 On the front we will have a design similar to previous Sony machines with a large 6.5-inch screen with a 21: 9 aspect ratio according to Cinematic standards. The screen of the machine will have 4K resolution, using an OLED panel with a refresh rate of 120 Hz and a brightness of up to 1,300 nits.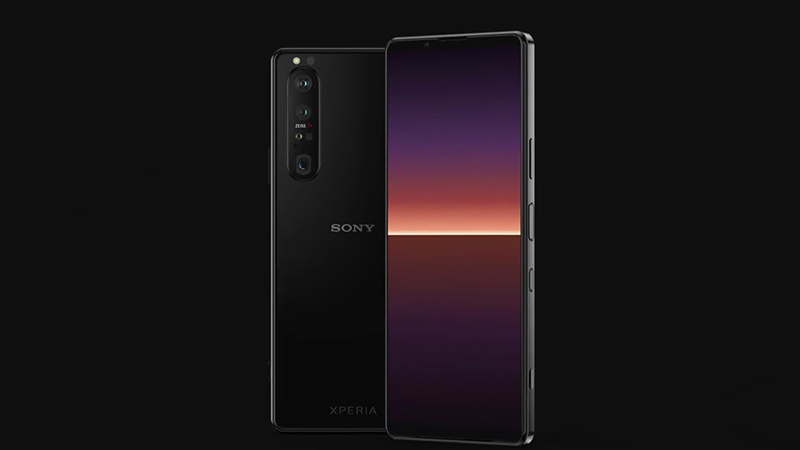 With a large screen and high resolution, the Xperia 1 III promises to bring the best experience possible with its sharp display and smooth touch operation on the screen with high scanning frequency. Although the screen quality is excellent, there is currently very little content that supports / optimizes well for the 21: 9 aspect ratio.
The powerful configuration parameters of the Sony Xperia 1 III
According to leaked information from Phonearena, in terms of configuration, the Xperia 1 III will be equipped with the most powerful Snapdragon 888 chip, accompanied by 8 GB of RAM and 256 GB of internal memory for the standard version. It is possible that the most advanced version will be equipped with up to 12 GB of RAM and 512 GB of internal memory so that users can comfortably store without worrying about running out of memory.
With a powerful national chip equipped on many flagship models such as Snapdragon 888 and smooth optimized software from Sony, I believe that the device will have extremely superior performance to play games and use. service in a smooth and stable way. In addition, I also hope that when launching Sony will optimize the temperature of the Snapdragon 888 chip to not get as hot as its predecessors.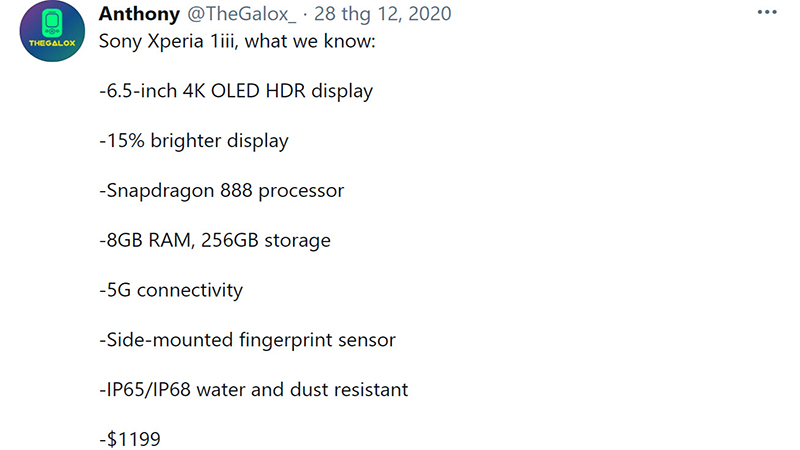 And it is evident that 5G technology will also be present on the latest flagship of Sony to give users the fastest Internet speed. As well as according to some sources from Notebookcheck, the Xperia 1 III will be equipped with a 5,000 mAh battery, promising to bring impressive battery life, more than enough to meet a day of use for you.
According to new sources leaked from Notebookcheck, the Xperia 1 III will be upgraded quite a lot compared to the previous generation. Specifically, Sony will equip the machine with UFS 3.1 standard flash memory for much faster read and write speeds. With high-speed internal memory, it will help the device open apps faster, and bring better user experience.
Sony Xperia 1 III selling price
According to sources @TheGalox then the Xperia 1 III will be priced at $ 1,199 (about 27.8 million) for the standard version, at this price, perhaps the Xperia 1 III will not be for non-Sony fans. Because if compared to flagships from other brands, this machine has a slightly high price.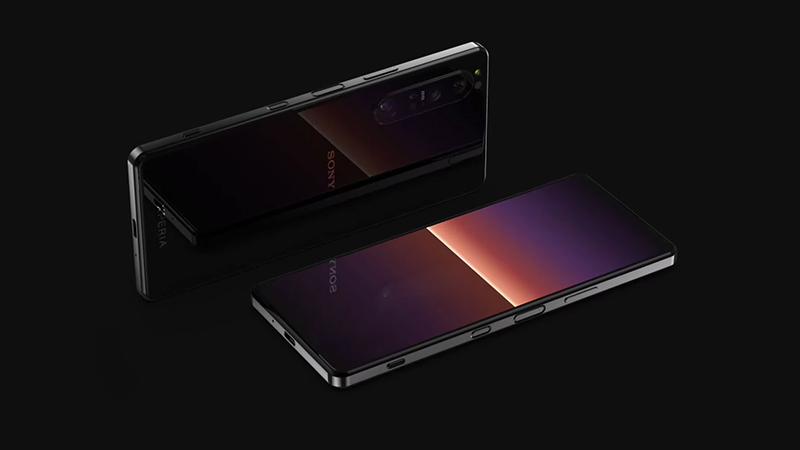 What do you think of this Sony Xperia 1 III? Are you waiting anxiously for the machine? Please leave your comments in the comments.
See also: Sony Xperia 1 III exposes sharp renderings with two glossy glass sides, 4K OLED screen, especially with periscope lenses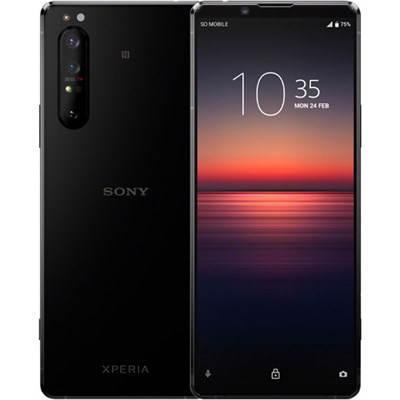 Sony Xperia 1 III
Rumor
See details
Not satisfied with the article
5,517 views
Related posts
The rumor is: Sony Xperia 10 III Sony released a video revealing great features, still keeping the cinematic aspect ratio, using Snapdragon 690 5G (Updating)


1




14 hours ago

Sony posted two teaser videos, highlighting the new features that will be available on the Sony Xperia 1 III and Xperia 10 III


7




4 days ago

The duo of Sony Xperia 1 III and Xperia 10 III smartphones reveals the overall design through the image of the cases


2




5 days ago

The Sony Xperia 1 III is said to come with periscope lens, 120Hz display and 65W fast charging support


1




02/04

Sony confirmed to hold the event on April 14, possibly launching Xperia 1 III along with other new products


4




01/04

The Sony Xperia Pro, priced at VND 58 million, is the largest smartphone with steam cooling compartment today


3




15/03
.