Acer's Swift 3 series is one of the best laptops in the mid-range laptop market. Over the years, the manufacturer has continuously expanded the product line with 13.3-inch, 13.5-inch, 14-inch and 15.6-inch models, giving users a choice of thin and light laptops at affordable prices. .
At the present time, Acer has added a 16-inch model in the Swift 3 series and is the largest in the lineup. Today's article will evaluate in detail the Acer Swift 3 16 series, thereby pointing out the strengths and weaknesses of the product line.
See more: Acer ConceptD 9 review: Innovative 2-in-1 conversion solution
Specifications of Acer Swift 3 16
CPU: Intel Core i7-11370H
GPUs: Intel Iris Xe
RAM: 16GB
Memory: 512GB SSD
Screen: 16.1-inch, Full HD
Size: 14.5 x 9.1 x 0.63 inches
Mass: 1.7 kg
Acer Swift 3 16: Design
Acer Swift 3 16 is a large sized laptop. This is understandable because the machine is equipped with a screen size up to 16 inches. However, due to the traditional 16: 9 aspect ratio, the Acer Swift 3 16 looks longer than models with 16:10 or 3:2 screens.
When compared with 16-inch laptops with 16:10 aspect ratio, such as the Lenovo ThinkPad X1 Extreme Gen 4, the Swift 3 16's body looks longer when the two models are placed side by side.
In terms of build quality, Swift 3 16 has an aluminum outer shell, but details such as the lid and keyboard have the phenomenon of bending when subjected to strong impact. This is not a big minus point for a laptop in the mid-range price segment, but the manufacturer can still do better in this area.
The color version of the model we used in the review is called "Steel Grey". The outer shell of the laptop is finished with the main color of light black, with light and minimalist design details, suitable for the office working environment.
Swift 3 16 is equipped with many different types of connection ports. It has a power port, a USB Type-C 3.2 port with Thunderbolt 4 support, a full-size HDMI 2.0 port and a USB Type-A 3.2 port on the left side. On the right side, you can find a USB Type-A 3.2 port and a 3.5mm headphone jack.
Acer Swift 3 16: Performance
Acer Swift 3 16 is sold with 2 chip versions, Intel Core i5-11300H and Core i7-11370H. Both of these chips are 4-core, 8-thread type, and have a TDP of 35W. In terms of performance, the two chips mentioned above sit in between the U series chips designed for compact laptops and the H series chips with 8 cores and 16 threads, used mainly for workstation laptops and gaming laptops.
Our review version uses the Intel Core i7-11370H chip line with 16GB of RAM and a 512GB SSD. The line using the i5 chip has a RAM capacity of 8GB, sold at a more affordable price. The machine has good multitasking ability, allowing me to easily interact with 30 Chrome tabs without experiencing much lag.
One point to note is that because it is not equipped with a dedicated graphics card plus the processor chip has few cores and threads, the performance level of the Acer Swift 3 16 will only be enough to meet the needs of office work.
Using Geekbench 5 to score overall performance, Acer Swift 3 16 achieved single- and multi-core performance scores of 1613 and 6119, respectively, ranking 3rd in the comparison group in this article. For comparison, models in the same segment including the Dell Inspiron 14 2-in-1 (Ryzen 7 5700U) and Lenovo ThinkPad X1 Extreme Gen 4 (Core i7-11800H) have higher performance scores than the Swift.
In the video transcoding speed test, the Acer Swift 3 16 finished converting a 4K video to HD resolution in just 9 minutes and 12 seconds. This completion time is faster than the current segment average.
The machine's 512GB SSD drive has a moderate data writing speed. Specifically, the machine can copy a file weighing 4.97GB with an average speed of 641 MBps.
Acer Swift 3 16: Screen
As mentioned in the design section, Acer Swift 3 16 is equipped with a screen with a size of 16.1 inches, Full HD resolution and divided in a 16: 9 ratio. As a wide screen, users can multitask with 2 windows at the same time, but it does not bring the best experience when working with documents. For these types of work, a monitor with a high aspect ratio like 16:10 or 3:2 will provide better performance.
Based on our colorimeter, the screen of the Acer Swift 3 16 is capable of covering 100% of the sRGB color gamut and 77% of the AdobeRGB color gamut. The colors displayed on the screen are also quite accurate, with a Delta-E index of 1.11 (the closer the index is to 0, the more accurate the colors are).
The screen of the machine is also quite bright, with a maximum brightness index of 334 nit, higher than the standard level of the segment. At the same time, the screen of the Acer Swift 3 16 also achieves a pretty good contrast ratio of 1530:1 compared to the IPS panel type.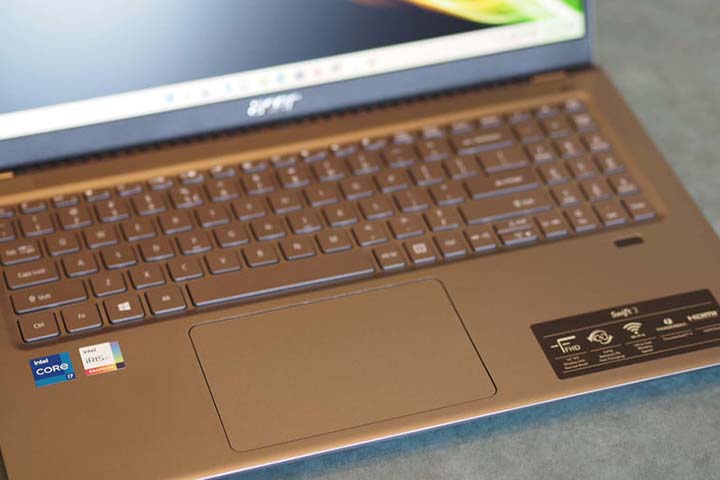 Acer Swift 3 16: Keyboard and touchpad
Due to being equipped with a screen with a wide aspect ratio, Acer Swift 3 16 possesses a large body area. Lying on the surface of the body is a full-size keyboard. The buttons are large in size and have a fairly open layout. Located next to the main keyboard, there is also a numeric keypad. The keys of the keyboard have a fairly deep travel and have a good bounce, providing a good input experience during use.
The Swift 3 16's touchpad has a large surface area, a large space in the palm rest area. The surface of the touchpad is well-finished, allowing me to easily control the mouse pointer to interact with different applications on the Windows 11 operating system.
Located in the palm rest area is also equipped with a fingerprint sensor, allowing users to quickly log in to the system account securely and accurately.
Acer Swift 3 16: Battery life
Swift 3 16 is equipped with a battery with a fairly modest capacity of 58Wh. This is a rather small battery, especially for laptops that use a chip with a TDP of 35W and are equipped with a 16.1-inch screen.
However, Acer Swift 3 16 still owns a pretty good battery life. In our test, the laptop lasted 8 hours and 45 minutes after surfing the web continuously over wifi, with the screen brightness set at 150 nit. Overall, the Acer Swift 3 16 is a model with a long battery life, allowing me to work comfortably without much worry.
Acer Swift 3 16: Heat dissipation
Acer Swift 3 16 has effective heat dissipation, allowing me to work comfortably for a long time. After letting the device stream an HD video for 15 minutes, the chassis area had a temperature of 34 degrees Celsius. Meanwhile, at the touchpad and keyboard position, the temperature was better, measured at 28 and 26, respectively. poison.
summary
Sold in the mid-range price segment, the Acer Swift 3 16 offers users great value for money thanks to its 16-inch screen and speedy performance. In addition, the machine is equipped with a comfortable keyboard and long battery life, allowing users to work for a long time. The Acer Swift 3 16 is a good choice if you're looking for a reliable work laptop at an affordable price point.
See more: Acer TravelMate Spin P4 review: Professional design, stable performance
Plus mark
Good performance for the money
Long battery life
Good display quality
Compact design
Affordable
Minus point
The screen is divided into the traditional aspect ratio of 16: 9 "
Build quality is not so impressive