Half-Life: Alyx will be launched by Valve in March 2020. Before this event, Valve decided to allow all users of the Steam platform to play for free the Half-Life game, along with Opposing Force and Blue Shift expansion packs (DLC). Valve also allows users to play Half-Life 2, Half-Life 2: Episode One and Episode Two.
This free play of Valve is different from the previous times, Valve only allows users to play these games for free for 2 months only and not get the copyright key at the right time and keep the game in the account permanently.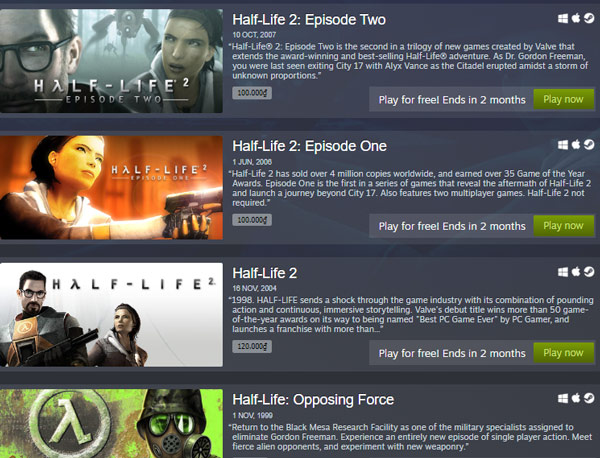 All Half-Life versions played for free on this occasion can be played on Windows, Linux and macOS. Macs running macOS 10.15 Catalina cannot play this game because it uses 32-bit.
This move by Valve is said to promote the upcoming Alyx part in March 2020. Half-Life: Alyx has a character, a plot element similar to Half-Life 2 with the context set before. So, according to Valve, if you experience the previous parts, especially Half-Life 2 and the episodes, users will enjoy Alyx to the fullest.
To play for free 6 versions of Half-Life and Half-Life 2 for 2 months, until Alyx launches, users please login to your Steam account and download the game to play immediately following the link below.
https://store.steampowered.com/franchise/Half-Life/list/35960
Please download Horace, an exciting 8-bit graphic adventure game is free
Please download and experience Tam Sinh Tam The – Eternal Love M, super cool role-playing game
.