With the explosion of ultra-casual games in recent years, a number of fast-growing emerging companies have emerged in the global market. Today, what we want to introduce to you is TapNation, a super casual game publisher from France. This ultra-casual game has been published less than two years ago. There are more than 8 online games, 125 million downloads, and 15 million monthly active users. Unlike other publishing, TapNation uses AI technology to analyze and study thousands of games and adopts the form of publishing to provide product planning for research and development, reducing risks and increasing the success rate of games.

The new casual game from France has been released less than two years and has won over 100 million
Those who are concerned about the US market should notice that an unfamiliar publisher, TapNation, appeared on the TOP10 list of iOS in the United States, and once occupied 2 seats in the top ten. After Roski understood, this young ultra-leisure manufacturer has achieved more than 100 million sales in less than two years.

"Guess Their Answer" iOS ranking trends in the U.S. in the last three months

"Giant Rush!" iOS ranking trends in the US in the last three months
TapNation was established in January 2019 and received 5 million euros in financing at the beginning of its establishment. At that time, the company's members were only co-founders and angel investors. Up to now, according to LinkedIn, TapNation's company size has reached about 35 people, and more than 8 games have been released at the same time.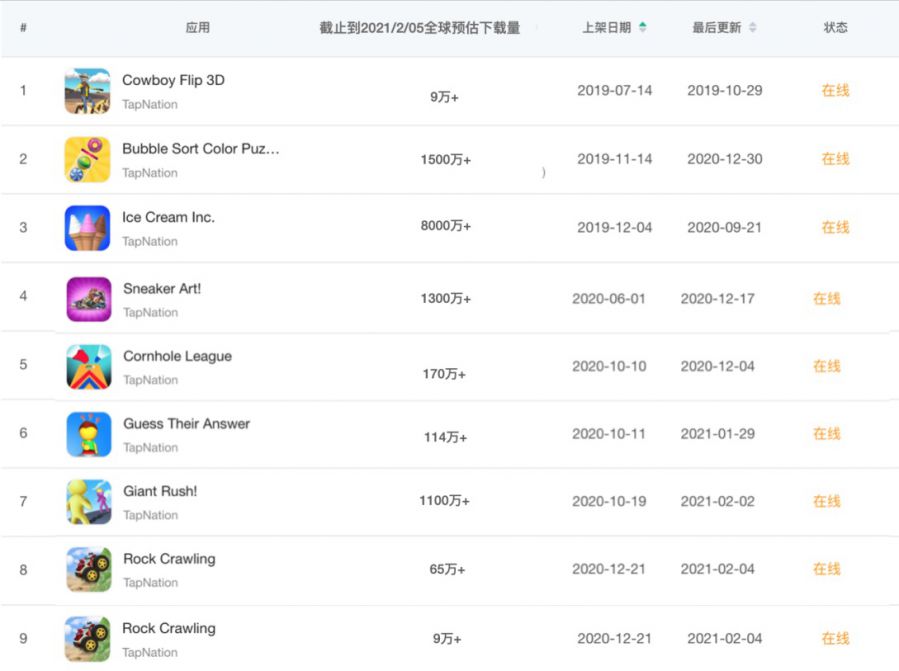 Estimated downloads of TapNation products as of February 5
The first product "Cowboy Flip 3D" released by TapNation was launched in June 2019. Although the download volume and profit of this product are not very high, it allows the team to see the company's prospects. Therefore, in the summer of 2019, TapNation, which is the company's brand, was officially launched. Then, in December 2019, TapNation released two games "Bubble Sort" and "Ice Cream Inc".
"Bubble Sort" started testing on December 3, 2019, and went live on December 19, 2019. As of press time (February 25), there are 15 million+ downloads.
"Ice Cream Inc" was tested on December 5, 2019 and launched on December 20, 2019. As of press time (February 25, 2021), there are 80 million+ downloads.
Next, we will analyze the TapNation method and routines based on the case review of the two games "Bubble Sort" and "Ice Cream Inc", hoping to bring you some new R&D and release tuning ideas.
The puzzle game "Bubble Sort" with over 15 million downloads is relaunched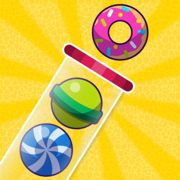 "Bubble Sort" is a puzzle-solving game that organizes and categorizes themes. The dual-end version of Google Play + App Store has accumulated more than 15 million downloads.
TapNation believes that the key to the success of "Bubble Sort" is the accurate understanding of user behavior and the control of the level's difficulty curve. Within TapNation, data analysts and technical engineers have developed well-organized tools to monitor, analyze, and test the core gameplay and difficulty curve of the game to improve the overall KPI. Here we look at some specific methods and techniques.
1. Significantly improve retention indicators through data drive
When we optimize the game, we need to think and define the dimensions of analysis. Average retention and session duration are the most important indicators? Anything else? How to define?
For "Bubble Sort", TapNation believes that CPI, session duration, and retention rate (relative and absolute) are not sufficient to evaluate the recycling potential of this product, so we start from advertising display to analyze player behavior to find the similarity of the largest audience that can be scaled. Points to directly increase user retention, session duration and LTV.
2. Feasibility data
In the ultra-leisure field, don't be limited by the experience framework! Players will bring you new understanding at any time, which is also the main pleasure of TapNation's belief in doing ultra-leisure business.
AB Test is the main method that drives the entire creative optimization process of "Bubble Sort". TapNation has conducted more than 50 AB Tests during the optimization process of "Bubble Sort". The test results show that sometimes some very small changes (UI and progress duration) will greatly improve our data indicators, and sometimes some very big changes will reduce the overall LTV.
3. From data analysis to data science
In TapNation, data engineers and analysts collaborated, using the continuously adjusted and optimized LTV model combined with AI methods to generate thousands of scenarios for "Bubble Sort" to analyze the specific point where optimization is most likely to maximize the profit return. Each round of learning in the AI ​​scenario generation here is based on the results of the previous round. In this way, TapNation can quickly and accurately optimize "Bubble Sort" with a minimum of time and less steps, and ultimately increase by 18%. LTV.
"Ice Cream Inc.", which has over 80 million downloads, was launched and reviewed
"Ice Cream Inc." is a life experience game with the theme of making ice cream. Players only need to select the corresponding color and hold the screen to quickly make the delicious ice cream in the picture.
TapNation believes that grasping the players' psychological needs to relax and making the delicious refreshment of the tongue are the main reasons for the success of this game.
1. Brainstorm
TapNation encourages brainstorming in a relaxed and open environment. Whether it is a dinosaur avoiding meteors, a dinosaur chasing marbles, or a cowboy flipping, it can all be expressed. The important thing is to have more creative ideas.
In the case of "Ice Cream Inc.", TapNation spent a whole afternoon brainstorming and extracting the ice cream shape and color matching points, and made the following look: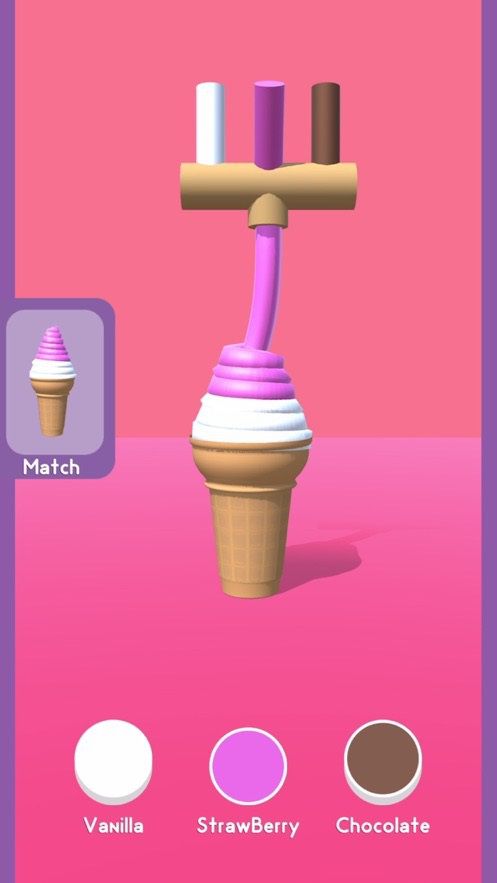 A scoop of vanilla-flavored cream and a scoop of strawberry ice cream make a nice soft ice cream. The cone-shaped ice cream with cream material that can be whipped and sprinkled with dots has become the creative direction of this "Ice Cream Inc." project. Soon, the planners and designers of TapNation produced a video and put it on Facebook for a suction test. The approximate CTR (click rate) is very high (Roski Note: The head distribution generally thinks that iOS in the United States puts Facebook pan-users In this case, the CTR is excellent at 5%, and 3% can be iteratively tried), which shows that this idea is very inspiring and has the potential to become a hit.
2. From the core concept to the full version of the game
After the market absorption test and verification, "Ice Cream Inc." entered the R&D stage. To ensure better results, TapNation sent this creative video to many cooperative R&D studios for communication options. After repeated communication, TapNation finally chose Redline. Games studio came to implement this idea, and it took Redline Games a few weeks to make "Ice Cream Inc." out. When the playable version comes out, the team will begin to pay attention to how players play the game. Usually TapNation will look at the following points:
a. How many players have downloaded this game
b. 1-8 days retention
c. Player pain points and frustration analysis
d. Feedback from new players, for example, thanks to many players
The feedback of the first version is very positive, proving that "Ice Cream Inc." is likely to become a super casual game with a good market performance. We have entered the product iteration and tuning stage.
3. Continuous monitoring of player behavior + continuous and rapid tuning iteration is the secret to the success of ultra-casual games
In the case of "Ice Cream Inc.", TapNation strictly monitored the changes in player behavior after each version update to find out the direction of the next version iteration. With the professional analysis and implementation of the release and R&D team, "Ice Cream Inc. ." In 6 months, 60 million+ downloads have been obtained, and so far the download of the game has exceeded 80 million.
In the end, we can conclude that an efficient brainstorming session + rapid absorption test + selection of the most suitable R&D team to quickly tune and iterate + release the depth of market understanding, which is the ultra-casual game that can be used in the current fierce market. A necessary condition for survival in the competition.
Source: Roski
Original: https://mp.weixin.qq.com/s/GnfXTPGBJScDa9kRkXdY_A
.