Taplo rug is considered a hot sun protection savior, carbon leather taplo carpet is very luxurious, while the cheapest felt. So which carpet to buy?
* Drag the table to the right to view full information
| | | |
| --- | --- | --- |
| Price of taplo carpets | Wholesale price (VND) | Retail price (VND) |
| Taplo rug | 110,000 | 200,000 |
| Carbon leather taplo mat | 200,000 | 300,000 |
Price list of taplo rugs prevalent on the market – Hotline: 0902 979 855
Should we use taplo?
---
Hot weather – engraved "devastating" automobile taplo
In automotive interiors, taplo is the most exposed part from the sun. Because it is located close to the steering glass, the taplo will "catch" UV rays and high temperatures from the sun. Although it has passed a layer of steering glass, the heat has not decreased, but on the contrary, there is an increasing trend. If you park for a long time in the sun, the taplo temperature can rise to 60 degrees C, even 70 degrees C. This directly affects the surface of the taplo and the details in the dashboard.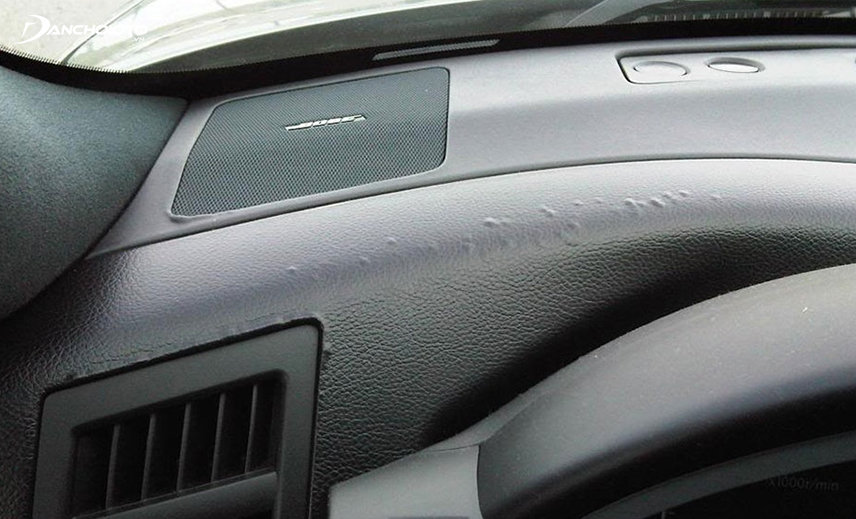 From the popular cars, mid-range, to luxury cars, taplo mostly produced in plastic. So the ability to withstand the effects of sunlight and the temperature is very poor. After a period of use, the heat can cause the surface of the taplo to fade, blisters to start appearing. Following it were a few cracks. If this situation is not corrected in time, the taplo may be deformed. Not only has the negative effect on the surface of the taplo, the heat can also affect the normal functioning of the details inside the panel.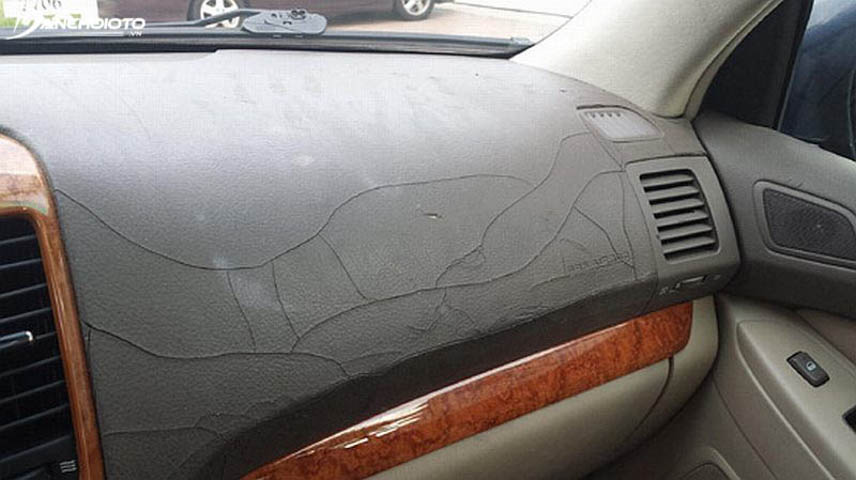 See also: Lsimili floorings for cars
Blurred vision due to sunlight, lights – high risk of accident
Besides causing damage to taplo, sunlight is also the cause of blindness and glare on the steering glass. Make sure that you, as well as 100% of automobile drivers, ever encounter this situation. When you drive directly opposite the sun or drive in the afternoon, you will often get blinded when looking into the driving glass.
Blurred vision can cause you to temporarily "blind" for a few milliseconds to seconds. It may be for a moment, but it can make your eyes uncomfortable. And most importantly, within those few milliseconds or seconds, the chances of you having a collision or accident are extremely high. Because when you blinded you, you will lose sight temporarily, not see what is happening ahead, leading to the ability to handle unexpected situations very limited.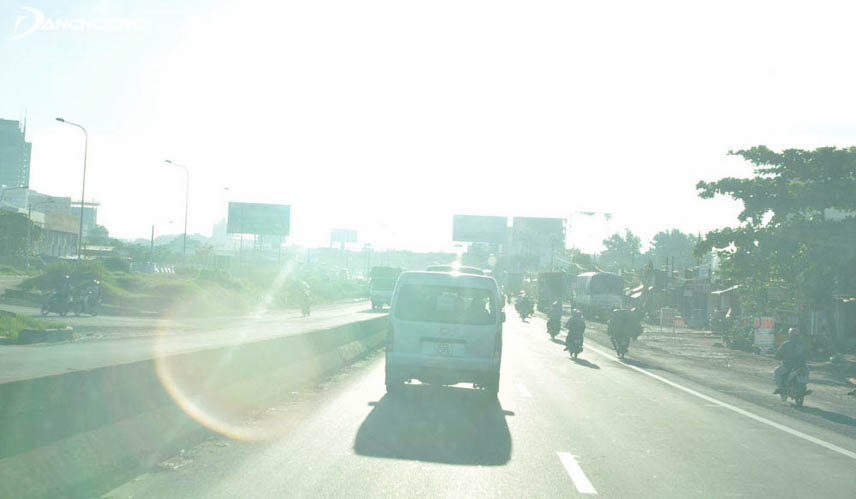 In this regard, Mr. Tran T. Tam (7-seat driver – Ho Chi Minh City) shared: "I am most afraid of the blinding area. In the past, I bought a Toyota Innova car, not yet fitted with taplo carpets, the sunlight kept reflecting from the taplo on the driving glass, extremely uncomfortable eyes. One time, I was running on Pham Van Dong street, the sun was so bright, I almost got to the old lady who was crossing the street ".
Taplo hot car mats – Taplo protection, safe driving
Taplo anti-heat mats were born as one of the ways to prevent heat for cars, protect taplo effectively, and help prevent blindness, protect driver's vision. However, many car users often wonder whether or not to use taplo rugs, especially taplo heat-resistant carpets. To answer this concern, we conducted an interview with a number of technical experts and drivers:
Mr. Tran M. Tam (KIA – Binh Duong automobile technician) said: "In my opinion, it should be used, because in Vietnam, the sun is very intense, do not use automobile taplo mats after a certain period of taplo faded. "
Sharing the same opinion, Mr. Vo V. Minh (Toyota Automobile Technician – Ho Chi Minh City) shared: "Yes, taplo carpet is both beautiful and sun-blocking, preventing blindness when looking at the driving glass, and also Prevent taplo damage. I saw many car owners do not use taplo carpet, after a few years when the car to taplo firm appears a few blisters. Taplo car made of plastic but plastic is not sunny. No matter how good plastic is, it won't stand our heat. I have seen a Toyota Vios with taplo blistering very much. "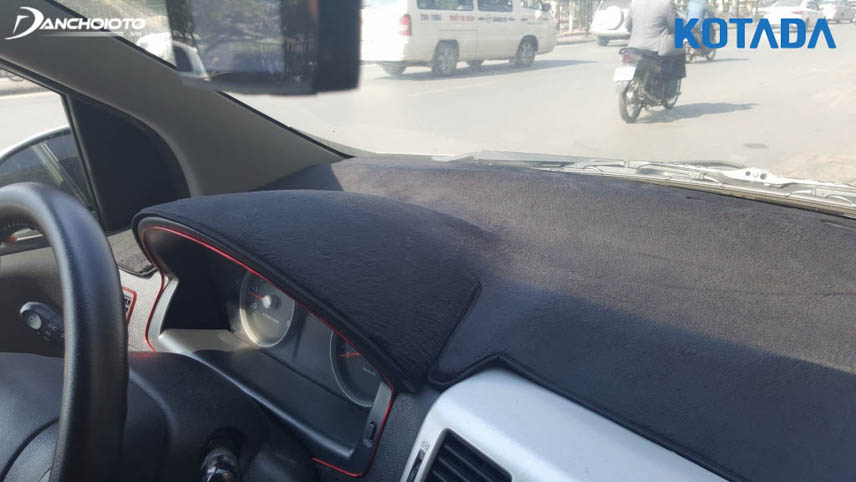 Mr. Nguyen V. Cuong (4-seat driver – Ho Chi Minh City) expressed his opinion: "I think it should be used, now there is a very good anti-hot taplo fleece carpet. Use this carpet to touch the taplo see less heat. But the most liked is no longer dazzled. Previously I did not use the taplo carpet to drive in the sun, the glare was very uncomfortable. "
Ms. Huynh P. Dung (Accountant – Ho Chi Minh City) shared: "It is strongly recommended to use taplo rugs. Plastic is sunny all day long and faded, blistering. When I went to grab a lot before, I saw many bulging taploes look terrible. Taplo as well as the interior of the car, being so lost the value of the car. So when she bought a Kia Morning car, she bought a taplo carpet immediately. Recently, I went to a few cars to see the new type of carbon fiber taplo carpets that look so luxurious without being dazzled. I am planning to switch to this type because the type of felt I am using is fast and has a bad smell too. "
From some opinions above, it can be seen that the use of taplo heat resistant carpets for cars brings many benefits. Taplo heat-resistant carpets are usually manufactured with many layers, which have the effect of insulating, preventing hot sun, preventing fading, blistering, cracking, scratching and dust-proof. Carpets help maintain the beauty of taplo, prevent damage, degradation.
More specifically, using taplo heat-resistant carpets, you will avoid blindness, causing "blindness" temporarily. From there to achieve the most ideal vision, timely handling of unexpected situations, ensuring safety on all roads.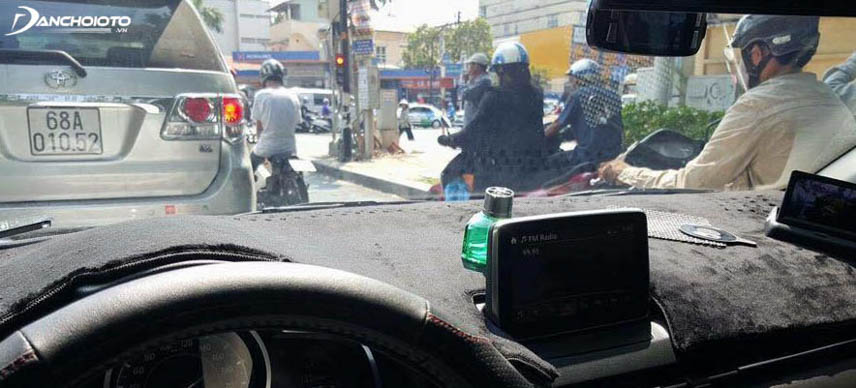 In addition, according to many drivers, using taplo heat-resistant carpets also saves fuel. Because when using carpets, the temperature in taplo will always be in a stable level, air conditioners do not need to operate with high capacity.
Types of automobile taplo mats
---
Meeting the ever-increasing demand, there are a wide variety of taplo carpets on the market. Among the popular and popular models are:
Taplo anti-hot carpet for fleece cars
Structure of taplo fleece carpet:
The velvet layer is very smooth on the sheep cage
Heat-resistant layer – special insulation in the middle
Smart self-adhesive base at the end
Advantages of taplo fleece carpet
Insulation – heat resistance is highly appreciated
Design smooth, luxurious fur surface
Smart self-adhesive base, no need to use glue or adhesive fixation
Disadvantages of taplo fleece carpet
The price is quite high, the price of wool taplovers ranges from VND 350,000 to VND 550,000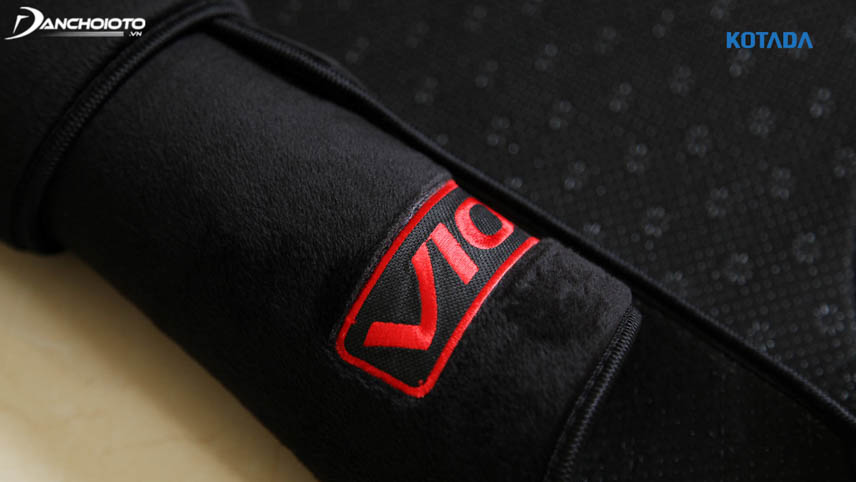 Carbon leather taplo mat
Structure of carbon leather taplo carpet:
Carbon top grain leather
Heat-resistant material layer – insulation in the middle
Smart self-adhesive granule at the end
Advantages of carbon leather taplo mats
The unique and luxurious carbon-textured leather face is rated to possess the highest aesthetic beauty in the current taplo carpets
Waterproof, difficult to stick dirty, easy to clean
Smart self-adhesive base, no need to use glue or adhesive fixation
Effective against heat – high insulation
Disadvantages of carbon leather taplo carpet
The highest price, the price of carbon fiber taplo carpets ranges from 450,000 to 590,000 VND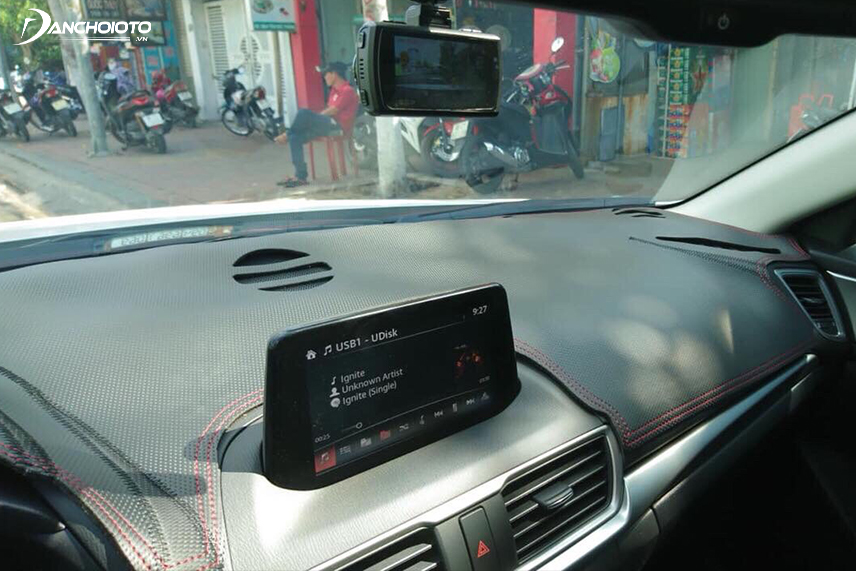 Taplo car sunscreen carpets
Structure of felt taplovers:
Felt layer above
The foam is usually in the middle
Wrapped fabric on bottom
Advantages of felt taplovers
Cheap price, the price of taplo felt felt ranges from 150,000 to 270,000 VND
Defect taplo felt mats

Felt fabric surface is not appreciated for aesthetics such as fleece carpet and carbon leather carpet
Must use stickers to fix the carpet on taplo
If used for a long time, the felt surface is often very bad
The carpet is easy to absorb water, sticks to dirt, smells, is difficult to clean …
Heat resistance is not equal to fleece and carbon carpets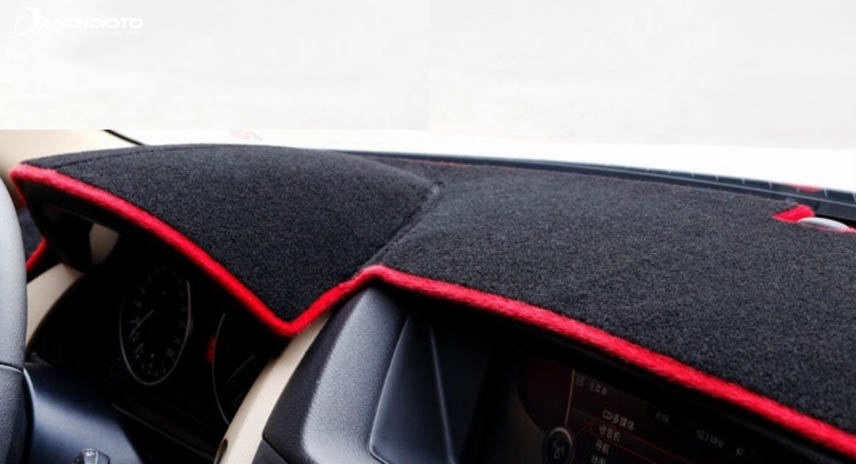 Taplo car sunscreen carpets
Structure of fabric taplovers:
The fabric is on
The foam is usually in the middle
Wrapped fabric on bottom
Advantages of taplo fabric rugs
Cheap, taplo carpet prices range from 100,000 to 200,000 VND
Cons tTaplo dampers

Fabric surface is not appreciated for aesthetics, lacking in a luxurious feel
Must use stickers to fix the carpet on taplo
Quick degradation, fabric surface is easily ruffled, torn …
The carpet is easy to absorb water, sticks to dirt, smells, is difficult to clean …
Insulation – heat resistance is not appreciated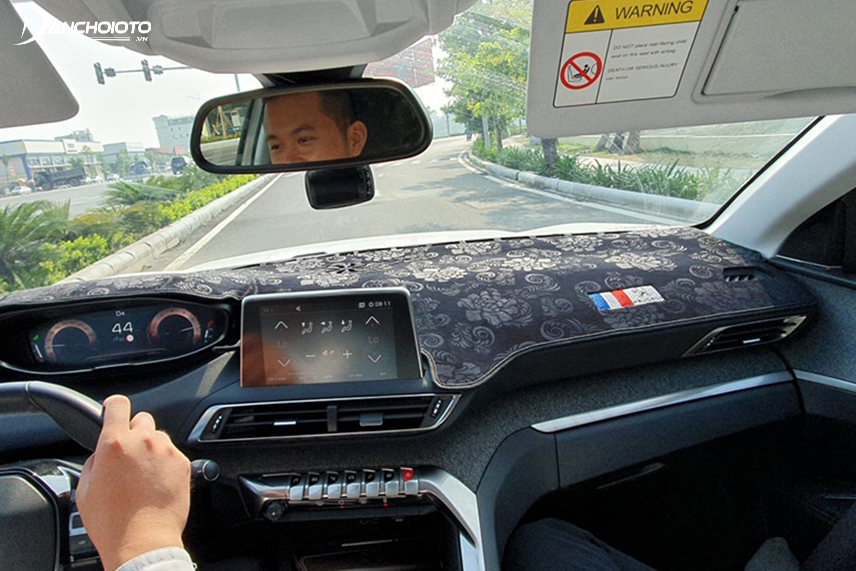 Taplo carpet for fur cars
The structure of a feather taplo rug consists of 1 layer of artificial fur
Advantages of taplo fabric rugs
In view of some carpet people bring luxury beauty, creating a cozy feeling for the car interior
Cons tTaplo dampers

The selling price is high, the price of fur taplovers on average is from VND 600,000 or more
Thick fur surface can affect visibility, making the driver's ability to observe less open
Must use stickers to fix the carpet on taplo
Easy to keep dust, water absorbent, damp, smelling, difficult to clean …
Heat resistance – insulation is not high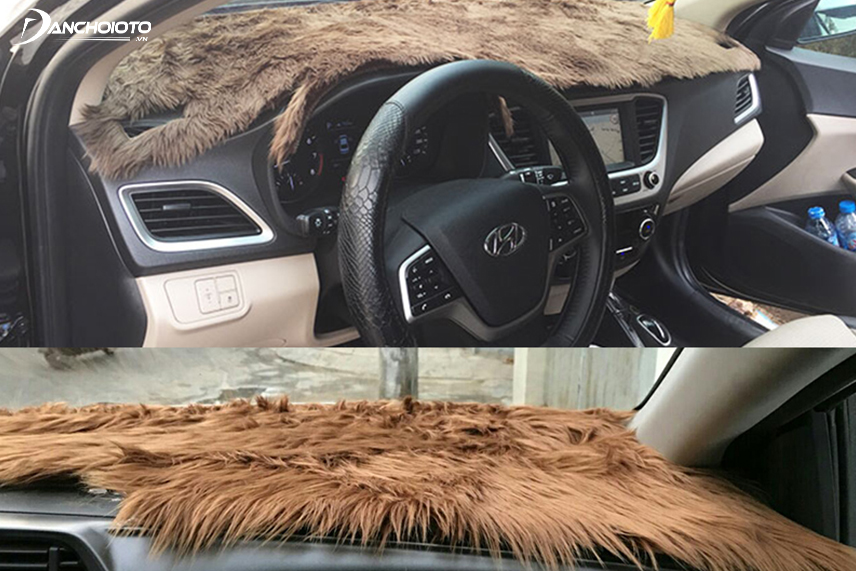 What kind of taplo carpet should I buy?
---
Among the taplo carpets on the wool taplo rugs and carbon fiber leather taplo carpets are more appreciated. Because these 2 types of carpets are both aesthetically pleasing, classy, ​​luxurious, and have a middle layer of insulation to help combat heat.
Taplo rug
Taplo heat-resistant carpets are rated as one of the car-resistant carpets with high heat and sun protection, aesthetics and elegance. Taplo wool carpet has 3 layers including:
Artificial fleece on top
Material of heat-proof, insulation in the middle
Smart self-adhesive base on the bottom
The artificial fleece on the top is very smooth and beautiful. Compared with felt carpets, fabric rugs, artificial fleece material looks more luxurious, very suitable for car interior space.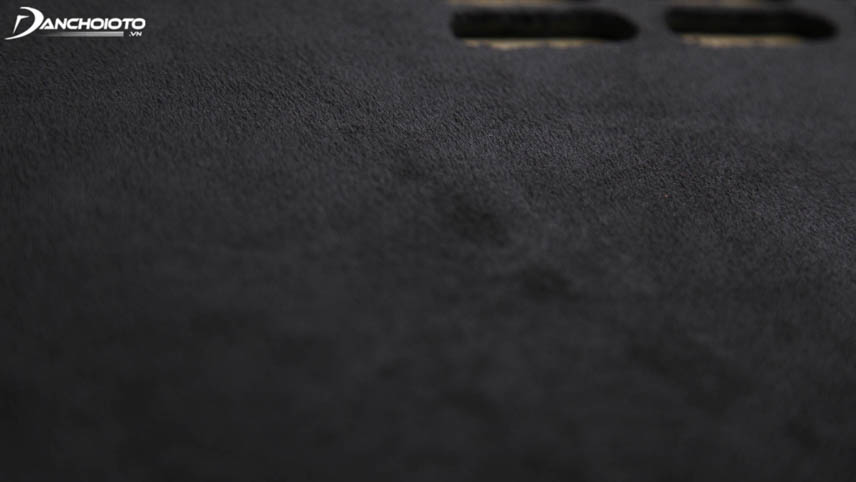 If the upper layer of wool mainly creates the "charm" on the outside, the middle layer of insulating cotton undertakes the most important task of sun protection, heat protection, heat resistance, heat absorption, and at the same time dissipate heat, protect taploid surface from heat damage.
The smart self-adhesive base on the bottom helps secure carpets firmly on taplo. If other common carpets mostly use stickers to fix the carpet, the wool taplo rugs can stick itself without the inconvenience stickers. Users just need to cover the carpet with the spikes sticking underneath will suck and grip on the taplo.
It can be seen that, in terms of the effect of sun protection as well as aesthetics, the sheep wool taplo carpet has many superior advantages. This is also the reason why more and more people love this type of sunscreen taplo carpet.
Carbon leather taplo mat
Carbon fiber taplo carpet has only recently appeared. Although quite new, but carbon leather taplo carpet has quickly attracted the attention of many car users because of its exquisite beauty and elegance. Taplo carpets are simple in design, not cumbersome like other types of fur rugs, suitable for the "luxurious" style of European automotive interior space.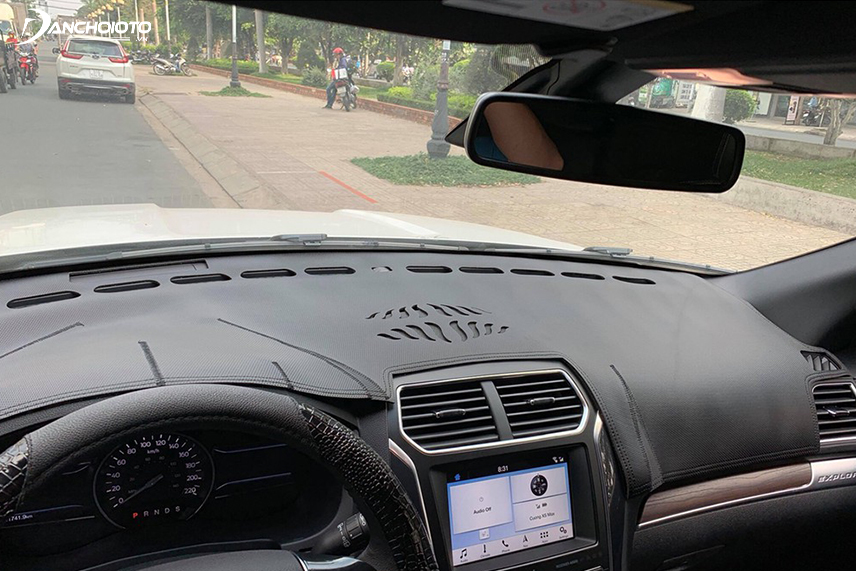 Carbon fiber taplo mat has 3 layers:
Artificial fleece on top
Material of heat-proof, insulation in the middle
Smart self-adhesive base on the bottom
The surface is a high-grade artificial leather covered with fancy carbon grain. This carbon texture is often used by many luxury cars or super cars like BMW, Audi, Lamborghini …. Many people worry that using the skin will cause glare. However, the fact that this skin has been treated, not only does it not cause glare, but also prevents light reflection on the glass to help the driver achieve the best vision.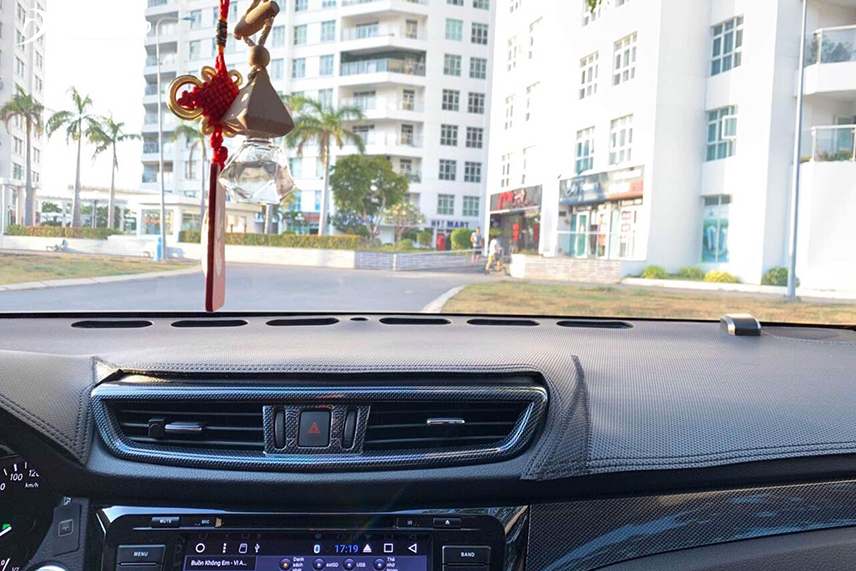 Like the wool taplo carpet, the carbon leather carpet is equipped with a special layer of insulating material in the middle to help insulate, protect against hot sun … thereby protecting the surface of taplo from harmful agents from the sun. such as physical effects causing scratches, taplo damage.
The last layer of carbon-fiber taplo carpet is a self-adhesive granular sole. Users just need to cover the carpet with taplovers, the carpet will fix itself, without using inconvenient scissors.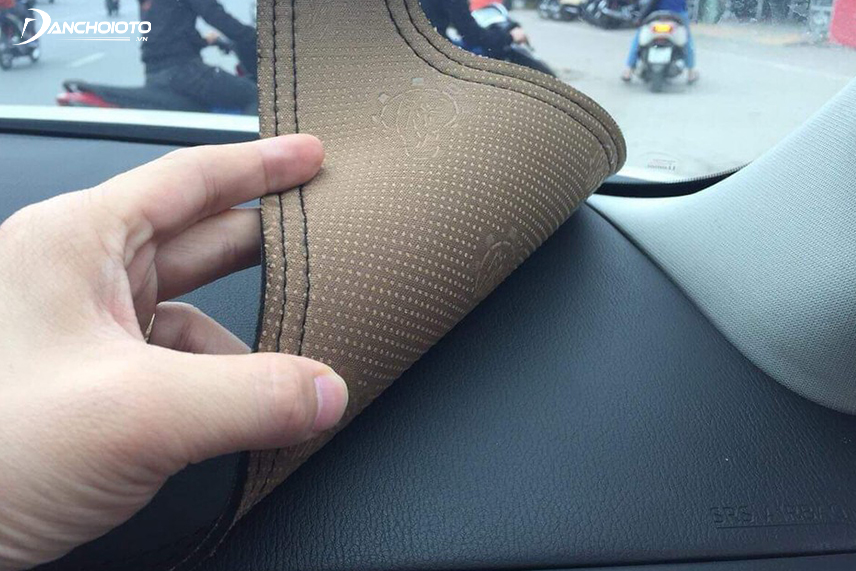 Experience in buying taplo carpets to avoid "money lost disability"
---
Based on the psychology of shoppers, many addresses selling auto accessories, especially online sales channels, often use tricks to deceive customers. The most common case is that the buyer "confuses the taplo carpet and the taplo anti-heat carpet". When introducing products, sellers often make buyers mistakenly believe that taplo heat-resistant carpets. However, in reality, this is simply a kind of taplo carpet, no insulation against heat inside.
Confusion between the two types of carpets is not new. At a prestigious automobile forum, Mr. Doan V. Thang (Driver – Hanoi) shared a "remember life" story about the wrong purchase between taplo and heat-resistant carpets. Specifically, when he saw the taplo area was hot when running for a long time in the sun, Mr. Thang went online to buy a heat-resistant carpet product specifically for taploes and bought a kind of advertised felt carpets. Heat protection.
However, after a few uses, Mr. Thang noticed that the taplo area showed no sign of cooling down and was even hotter than before the carpet. After investigating, Mr. Thang discovered that he had to buy regular taplo carpets, not carpets with anti-heat effect.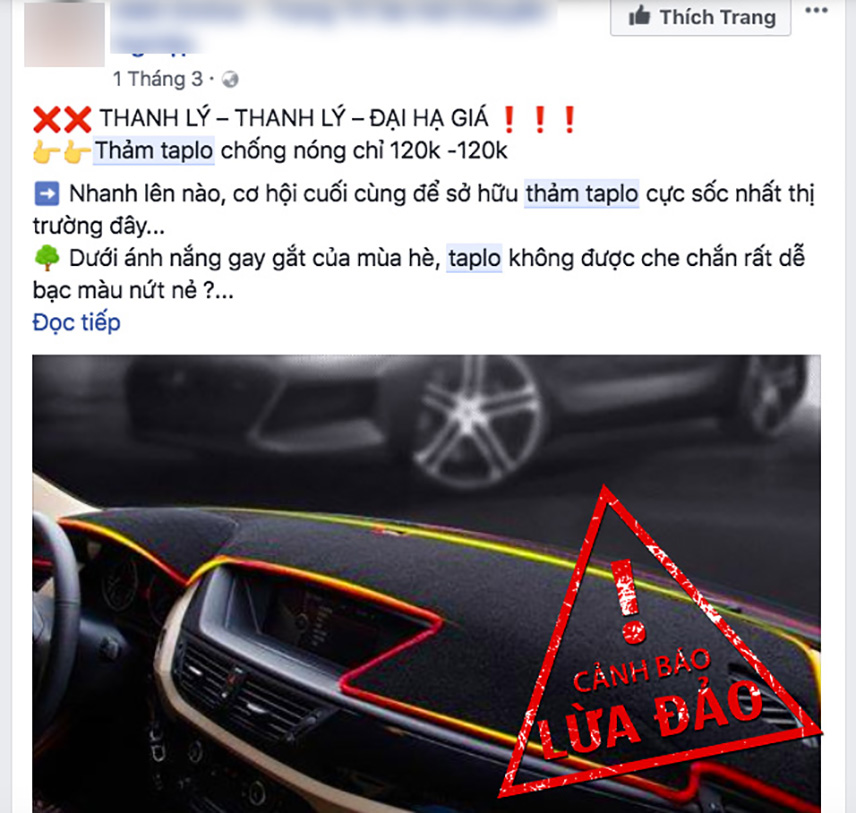 Mr. Dao V. Binh (Driver – Ho Chi Minh City) urgently said: "I thought it was a heat-resistant carpet, I doubt it, but I saw the original price of 490 thousand, reduced to 250 thousand then cheap ham. Thought the good carpet promotion discount, but who suspected the carpet witty. Receiving goods on the carpet is very thin, only 2 layers, no insulation. It is still so hot to ride on the hot weather with taplo. "
Another case is that many places now sell poor quality taplo hot rugs. Entering the psychology of "like cheap", many places offer cheap taplo carpets only from 100,000 to 150,000 VND, just a single-layer carpet. This type of carpet is not resistant to heat, insulation.
Mr. Nguyen V. Tu (Driver – Ho Chi Minh City) shared: "I happened to see a place selling taplo carpets very cheap, because I was planning to buy these products so I ordered them at just VND 150,000. Carpet delivery to very thin, only one layer. I just asked the phone again why the heat-resistant carpet has only one layer, the salesperson said it was just a taplo rug, not a heat-resistant carpet. At this time, the fire is new. "
Sharing about the wrong carpet purchase, Mr. Nguyen M. Quang (Driver – Nghe An) said: "I have used a felt blanket to cover taplo for nearly 1 year. After that time, when removing the carpet to replace a new one, it was discovered that the plastic surface area in the taplo area showed signs of cracking due to overheating. When the factory took out a lot of money to repair it, the workers told me this is a normal carpet, thin and sticky, what can be done against heat ".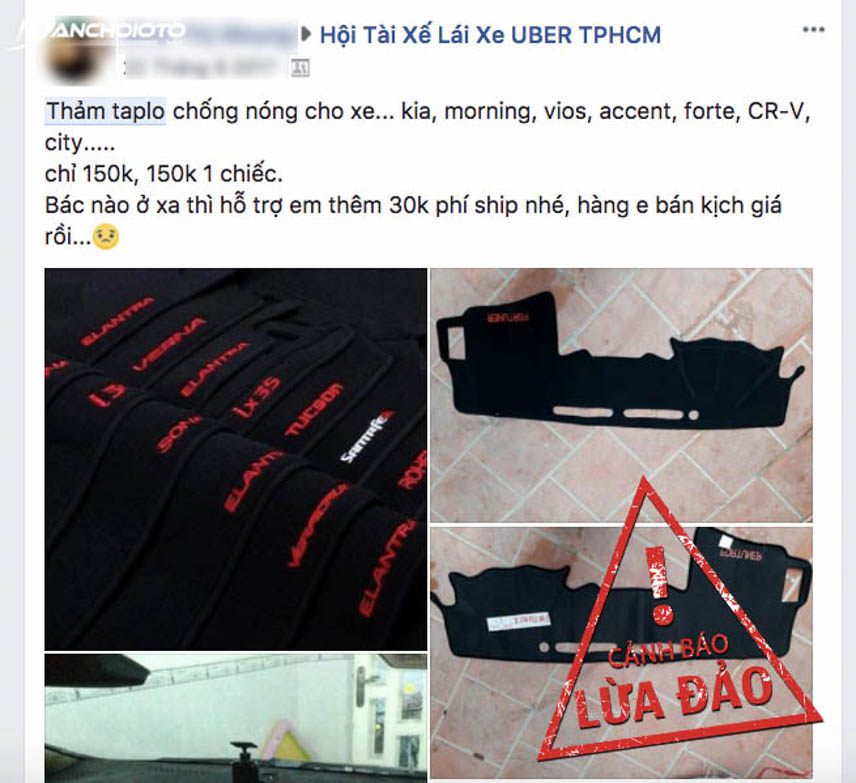 According to Mr. Hoang Tuan Anh – who has much experience in the field of automotive accessories business, said: "There are many types of heat resistant carpets, there are also many prices. Many places sell cheap rugs, introduced as heat-resistant rugs, but in fact there is no insulation, straight out there is not much anti-heat effect. These rugs are used for a while and are old and ruffled because they are made from cheap materials. If you buy heat-resistant rugs, you should buy at reputable addresses, clearly introduce, priority quality carpets will use more durable and beautiful, 3-layer structure, price range over 350 thousand is the standard ".
** Some signs identify poor quality taplo hot rugs
In order for taplo heat-resistant carpets to take full advantage of their uses, we need to buy good quality products. Avoid buying low-quality goods that both cost money and have no effect. As such, we need the knowledge to distinguish witty and dark goods. If you are attentive and observant, you can easily distinguish "fake" goods through the following signs:
"Bad" material
The first sign of distinguishing low quality products is the product material. The "anti-heat" rugs are usually made from bad, poor quality materials. When touching the product, you will see rough carpet fabric, rough, thin, poor heat resistance. As for the good quality products will be made from soft, smooth, thick, thick fabric.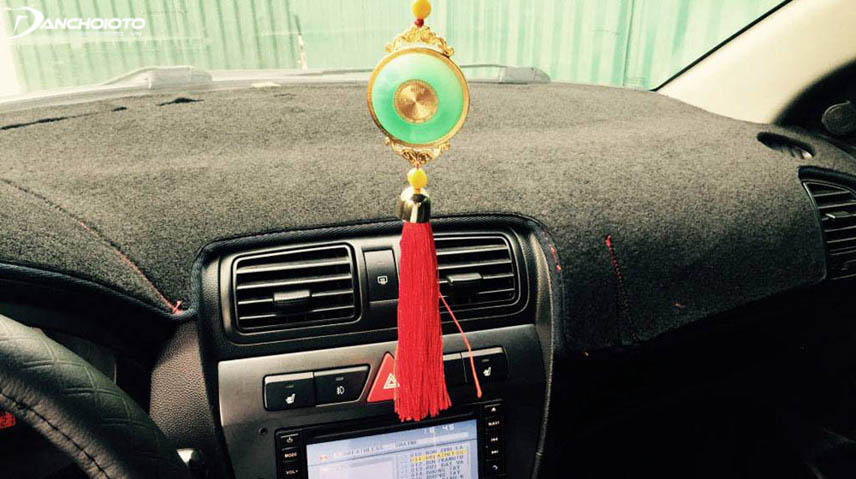 Fabric structure is thin, few layers
Mr. Tuan Anh shared: "Heat-resistant carpets must be a carpet with 3 layers: surface layer, the most important insulation layer in the middle and the lining or rubber layer to increase the grip of the carpet. If the carpet has only 1 or 2 thin layers of fabric, it will not work against heat. On the contrary, it is still difficult to release heat for taplo ".
To increase the ability to protect taplo, the good quality sunscreen rugs often use good quality fabric, thick, 3 layers. If you feel the carpet is thin, composed of only 1 or 2 layers, this is usually the type of rug of poor quality. Poor quality taplo mats have poor heat resistance so they will not protect taploes under the influence of sunlight. Using anti-hot carpets, taplo is still affected, easily degraded, scratched, …
Low price
According to Mr. Tuan Anh, said: "Currently, there are many types of online advertising on cheap taplo anti-hot carpets only tens of thousands. Customers need to be alert to these types of advertisements and learn to distinguish between normal and heat-resistant rugs. Taplo mats that resist heat now cost between VND 350,000 and 500,000. Carpets that are less than 300,000 are only witty one, there is no heat protection. Used goods are also very fast broken. Because the price of taplo rugs and taplo heat-resistant rugs is much different, many vendors "ignore" the effectiveness of insulation to make customers mistaken for rugs. Therefore, before buying carpets, car owners need to be very careful before advertising cheap anti-hot carpets.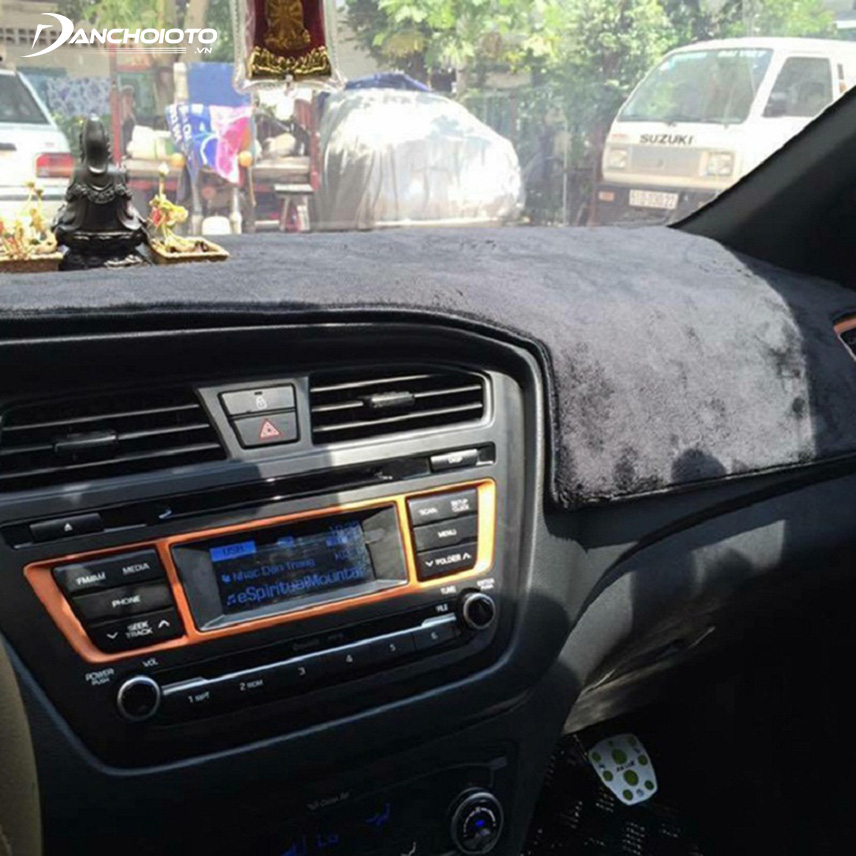 Price often goes hand in hand with quality. The products of good quality, made from good materials, durable, the price is often high. Therefore, with poor quality taplo hot carpet, the price is usually lower. However, before buying, customers should consider, check carefully to avoid the situation of buying "fake" goods but the price is high.
Advice, if you want to buy taplo heat-resistant rugs, choose products that are both protective and durable. Do not be "cheap ham" and buy low quality products that have been used for a while. To ensure the quality and type of carpet, buyers should choose reputable sales addresses. Avoid buying carpets that are too cheap. Especially when buying should ask carefully about the use as well as the structure of the carpet, minimize confusion.
The carpet has no self-adhesive substrate
For quality, branded taplo hot carpet products often have a sole that attaches itself to the taplo. So when the carpet is covered on taplo will be fixed, not moved, cling firmly, fit the taplo surface. As for taplo hot carpet products, the bottom layer that is in contact with the taplo usually does not have a self-adhesive base but uses a patch to fix. Therefore, the carpet is easy to move, skewed, not cling firmly, fixed to the taplo surface causing loss of aesthetics.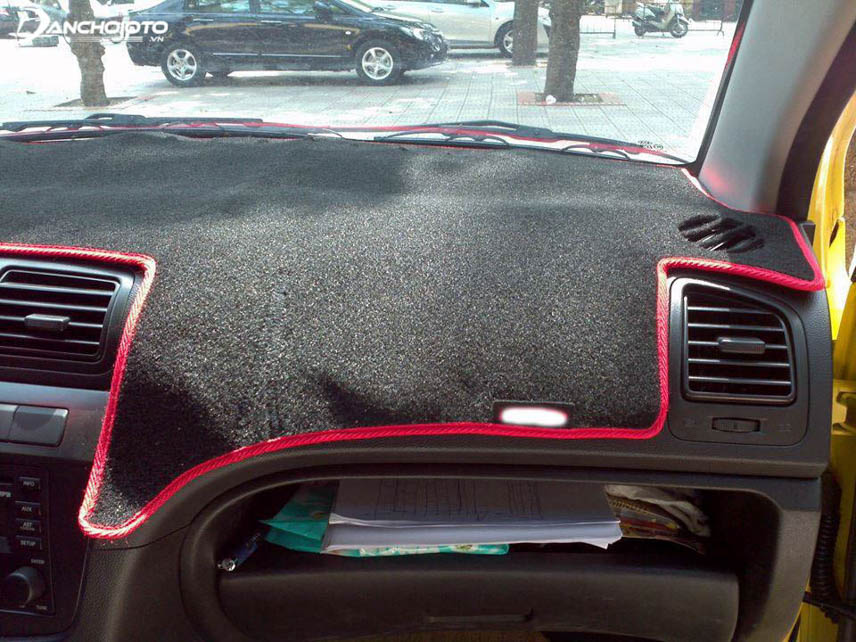 On the market today, there are many types of taplo heat-resistant carpets with different models and quality. To buy the best quality before buying, you should carefully research the product and choose to buy at reputable, branded brands to avoid buying fake and "fake" goods.
Refer:
Coating price for cars under the car

Leather seat for car seats

Automotive plastic ceiling wrap
The secret to buying "standard" taplo sunscreen carpets in Vietnam
---
Design and size
In terms of styling, taplo carpet manufacturers offer a full range of designs to suit each type of vehicle. You should pay attention to choose the right carpet designed to fit your model, so that when installing to ensure aesthetics and fit, does not affect other components in the car. It is best to choose a carpet that fits snugly in your car, even in rounded corners, kinked, rugs still tightly fitted. If your vehicle does not have a fitted carpets pattern (common in older models), you may want to purchase a self-adhesive carpet to fit your car's dashboard.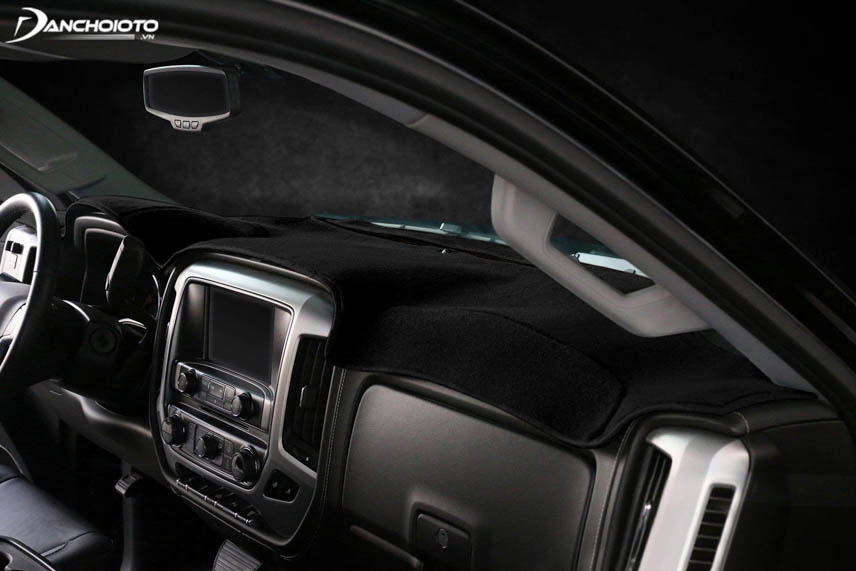 Color
The carpets have many different colors such as black, brown, gray, blue, light purple, etc. But according to the manufacturer's recommendation and from the experience of the car players, you should choose black anti-hot taplo carpets and gray. Because if you choose other colorful colors, see the sun or the lights, the carpet will reflect the reflection on the car glass, causing the driver to have limited vision. Not to mention that these colors are quite dirty. You should also limit the items on the taplo section to limit the reflection on the glass, especially brightly colored objects.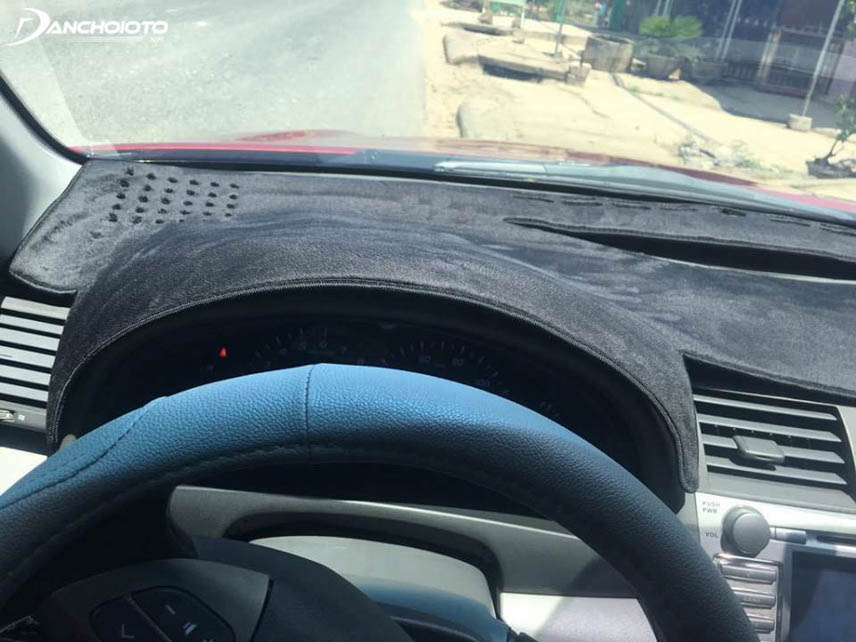 Brand and address
The price of taplo hot rugs is from VND 300,000 to VND 2,000,000 per set, depending on brand and quality. Large establishments specializing in selling taplo car mats mainly in Hanoi and Ho Chi Minh City. Ho Chi Minh.
Instructions to use automobile taplo mats properly
---
Carpet
After purchasing the appropriate taplo heat-resistant carpet, you can manually tap the taplo onto your car. This gives you a final check on how well the carpet fits, and helps you to remove it later. The carpentry carpet onto cars is quite simple. First, you roll the carpet in the opposite direction to let the carpet flatten out, because in the process of bringing the carpet from the place of purchase, the carpet has been bent. Spread the carpet on a flat surface, such as the floor, to check that the carpet vehicle is completely flat.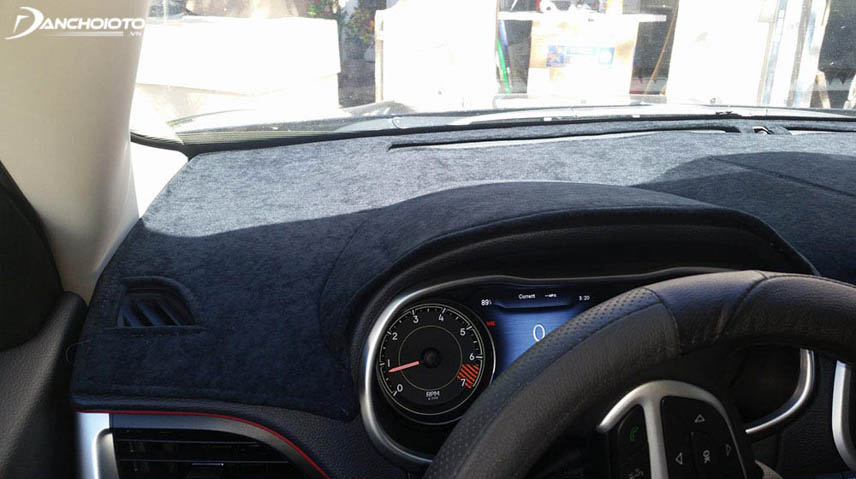 Before putting the carpet on, clean the surface of the car with taploos. Next, roll the carpet up and align the corners so that the edges fit, best. Finally, you glue the pieces to each position on the dashboard to fix the carpet, in this process, you always have to adjust the angle so that the edges of the carpet fit the taploid surface.
Carpet cleaning
After a period of use, taplo sunscreen was dusty. At this time, it is necessary to clean the carpet. To effectively clean the carpet, you should use a non-toxic, non-toxic, biodegradable and environmentally friendly cleaning solution, such as Sonax Interior Cleaner, Turtle Wax Protectan … And You should only clean taplo mats at a temperature range of 20 to 27 degrees Celsius.
Đầu tiên, bạn sử dụng máy hút bụi chân không cao để hút bụi bám vào bề mặt thảm. Sau đó dùng vải mềm thấm dung dịch tẩy rửa ở trên và lau đều bề mặt thảm, hoặc tốt hơn bạn có thể nhúng cả thảm vào dung dịch đã pha loãng đó để làm sạch được kỹ hơn. Sau cùng, bạn rửa lại bằng nước xạch và xà bông. Phơi khô thảm, rồi tiếp tục lắp lên xe và sử dụng.
Mua thảm taplo ở đâu?
---
Điểm bán thảm chống nóng taplo có rất nhiều. Các cửa hàng phụ tùng – phụ kiện ô tô ở TP. Hồ Chí Minh, Hà Nội cũng như các tỉnh thành thường có bán thảm chống nắng taplo. Tuy nhiên, để mua thảm taplo tốt, bền, đẹp, bạn nên ưu tiên chọn các cửa hàng uy tín, hoạt động lâu năm.
Nếu mua thảm chống nắng taplo với hình thức mua hàng trực tuyến, bạn nên tránh chọn mua các kênh bán hàng cung cấp thông tin không rõ ràng, bán sản phẩm với giá quá rẻ. Một địa chỉ bán thảm chống nóng taplo ô tô cao cấp nhận được khá nhiều phản hồi tích cực từ khách hàng đó là:
Xưởng thảm taplo KOTADA
Hotline: 0976 090 011
Website: kotada.com
Address: 21 / 32B Tự Lập, Phường 4, Tân Bình District, TP. Ho Chi Minh
Nơi đây cung cầp đầy đủ các mẫu thảm của hầu hết các dòng xe phổ biến hiện nay ở Việt Nam. Thông tin về sản phẩm cũng chi tiết và đầy đủ, giá thành hợp lý.
Xưởng may thảm taplo lông cừu & thảm da vân carbon ZADATO
Hotline: 1900 636 589
Website: zadato.com
Address: 832 Phạm Văn Đồng, P. Hiệp Bình Chánh, Thủ Đức District, TP. Ho Chi Minh

Sản phẩm thảm lông cừu ở đây được đánh giá có chất lông mịn và đẹp, độ bền cao, hiệu quả chống nóng tốt. Đặc biệt, sản phẩm được bảo hành lâu dài và người mua có thể đổi trả trong vòng 3 ngày đầu tiên sau khi mua hàng nếu không hài lòng. Xưởng luôn có sẵn các thảm taplo của mọi dòng xe như: Toyota Vios, Hyundai Accent, Kia Morning, Hyundai i10, Toyota Fortuner…
Ngoài ra còn một số địa chỉ khác như:
Xưởng thảm chống nóng taplo BẢO NGỌC
Hotline: 0944 636 889
Address: 27 Đường Số 3, P. Hiệp Bình Phước, Thủ Đức District, TP. Ho Chi Minh
Xưởng thảm taplo lông cừu VATONA
Hotline: 0906 882 977
Website: vatona.com
Address: 38, Street 4, KP5, P. Hiệp Bình Chánh, Thủ Đức District, TP. Ho Chi Minh
Chuyên thảm taplo da vân carbon TRÍ THỨC
Hotline: 0902 979 855
Address: No. 11, D6 Street, Dong An KDC, Tan Dong Hiep Ward, Di An, Binh Duong
Thảm chống nóng taplo xe ô tô là một phụ kiện cần thiết góp phần bảo vệ nội thất ô tô trước tác hại của nắng nóng, cũng như đảm bảo tầm nhìn cho người lái, tránh bị tình trạng loá, bóng mờ. Hi vọng những chia sẻ trên đây sẽ giúp bạn chọn được chiếc thảm chống nóng taplo tốt nhất cho mình.
Trần Quân