Original copyright prohibits commercial reprint
Authorization
Short-selling agency questions financial fraud, Vitasoy denies allegations
Beijing News (Reporter Wang Ziyang) On January 16, 2020, the short-selling agency Valiant Varriors issued a report alleging that the figures in the financial statements of Hong Kong-listed company Vitasoy International were seriously inconsistent with the official data submitted by them in Mainland China and Australia. Question its financial fraud. In the afternoon of the same day, Vitasoy issued a clarification announcement and strongly denied the report's allegations, saying it was misleading. Affected by this news, Vitasoy's stock price fluctuated and fell, but it rebounded quickly in the afternoon and closed up 5.6% at 29.25 Hong Kong dollars per share.
Zh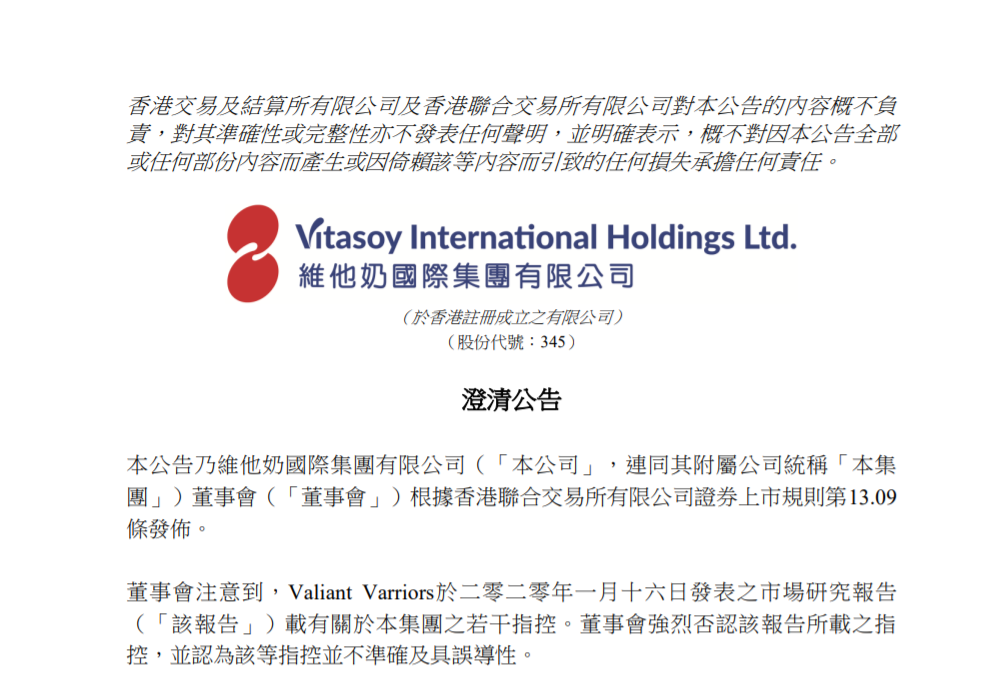 Valiant Varriors' allegation report states that Vitasoy management concealed many facts. In order to reflect the high gross profit margin in the financial report, Vitasoy seriously exaggerated its profits and capital expenditures in Mainland China and Australia, while understating the impact of cost increases. The figures in the company's financial statements are in serious disagreement with official figures submitted in mainland China and Australia.
Zh
The report said that due to rising raw material costs, Vitasoy's main competitors, Unicom, and Master Kong's profit margins have all declined. After verification, packaging costs and labor costs did increase significantly, however, public data from Vitasoy showed that these cost increases have little impact on the company's profitability. And the gross profit announced by Vitasoy has risen to more than 50%, which is much higher than the industry average of 35%.
Zh
The report believes that the behavior of Vitasoy's financial report inconsistent with government data is also used by Vitasoy in capital expenditures and fixed assets. From FY 2018 to FY 2019, capital expenditures surged from HK $ 428 million to HK $ 986 million, an increase of 130%. Judging from the annual report, most of these expenses were invested in mainland China. According to the financial report, Vitasoy increased its capital expenditure by 214 million yuan in 2017 and 689 million yuan in 2018. According to data from the Bureau of Industry and Commerce, the expenditure of Vitasoy in 2017 and 2018 was only 45.9 million yuan and 175 million yuan, respectively.
Zh
Valiant Varriors also stated that according to the data of Vitasoy in the Industrial and Commercial Bureau, it estimated that its real operating profit growth rate was only 2.9%, less than one-tenth of the 34.2% announced in the financial report; it believed that the valuation of Vitasoy was obviously It should be far lower than the main competitors. The stock price is only 10 Hong Kong dollars per share, which is 65% lower than the current price.
Zh
In the clarification announcement, Vitasoy stated that the company's board strongly denied the allegations regarding Valiant Varriors and considered the allegations to be inaccurate and misleading. The company will issue an announcement in due course to clarify and handle the relevant allegations of the report.
Zh
Beijing News reporter Wang Ziyang Image source Announcement screenshot
Editor Li Yan Proofreading Lu Qian