East Coast of Japan yesterday, February 13, recorded a magnitude 7.1 earthquake at 23h07 '.
State television station NHK said at least 48 people were injured in Fukushima and Miyagi prefectures.
The epicenter of the quake was 74km northeast of the coastal town of Namie, and was located nearly 60km deep. No tsunami warnings have been issued.
According to the National Meteorological Agency, the earthquake that struck Japan on Saturday was the aftershock of the massive 9 magnitude earthquake that happened in the area nearly 10 years ago.
"Because (the 2011 earthquake) was an extremely powerful earthquake of magnitude 9, it is not surprising that there is an aftershock of this magnitude 10 years later," said Kenji Satake, professor at the University of Tokyo's Earthquake Research Institute, said.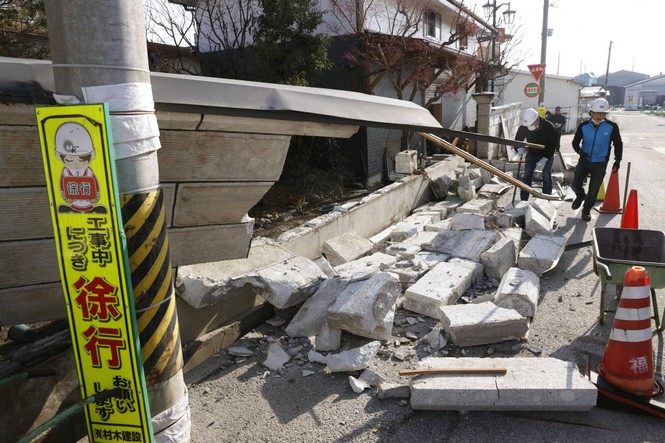 … and many works were damaged after the February 13 earthquake. Photo: Kyodo News
Saturday's quake was on the 6th of Japan's 7 earthquake scales. This is the strongest earthquake happening off the northeast coast of Japan since April 7, 2011.
Japanese Prime Minister Yoshihide Suga reassured the public that nothing unusual was recorded at nuclear plants in the region following the quake.
Speaking to reporters early Sunday morning, Prime Minister Suga said the earthquake's damage was still being assessed. He asked residents of the affected area to stay indoors and to prepare for the aftershocks.
The quake caused landslides, and damaged parts of the main highway.
Approximately 850,000 households in the Kanto and Tohoku regions lost power.
Saturday's quake hit the same area as the March 11, 2011, one that caused the worst nuclear disaster in Japanese history, when three reactors at the Fukushima nuclear plant suffered. damage causing radioactive material to leak.
More than 20,000 people were killed and lost in the 2011 earthquake – tsunami. Hundreds of thousands more have been homeless and 100,000 people have been evacuated.
According to CNN
.