Korean media reported that the two companies have just reached an agreement to supply new panels for TV production.
According to the ETNews, Display Group President Han Jong-hee in Samsung Electronics and President Choi Joo-seon of Samsung Display unanimously approved the new agreement. Accordingly, Samsung Electronics agreed to receive the new quantum dot technology screen from Samsung Display, previously known as QD-OLED. In return, Samsung Display will delay plans to stop production of LCD panels.
Samsung Electronics may become the first company to announce this new line of TVs equipped with new panels, the plan is expected in early 2022. While the display division will continue to expand production of LCD panels to supply for TV QLED line, instead of retreating as announced earlier. According to an industry knowledgeable, Chairman Han recommended it in advance.
As the LCD panel business lost money, Samsung Display turned to new technologies. The company claims to invest more than $ 11 billion in manufacturing plants and research activities in quantum dot technology. At the Asan Campus, the company began running tests late last year on a Gen 8.5 line with 30,000 substrates capacity per month.
On the left is President Han Jong-hee, on the right is President Choi Joo-seon (photo ETNews)
While the plan is backed by Samsung Electronics Vice President Lee, concerns remain regarding the new technology. Some people believe that this technology is new and has many technical barriers, especially when it is first being produced on a large scale. Some other opinions question the economic efficiency of the project, when production costs are much higher than existing technologies.
However, the cooperation of the two companies also reflects some favorable conditions when the business environment changes. The outbreak of COVID-19 caused the demand for TVs for home entertainment to rise, and the price of LCD panels also turned around. Both Samsung Display and LG Display announced their withdrawal from the LCD market in 2021, but had to postpone their plans.
ETNews assumes that if Samsung Display stops producing LCD panels, Samsung Electronics will fall into a severe supply crisis. They cannot promptly replenish the missing panels as the whole industry sees increased demand, and is completely dependent on Chinese partners such as BOE, CSOT. This will cause disadvantages when negotiating prices, being in stock, and harming the profitability of TV products.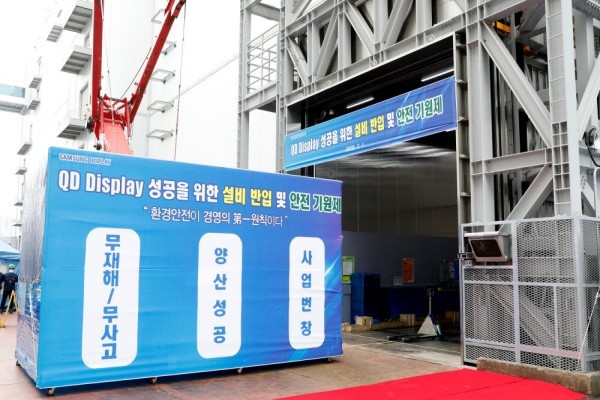 Images recorded at Samsung Display's Asan facility mid-last year (photo: ETNews)
Therefore, Samsung Electronics actively proposed to extend LCD production until the end of 2021. At the same time, committed to ensuring output for Samsung Display's new line of quantum dot application panels (previously the TV division did not support household this plan). For the sake of both sides, the monitor side agreed to the offer. QD-OLED panels, if equipped on Samsung TVs, are more likely to be successful.
Currently, Samsung Display will continue to mass produce LCD panels at the remaining 8-2 line in Asan campus. In the meantime, continue to improve the quality and productivity of the new panel. Some TV companies have been sent samples including Sony, Panasonic, Xiaomi, … There is information that Sony will consider cooperating to supplement the supply of panels for high-end TVs.
Ambitious Man