After years of major production in China, Samsung plans to close its last factory in Huizhou, questioning the company's future production.
In the context of fierce competition from Chinese domestic manufacturers such as OPPO, Xiaomi or Huawei, Samsung's smartphone market share in this billion-dollar country has "slipped" without braking in the past few years. According to reports, in 2018, Samsung smartphone in China only accounted for less than 1% of the market share, showing that manufacturers from this country of Kim Chi are facing many difficulties in competing with domestic products. .
In the first quarter of 2019, Samsung's phone exports from its factory in Huizhou dropped by 20.1% over the same period last year. In its heyday, when Samsung led the world in smartphone sales, the plant shipped more than 70.14 million mobile devices, suggesting that Huizhou is one of the key factories. in the production and supply of large numbers of Samsung smartphones.
Due to the bad situation, at the end of last year, Samsung also had to shut down its factory in Tianjin, turning 2,600 workers into unemployed. A few months ago, the factory in Shenzhen also closed.
Although China is a "gold mine" in providing low-cost workers, with the successive closure of many major manufacturers, the question is whether Samsung will choose a third country to focus on. Main production?
Besides the Chinese market, Samsung is increasingly expanding its manufacturing operations in India and Vietnam. Both countries meet the requirements of abundant and cheap labor resources as well as Samsung products. So these are the first two names that were initiated when Samsung wanted to choose a third country to continue its production activities.
India is considered a large-scale smartphone market. Since 2017, the country has surpassed the United States to become the second largest smart phone consumer in the world, behind only China. In 2021, India is expected to consume about 780 million smartphones, doubling that of 2016.
Production costs in India are also expected to be lower thanks to large scale. Phones made in this country are also not subject to import duties. The tax rate for imported smartphones only falls to about 20%.
In terms of market size alone, Vietnam with 100 million people will be incomparable to India's 1.3 billion people. However, Vietnam is an attractive destination. When Samsung said it would close the phone in Tianjin, The Economist said Vietnam would be a good choice for the phone company. Unlike many other countries that tend to import materials or components to China to assemble products, Vietnam mainly exports finished products.
In addition, the Vietnamese market is stable as well as Samsung has had a long-standing relationship. Therefore, when choosing Vietnam, Samsung will not have to consider much of the benefits because the enterprises themselves have been created many opportunities and favorable conditions for development.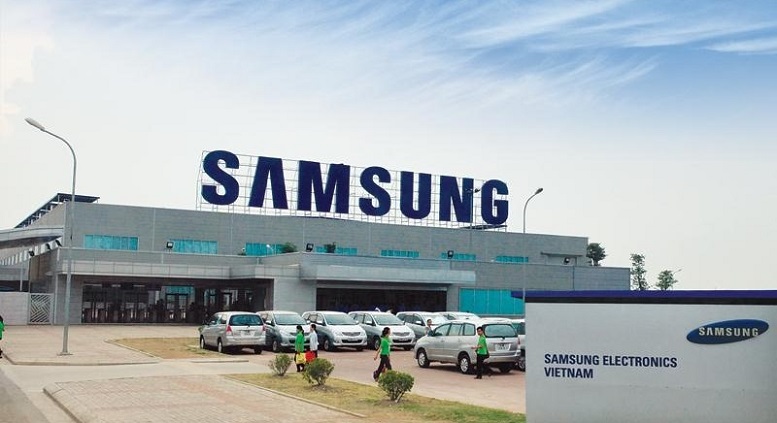 According to GS. Nguyen Mai, Vietnam since 2016, Samsung R&D center in Vietnam has researched and successfully done a phone, instead of just a few details like the previous time. The phone that was researched and created by the Vietnamese was later introduced and had a good effect.
"Vietnam is not only a place of production but also a place to develop components and a place to set up a research center to develop technology for a new era. Research centers are also constantly expanding. With software development in parallel with the hardware factory, Vietnam is becoming a strategic location for Samsung, "DJ Koh chairman and CEO of Samsung Mobile Business told the press in April. / 2019.
In a report to Prime Minister Nguyen Xuan Phuc on June 14, General Manager of Samsung Vietnam Corporation Choi Joo Ho said that Samsung Vietnam 's revenue reached 28.5 billion USD, export reached 24 billion USD by the end of the month 5/2019. It is expected that the whole year of 2019, the revenue of the Complex will reach 73.5 billion USD, the export will reach 63.5 billion USD, up 5% compared to 2018.
With the above favorable conditions, Samsung recently said that the company will deploy a plan to build a research and development center in Vietnam with an estimated scale of 3,000 people. This will also be the largest research and development base in Southeast Asia in general.
Not only that, Samsung has also invited the country's large technology enterprises to invest in Vietnam, typically a $ 500 million investment project in Bac Giang by a business specializing in the field. Semiconductors.
Currently, to help readers understand the latest, hottest technology information, CellphoneS officially established fanpage "Sforum.vn technology news page", Here information about attractive technology is always updated regularly and continuously.
Please like the page Sforum.vn Follow the following link: https://www.facebook.com/SforumTech.
Or visit the website Sforum.vn to instantly read extremely hot technology news.


Duyet Nguyen