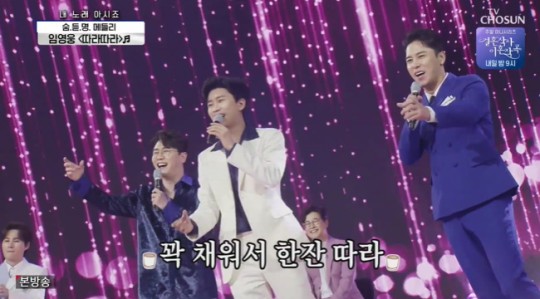 [뉴스엔 이하나 기자]
Jang Min-ho, Lim Young-woong, and Young-tak showed off their songs that are being re-examined after appearing in'Mr. Trot' as a medley.
In TV Chosun's'I'm Singing the Requested Songs-Call Center of Love', which aired on February 26, Jang Min-ho, Lim Young-woong, and Young-tak unveiled a special unit stage.
Lim Young-woong introduced the stage, saying, "We thought it was a mangok (a bad song) among us, but after'Mr. Trot', a lot of fans listened to it and asked me to sing it a famous song.
First of all, Young Tak sang'I love you' released in 2007. This song was about sending love, and Young-tak sang with desperate sensibility and treble, and Jang Min-ho and Lim Young-woong also added strength with the chorus.
Following this, Lim Young-woong showed a stage that inspires positive energy with'Follow Follow', which was released in 2017, and Jang Min-ho also sang the 2017 song'Men vs. Men' in the final step. Lim Young-woong and Young-tak gave a big smile while adding an atmosphere with a brilliant chorus.
Boom, who saw the stage, praised "It's a real song," and Kim Min-gyo also raised his thumb, saying, "It's amazing." (Photo = Captured TV Chosun'I will sing the requested song-Call Center of Love' broadcast)
Lee Hana on the news bliss21@
Article reports and press releases newsen@newsen.com
copyrightⓒ News. Unauthorized reproduction & redistribution prohibited