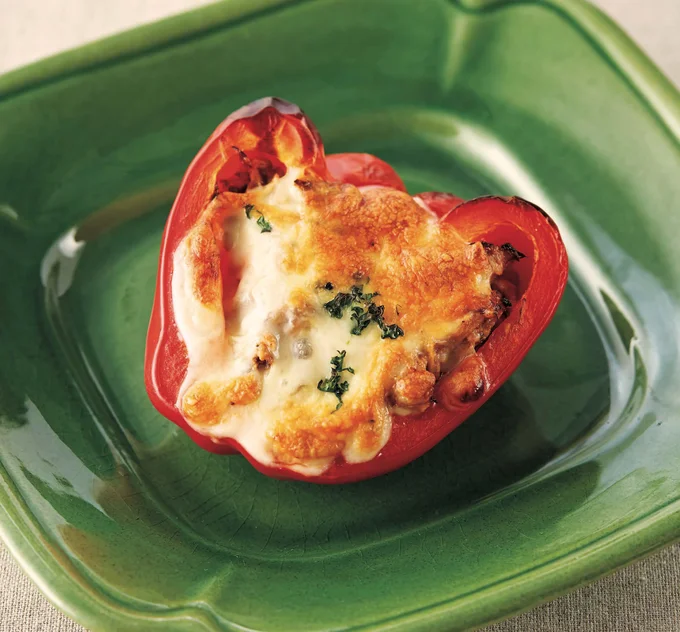 Mackerel Yanagikawa style
Mackerel and eggplant with flavor sauce
Mackerel and potato galette
Grilled mackerel with paprika and cheese
"I wasn't thinking about a side dish for dinner …! The ingredients are scarce …!" Saba cans can save such a desperate situation.
If you keep a can of mackerel on hand, you can arrange a wide range of Japanese, Western, and Chinese styles with just one or two ingredients and the seasonings you have at home.
The second installment of the "Skinny! Mackerel Can Recipe" series is a simple arrangement recipe that can be made with almost two ingredients, following the first installment. Don't miss the Q & A about the nutrition and manufacturing method of mackerel cans, which you may not know!
* When using a microwave oven, the standard is 600W. Please heat 1.2 times for 500W and 0.9 times for 700W. Also, there are differences depending on the model, so please heat while watching the situation.
* * *
★ Medical supervision
Takuji Shirasawa
Doctor of Medicine, Director of Shirasawa Institute for Anti-Aging Medicine, Director of Ochanomizu Health and Longevity Clinic. As a leading expert in health and longevity, he has appeared on TV programs, contributed to newspapers and magazines, gave lectures, etc., and his easy-to-understand medical commentary has been well received. Many books.
★ Cooking production
Chisako Hori
Registered dietitian, regular member of the Japanese Society of Anti-Aging Medicine, cook, dietary advisor, managing director of Kikunoi Co., Ltd. We provide advice on menus aimed at revitalizing local governments of food companies, restaurants, and local governments, and provide guidance on general eating habits. Many books.
* * *
Mackerel Yanagikawa style
The flavorful burdock scent goes well with mackerel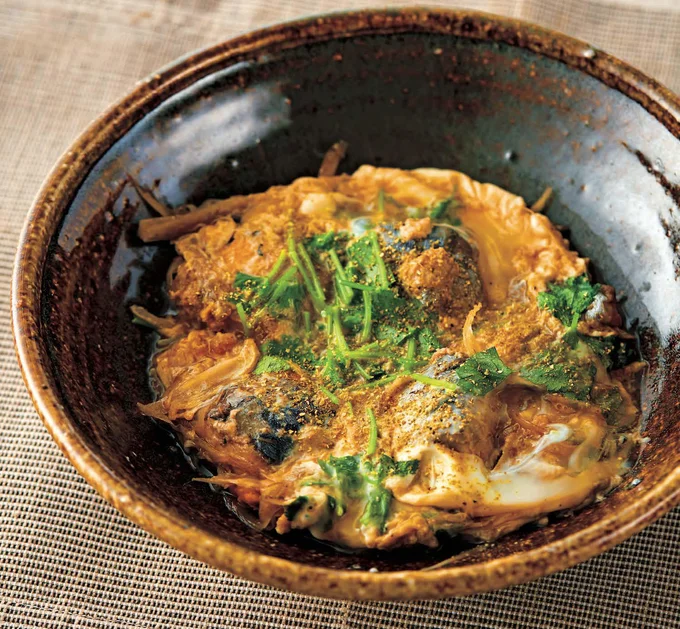 [Ingredients for 1-2 people]* 1 person Sugar 9.7g / 387kcal
・ Mackerel boiled can… 1 can
・ Burdock… 30g (about 1/6)
・ Egg… 1 piece
・ Water… 150ml
・ Mirin… 2 tsp
・ Soy sauce … 2 tsp
・ Trefoil … a little
・ Powdered Japanese pepper… Slightly
[How to make]
1. Cut the canned juice and loosen it roughly.
2. Wash the burdock well and cut it into pieces. Eggs are thawed.
3. Put 1, burdock root, water and mirin in a pan and heat over medium heat. When it boils, pour in soy sauce and beaten egg, and turn off the heat when it is half-cooked. Serve in a bowl, place chopped trefoil, and sprinkle with Japanese pepper.
Mackerel and eggplant with flavor sauce
The green onions and ginger are appetizing, and the chopsticks don't stop!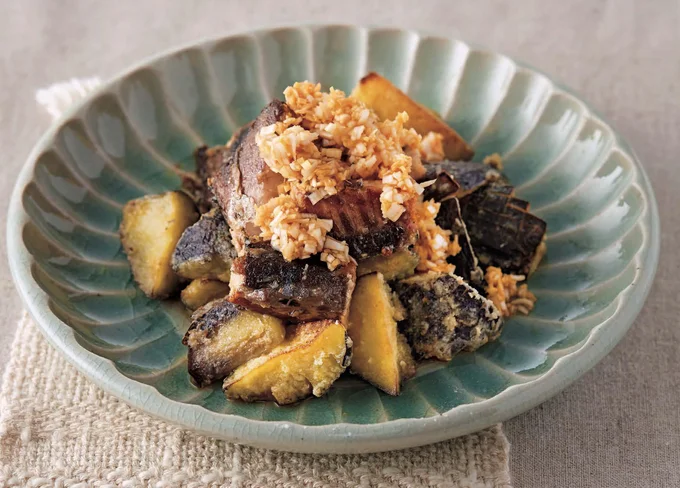 [Ingredients for 1-2 people]* 1 person Sugar 11.8g / 539kcal
・ Mackerel boiled can… 1 can
・ Eggplant … 2
・ Potato starch… 2 tsp
・ Long onion… 10g
・ Ginger … 5g
・ Soy sauce … 2 tsp
・ Vinegar… 2 tsp
・ Olive oil… 2 tbsp
[How to make]
1. Cut the canned juice and loosen it roughly.
2. Cut the eggplant into small pieces and sprinkle with potato starch.
3. Finely chop the green onions and ginger and mix with soy sauce and vinegar.
4. Put olive oil in a frying pan and heat it over medium heat. Bake 2 and serve in a bowl when cooked.
5. Put 1 in a heat-resistant container, wrap it gently, and heat it in a microwave oven (600W) for about 1 minute. Put mackerel on 4 and multiply by 3.
..