New cars stopped selling, old Chevrolet Spark dropped rapidly. According to many reviewers of the old 2017 Chevrolet Spark, VND 200 million is a very worthwhile reference.
General introduction about Chevrolet Spark
In the Vietnamese market, Chevrolet offers users a diverse choice in different segments. In particular, for small urban cars cheap, car manufacturers from the US also constantly focus on improving "trump card" Chevrolet Spark. However, in early 2019, for some reason, Chevrolet Spark cars have officially stopped selling in Vietnam.
At the time of launch, the 2017 Chevrolet Spark competes directly with two "heavy" competitors from South Korea, Kia Morning and Hyundai Grand i10. Chevrolet Spark, Kia Morning and Hyundai i10 are the "trio" with sales leading the small car segment with the price range of 300 – 400 million. Chevrolet Spark 2017 is distributed in Vietnam with 3 versions Van, LS, LTZ.
See also: Buy a new car for 300 million
With the new car stopped selling with some objective and subjective reasons, now the old Chevrolet Spark cars are falling sharply. This is an ideal opportunity for those who are intending to buy a used car to "hunt" an old Chevrolet Spark 2017 new with "extremely soft" only about 180-200 million. However, this rapid drop also raises concerns about quality, whether the old Chevrolet Spark is durable, quality? Let's see the user detailed evaluation of the following Chevrolet Spark car!
Review the old Chevrolet Spark 2017 in terms of exterior
Chevrolet Spark 2017 has made significant improvements in appearance to become more youthful and personality. In the front of the car, in addition to the familiar dual grille, the headlights have been redesigned in an L-style stretching to two more eye-catching. In addition, the large 2-storey grille is also a feature that makes it easy to "identify" a Spark car on busy streets.
Chevrolet Spark 2017 has a youthful appearance and personality
In addition, the bold embossed lines running along the body with the 14-inch steel wheels also contribute to the dynamic and sporty appearance of Chevrolet's five-seat hatchback. At the rear, the 2017 Spark is also redesigned. Serial pair of headlights at the front, sharp taillights hug the trunk lid and integrated new turn signals. The addition of high brake light is also highly appreciated by many users.
According to the 2017 Chevrolet Spark specifications, the car possesses DxRxC dimensions of 3,595 x 1,597 x 1,522 mm, wheelbase of 2,375 mm, a ground clearance of 160 mm high and a turning radius of 5 m. With these figures, if comparing the Chevrolet Spark and Kia Morning in the same life, the American model is the dominant one. The superficial bodywork gives Spark a more spacious cabin space.
Review the old Chevrolet Spark 2017 in terms of interior
According to many reviewers of the old 2017 Chevrolet Spark, in terms of interior space, though not as spacious as the Hyundai Grand i10, the US model is still enough to bring a comfortable cabin compartment. In particular, the rear seats are streamlined so there is still room for 3 adults.
Stepping inside, users will be immediately impressed with the V-shaped taplo board surrounded by silver-plated lines to create a sense of luxury compared to the interior of an A-class car. Intuitive, easy to get used to and use. The 3-spoke sport steering wheel is also silver plated in a V shape to harmonize with the taplo.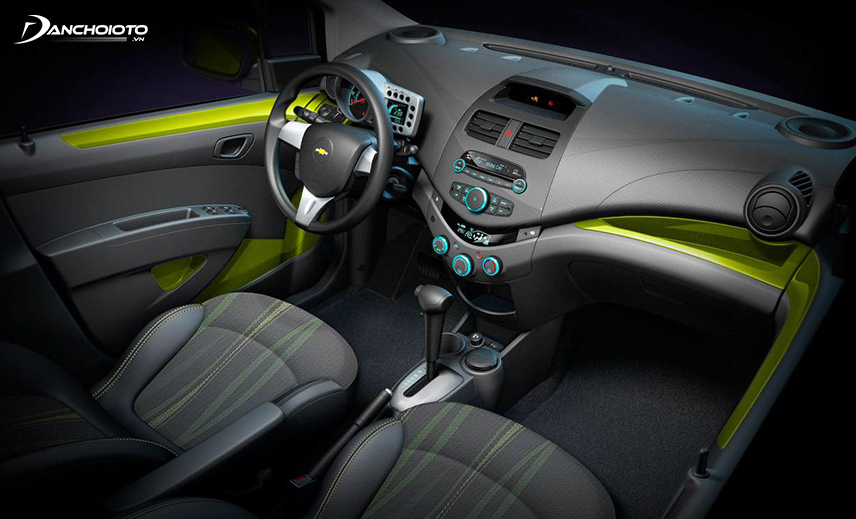 The interior of the old Chevrolet Spark 2017 is redesigned more modern and class than many cars in the segment
Reviewing the old Chevrolet Spark 2017 in terms of comfort, with its exclusive MyLinks infotainment system with a 7-inch touch screen in the center can meet the basic needs on many journeys. With this feature, customers can make calls, store contacts, entertain with music or movies, in addition, they can connect to Wifi, use Google Map extremely conveniently … Besides, the compartment With a capacity of up to 770 liters, the Spark's folding rear seat is a factor that helps the car to be popular with families who often go on weekends or service people.
2017 Chevrolet Spark review of engine / performance
Chevrolet Spark 2017 is equipped with 1.2L gasoline engine, 4 cylinders in line, 16 valves DOHC with electronic fuel injection technology MFI. The power that this engine delivers is 80 horsepower at 6,400 rpm and maximum torque of 108 Nm at 4,800 rpm, enough to glide smoothly in crowded urban areas as well as roads.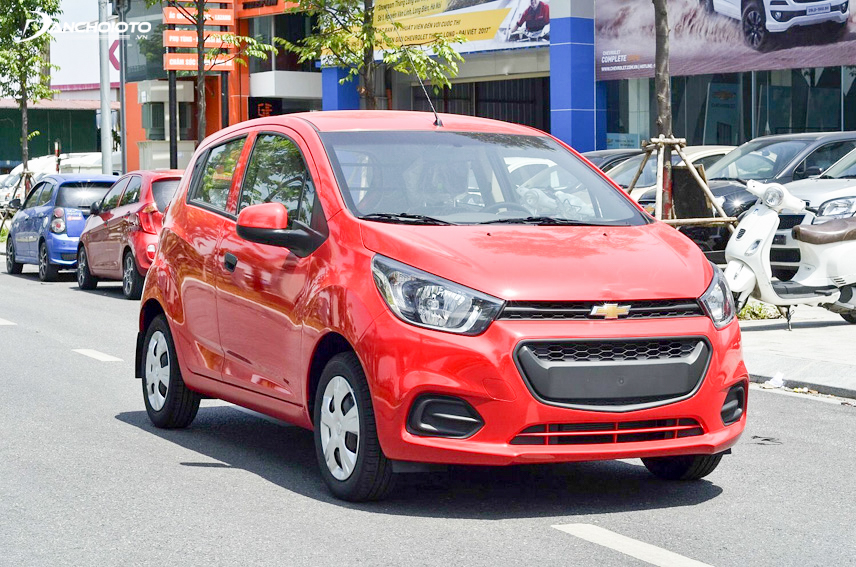 Stable and economical operation is the most attractive point of Chevrolet Spark 2017
5-speed manual gearbox is standard equipment on all versions. In addition to its stable performance, Chevrolet Spark is also known for its class-leading fuel efficiency. Therefore, buying an old Chevrolet Spark 2017 is an economical option.
Review the old Chevrolet Spark 2017 for safety equipment
Experts also rated the old Chevrolet Spark 2017 highly safe because it was fully equipped with standard safety features. Specifically, the car has front disc brakes and rear drums, 3-point seat belts, anti-theft system, reversing camera, 2 front airbags … Not only that, the chassis of Chevrolet Spark 2017 is also reinforced. bearing steel up to 62%, minimizing collisions, ensuring the safety of all passengers on the vehicle.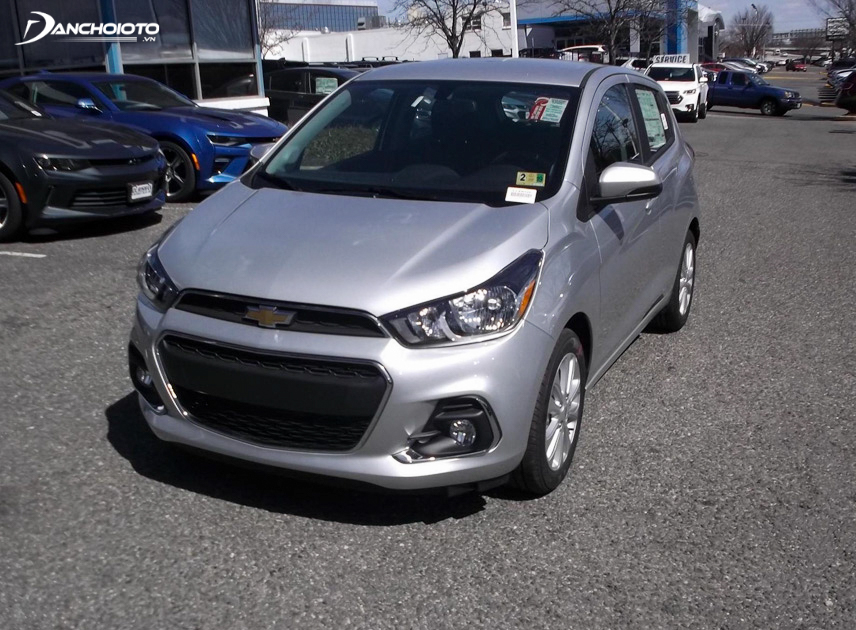 Despite being a small car, Spark is still fully equipped with standard safety features
How much is the 2017 Chevrolet Spark?
The price of the new Chevrolet Spark 2017 at the time of launch ranges from VND 259 – 358 million. Compared to the Hyundai i10 and Kia Morning, the new Chevrolet Spark is the cheapest.
Currently, the price of old Chevrolet Spark in 2017 is only about 180-200 million.
In general, with the advantages of stable operation, economical, adequate comfort, good-looking appearance, the 5-door hatchback model of Chevrolet – Spark 2017 is a formidable opponent of the cars. South Korea dominates the segment. If you are looking to buy a used car worth VND 200 million, the 2017 Chevrolet Spark is a good choice.
Kim Oanh