The Dell Latitude 7400 2-in-1 is the perfect combination of good performance typical of high-end business laptops and the ability to work continuously for up to 18 hours – the number that when you think about it, you're sure will imagine a bulky, bunker workstation.
But Dell was able to pack this surprisingly large battery-powered device into a compact 14-inch notebook chassis. Is it really as powerful as Dell advertised? How strong is its performance? Let's find out!
Elegant but powerful design
Dell Latitude 7400 2-in-1 is a bold product of Dell, daring to challenge Mr. Lenovo in the "buffalo" laptop battery segment has almost become the monument to their Qualcomm Snapdragon laptop chip. And Dell did well. The Latitude 7400 2-in-1 has an incredible 78 Wh battery, which is twice as much as competing laptops in the segment, an impressive number.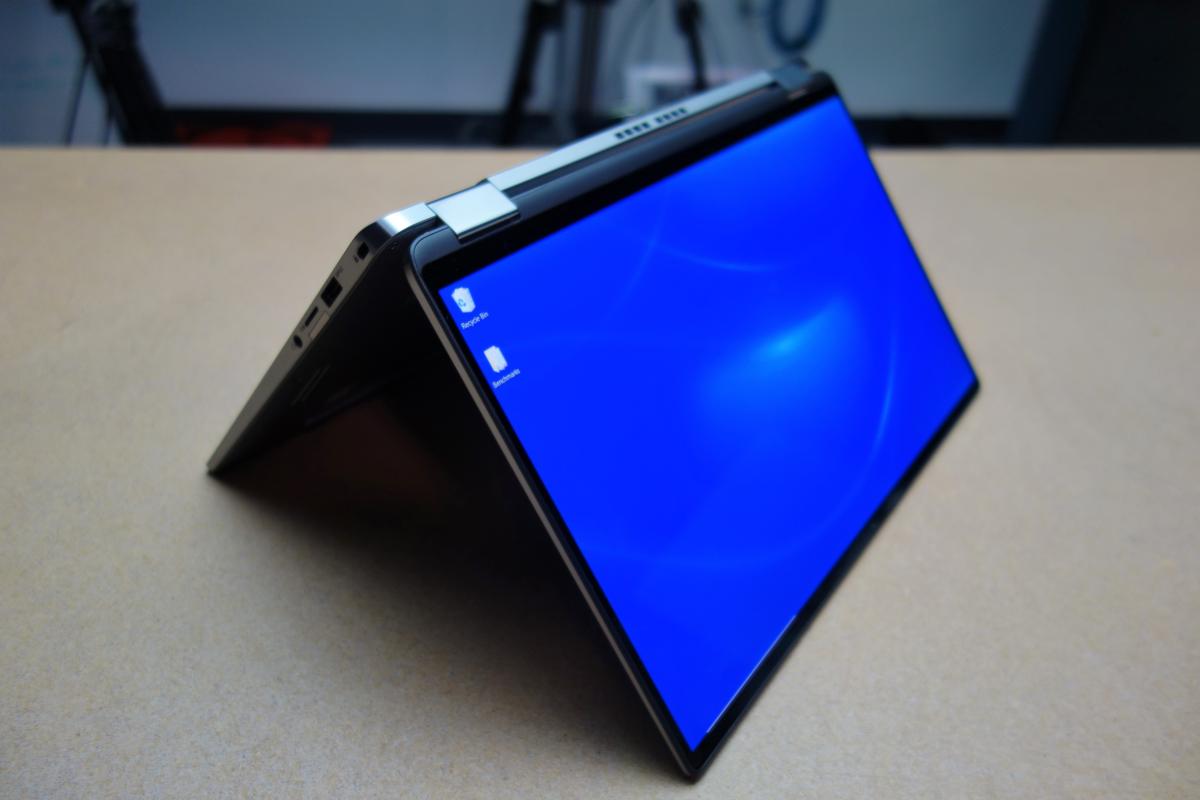 Dell's powerful battery and premium quality display will be the highlight of this laptop that makes it hard to resist. Modest but standard 1080p screen, protected by glass Gorilla Glass 5, using less energy, low light output, less than 300 nits.
The goal is obviously to maximize battery life. But it is still bright enough for use in sunlight. Color accuracy is still high, easily comparable to Microsoft Surface Book 2.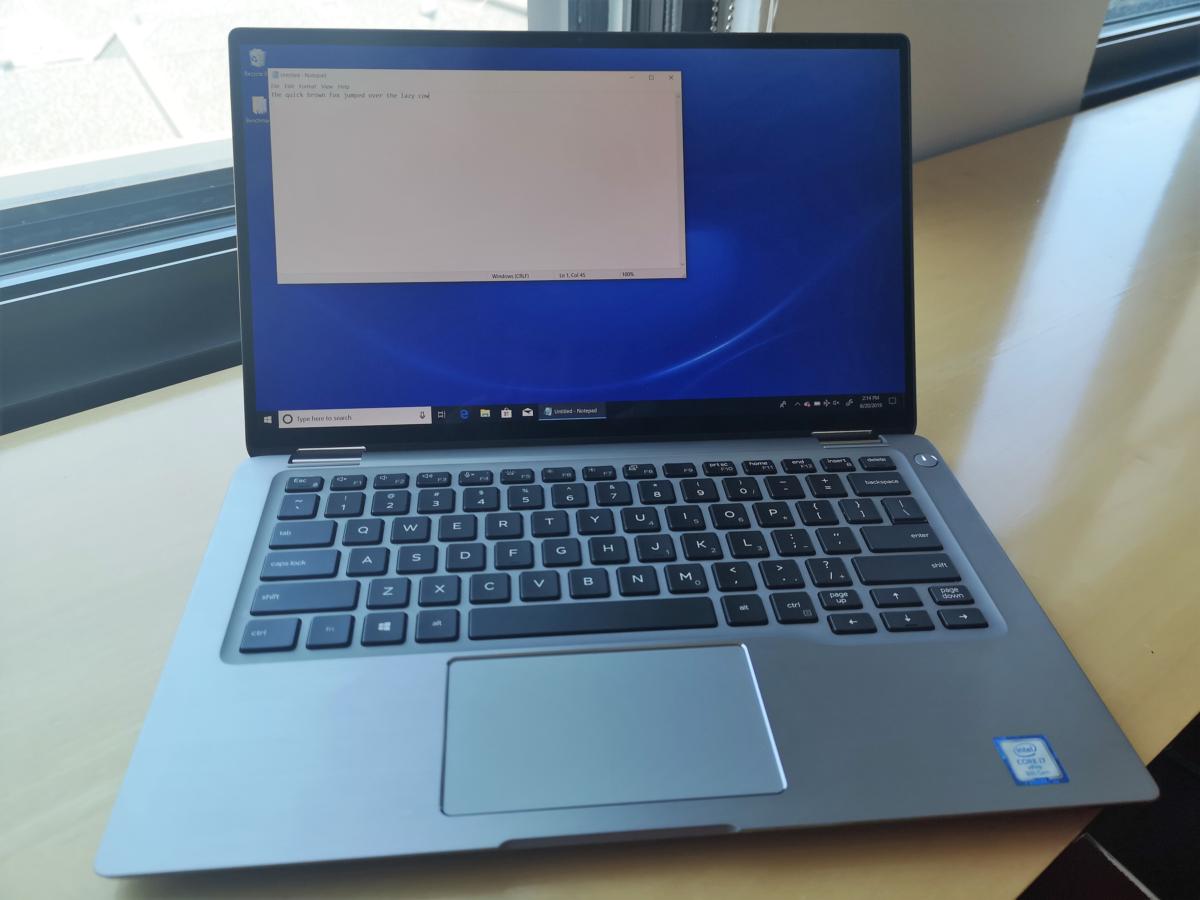 In addition, Dell also introduced the Latitude 7400, the world's most compact 2-in-1 commercial computer, with a silver-painted aluminum chassis; 0.4mm thin bezels; weighing only 1.5 kg, much lighter than the powerful performance and huge battery life it owns. Dell Latitude 7400 also has a utility Power Manager with 5 installation options: "Optimized" default has optimized performance, "Cool," "Quiet," and "Ultra Performance."
Dell's ExpressSign-in: New convenient feature
The new technology introduced by Dell is called ExpressSign-in, available with machines configured using Window Hello. As the name implies, it can identify you, automatically lock-out when you leave and automatically sign-in when you are close to preparing your device.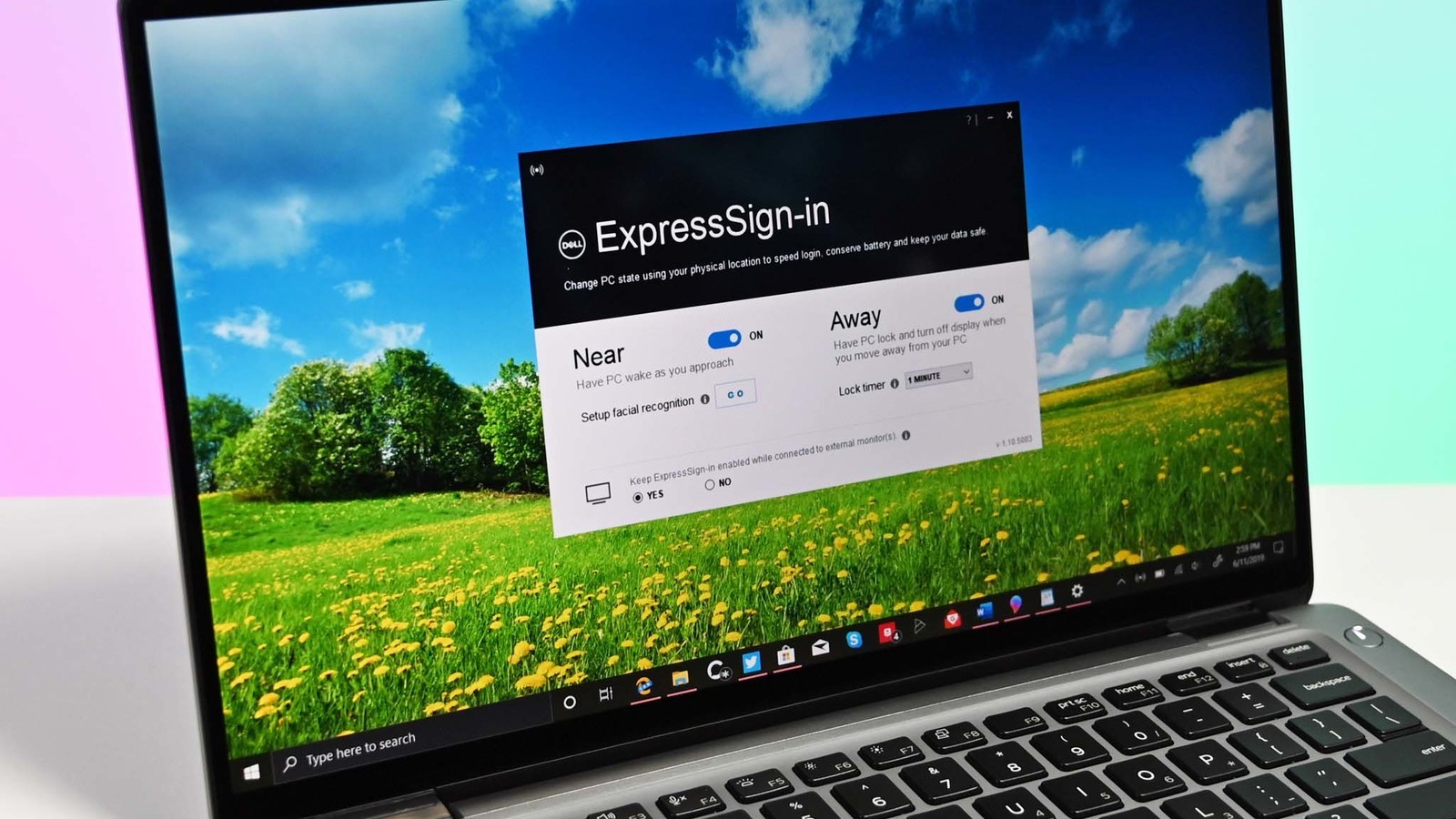 Windows also has the same feature, the name is Dynamic Lock, Working principle based on bluetooth pairing between your computer and personal phone. Dell's new feature seems to be much better and more convenient when it directly identifies a laptop user, not through an intermediary device.
Speaking of which, this high-level, new-sounding feature may not help you much but save you a bit of lockdown time, or just shutdown. But it's still very convenient, there's no reason to refuse to accept it
The keyboard and touchpad are complete
The keyboard of the Dell Latitude 7400 is a bit small but quite spacious, a moderate key stroke, good typing feel, high bounce. Under each key, there is a backlight, which helps you see each key clearly, with 3 modes: on, brighter and off.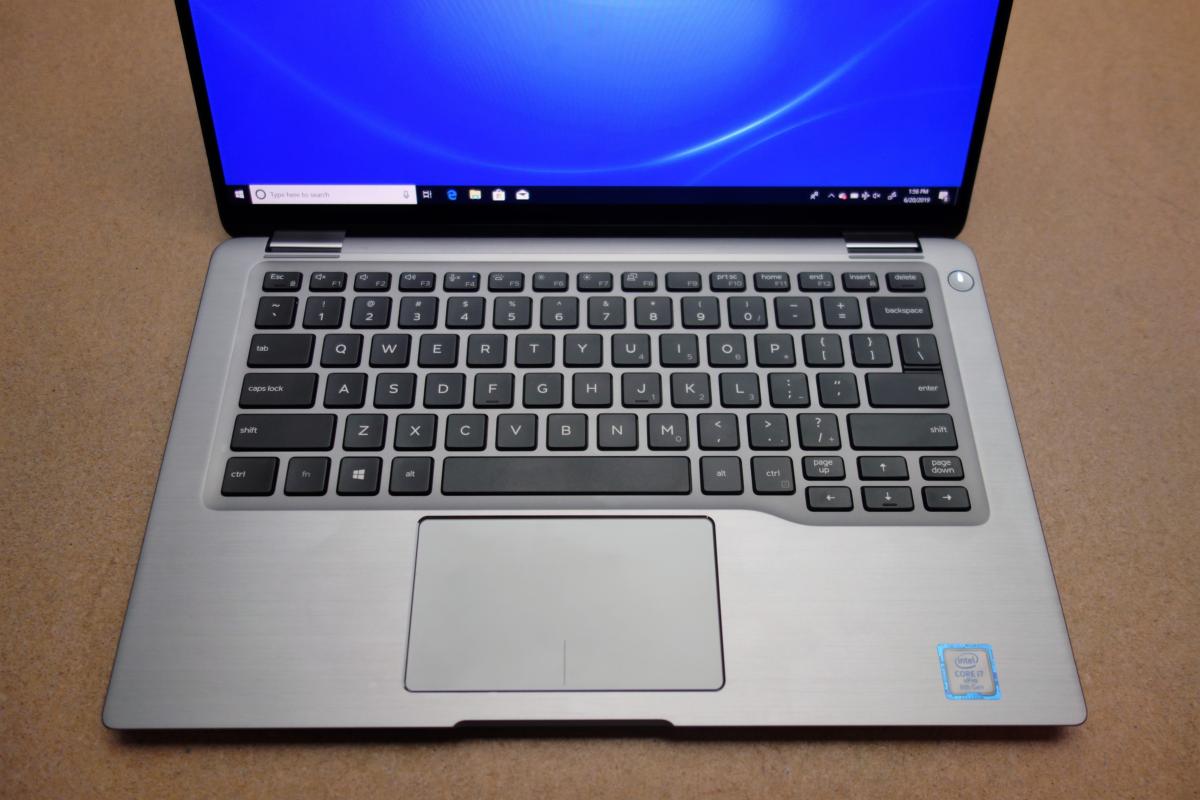 The touchpad is similar, designed to fit neatly and mobilely. Smooth, comfortable, multi-gesture convenient, easy to use. In addition, the Latitude 7400 also has a built-in fingerprint sensor below the power button, as well smartcard (smart card) inside the machine. Webcam, on the other hand, also incorporates both Windows Hello biometrics and infrared sensors.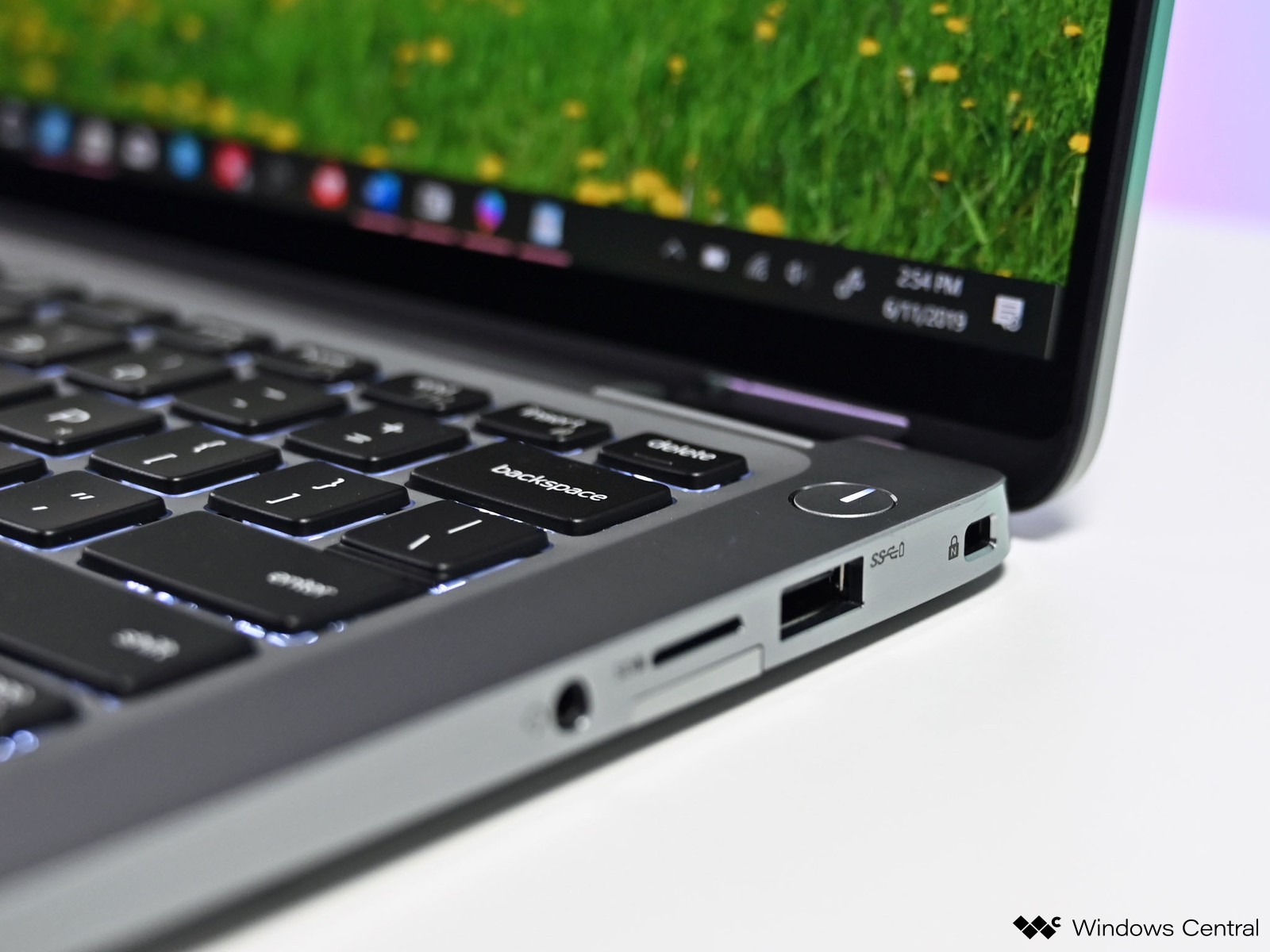 Utilities and accessories
Dell Latitude 7400 2-in-1 installed familiar Dell bloatware software in addition to 3 main utilities: Dell Command – update BIOS and driver; Dell Digital Delivery – Digital and store software Dell Power Manager – Provides the ability to control power consumption, maximize battery life.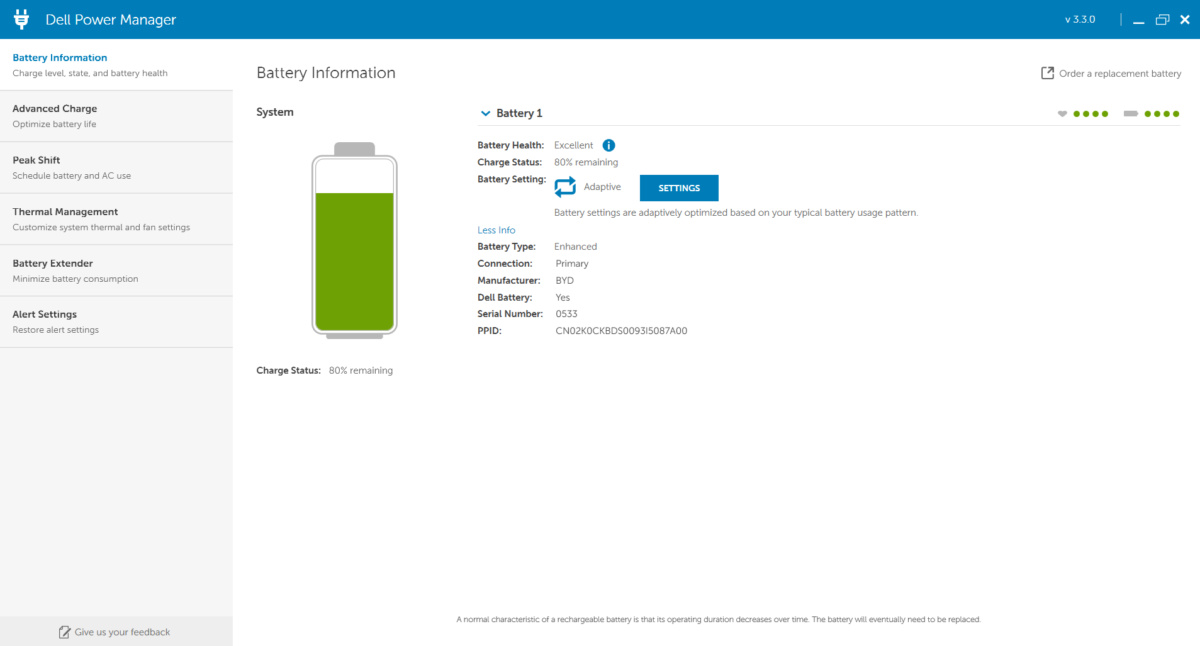 The Latitude 7400 is like many other Dell laptops, having a variety of built-in ecosystems, including:
Pen

Dell PN579X Premium Active

: The shortcut key attached to the top acts as the launch button, integrated in Windows, but not erased. The only way to "erase" E-ink is to reduce the upper part of the shortcut.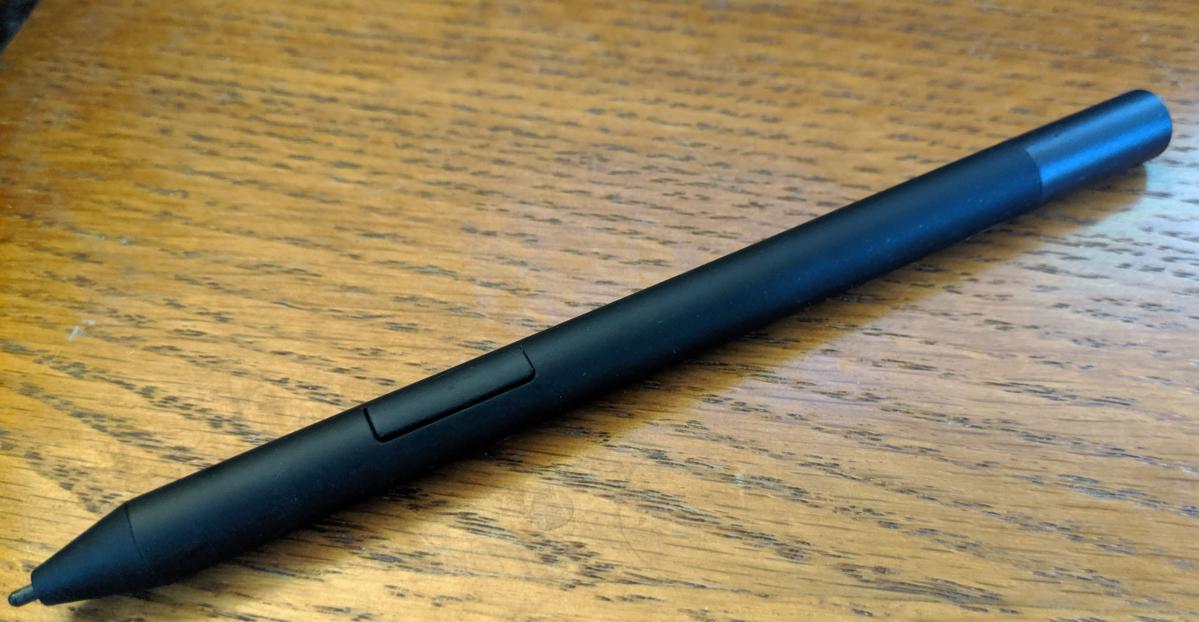 Wireless mouse

Dell WM527 Premier

The mouse has an arc-shaped shape, with an adjustable shortcut on the sides. You can connect via Bluetooth or the included wireless dongle. It is powered by a pair of AA batteries.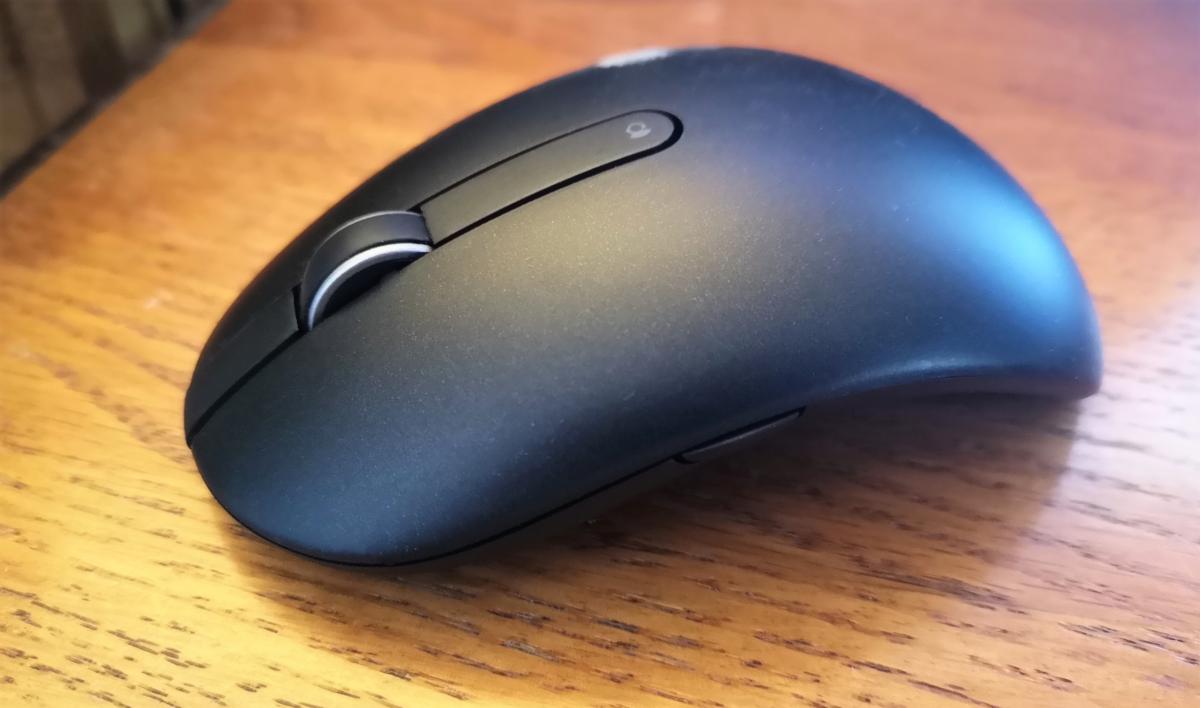 Dell Thunderbolt WD19TB Dock:

Although the Latitude 7400 already owns a lot of ports, it does

WD19TB

Allows you to have more options: a pair of connectors

DisplayPort,

connector

HDMI,

two ports USB-C 3.1 gen 2, 1 more familiar USB-C port and connector

Thunderbolt 3

(USB-C). There are also three types of USB 3.1 Gen 1 connectors,

Gigabit Ethernet

and 3.5 mm jack.
Top performance and battery
The Dell Latitude 7400 2-in-1 is a clear proof that you don't need to sacrifice performance for a long battery life. It owns GPU-no-professionals with the best graphics performance ever seen. This laptop's long battery life is comparable to that of a tablet using Snapdragon 850, Samsung Galaxy Book 2, and possesses strong performance of a machine using Intel Core processors. Below is a picture of benchmark scores on PCMark 8 at 3 levels of Work, Home and Creative.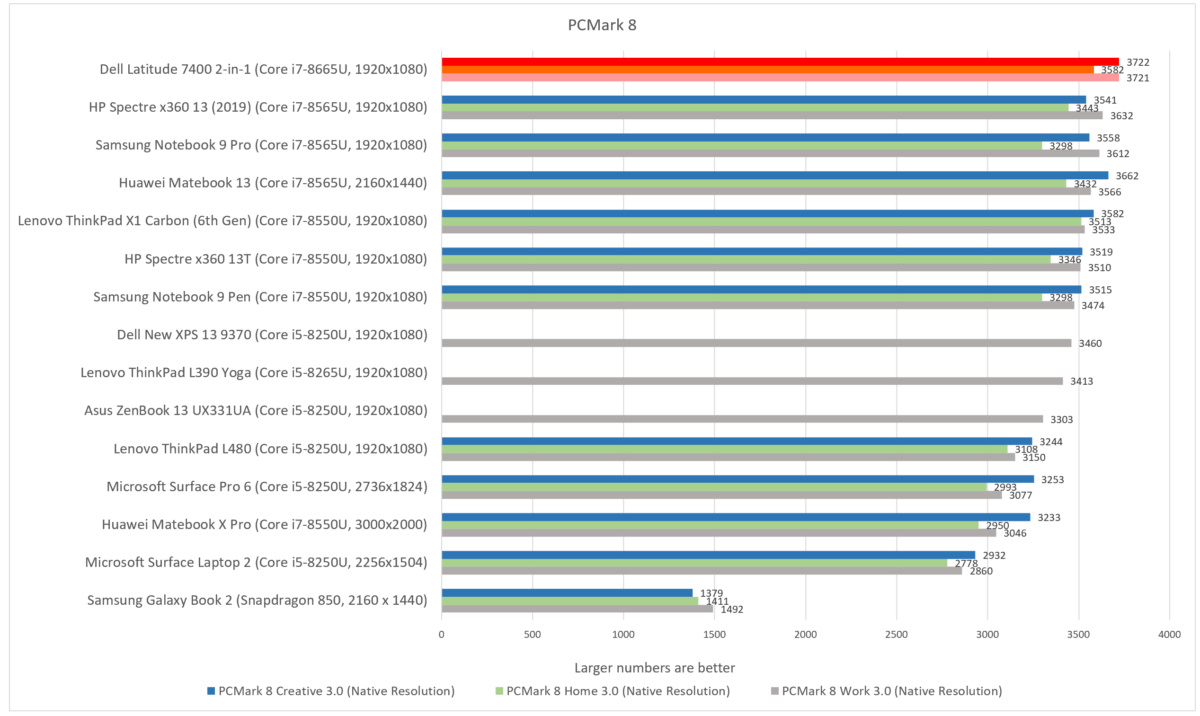 Work focuses on office tasks such as video calls, worksheets and word processing. Home evaluates the level of smoothness or task separation for light web browsers and gaming. Creative – the heaviest test, based on running GPU-intensive tasks like playing games, editing photos and videos. For a business class notebook, the Latitude 7400's performance doesn't need to be debated, it can only be said to be great.
Below is the dot image on PCMark 10 (modern standard over PCMark 8) as well as above 3 levels. The Latitude 7400 is still extremely powerful.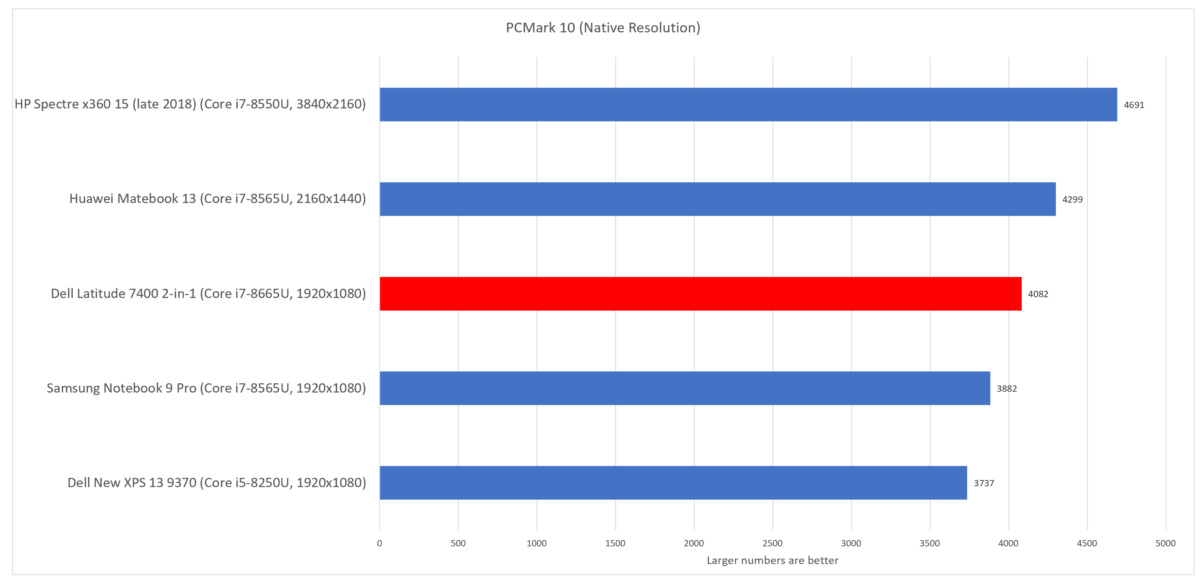 Processor performance is evaluated through Cinebench. When running the app Handbrake, (video format conversion software), The Latitude 7400 2-in-1 is almost the fastest.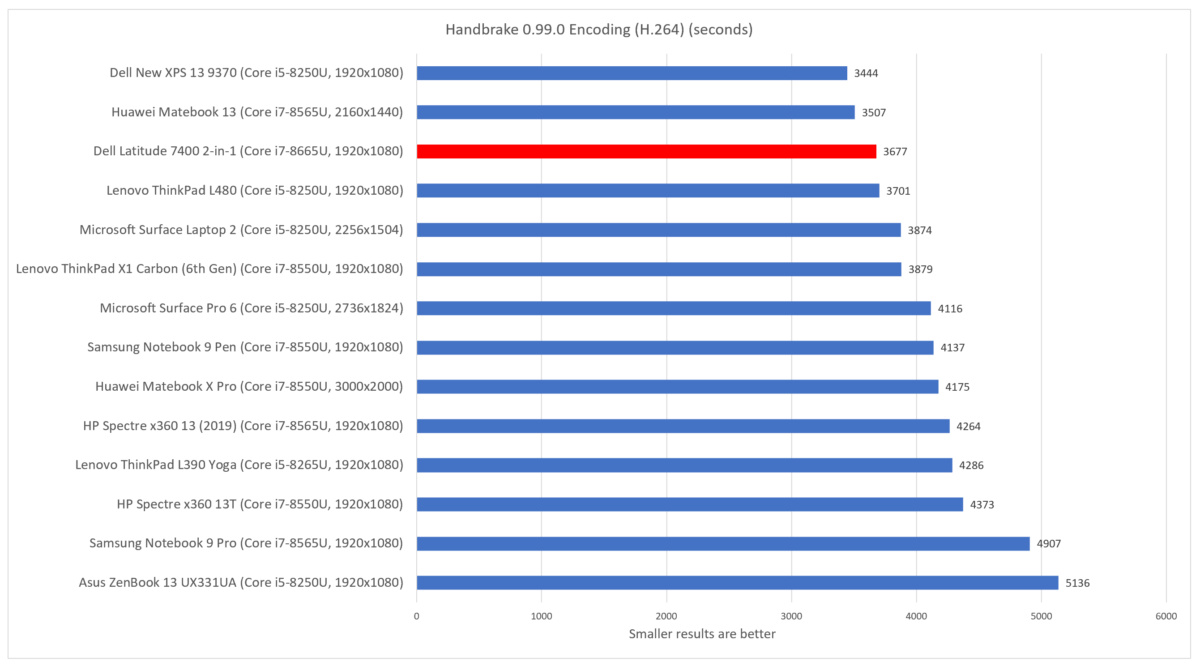 Finally, the 3DMark test to test integrated GPU chips by running Sky Driver software. In this test, the Latitude 7400 scores third, but is far from the second.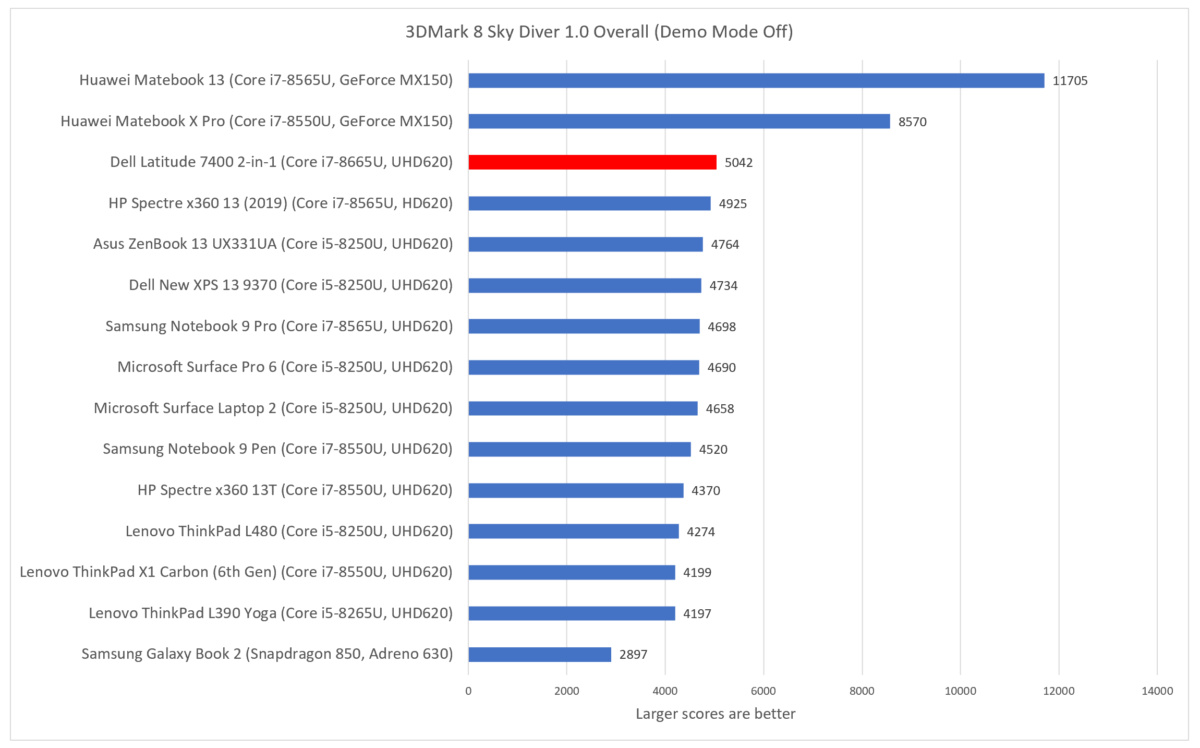 Of course, it is impossible to mention the test to test the ability to extend the performance to an impressive 18 hours. There is nothing to criticize the Latitude 7400 on this side, but the article will still provide benchmark for readers to compare with other laptops.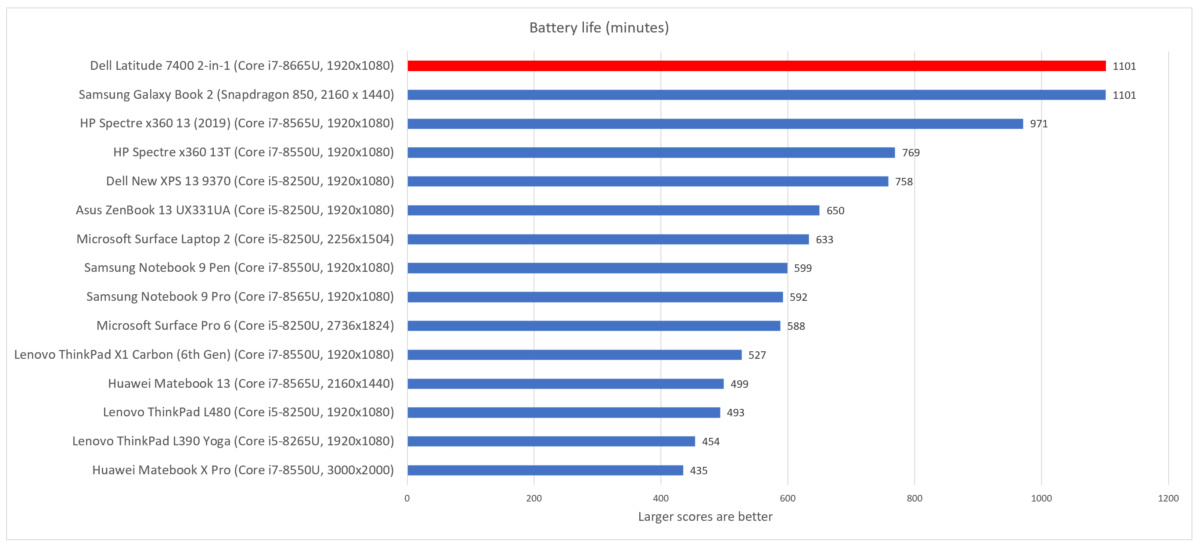 Conclude
A laptop literally means a laptop that you can easily carry with you, put it on a "lap" for use without charging. Compact, convenient, versatile, highly versatile, best-in-class performance and especially a massive "18" battery life are things that make Dell Latitude 7400 2-in-1 a breeze The laptop is really good. This is a good laptop that offers the most benefits you can buy.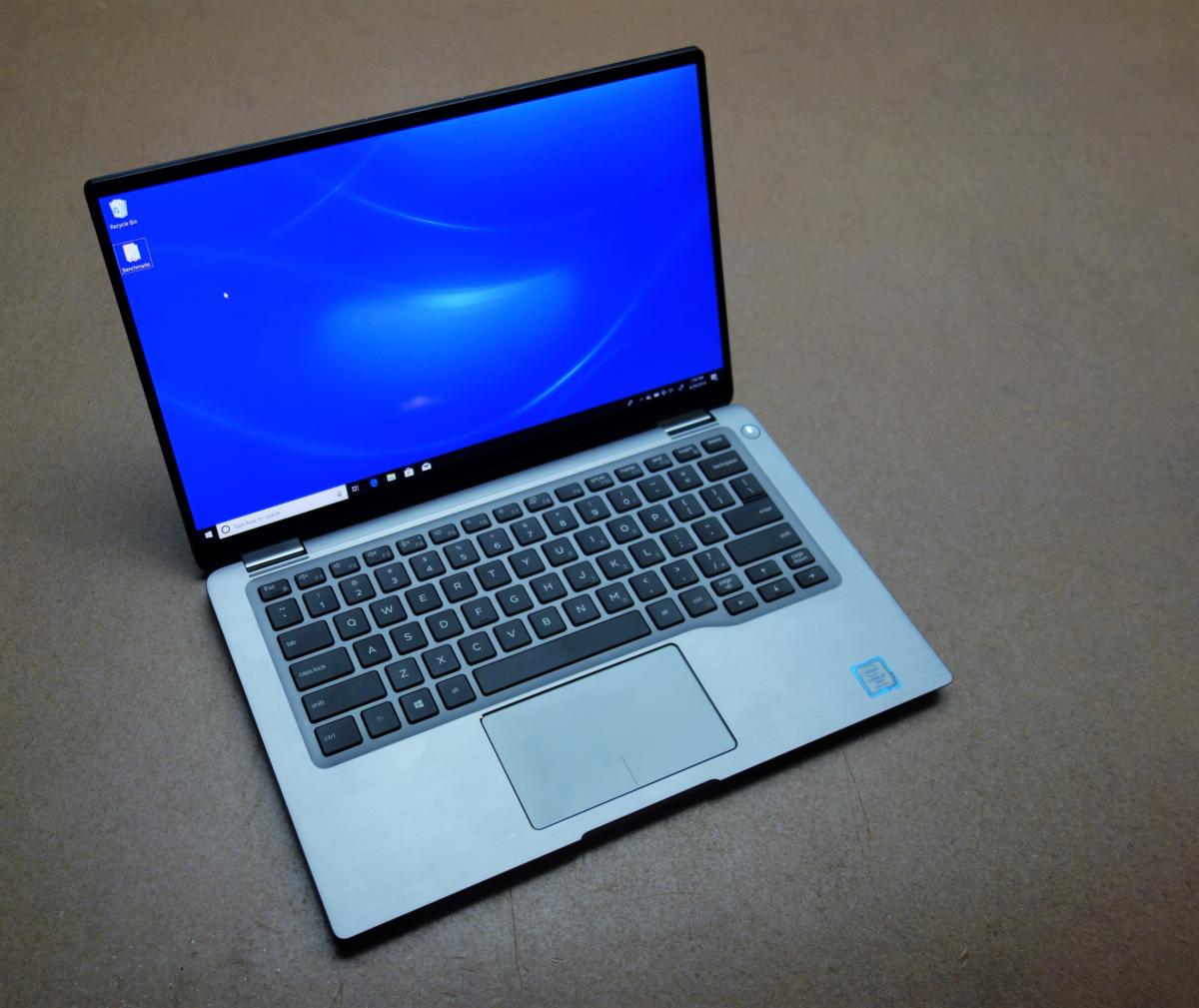 Parameter
Screen:

14-inch (1080p) touch

Processor:

Intel 1.9GHz Core i7-8665U vPro (Whiskey Lake)
Memory:

8GB-16GB LPDDR3 (16GB in the article)
Storage

: 128GB-2TB NVMe class 40 SSD (512GB in article)
Gate:

Two USB 3.1 Gen 2 Type-C (Thunderbolt 3, Power Delivery / DisplayPort); Two USB 3.1 Gen 1 Type-A; HDMI 1.4; microSD; microSIM WWAN optional
Camera:

HD 720p camera, integrated Windows Hello
The battery:

52Wh, 78Wh (78Wh in the article)
Wireless:

802.11ac (2×2); Bluetooth
Operating system:

Windows 10 Pro
Size:

12.59 x 7.87 x 0.59 inches
Weight:

1.5 kg and 1.8 kg with charger

Color:

Silver aluminum


Hoa Duc