When evaluating the old Peugeot 308 2015, most users said that this is a good hatchback model with many advantages but also many limitations.
General introduction of Peugeot 308 2015
Since being distributed by Thaco Truong Hai in Vietnam, Peugeot quickly conquered Vietnamese consumers thanks to its own characteristics and personality. So far, Peugeot 408, Peugeot 508 and Peugeot 5008 are Peugeot's favorite products in Vietnam market.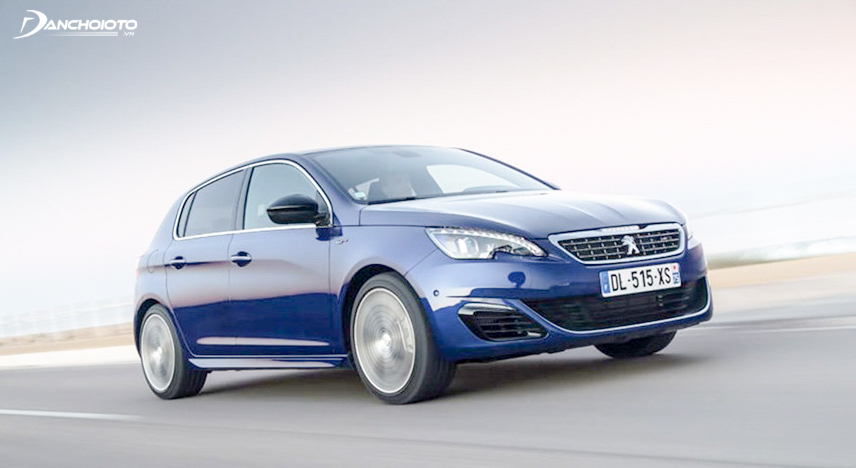 2015 Peugeot 308 from France is an attractive old car
Peugeot 308 is a key hatchback of the French car company in the segment of C class cars. Despite facing competition from rivals "not fit" such as Mercedes C-Class, Mini Cooper, Renault Clio RS 200 EDC but the French representative still Maintain a firm position in the segment. Many users Peugeot 308 2015 car review is an attractive car with many luxury equipment.
Review the old Peugeot 308 2015 on the exterior
Point through Specifications Peugeot 308 2015 In terms of size, it can be seen that the French car is quite compact, thus creating a sense of dynamism, flexibility and sport. Peugeot models all possess a unique appearance, always stand out on the street, and 308 too.
| | |
| --- | --- |
| Parameter size | Peugeot 308 |
| Length x width x height (mm) | 4,253 x 1,863 x 1,461 |
| Wheelbase (mm) | 2,620 |
| Ground clearance (mm) | 143 |
| Tire size | 225 / 40R18 |
"Little lion" Peugeot 308 2015 confirms a strong, youthful style with meticulously designed parts. Chrome-plated details are everywhere in the front of the car, from the steering wheel, front bumper to the fog lamp socket, the sharp pair of headlights that swipe backwards and integrate the beautiful LED array. Embossed lines also appear in the cap and the body of the car feels strong. The highlight of the body is the large 18-inch wheels with eye-catching design, while the rear is the rear bumper and the sports exhaust pipes are wrapped in chrome border.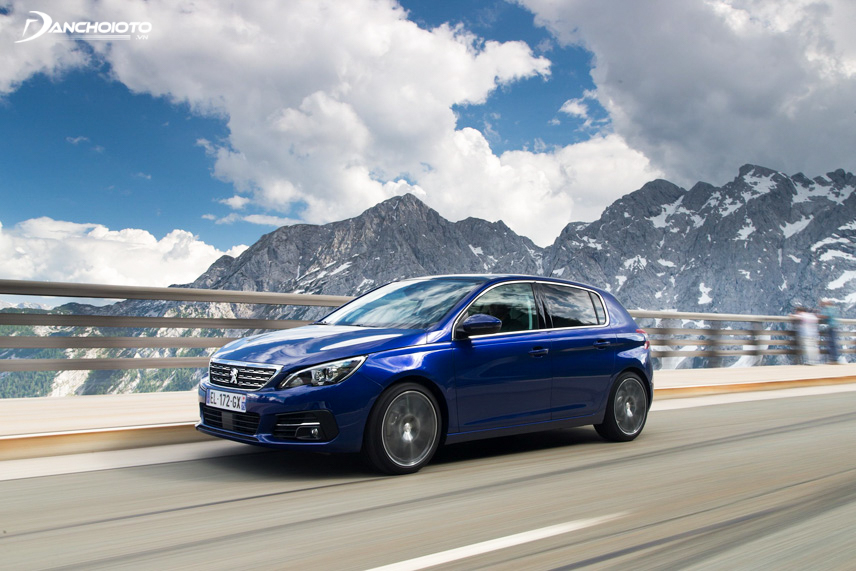 The design of the Peugeot 308 2015 feels strong, dynamic and sporty
In addition to attractive design, people also Feel the Peugeot 308 2015 is an attractive old model from the outside with modern exterior equipment. These include Xenon lens headlamps, Projector type, integrated LED daytime running light, taillights, full LED brake lights, electric / adjustable rearview mirror with turn signal LED, …
Review the old Peugeot 308 2015 on the interior
Interior space
As soon as he stepped inside, Interior of old Peugeot 308 2015 model car can satisfy even the fastidious customers. The car is designed to provide maximum comfort to the occupants, through a luxurious and well-equipped passenger compartment. Peugeot 308 has 5 seats covered with high-quality leather, the front seats are quite spacious and the seats are designed in a sporty style to hug people. Cons of Peugeot 308 2015 The rear seats are uncomfortable for 3 adults, which comes from modest wheelbase. In return, Peugeot equips the armrest and the cup holder in the middle, convenient for 2 people.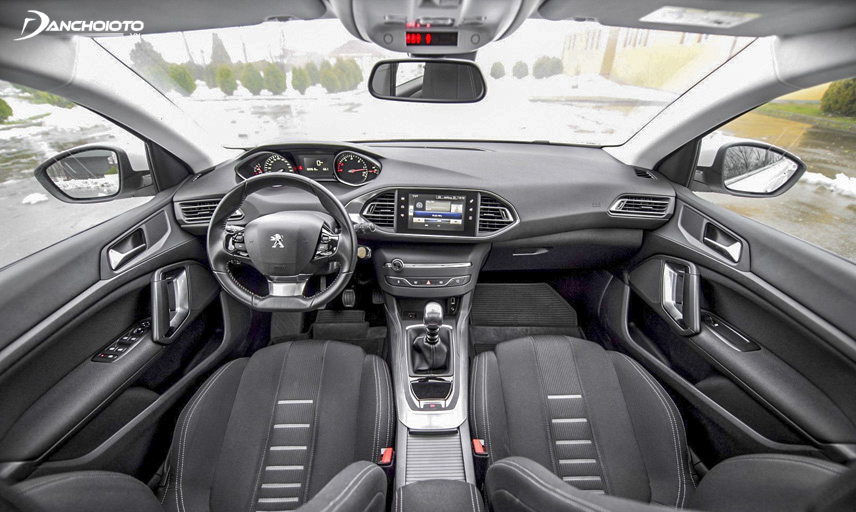 Peugeot 308 interior has a luxurious design, spacious and comfortable front seats
Taplo's table
Peugeot 308
Designed quite simply, the cumbersome button details almost disappeared completely, and instead is the touch screen display information up to 9.7 inches located in the center. The car is equipped with a 3-spoke flat-bottomed steering wheel featuring sports, smooth leather and anti-sweat hands. The buttons of audio control, hands-free conversation are integrated on the steering wheel, convenient for drivers.
Equipped with amenities
2015 Peugeot 308 2015 with automatic climate control 2 separate climates, whether sitting in front or behind passengers can feel the comfort at will. Entertainment features, navigation of the car are integrated in the center screen, accompanied by a 6-speaker sound system with bass.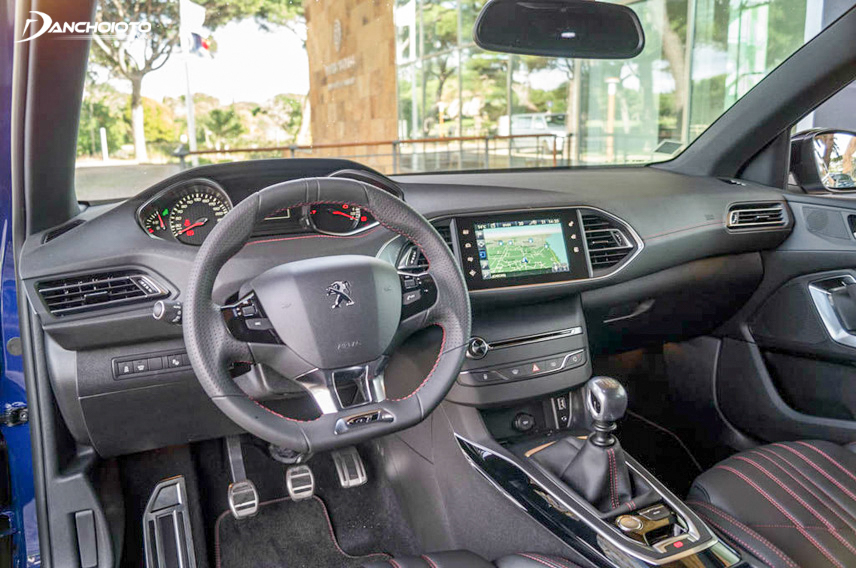 Peugeot 308 2015 has the most modern equipment in the segment
In addition, there are other useful amenities available on the vehicle such as: electric driver's seat, integrated memory position, front seats with massage and heating function, folding rear seats 60:40 to increase luggage area, automatic anti-glare rearview mirrors, panoramic sunroof, … accompanied by a smart key with integrated start button. The 2015 Peugeot 305 is a comfortable hatchback, so if you're wondering which C class car is the best In terms of equipment, this is a wise choice of used cars.
Review the old 2015 Peugeot 308 in terms of engine / performance
The heart of Old Peugeot 308 2015 is a 1.6L turbocharged engine block, providing 156 horsepower at 6,000 rpm and maximum torque of 240 Nm in the speed range of 1400-4000 rpm. This powerful hatchback can accelerate from 0 – 100km in just 7.8 seconds. The car has a fuel consumption of 8L / 100km according to the manufacturer's specifications, this is a savings compared to the current C-class vehicles. Combined with a 6-speed manual gearbox and electric power steering, Peugeot 308 operates stably, smoothly in crowded but strong and brave urban areas on the roads.
| | |
| --- | --- |
| Technical data | Peugeot 308 2015 |
| Engine | I4 1.6L turbocharged, 4 cylinders |
| Max power (horsepower) | 156 |
| Torque (Nm) | 240 |
| Gear | 6-speed automatic |
Some other useful driver assistance functions of 2015 Peugeot 308 2015 Cruise Control, Speed ​​Limit, Sport shift levers help the driver master the speed and promote the ability to operate on all terrains. And what is more special is that users evaluate the 2015 old Peugeot 208 car after a few years of use still shows superior performance compared to the new car.
Review the old Peugeot 308 2015 on safety equipment
Safety equipment on Peugeot 308 2015 is ABS anti-lock braking system, EBD electronic brake force distribution, EBA emergency braking support, ESP electronic balance, HAC horizontal departure, 6 airbags standard, reversing camera, etc. If you are considering safety and confusion Should I buy the old Peugeot 308 in 2015? or not, the system mentioned above must be convincing enough.
Should I buy an old Peugeot 308 2015?
With a budget buy used cars cost 800 million fellow you can already find on the forums and dealers of old cars Peugeot 308 2015 in a new condition. Considering luxury, comfort, stable and safe operation, Peugeot 308 2015 deserves to be the perfect choice to become a long-term companion.
Kim Oanh