After 5 years, Kia Cerato 2014 is still quite popular with many people buying used cars. However, with the price of 500 million whether the price is too high?
General introduction about Kia Cerato 2014
The 2014 Kia ​​Cerato, also known as Kia K3, Kia Forte Koup, is a c-class sedan of Kia Korean car company. Compared to previous models, according to the old Kia Cerato 2014, this model has many more impressive and subtle changes.
Review the old Kia Cerato 2014 in terms of exterior
Exterior Kia Cerato 2014 is designed with more impressive changes compared to the previous car model, typical as the old Kia Cerato 2011. With a youthful, modern and fashionable style, Kia Cerato 2014 is aimed at young customers.
See more: 500 million to buy a new car
The front end is designed to look sportier with a new thin tiger nose grille with its own brand. The grille in this version is designed with a larger size and divided into two parts by a black horizontal bar. The headlight system is automatically designed as a lens connected to the grille to create even more impression. The front bumper of the car is also designed to expand with the combination of fog lamp socket to make the front of the car become stronger and stronger.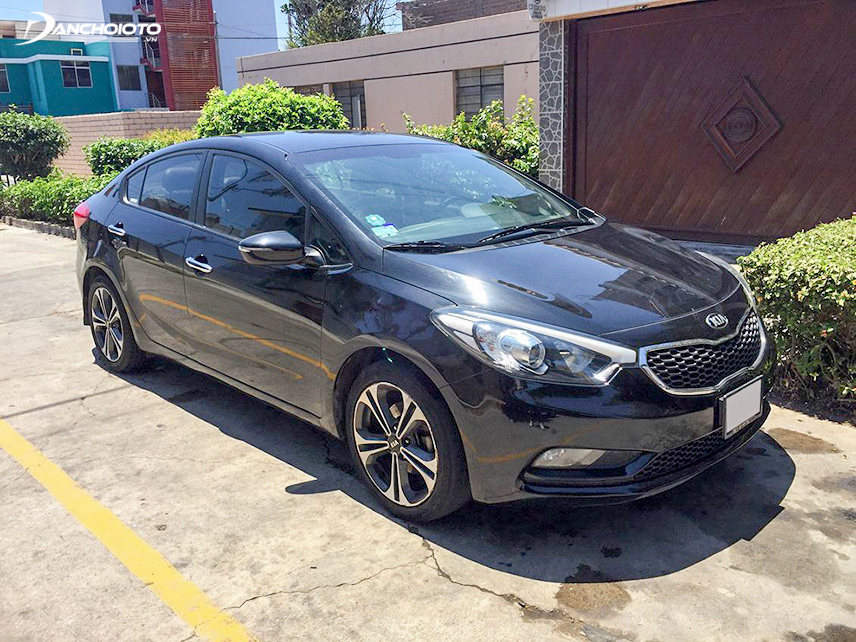 The exterior of the old Kia Cerato 2014 is designed in a youthful and modern style
The body is more compactly designed than the previous model. The embossed veins on the body combined with the two wheel cavities make the car stronger and sportier. The rearview mirror of the car has electric adjustment and integrated turn signal light to help users use more conveniently.
The rear is designed to be higher, but looks softer and more stylish than the old Kia Cerato 2013. LED taillights are designed to be fuller and more rounded to create more highlights and attraction for the vehicle. The rear bumper of the car is made of dark hard plastic and combined with the bigger exhaust pipe, which makes the car more sporty.
Review Kia Cerato 2014 old about the interior
Kia Cerato 2014 interior space is widely and coolly evaluated with exquisite details. The car is designed with 5 seats quite comfortable, spacious and upscale leather. The driver's seat is electrically adjustable and integrates ventilation and heating so that the occupants are always relaxed and comfortable.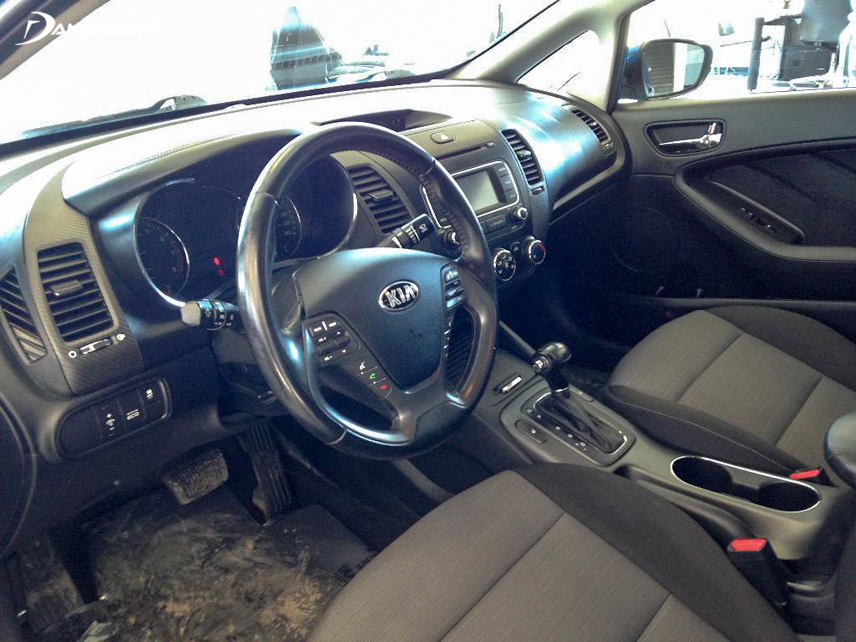 Old Kia Cerato 2014 interior is appreciated by the modern entertainment system
The dashboard is tilted towards the driver, looking quite young but still not strong enough for a sports coupe. Leather-wrapped steering wheel, dual-zone automatic air conditioning system, electric sunroof, anti-glare rearview mirror, hands-free mode and glass drying.
Vehicles are fully equipped with basic facilities such as information display, modern entertainment system with 6-speaker sound system, Bluetooth, USB, AUX, … In addition, some expenses The newly renovated interior makes them more impressive and modern such as air vents, warning lights, and air-conditioning knobs.
Review 2014 Kia ​​Cerato car about the engine / operation
The 2014 Kia ​​Cerato car was introduced with two engine choices: 1.6L and 2.0L. The 1.6L engine version is equipped with a 1.6-liter, 4-cylinder inline engine that produces 128 horsepower, maximum torque of 157Nm along with a 6-speed manual gearbox. Version 2.0L engine is equipped with a 2.0L capacity engine to produce 159 horsepower and maximum torque of 194Nm and 6-speed automatic transmission.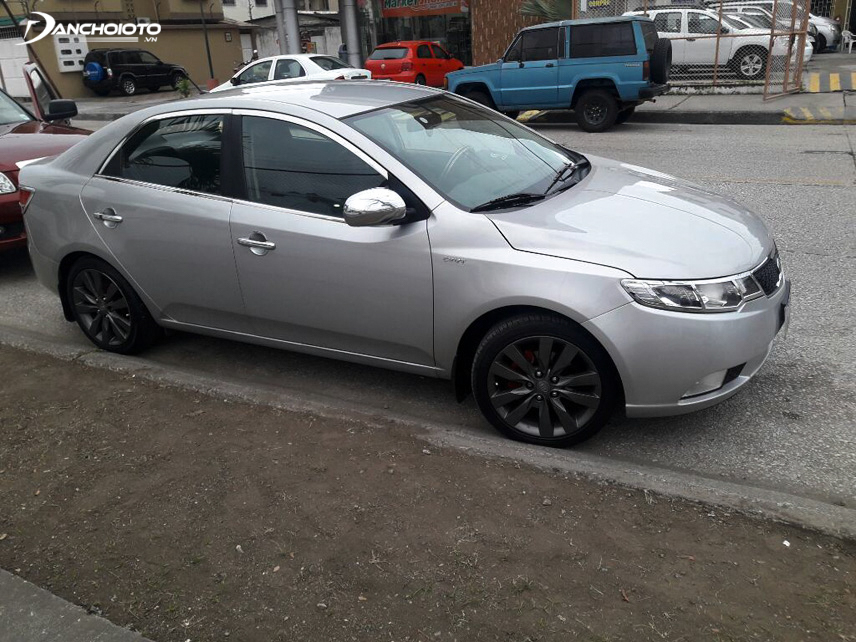 Performance of Kia Cerato 2014 is more appreciated than the previous version
With the 2014 Kia ​​Cerato specifications on the engine, the performance of this model is rated quite well in the segment. The 1.6L version is not very powerful, especially for cars that have been used for 5 years. This is a Kia Cerato drawback that buyers should consider. More ideally, buyers should choose the 2.0L capacity version.
Vehicles equipped with 3 driving modes are Comfort, Normal, Sport help the driver control the car easier and more convenient. In addition, the car also has additional paddles on the steering wheel to help users feel more impressive when accelerating.
Review Kia Cerato 2014 old car on safety equipment
2014 Kia ​​Cerato cars are fully equipped with basic safety features such as anti-lock braking system, emergency braking assistance, electronic brake force distribution, electronic balance, start assist. horizontal slope, front and rear parking sensors, reversing camera, 6 airbags, body stabilization, …
Should I buy an old Kia Cerato 2014?
Currently, in Vietnam market, the price of used Kia Cerato 2014 is sold at different prices depending on the version and vehicle status. The selling price of 2014 Kia ​​Cerato cars ranges from 490 to 580 million.
See also: 500 million should buy any kind of used car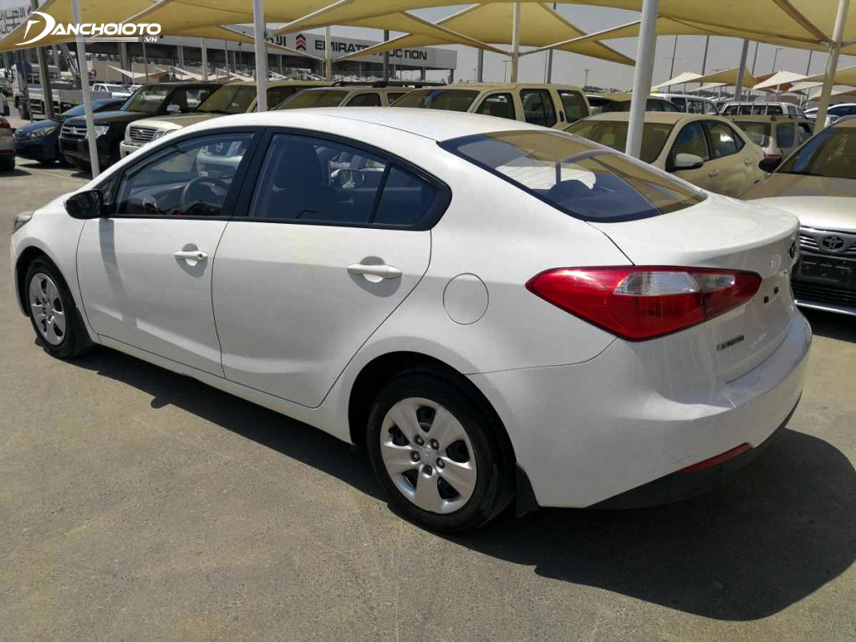 The price of the old Kia Cerato 2014 is around 500 million
In the old 500 million cars, Kia Cerato 2014 is not a bad choice but it is not too good. At this price, if you find a new car, the owner of the car is well worth keeping in mind.
Minh Nghia