After days of waiting, the iPhone 8 Plus finally gets the iOS 14.5 update. Is this a version of the operating system suitable for a nearly 4-year-old Apple smartphone? Let me evaluate iPhone 8 Plus updated iOS 14.5 to find the answer!
The detailed article will be fully updated on May 2. Remember to read it!
See also: Rate iPhone 12 Pro Max to iOS 14.5: What is the crime without updating!
Note: iPhone 8 Plus in this article is the smartphone that I have been using for more than a year and its battery status is 83%.
A brief point through the configuration parameters of the iPhone 8 Plus
Before going to the basic tests of performance, battery as well as new features, let's take a look at the configuration parameters of the main character today – iPhone 8 Plus!
CPU: Apple A11 Bionic.
Ram: 3 GB.
Internal memory: 64 GB.
2691 mAh battery, battery status: 83%.
Apple has always been generous in updating its older smartphones. Therefore, it is not too surprising that even though it has been nearly 4 years old since its launch, the iPhone 8 Plus still receives the new operating system. I personally predict, the configuration of the iPhone 8 Plus can still run smoothly on iOS 14.5.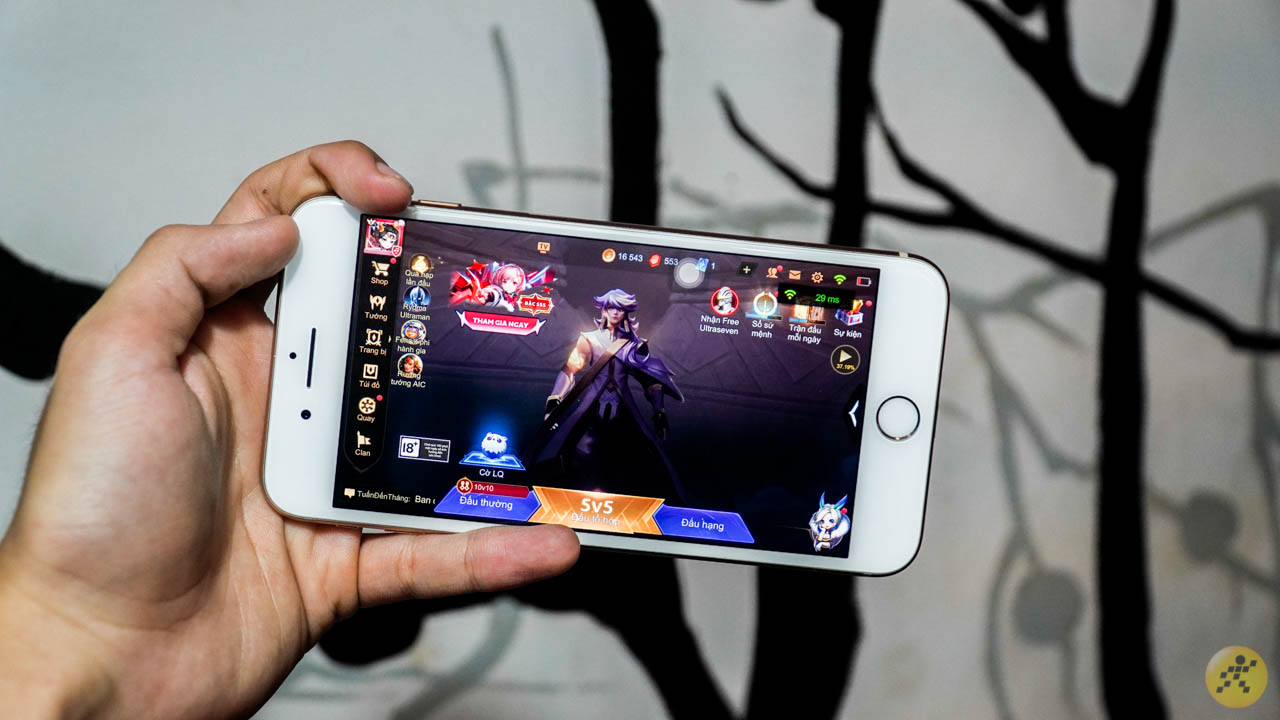 The process of updating the new operating system is also quite simple. It took me about 5 minutes to download and then about 5 minutes to install. So after 10 minutes, my smartphone was updated from iOS 14.4 to iOS 14.5. In my initial sense, there is not too much difference in terms of interface between these two operating systems. Children about performance or battery, please read on to see if there is any change!
The performance of the iPhone 8 Plus is improved but …
To start this performance test, I use AnTuTu Benchmarks software to score iPhone 8 Plus on iOS 14.4 and iOS 14.5. The results I obtained are:
iPhone 8 Plus on iOS 14.4 operating system reached 217,722 points
iPhone 8 Plus on iOS 14.5 operating system reached 228,819 points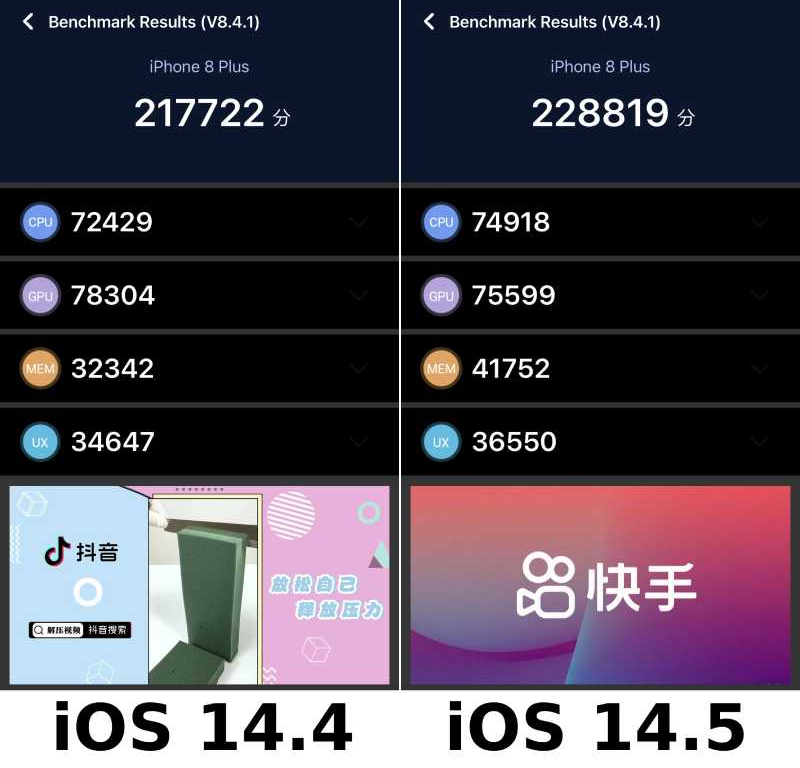 It can be seen that in terms of scores, the updated iPhone 8 Plus has a much better score, namely 11,097 points. Since then it is somewhat predictable that our smartphone after the update will not disappoint users in terms of performance.
Having the grading part, it is impossible to ignore the actual test. I choose three familiar games, including: Lien Quan Mobile, PUBG Mobile and Zingspeed Mobile. FPS is measured in Perfdog, you can refer here
I pushed the game's graphics level to the highest possible level as follows: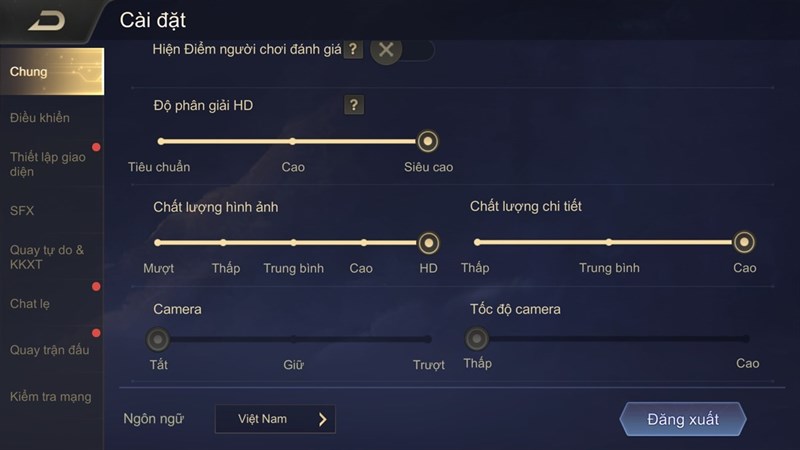 On both tests, the iPhone 8 Plus delivers a stable gaming experience, with almost no difference. FPS throughout the match when the iPhone 8 was in iOS 14.4 and when updated to iOS 14.5 ranged from 59-60 FPS. Therefore, the average FPS is quite similar, one side is 59.5 (iOS 14.4) and the other is 59.6 (iOS 14.5). However, the common point that many users will not like in both operating systems is that the machine is quite hot.
Coming to the shooting game PUBG Mobile, I am also confident that the graphics are quite high: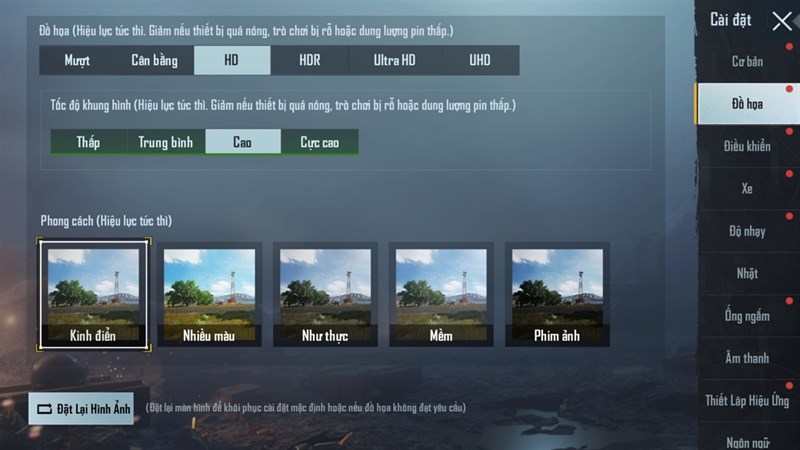 The iPhone 8 Plus after being updated to iOS 14.5 has a bit more performance than when in iOS 14.4, not too much. Specifically, before the update, the average FPS of the whole game was 29.2 FPS, lower than the 29.7 FPS after the update. However, when experiencing the reality, I did not notice too much difference, the machine was still extremely stable and smooth in 2 tests.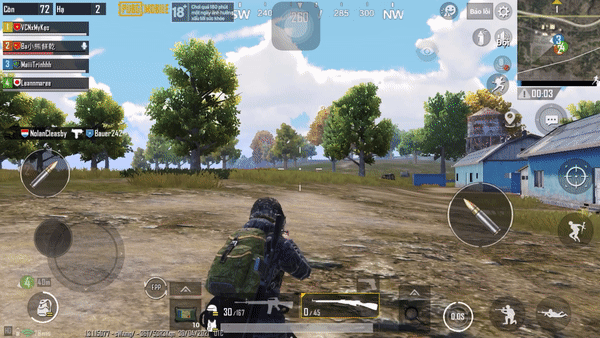 Coming to the last game Zingspeed Mobile, the game is quite light in terms of configuration, so I choose the maximum graphics: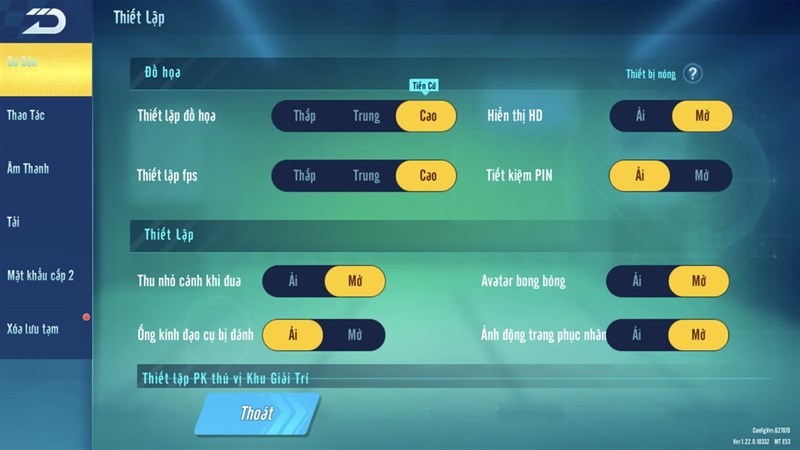 Honestly, I still haven't noticed any difference in these two operating systems despite coming to this last game. The gameplay on the iPhone 8 Plus is still smooth-smooth on both old and new iOS versions. The average FPS results of the whole game I got from Perfdog were the same, all 59.5 FPS.
Overall, the iPhone 8 Plus score when iOS 14.5 is slightly better, but when it comes to the actual experience factor, we will not have any difference at all. I think that the iPhone 8 Plus still has stable performance when updating to the new operating system even though it is an 'old' smartphone.
The detailed article will be fully updated on May 2. Remember to read it!
See also: Review iPhone XR to iOS 14.5: Battery life increased by almost an hour!
iPhone 8 Plus 64GB
Stop business
See details
Edited by Vuong Gia Bao
Not satisfied with the article
172 views
Related posts
Apple started selling refurbished Apple Watch Series 6 and SE products for as much as VND 2.3 million cheaper


3 hours ago

The iPhone SE Plus 2021 is a enlarged version of the iPhone SE 2020, but the price has not changed (Continuously updated)


12




4 hours ago

Review iPhone 12 Pro Max with iOS 14.5 update: No hot, good performance, more buffalo battery, so why are you not up?


1




5 hours ago

Vivo Y72 5G battery rating: The battery lasts for nearly 12 hours, fast charging 18W, just waiting for 1 hour and a half is full.


6 hours ago

Detailed review of iPhone XR to iOS 14.5: Performance and battery are greatly improved, let's go guys (Updating)


7 hours ago

Apple was the best-selling smartphone brand in the 5G segment in the first quarter of 2021, the second place suddenly fell to OPPO


8 hours ago
.