After a lot of beta versions, iOS 14.5 was officially launched by Apple for the iPhone globally, of course, including the iPhone 11. This update has a lot of notable features, such as unlocking. iPhone using Apple Watch, adding new emoji, … But will iPhone 11 to iOS 14.5 get overheated, have low battery, or improved performance? Please see the article below to find the answer.
Note: iPhone 11 in this article is the smartphone that I have been using for more than 1 year and its battery status is 85%. The article is still being updated and will be finalized on April 29. Have you remembered to it!
See also: Instructions on how to update iOS 14.5 officially with many new features
Device details to experience the iOS 14.5 – iPhone 11 update
As I mentioned above, this is an iPhone that has been with me for over a year. I bought it from February 2020 and calculated that I used it a bit bad, the battery status from 100% to 85% after just 1 year. Well now, I would like to give you a quick point through the parameters of this iPhone 11, as follows:
CPU: Apple A13 Bionic.
RAM: 4 GB.
Internal memory: 64 GB (the version of the memory I'm using).
Operating System (before the update): 14.4.2.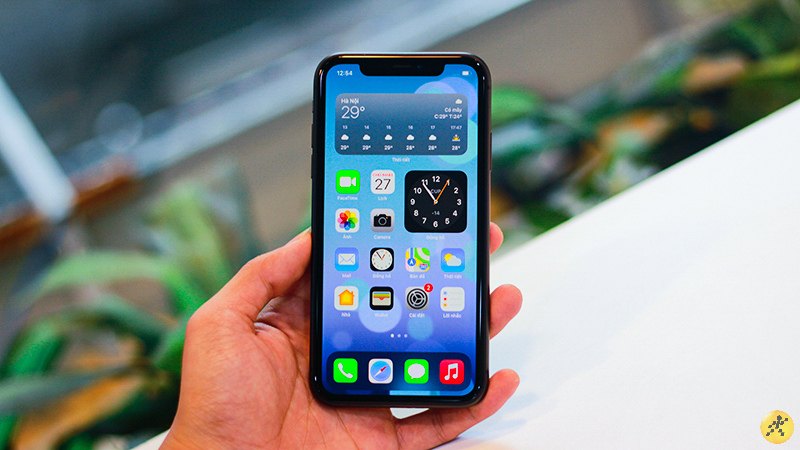 According to the above parameters, we can see that the Apple A13 chip is only 1 year old, I believe that my iPhone 11 after going to iOS 14.5 will still be delicious. Follow-up procedure below is clear). Well, the new iOS update has a capacity of about 1.27 GB and the total time for me to complete the update is about 1 and a half hours (because I use the internet at the coffee shop so it takes a bit).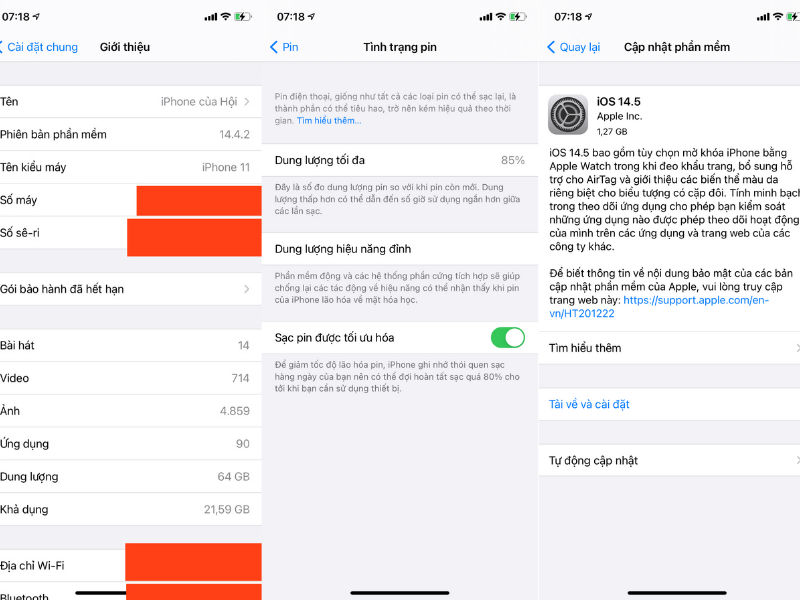 The performance of iPhone 11 after going to iOS 14.5: It's so smooth!
Since updating iOS 14.5, my iPhone 11 feels smoother and smoother when I perform touch gestures on the home screen or open apps. At that time, I tested the games (Lien Quan Mobile, PUBG Mobile, Call of Duty) on my iPhone 11 to see how smoothly the machine would play. The FPS chart or the graphic settings of each game, I leave it here for you guys.
As you can see in the above FPS chart comparison, my iPhone 11, after going to iOS 14.5, has processed the PUBG Mobile game much smoother and more stable than the old iOS version. During my game, the FPS was always maintained at 60 (the pink line followed an extremely eye-catching line), in stark contrast to the unstable FPS chart on the iPhone 11 running iOS 14.4.2.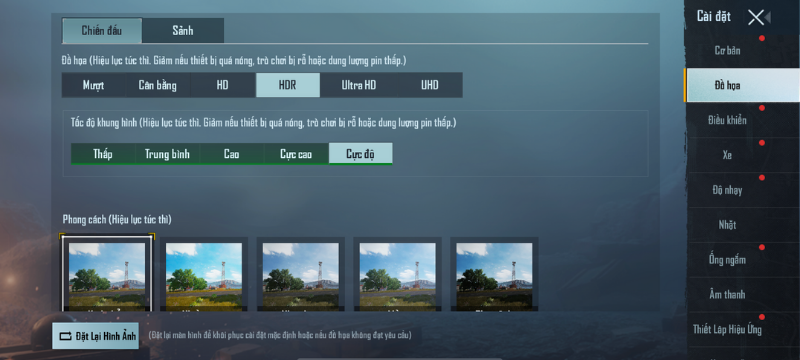 The reason probably comes from the temperature of the device during my experience. iPhone 11 running iOS 14.4.2 has a hot condition after about 4-5 minutes of playing PUBG (although I leave the average screen brightness), the FPS has dropped continuously (as shown in the FPS chart above). Regarding the graphics settings in the game, I keep the same, before and after the iOS update is the same.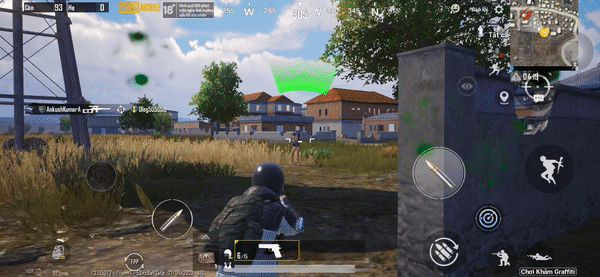 In terms of graphics, Lien Quan Mobile is somewhat inferior to PUBG Mobile, so my iPhone 11 can completely fight well. Comparing the FPS chart in both iPhone 11 running iOS 14.4.2 and iOS 14.5, I commented that there is not too much difference, the FPS fluctuation is not too large.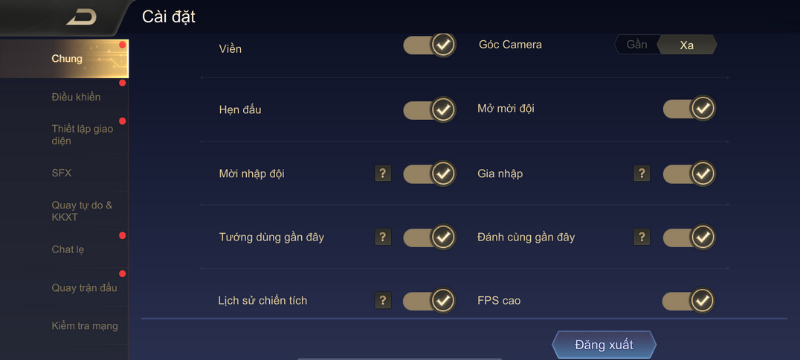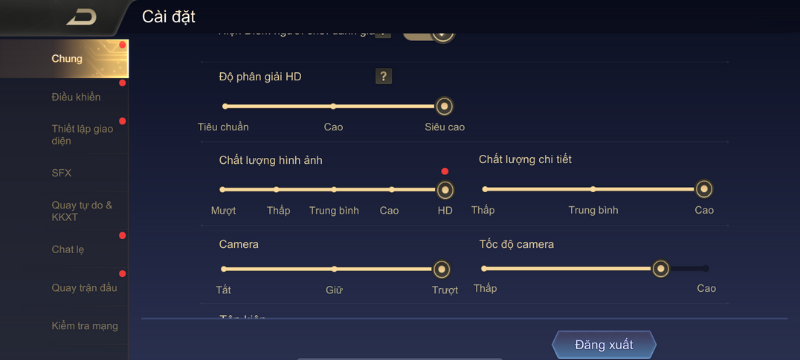 During the process of playing Lien Quan Mobile, iPhone 11 (before and after the update) has brought an excellent experience, undeniable. All controls in the game give fast response speed and no lag at all. In general, I am completely satisfied with the performance of iPhone 11 in the game Lien Quan Mobile.
In the last title and also the game with the heaviest graphics on today's list, Call of Duty Mobile. When looking at the FPS chart in both iPhone 11 running iOS 14.4.2 and iOS 14.5, we can see that the device can completely handle it smoothly at 60 FPS during our experience.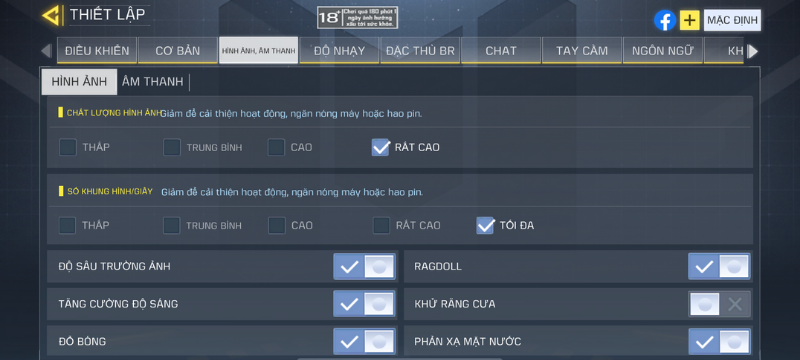 Thanks to that, the controls in the game, fighting each other, using props, … have no lag or lag. Generally speaking, playing Call of Duty Mobile on iPhone 11 running iOS 14.5, how smooth it is, guys.
Summing up for the gaming experience on the iPhone 11 (after going to iOS 14.5), I found the device just got a little warmer, not too hot like in iOS 14.4.2. This shows that this update of iOS has helped the device control the temperature better, while avoiding a quick battery drain.
IPhone 11 performance rating
After playing the game, I have also conducted a performance score of the iPhone 11 before and after the release of iOS 14.5 because the number will give us a more intuitive look. The results really surprised me and the following I will share with you: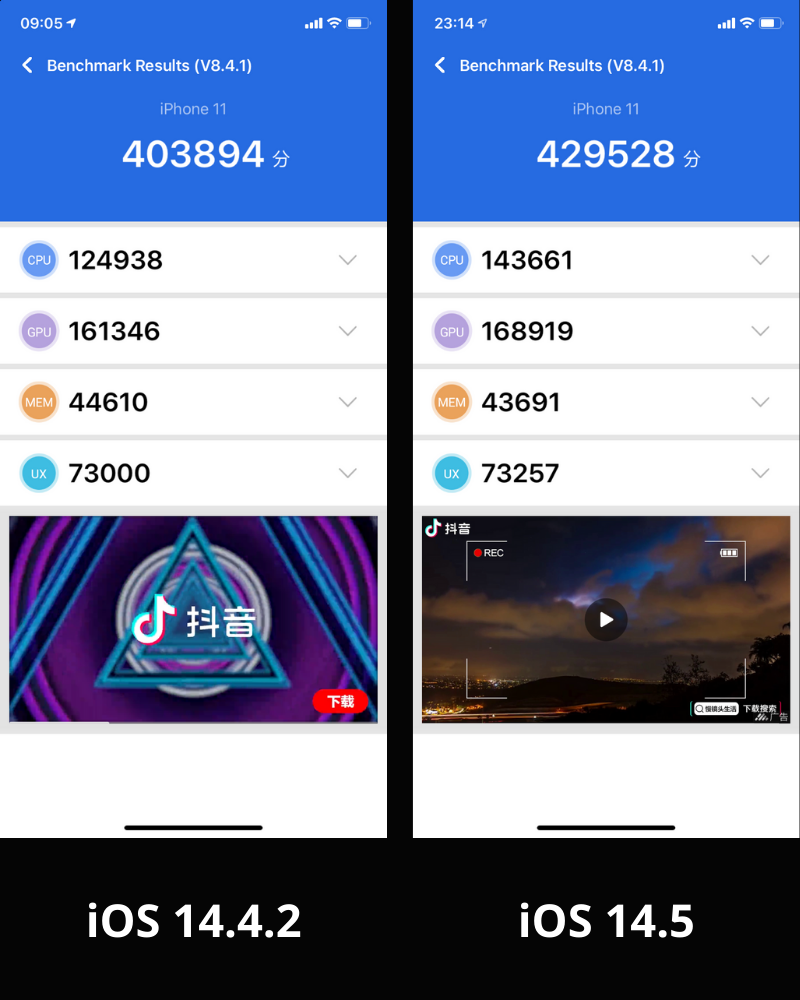 – AnTuTu Benchmark Score:
iOS 14.4.2: 403,894 points.
iOS 14.5: at 429,528 points.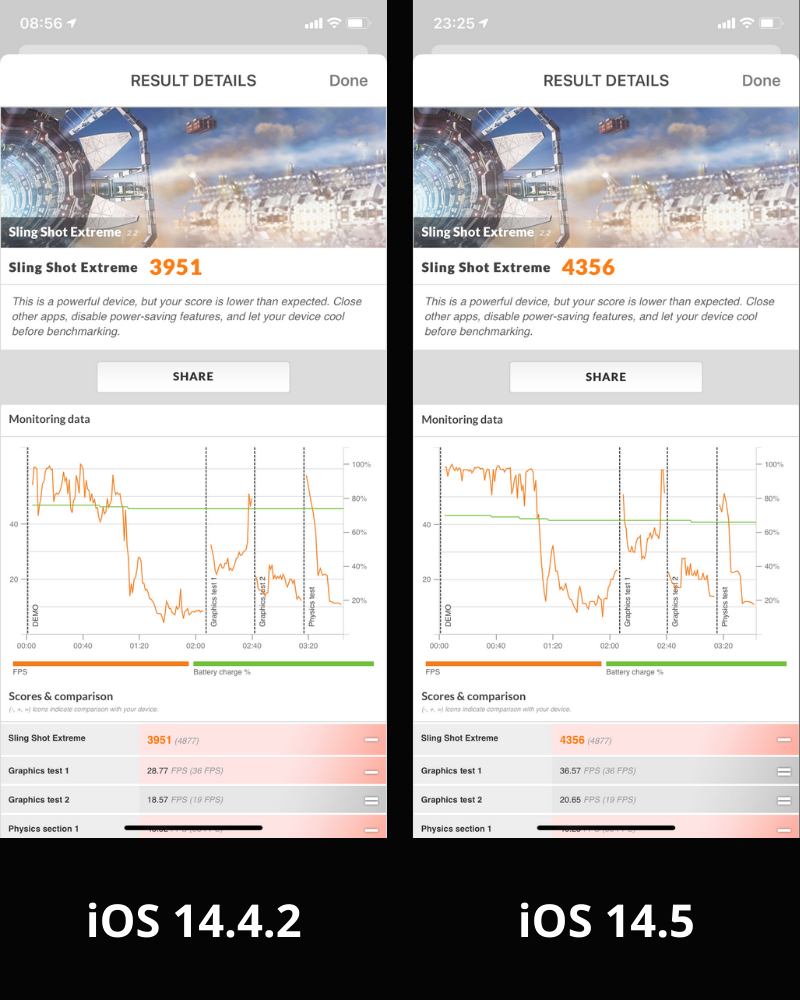 – 3DMark (Sling Shot Extreme) score:
iOS 14.4.2: 3,951 points.
iOS 14.5: 4,356 points.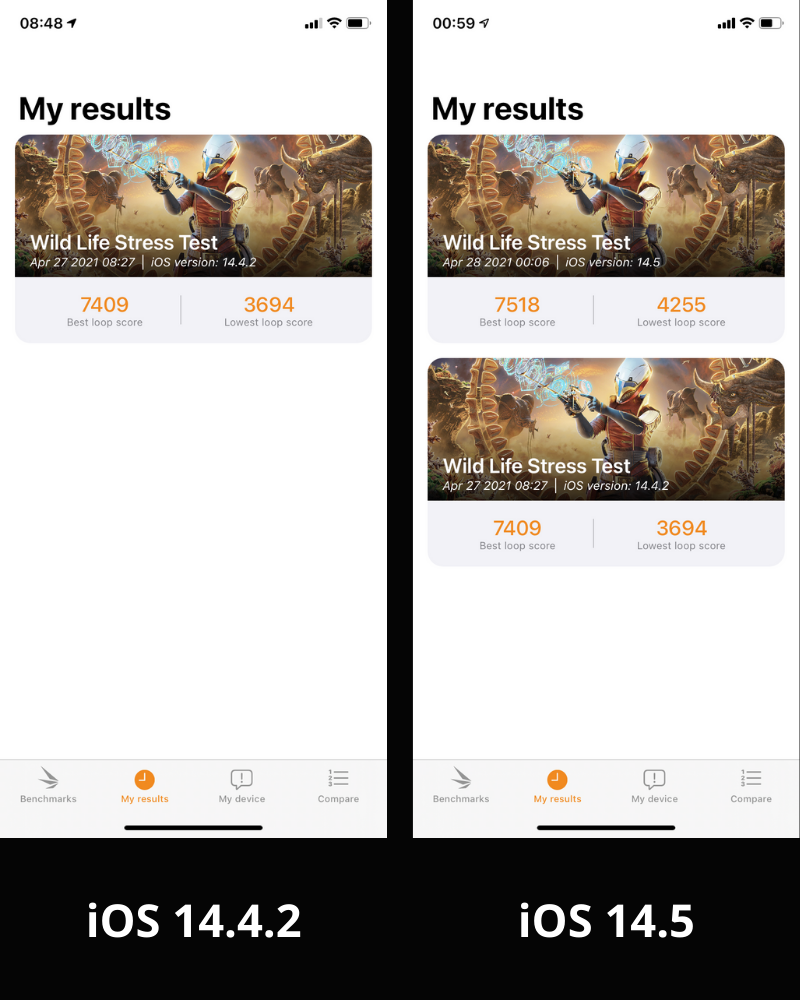 – 3DMark (Wild Life Stress Test) score, highest loop score / lowest loop score:
iOS 14.4.2: 7,409 / 3,694 points.
iOS 14.5:
So in all 3 software, the iPhone 11 running iOS 14.5 has superior results compared to the old iOS version, why the actual gaming performance is so smooth. I was especially impressed with the results in the AnTuTu Benchmark software when the iPhone 11's performance score (after the update) increased by nearly 30,000 points (429,528 points compared to 403,894 points).
I know the scores are for reference only, but these numbers all show that the performance of the iPhone 11 has improved significantly after reaching iOS 14.5. That is why you do not hesitate anymore, immediately update iOS 14.5 for your device.
Will iPhone 11 to iOS 14.5 drain the battery fast?
The fast battery drain is one of the indispensable specialties every time the iPhone updates iOS, I know you guys are afraid of this problem and I personally am not an exception. To find the answer to the above question, I have measured the battery life on the iPhone 11 running iOS 14.4.2 and iOS 14.5 by using a battery test (according to TGDD standards). The specifics of this test are as follows:
Experience 4 rotating tasks including: Chien Lien Quan (Detailed settings), watch YouTube, surf Facebook and use the browser (Safari).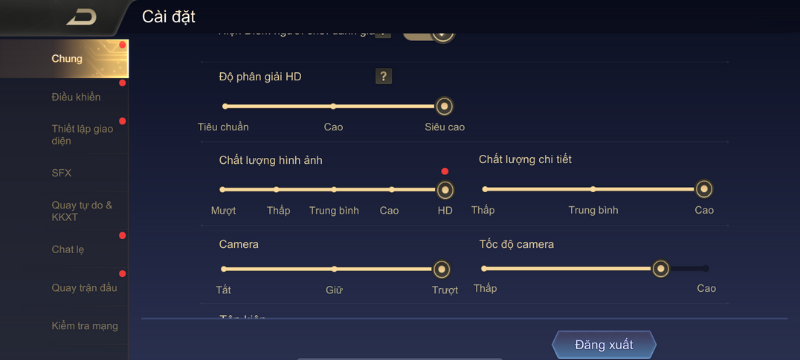 Battery health: 85%
Each task 1 hour.
Screen brightness 100%.
Headphone plug and 100% volume.
Doesn't turn on GPS, Bluetooth, battery saver mode and screen adaptive.
Open WiFi connection and social media notifications.
And the results I obtained are as shown below: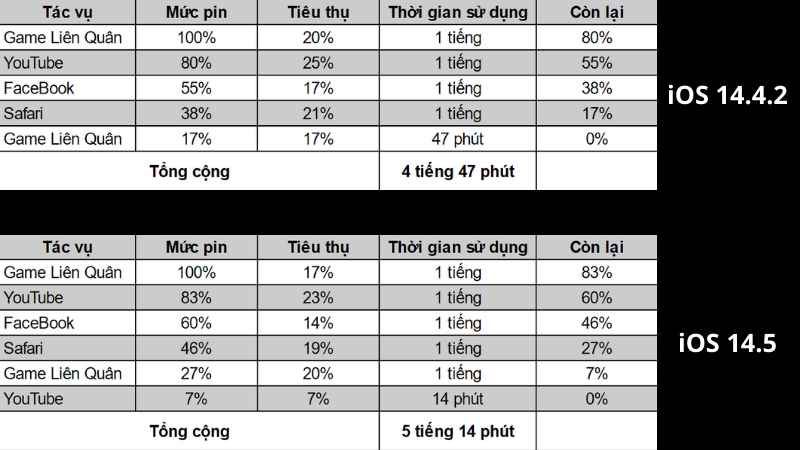 So after my iPhone 11 to iOS 14.5, the battery life has been improved a lot (for an iPhone with 85% battery bottle). Specifically, the iPhone 11 running iOS 14.5 lasted 5 hours 14 minutes and the iPhone 11 in iOS 14.4.2 only lasted 4 hours and 47 minutes after the test (about 27 minutes difference).
Granted, the test is a bit harsh, so I will share with you my actual usage process. Usually my iPhone 11 is always 100% full in the morning and I use it until about 4 – 5 pm to charge once, before going to bed to charge again. However, after going to iOS 14.5, I noticed that the device's battery had a little buffalo, instead of charging twice as usual, now I just need to charge the device before going to bed.
The article is still being updated and will be finalized on April 29. Have you remembered to it!
See also: Listen to Rumors: iOS 15 coming soon will add many interesting new features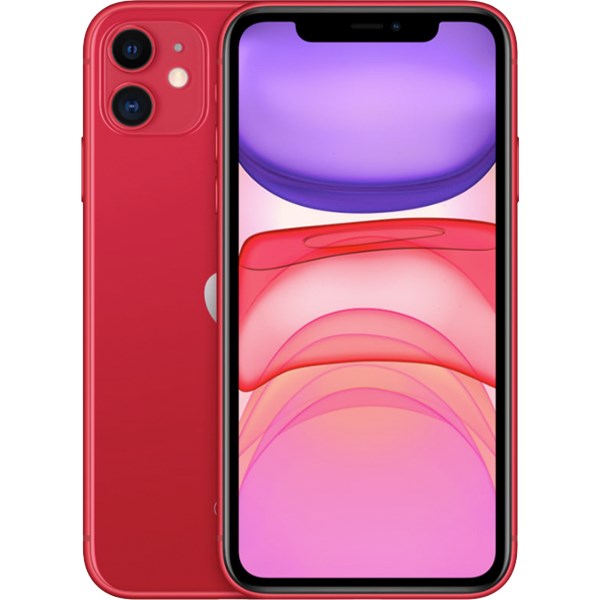 iPhone 11 64GB
See details
Edited by Vuong Gia Bao
Not satisfied with the article
1,760 views
Related posts
iPhone 12 Pro Max and Galaxy S21 Ultra together froze … the ending was too unexpected, unpredictable


1




9 hours ago

Galaxy A52 is updated with new software: Adding many great features available on the flagship Galaxy S21 series


21 hours ago

Check the speed of iOS 14.5 compared to iOS 14.4.2 on older iPhone models, is there any difference happening or not?


22 hours ago

OPPO summarizes its achievements in terms of intellectual property, 'gasped' at the number of patents that it applied for.


22 hours ago

Price shock drop: Apple Watch S3 GPS 38mm cheapest price is now also attractive discount million, have you or not?


1 day ago

This is the iPhone model you should be interested in at the moment, with the cheapest price but also deliciously discounted like this, wait no shopping


1




1 day ago
.