An expensive watch may not interest you, but an interesting watch will help you get the experience all day long and that is the Garmin Forerunner 245.
For me, smart watches with touch screens and flexible rotation were once very important when choosing a smartwatch. It helps me get the feeling of fiction and modernity, away from the traditional watches with obsolete physical buttons.
But the Garmin Forerunner 245 is different, a smart watch, but it uses physical buttons instead of a simple touch screen, but does not make me uncomfortable, but instead makes me feel excited and want to experience all the interesting things that this watch can do.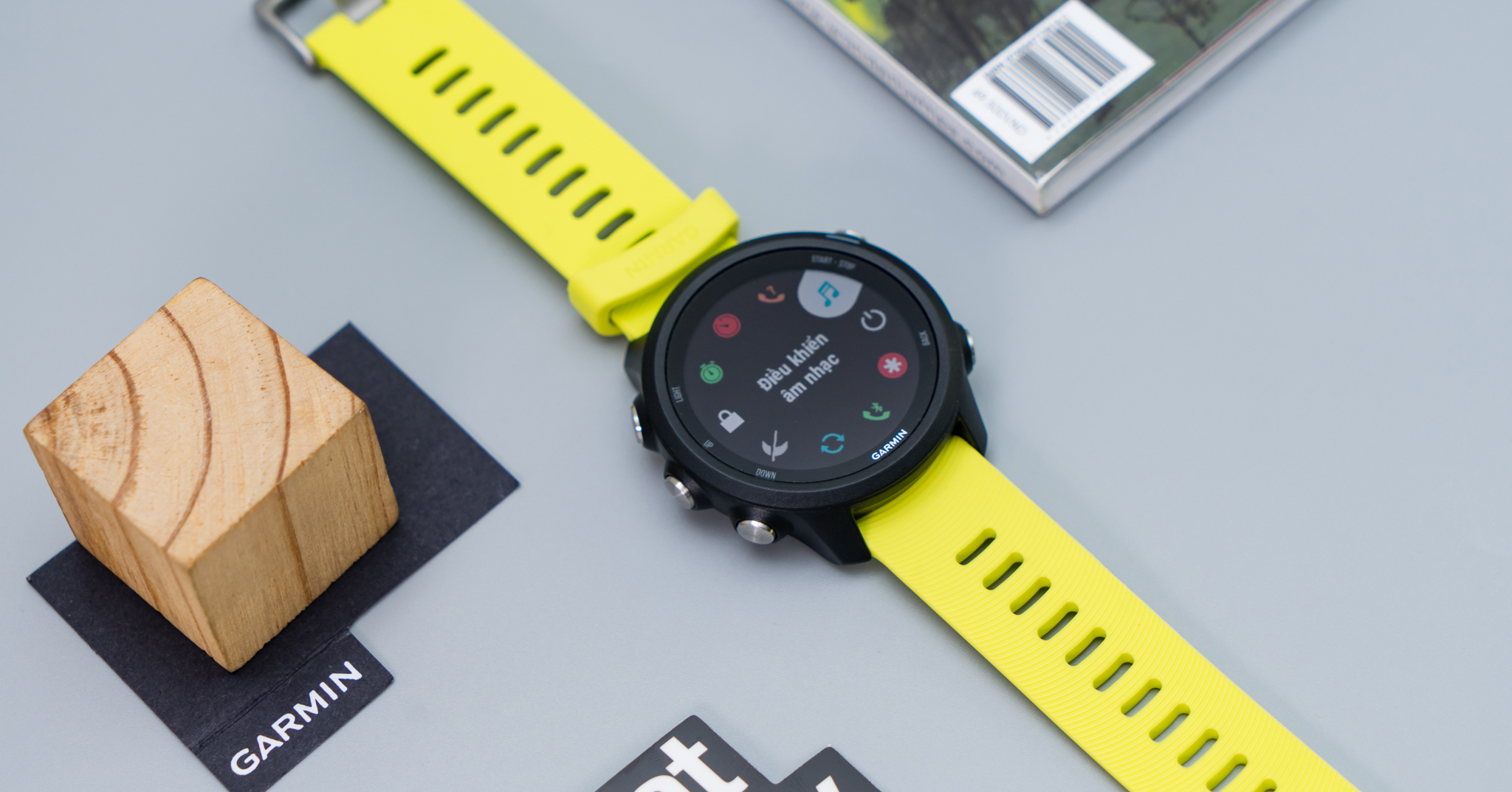 Garmin Forerunner is a movement-oriented product line instead of fancy and eye-catching features like smart watches on the market. It is for this reason that Garmin must ensure that Forerunner 245 has the most stable and accurate tracking capabilities. That requires the company to bring to the device a quality sensor system, stable stability, high durability and do not forget to cut down on unnecessary features to create a "most practical" product. may.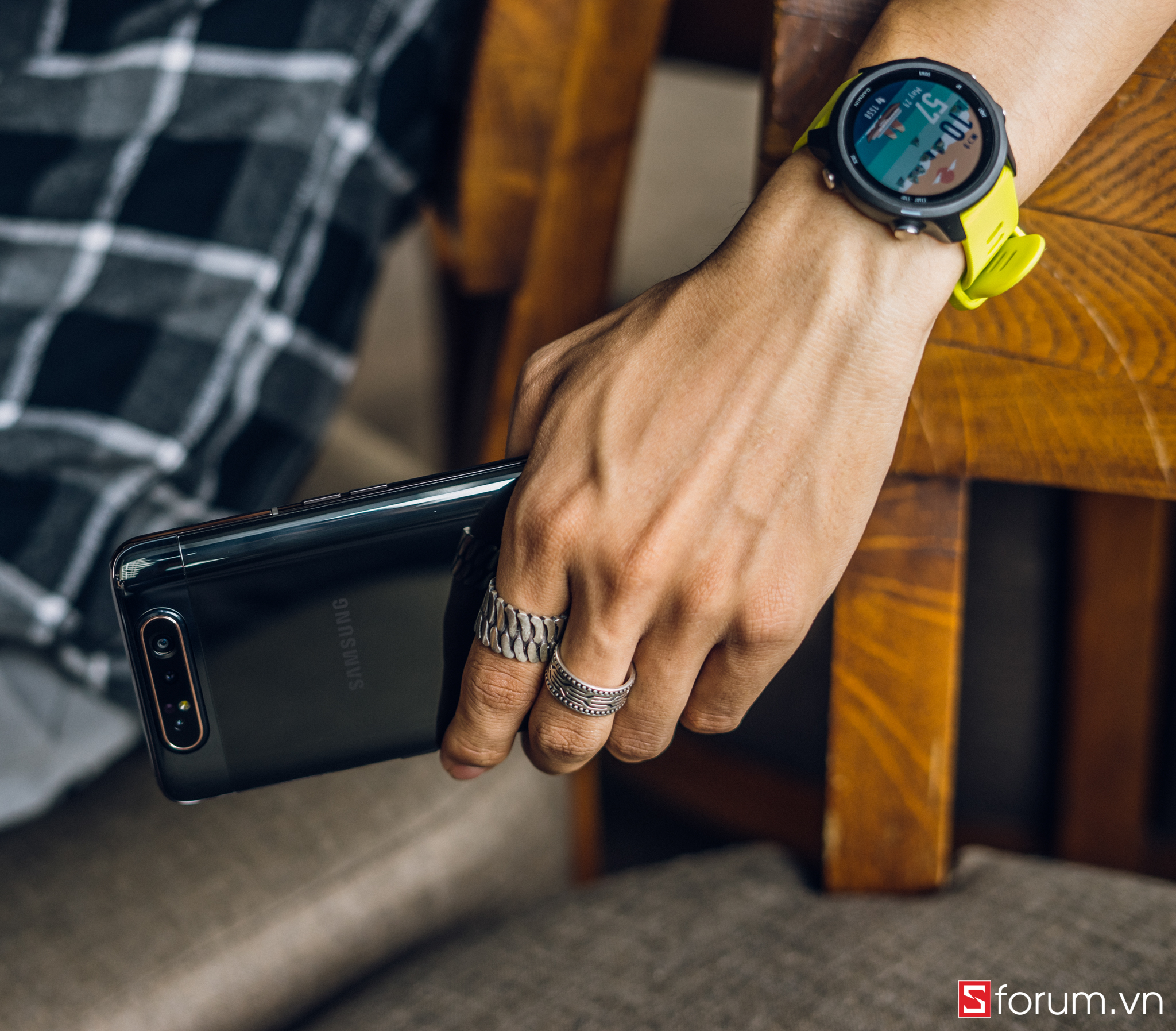 And that is why the Garmin Forerunner 245 comes up with five elements: The ability to track accurately; Integrated many training features; Ruggedly durable design; Battery life is long, stable and Price is not too difficult to reach.
At the time of launch, Forerunner 245 brought a unique design, personality and bold Garmin look. Along with that, weighing only 38.5g with 42.2mm size and 5ATM waterproof standard, Forerunner provides a comfortable wearing feeling so users can use it all day long to monitor or practice in any environment. different.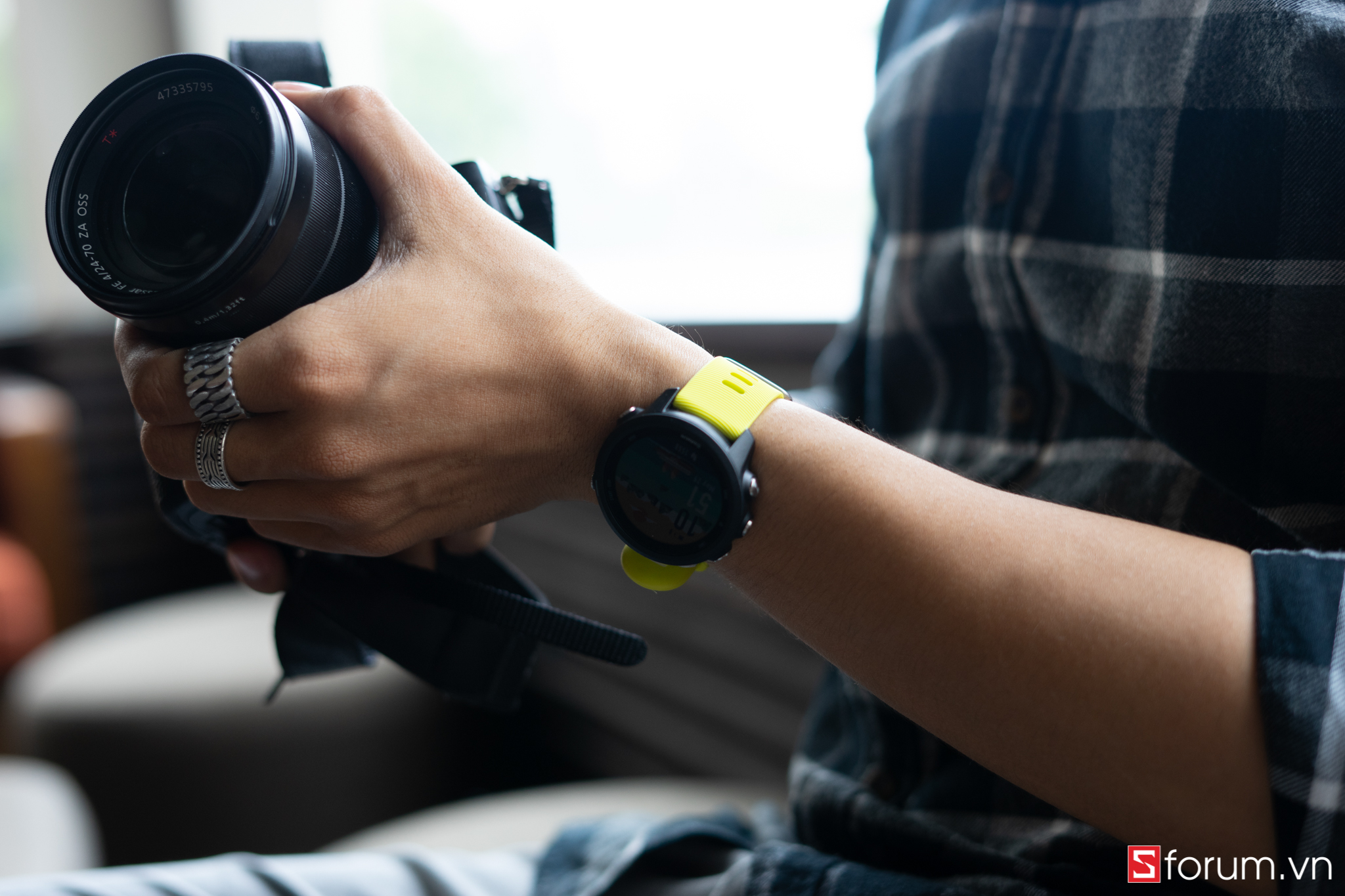 However, the use of MIP (sunlight-visible) LCD screen has an inherent drawback that the image is not really sharp, the color is somewhat pale and not really attractive. However, it is the use of this monitor that helps the watch have a much better battery life.
Besides, when you turn off the screen light, the display quality has it very good, it feels like the image shown from inside the screen is brightly colored and flattering. I personally like the display image of Forerunner 245 now, more realistic and makes it possible to clearly see the content displayed whether it is outdoors or a strong light environment. The screen light should only be used when you are in extremely low light conditions.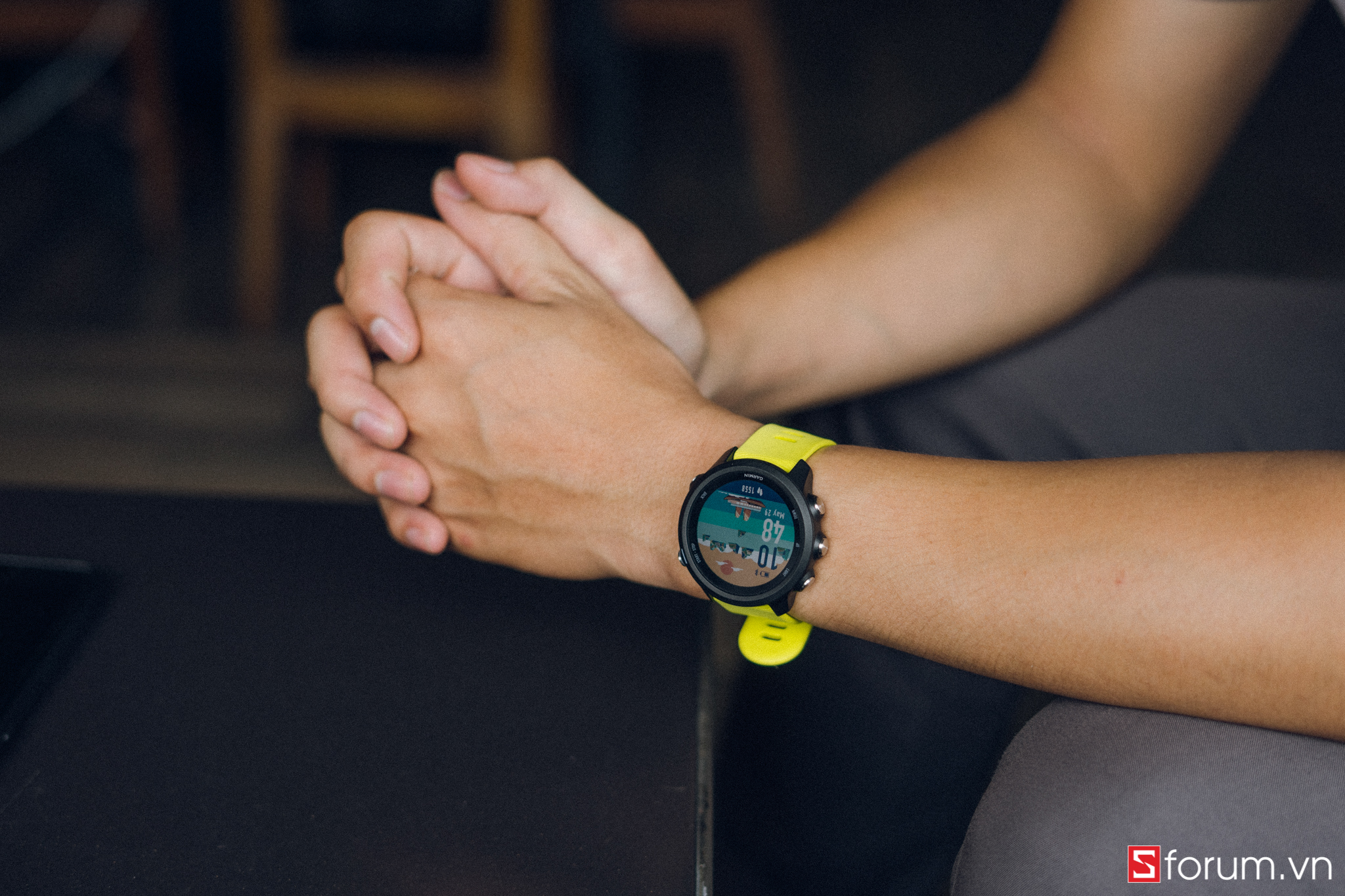 Software and features
Users can connect Garmin Forerunner 245 to their smartphone via Garmin Connect application and of course this app is released on both iOS and Android.
I do not know how to Android, but with iOS, in addition to connecting and updating information from the clock, Garmin also shares tracking data from devices for Health software on iPhone. Thanks to that, in addition to monitoring the training process from Connect, users can obtain an objective and clear statistics of the genuine software from APPLE.
Of course, the details of the data, Heath is still not equal to Garmin Connect, but with its ability to synchronize, Health will help ensure that the tracking data is stored and statistically sufficient if users regularly Change smart wearable device.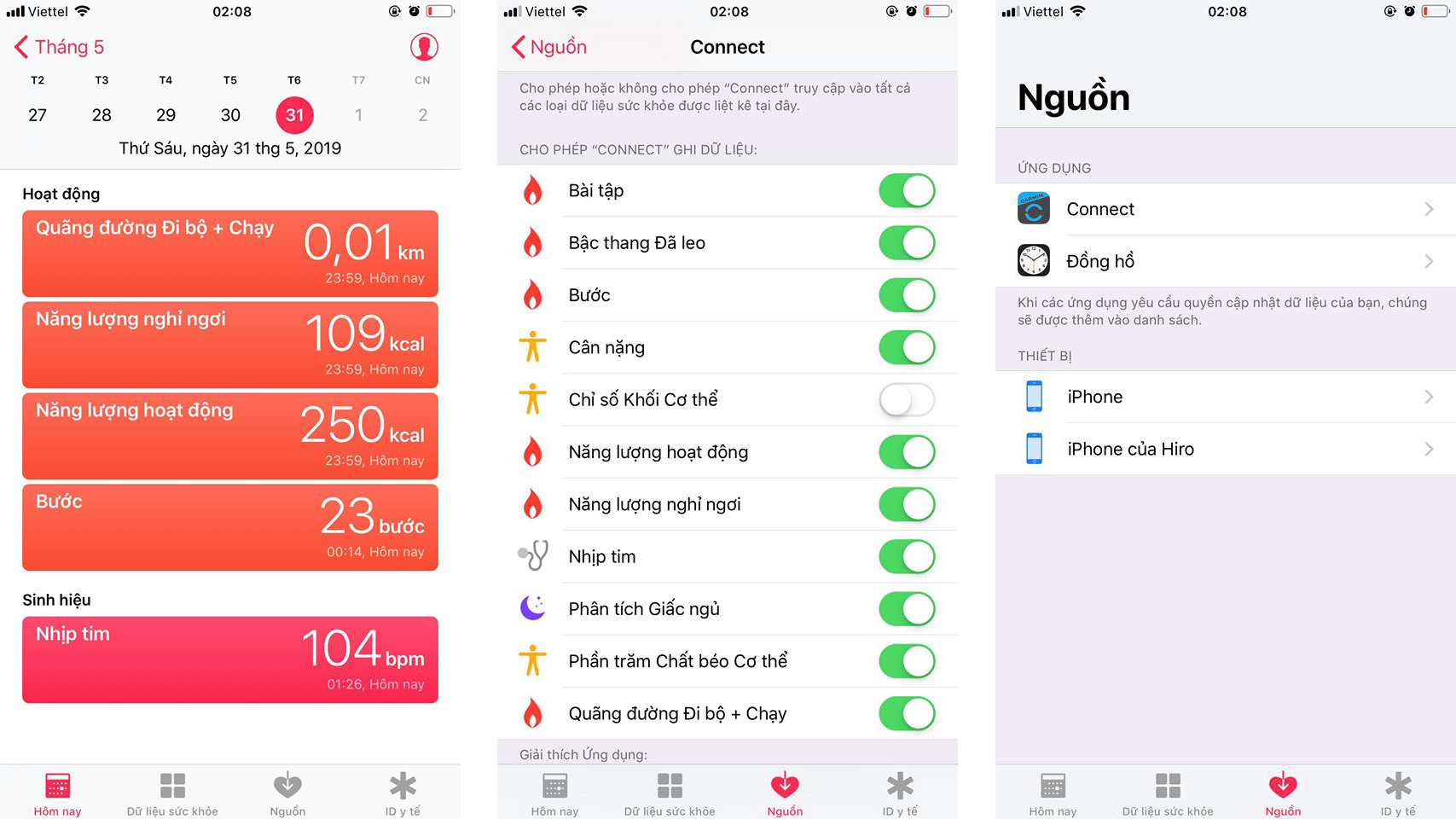 More details about Garmin Connect software, it is not much different from other door health monitoring software applications. If you use Garmin's device for the first time, it will ask you to set your body parameters, operation goals and instructions on how to use the device.
And with a pure physical clock like Garmin, these instructions are very useful, it helps me understand and can use Forerunner 245 in the most effective way.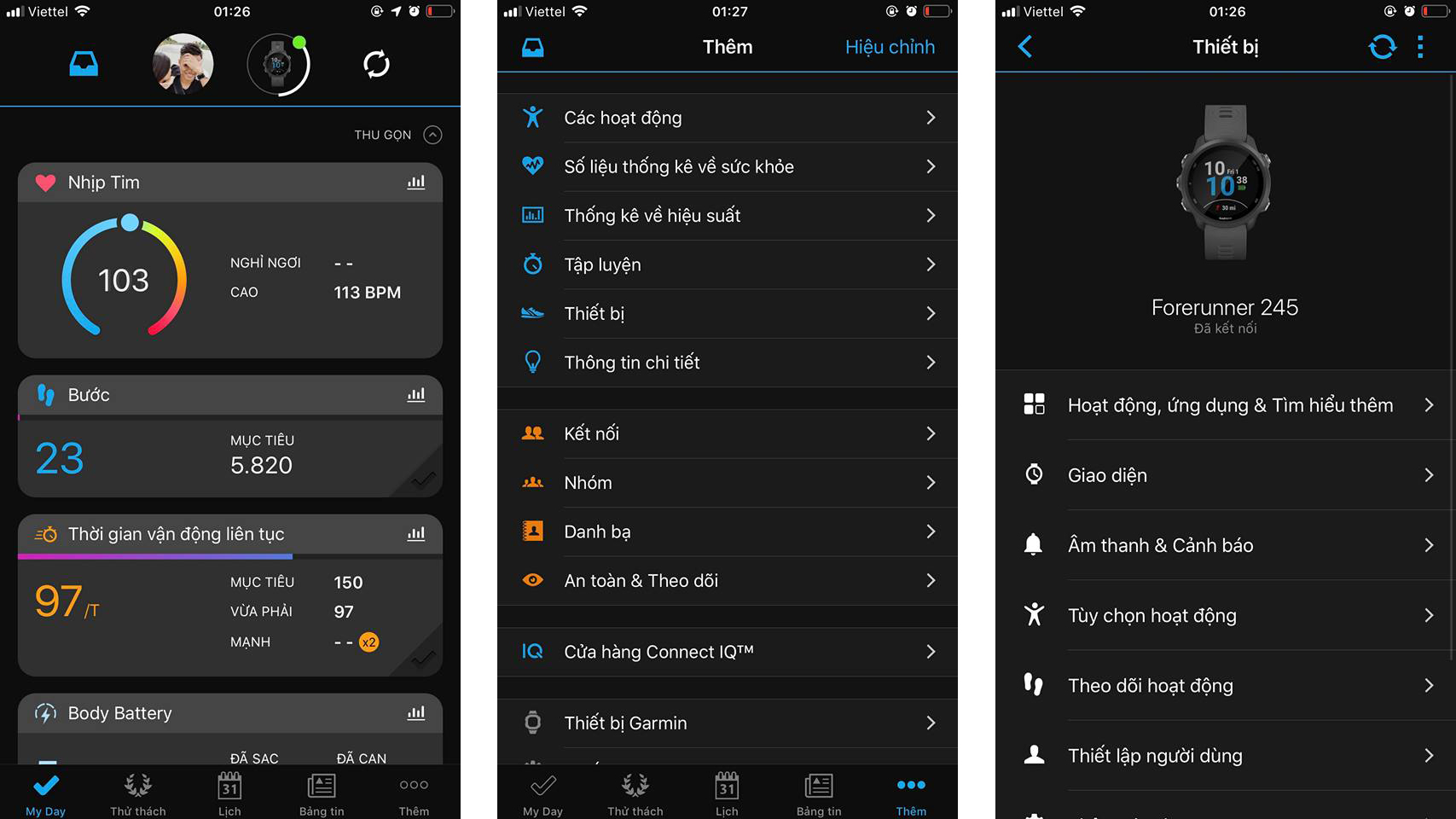 With an intuitive and relatively easy-to-understand interface, Garmin Connect gains detailed and scientific statistics from the information it receives from the clock. As a result, users can easily follow up all their personal activities.
For the look of the watch, Garmin uses a minimalist design style, the response of the app is also very fast and there is no lag.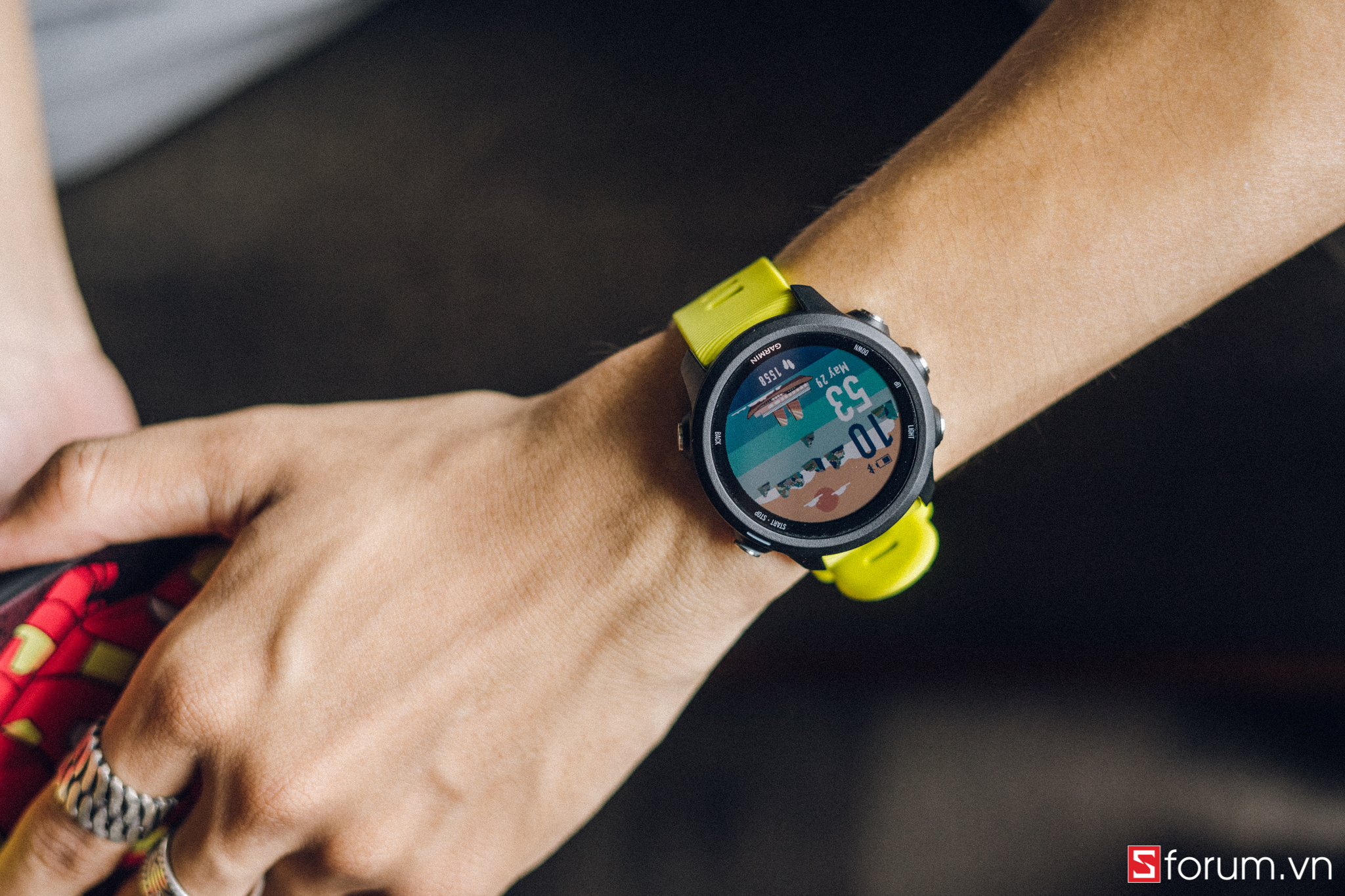 One of the watch faces I like on Forerunner 245: Ha Long Bay
Besides, the disadvantage of the device is that every time the device is notified, the device will vibrate very hard and I cannot turn off the message of a particular application (typically Messenger). The reason I felt uncomfortable in part because I received a lot of messages from the group chat one day, the fact that the left hand kept shaking while working was really uncomfortable.
You can solve the problem of switching only by phone or text mode, but this is only a software issue anyway and I hope that in some upcoming updates Garmin will improve good.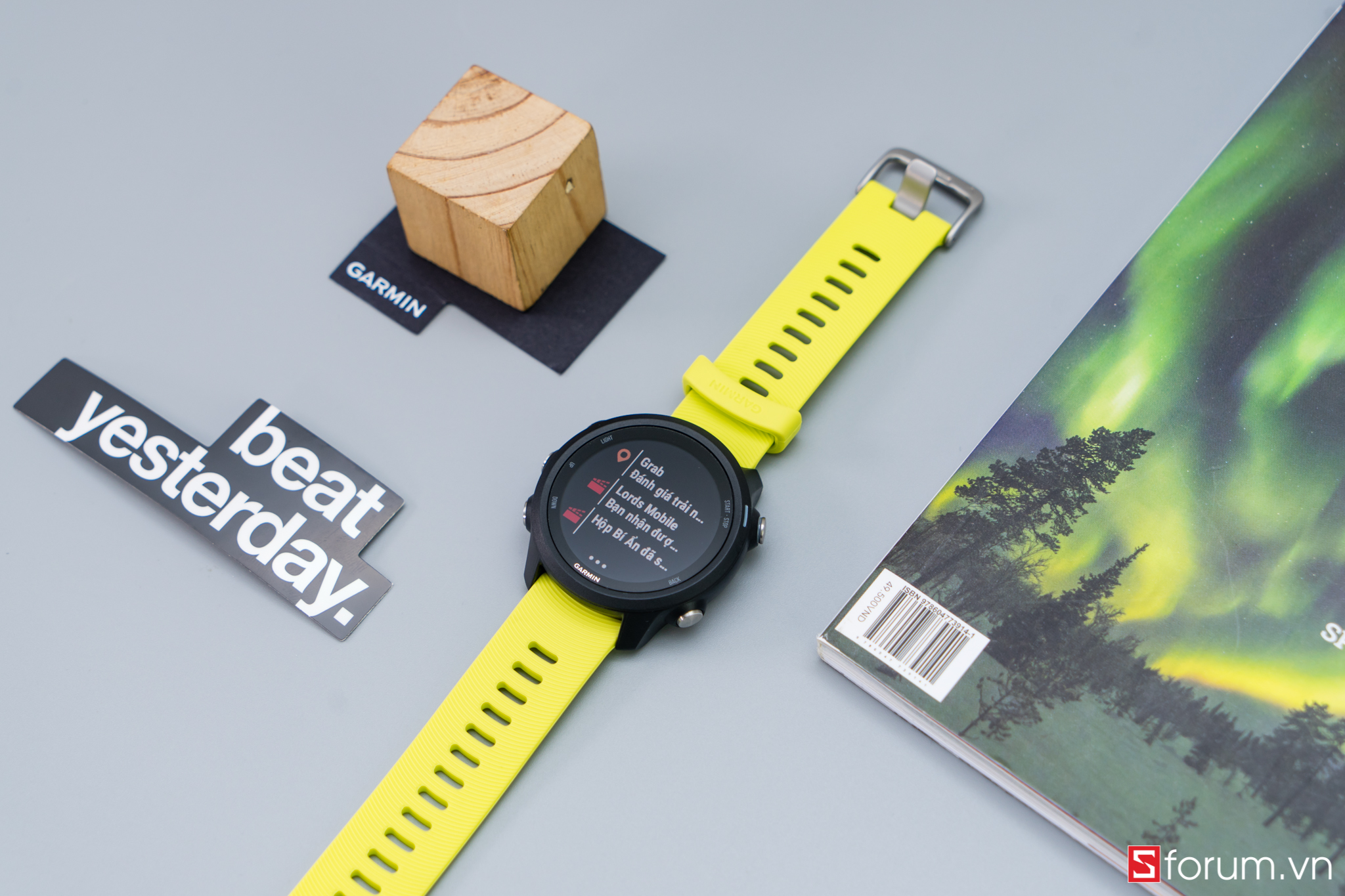 In return, Garmin Connect has the ability to connect very well with the watch. The message I received on Forerunner 245 was almost instantaneous with the notification on the phone. The feeling of vibrating from the watch and the iPhone both happened at the same time and there was no bluetooth drop phenomenon, which is a big plus for a support device like product.
Besides reading notifications, you can also easily control music, answer or reject calls quickly through this watch.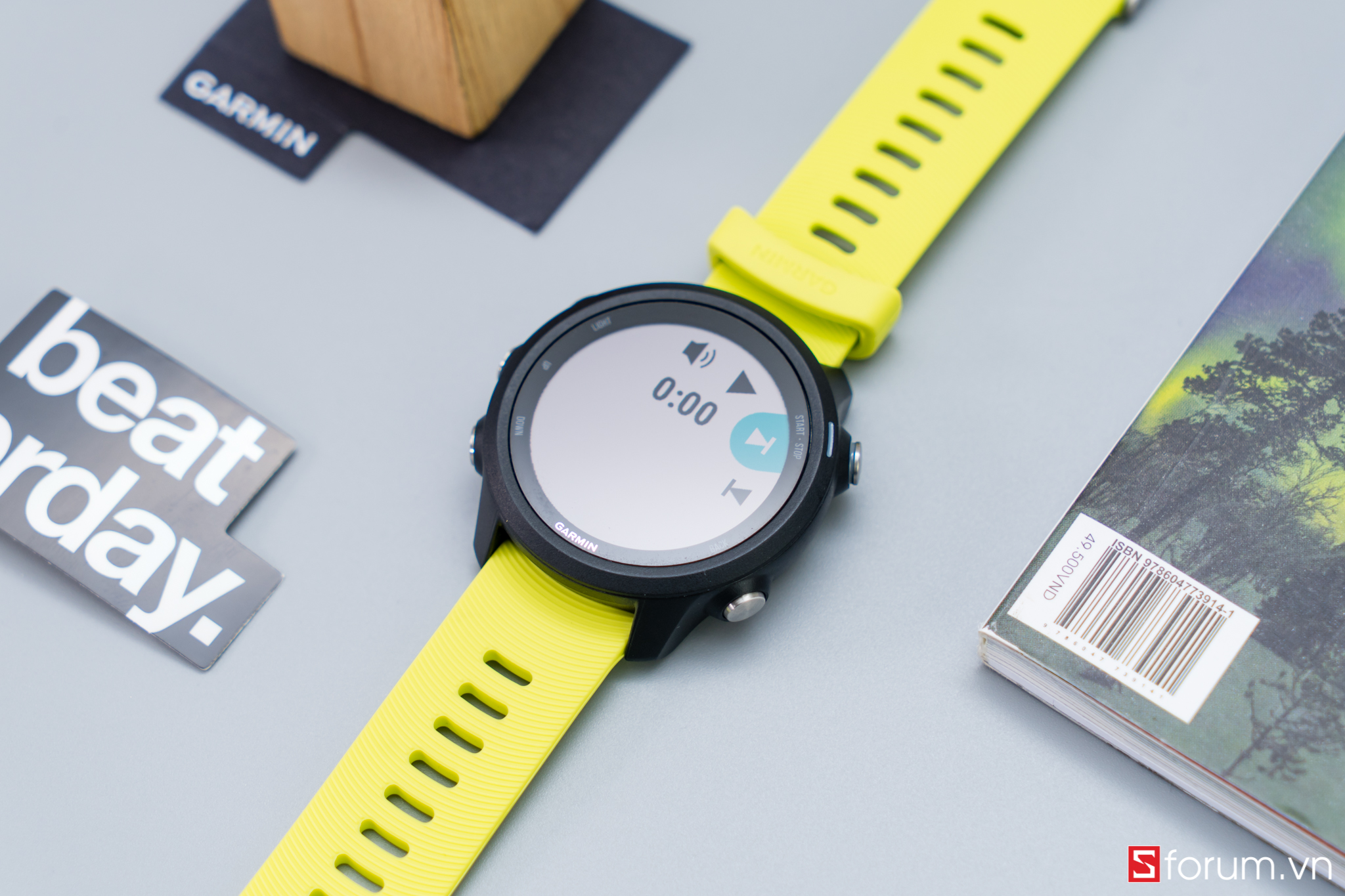 Ability to track activities
In addition to providing shallow sleep parameters – as deep as other devices, Forerunner 245 also offers the ability to monitor REM stage of sleep. This is the stage when you sleep, your brain is active, your eyes move fast and often appear dreams.
Increasing the duration of REM sleep is proven to enhance the ability to recall and full intellectual capacity. You will also have vivid dreams during the REM sleep phase of the sleep cycle and you also expect these dreams to be extended every night.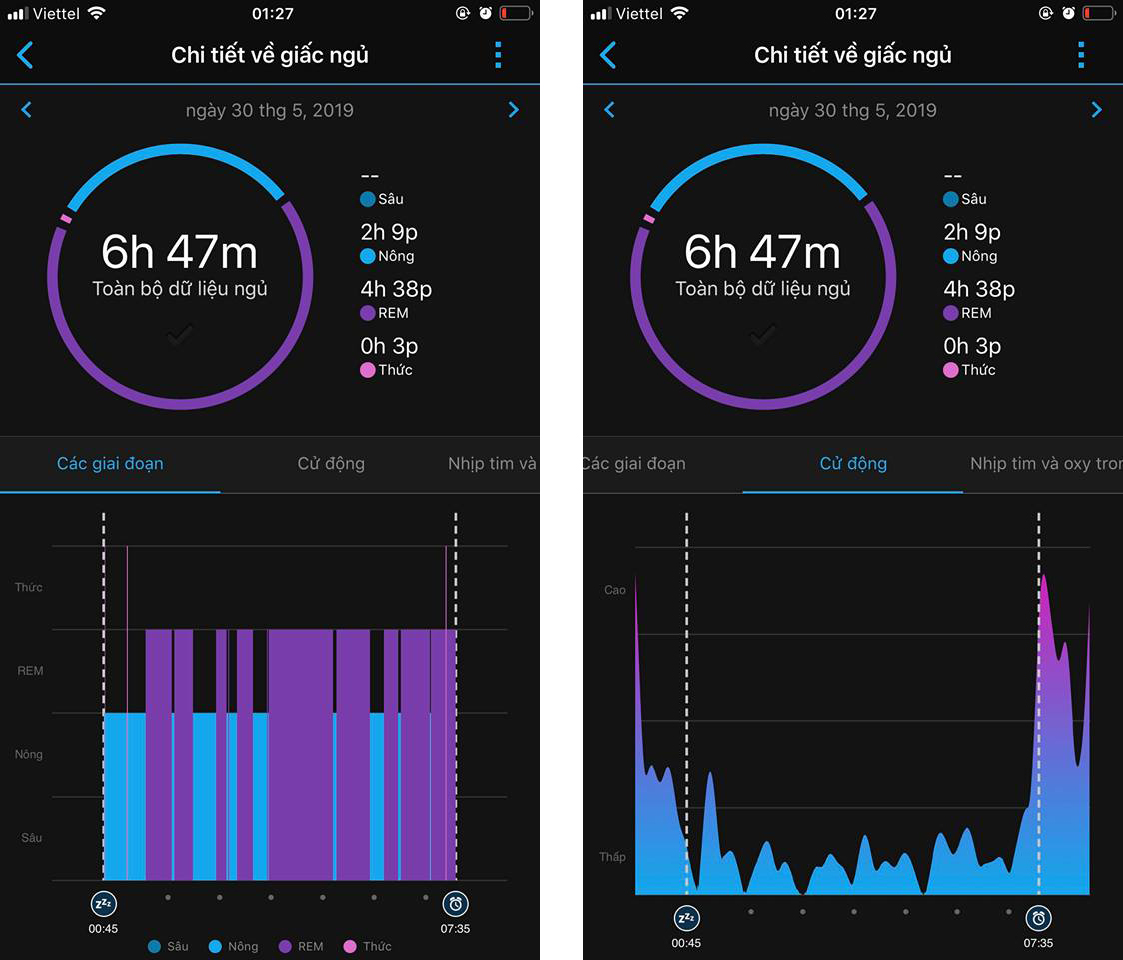 About motion tracking, Garmin Forerunner 245 provides various Tracking modes for users who regularly exercise. Especially the young people have time to practice moderation with many separate exercises to develop the body including: jogging, walking, climbing stairs, cycling, gym, swimming, …. Besides, users can also add, replace activities from the app store or create their own exercises through the clock.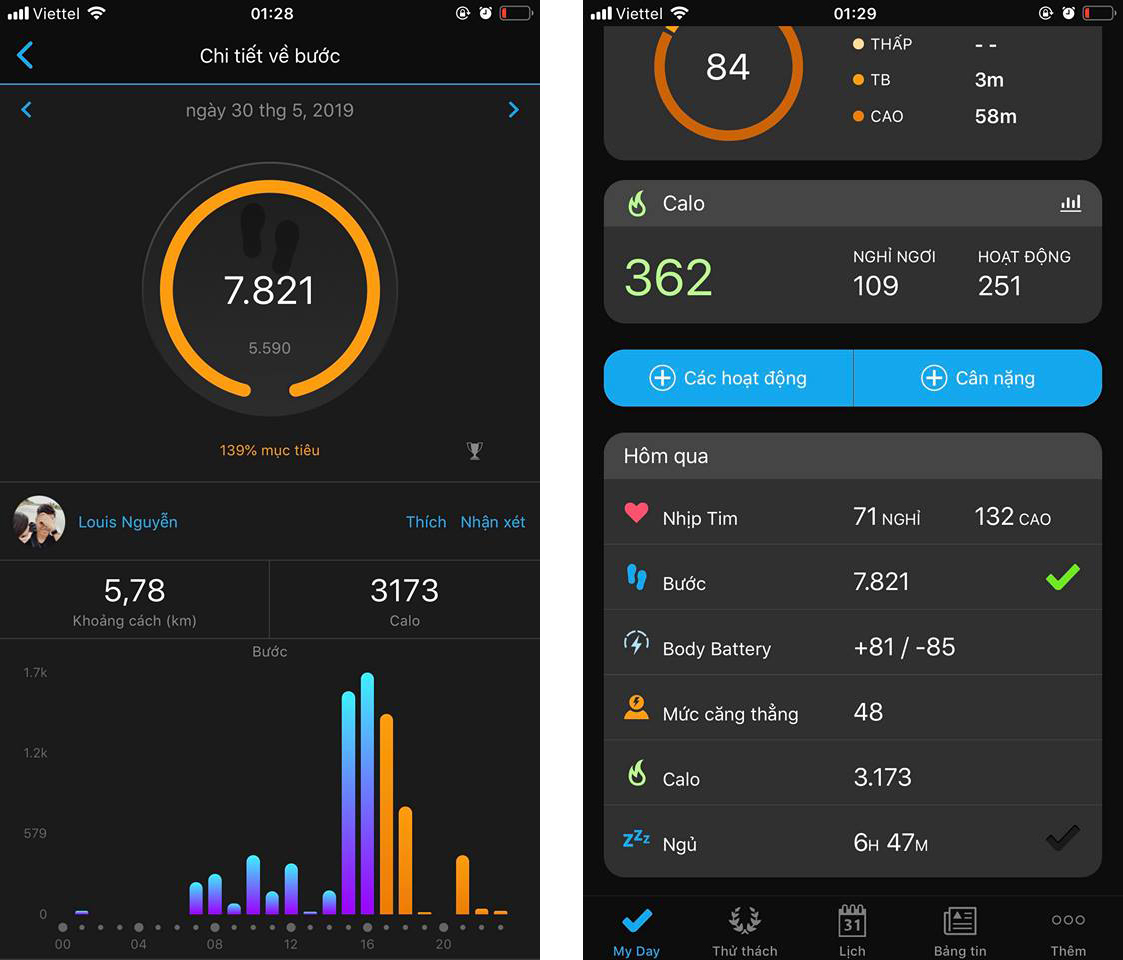 I use Garmin as a daily wear device rather than tracking my physical activity. However, Forerunner 245 still offers the ability to measure its basic activities such as walking, climbing stairs and pedaling very accurately in both counts and uptime. Obviously, the device still congratulates and informs me if one day I operate a lot and surpasses the set target.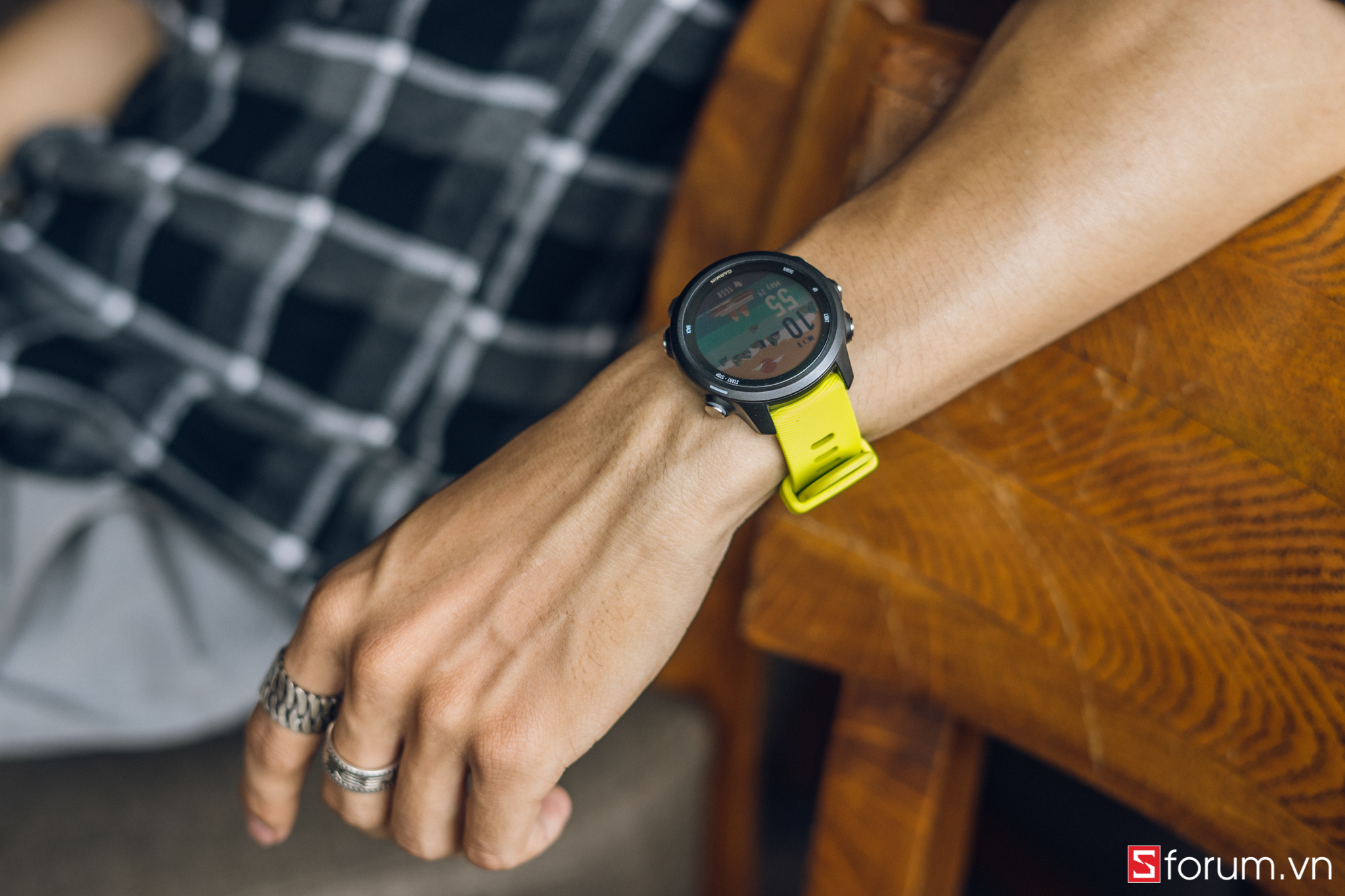 However, the feature I use most probably is monitoring my heart rate. Basically, Forerunner 245 possesses the ability to monitor heart rate 24/7 in real time, the measured results are also very accurate and statistically calculated according to the activity of the day, the machine will also inform if it works. Excessive movement and abnormally increased heart rate.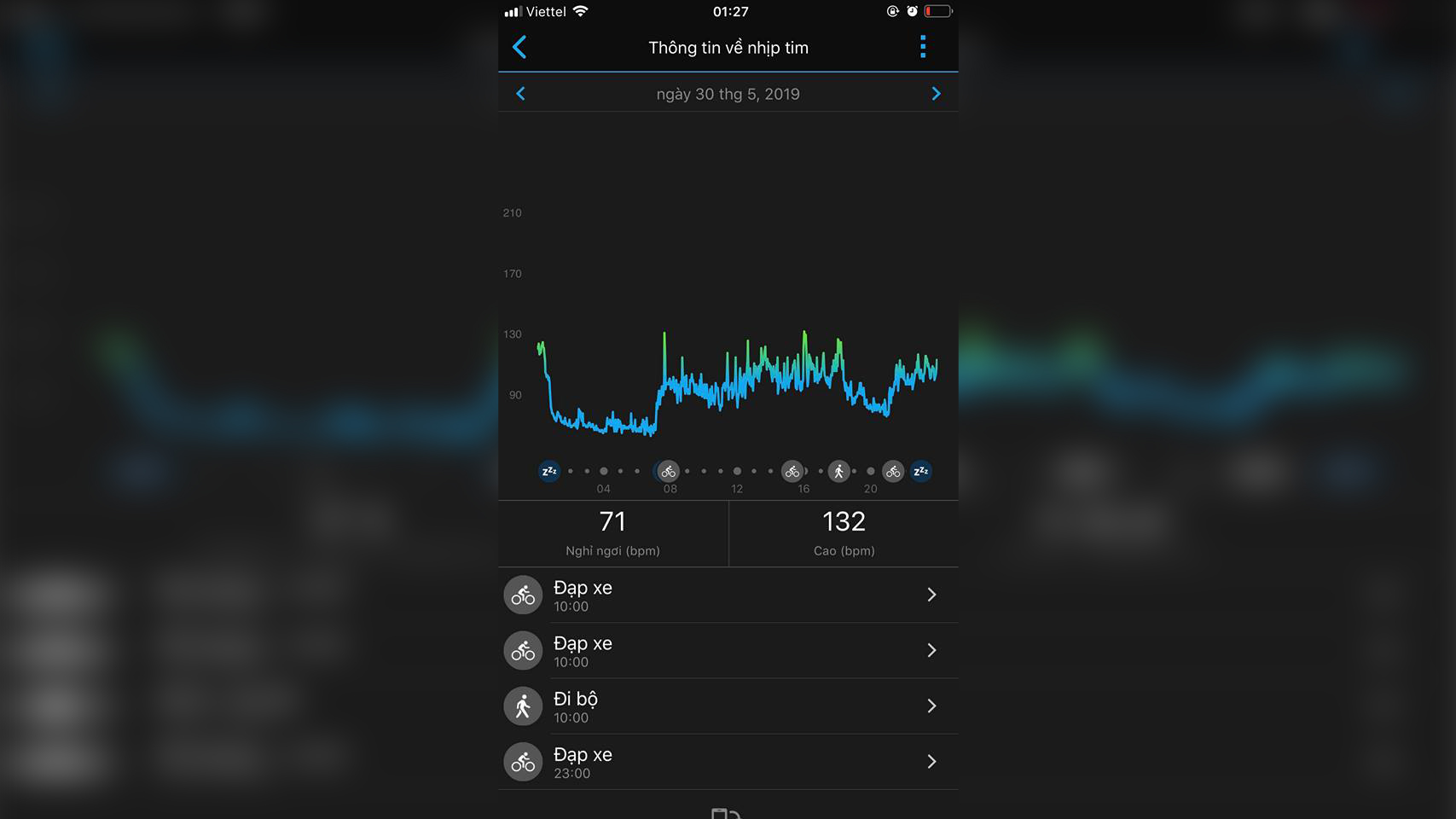 Besides the ability to track activities, the battery life is also a surprise for me.
I fully charge the Battery and unplug the charger at the time 14:45 on May 25 → 9:30 am on May 26 then the clock ninety three% → 23h00 on May 28 still 66% And now at the time of writing this article is 20h44 on 30/5 still 45%. That is close 5 days passed by Forerunner 245 just dropped 55% while I wear 24/24 continuously with the intensity of regular notification, monitoring heart rate 24/7, counting steps, … really impressive.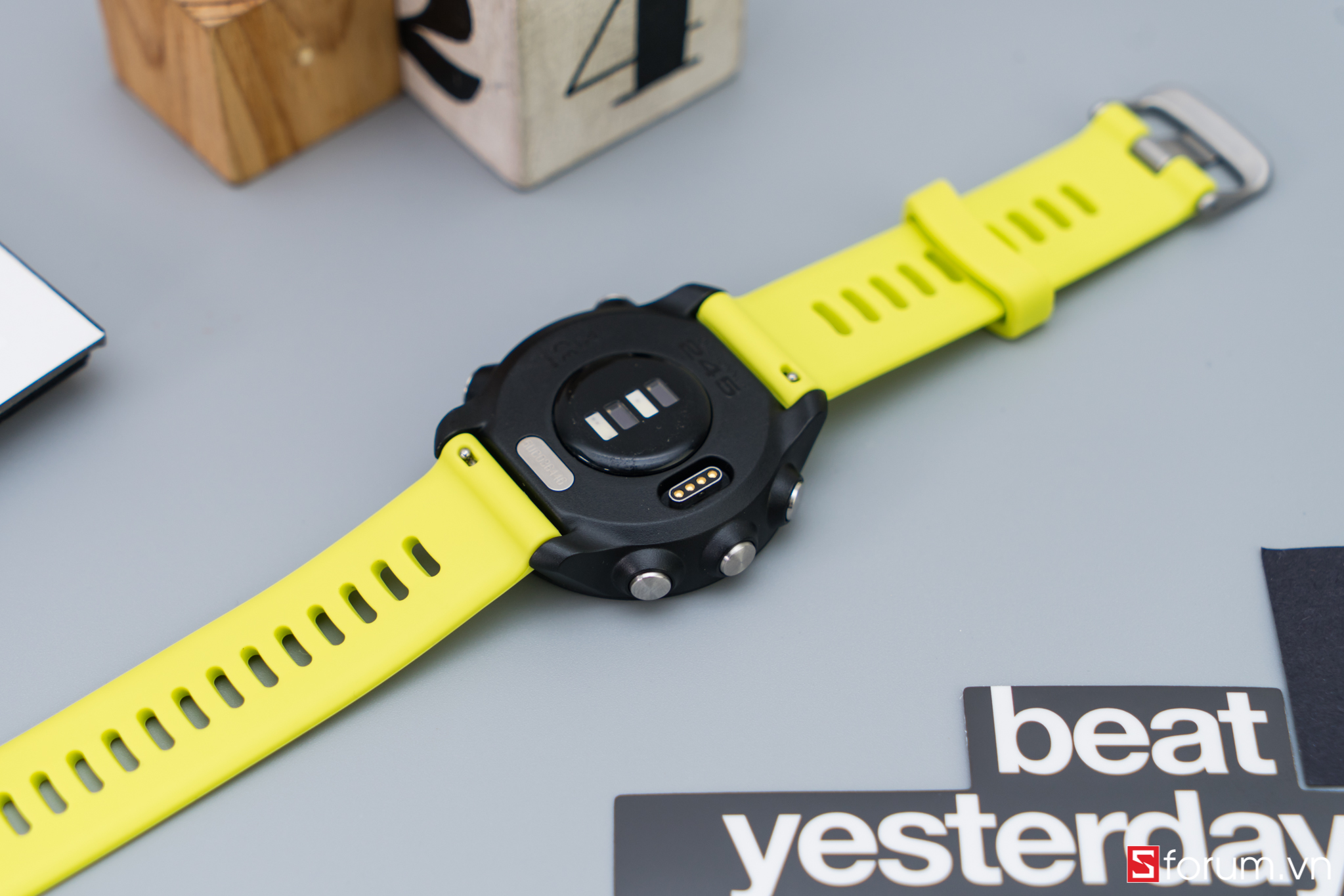 Charging port and charging cable are not really convenient and sophisticated.
Conclude
We can say, Garmin Forerunner is gradually making a great sound and become a companion product with you in every situation. Although the screen of the device has a low resolution and no touch, there is nothing to complain about when using it, you will have an eye-catching clock, always know what time it is. How many steps and heart rate have been taken with a slight glance and no need to wait.
With me, Forerunner 245 brings a very interesting and wonderful experience, special feeling than most of the smartwatch I used before. For those of you who want a smart watch with a battery pack, a durable, dynamic and fastidious design in the accuracy of tracking modes, the Garmin Forerunner 245 is exactly what you are looking for.
BUY FORERUNNER 245 GOOD PRICE
Currently, users who are interested in Garmin Forerunner 245 when purchasing products at CellphoneS.com.vn will be provided with a strengthened sticker for the screen and especially give an extra quality Ultra Ultimate Ears WONDERBOOM Bluetooth Speaker.


kirito