The PowerPort 3 Nano's low profile is not only convenient on the go because it's very light, but also handy if you have to use narrow reach with sockets. The front of the PowerPort 3 Nano features a bubble finish and engraved Anker inscription inside. The rest of the plug is made of matte hard plastic.
As a wall charger, Anker A2633 PowerPort 3 Nano works with most electronic devices, especially those that support fast charging. It can use Nintendo Switch charger but doesn't support Charge-and-Play in TV mode; therefore you cannot charge a Nintendo Switch in docking mode simultaneously while using the TV. This is due to the Nintendo Switch charging protocol (5V at 2A / 2.5A / 3A).
Nintendo Switch is very sensitive to sudden voltage changes, which can clog Switch. The safest way to stop the Switch is to use an original 15V Nintendo Switch charger. If you prefer to use the third-party option, you should buy a USB cable with 56k Ohm resistors (i.e. Powerline Plus) or use a smart power bank like the PowerCore + 26800 PD to prevent overcharging.
Anker A2633 PowerPort 3 Nano can deliver a lot of power in such a small plug, thanks to the use of new GaN (Gallium Nitride) technology, which can be found in other wall chargers like the PowerPort Atom PD 1. PowerPort The Atom PD 1 has a capacity of 30W but is twice the size, making the Anker A2633 PowerPort 3 a perfect small machine. There's also a PowerPort 3 Nano 18W (9V / 2A) version (model A2616), which launched a few months ago in June and is still on sale today.
The upgraded 20W PowerPort 3 Nano charger makes charging about 10% faster than the 18W charger, meaning charging time is only 3-5 minutes faster. Also, both chargers have the same non-fold-in pin design, meaning no moving parts, but that also means that no US plugs are supported as you get with the PowerPort 4 charger. Lite.
Anker PowerPort 3 Nano 20W is also compatible with Anker USB-C wireless chargers like the PowerWave. The 20W Nano charger also supports 5V / 3A (15W) for fast charging devices that use only the 5V protocol. For standard, non-fast charging devices (i.e. 5V / 1A), the 20W Nano charger will also work properly.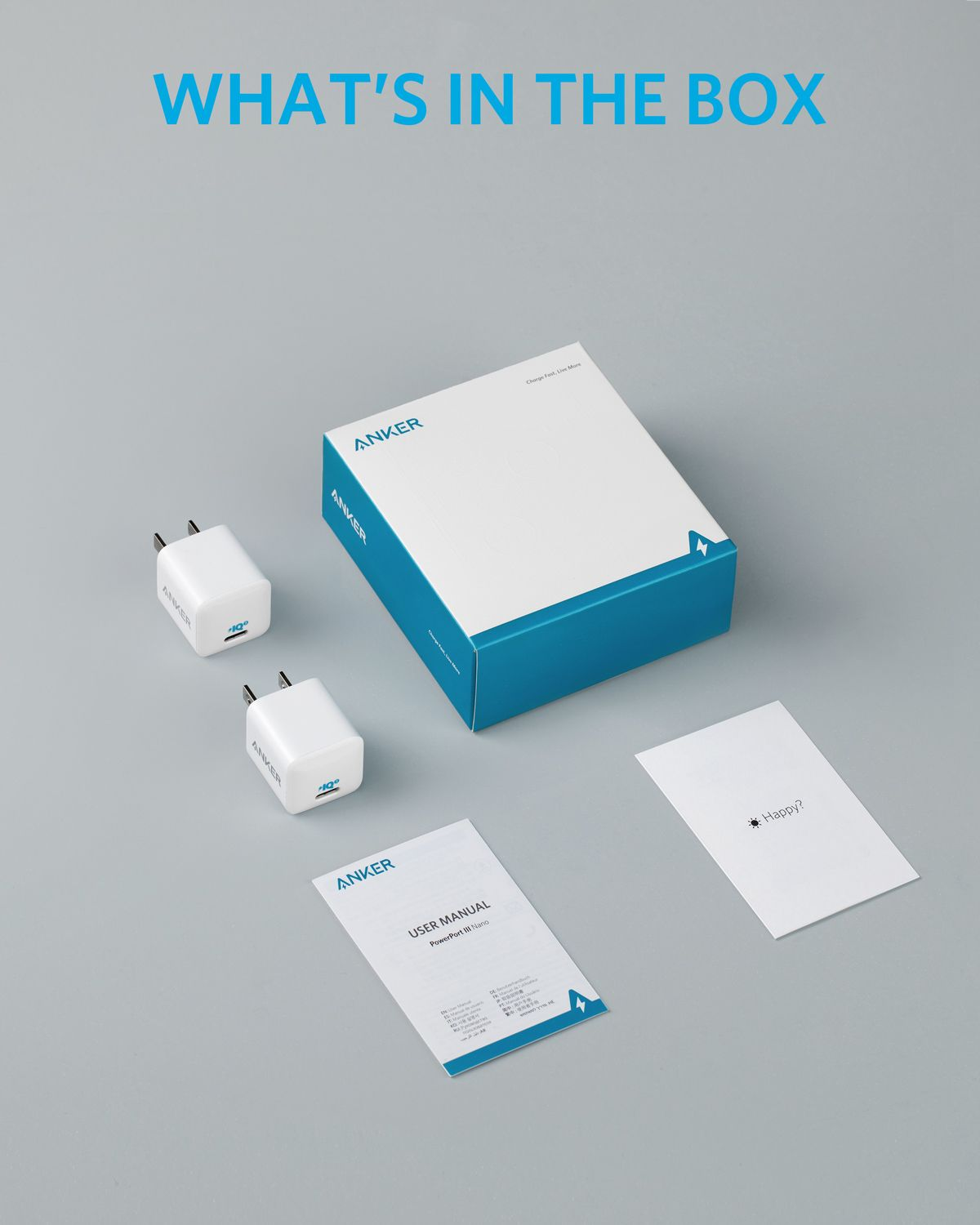 The 20W Nano charger also integrates PowerIQ 3.0 (PIQ 3.0), which is Anker-exclusive fast-charge technology that combines USB PD and PowerIQ 2.0 into a single USB-C port. It works just like Quick Charge 3.0; so you can use the PowerPort 3 Nano 20W charger with devices that support Samsung Quick Charge, Adaptive Quick Charge from Samsung and Motorola TurboPower.
In terms of safety, the PowerPort 3 Nano 20W charger does not automatically turn off at 100% but is equipped with overcharging protection and temperature control, putting the charger in standby mode, consuming very little power. amount.
20W Nano charger with max 9V / 2.2A output; therefore, Note 10 / Note 10+ cannot be charged at full fast charging speed, as these phones require a 45W charger. You can buy the Anker PowerPort 3 Nano 20W charger from amazon. There's no cable included, so you'll need a USB-C to USB-C cable or a USB-C to Lightning cable (iPhone).
Products are currently sold on Lazada and Shopee with many attractive incentives:
Link Shopee
Link Lazada
Or visit Anker website to find out more about its products: https://anker.vn/
.