With a smart design, the folding umbrella not only eliminates the frustration of rain and sun, but also solves the troubles and troubles encountered in traditional umbrellas when used in cars.
Going by car but still need an umbrella
Although going by car, an umbrella still needs to be present in the car. Why? Simply because the road conditions are still quite narrow like in Vietnam, the flexibility of cars is still not comparable with motorcycles. And sometimes, especially when traveling in big cities like Hanoi and Ho Chi Minh City. Ho Chi Minh, you can hardly move the car to the right stop. That means, you have to walk a distance from the parking place to the destination.
Whether the distance is short or long, but if it is raining will be enough to wet you. Surely, you will not want to go to work or to meet partners, customers with a dirty, wet form. Not only rain, but also walking in the sun also makes many people feel uncomfortable, especially our sisters and beautiful girls. Surely no one wants their skin to be damaged, to be darkened by the impact of UV rays.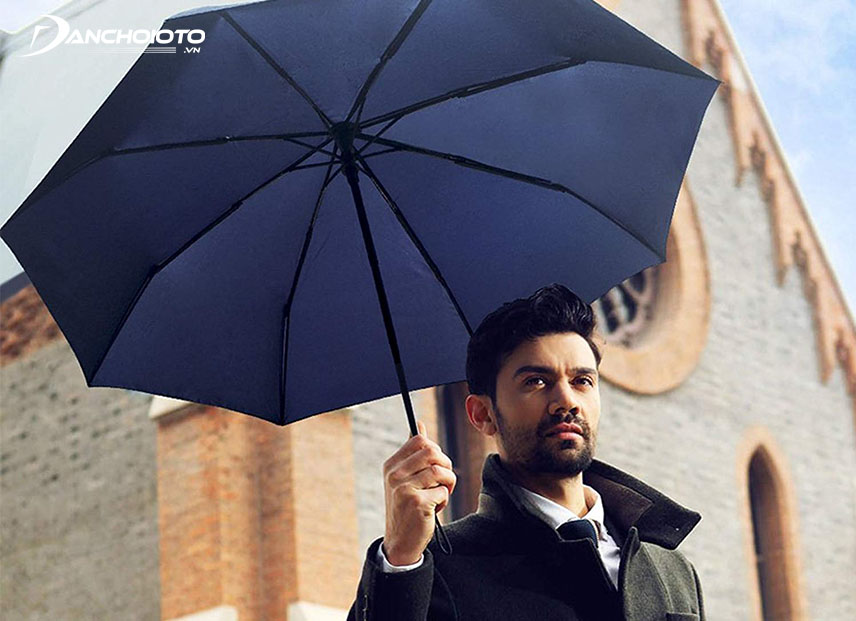 An umbrella will help in many cases of rain and sun
That's why an umbrella – a seemingly very traditional accessory is always needed by modern motorists. An umbrella or umbrella will help you cover the rain, avoid the sun, and save in many unexpected situations. However, when it comes to this, many people will surely think that "going to the car to use umbrellas is annoying". Because in a narrow space like cars, folding / opening umbrellas often faces many difficulties. Many people struggled to open an umbrella when they were in a car, and even got wet by the rain and the car before it broke out. So how to open the box quickly, most easily when sitting in the car without opening the door too wide to get wet? Please come to the next section.
Read more: TCar rubber mats
Reverse folding umbrella – Big improvements, more convenient
Smart folding umbrella or smart folding umbrella is a new initiative from Japan "rising sun" country. The smart folding umbrella has a folding / opening mechanism compared to traditional umbrellas. If the traditional box is opened from the inside, then the folded box will open from the outside. Because this mechanism is open from the outside, the smart folding cell does not need a large space to open like a traditional folding cell.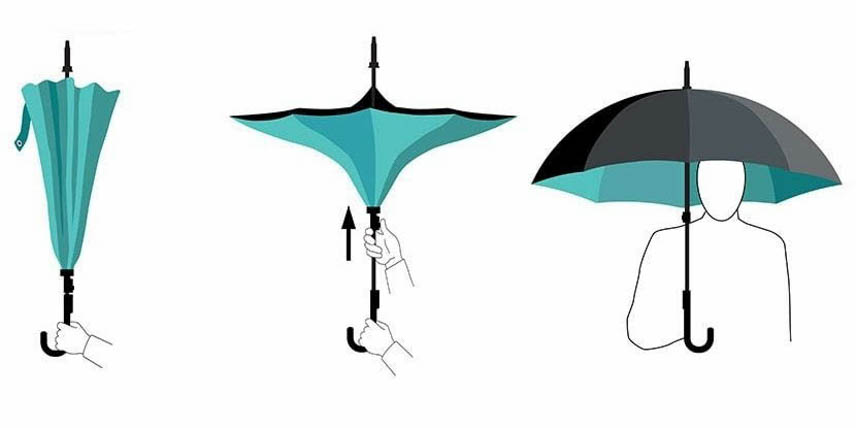 Cell has a smart folding / opening body
Accordingly, the reverse fold can fold / open in an extremely narrow space from only 7 to 10cm. This is considered a major improvement of the folding / opening mechanism of the reverse fold smart. You only need to open the car door a small distance to open or fold the umbrella easily, without being entangled or encounter any difficulties.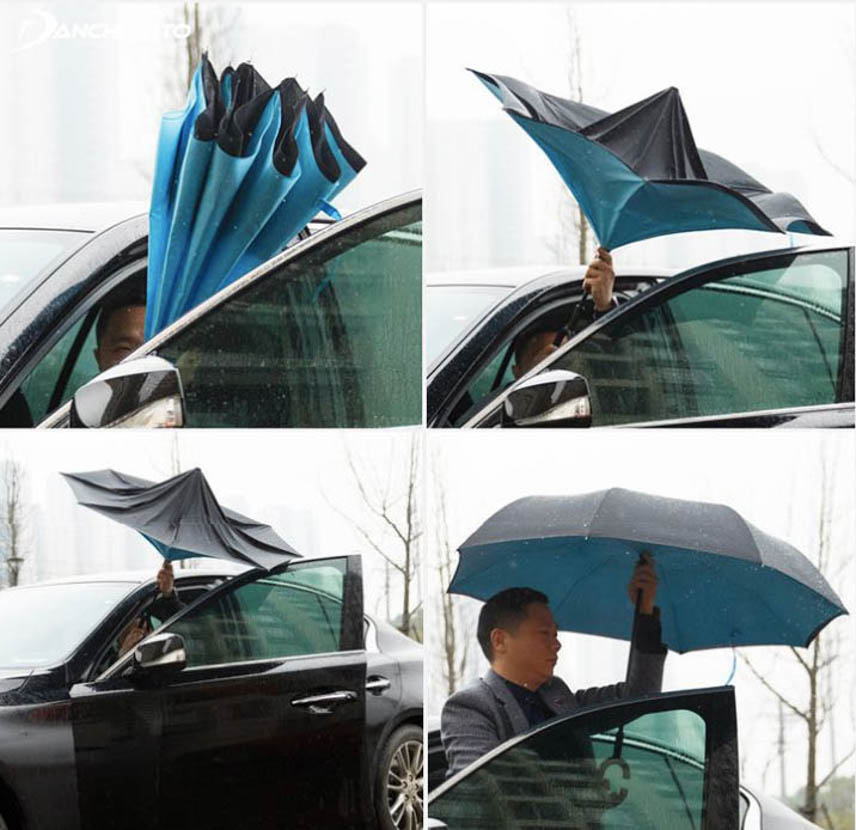 Umbrellas can fold / open easily in extremely tight spaces
Besides, the mechanism of folding / opening back from the outside has another outstanding advantage, that is, bringing the surface of the cell in contact with the water to the inside. Water will not interfere, stain out after using umbrella. You can comfortably put umbrellas on the floor of cars, seats without fear of being waterproof, dirty.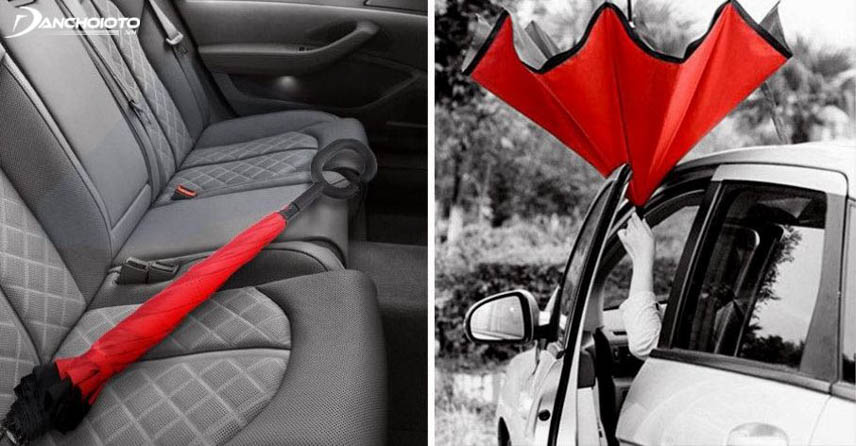 Umbrella does not cause water, dirty
Another good point of the smart reverse umbrella from Japan is the handle. The handle of the C-shaped design box. This design provides versatility and convenience. You can slip your fingers into the handle of the C, hold the umbrella with your wrist or elbow. Thus, both hands will be free to handle many other items and objects. You can also hang lightweight shopping bags into the C-handle.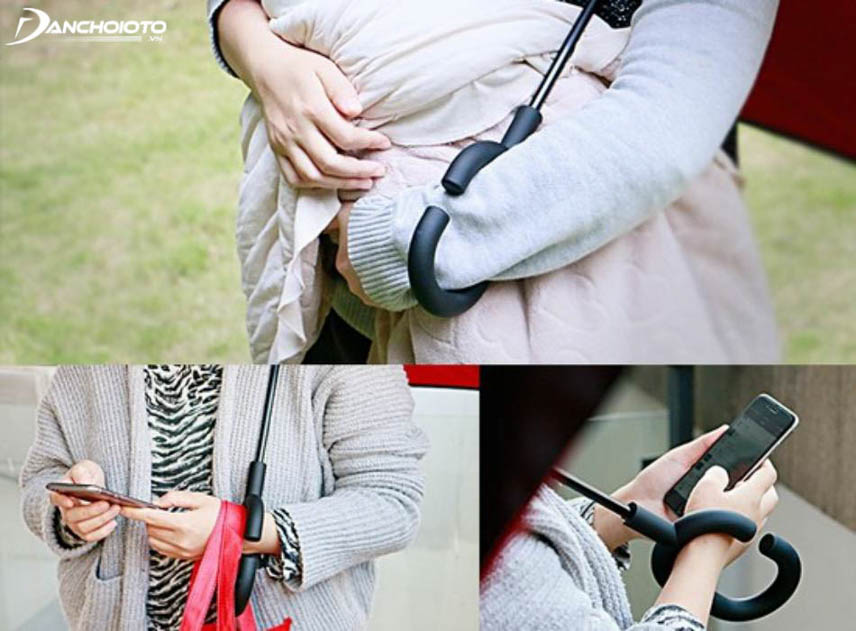 Smart C-handle
In addition, this smart umbrella also has a large round flat design, the cell can stand by itself without falling.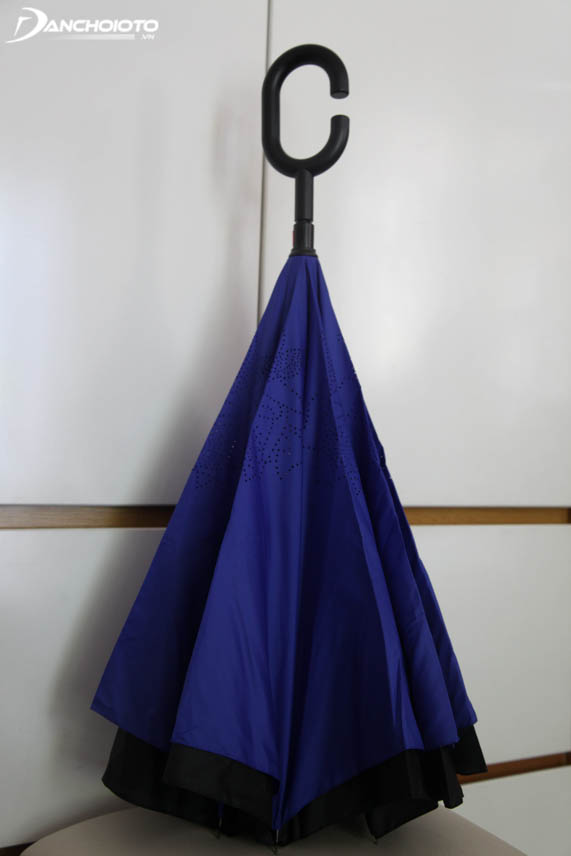 Umbrella can stand by itself
From the above designs, we can see that this smart Japanese inverted umbrella is an umbrella that "satisfies" the user and is extremely "thoughtful". This umbrella has brought a major change in design, helping users to use it more conveniently and easily. Not only that, the small details like the handle, the top of the umbrella … also improved to create the best experience for users.
Brief information parameters, the material of the smart reverse fold cell
Not only has the smart design, the Japanese folding umbrella is also appreciated when using high-quality materials, both beautiful and durable. The umbrella has a 2-layer structure, made of seasoned polyester fabric, water-proof, UV-proof, good color retention, difficult to stick to dirt, easy to clean. Between the two layers of fabric is the spokes to support the entire umbrella. The spokes are made of carbon fiber with extremely good bendability, but still ensure a solid, resistant to force, not to be turned on in the face of strong winds.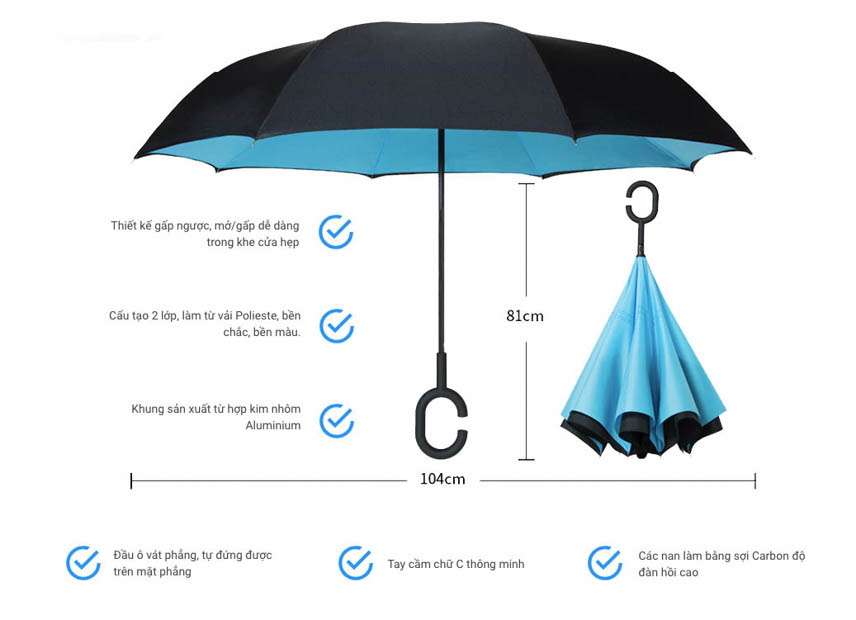 Umbrella made from high quality materials
The handle is made of durable aluminum aluminum alloy material, plastic-coated outside with sturdy C-plastic handle. The smart folding umbrella has a total length of 81cm, the folding diameter is 7cm, the opening diameter is 104cm. It can be seen that inverted umbrellas have the ability to cover in a relatively large area compared to the general umbrellas. If used, can cover from 1 to 3 people. Partly due to the design and partly due to the good material, the folding / opening of the reverse folding is easy, just a slight push can open / fold the umbrella, no hard and heavy feel like umbrellas traditional.
"Big advantage" compared to traditional umbrellas
Designed exclusively for cars, the smart folding umbrella possesses a lot of advantages compared to traditional umbrellas.
Fold / open faster and easier: Because of the folding mechanism, the box can be easily folded / opened quickly in a narrow gap. While traditional umbrellas need to open the car door to fold / open umbrellas.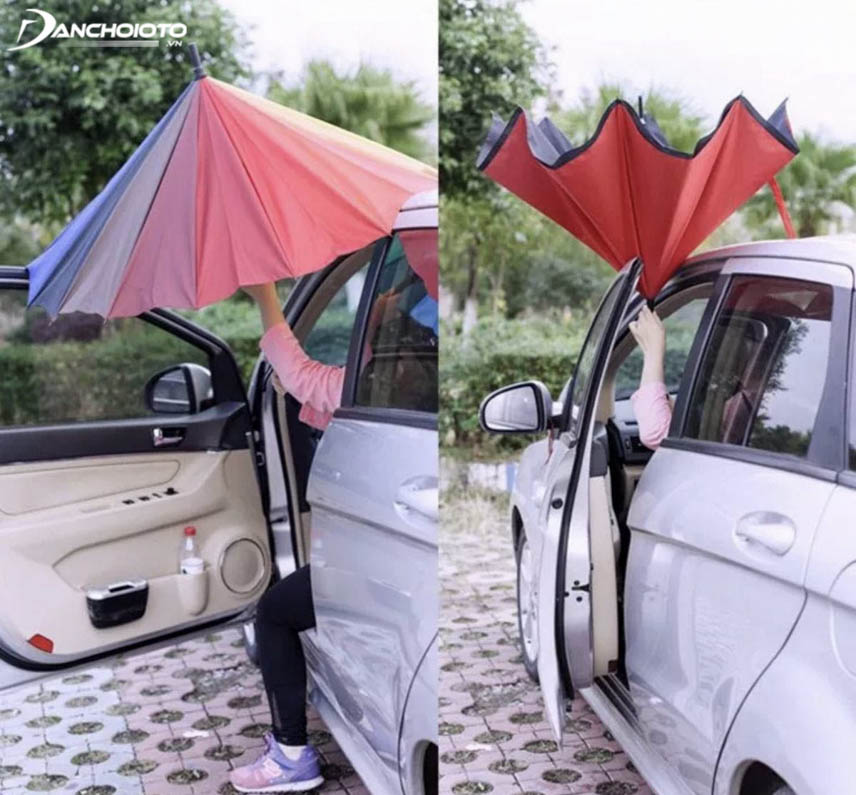 Reverse folding umbrellas easily fold / open when sitting in a car
Do not stain water: Because the wet outer surface is collapsed inward, the folding backward will not stain the water when used. While traditional umbrellas have a wet surface outside, it is easy to stain water on the car floor, car seats, trunk…
Easy to hold and store: With a C-grip, smart reverse folding can hold hands-free mode with both hands, and traditional though it is difficult. In addition, the reverse fold box can also stand by its flat round design.
Be careful when buying umbrellas cheap cars
Reverse smart boxes imported genuine usually cost from 400,000 VND or more. But in fact, if you walk around the market, especially on online sales sites, you will easily find smart umbrellas, although smart reverse folding only costs more than 100,000. Even cheap folding umbrellas are sold more popular than quality umbrellas.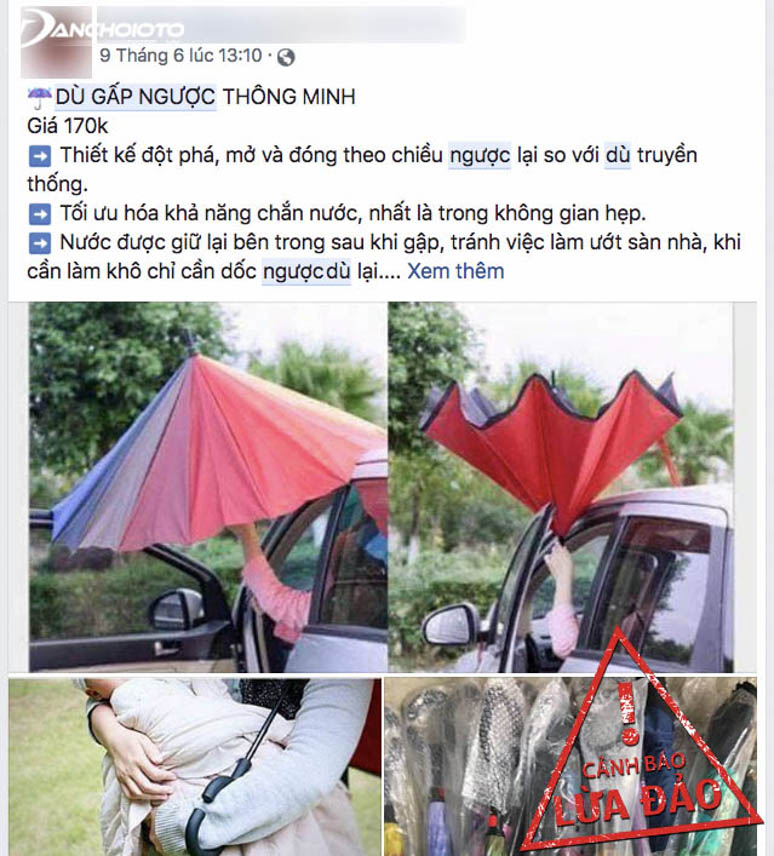 Although cheap reverse reverse quite popular
However, "cheap is not necessarily good" is not wrong. Talking with Mr. Huynh T. Dung – a owner of a car accessories shop in Ho Chi Minh City Ho Chi Minh City, I learned: "Although the price is upside down, 120,000 VND per tree also. But most of these cheap parachutes are not like promotional images. Although the price is mainly made from witty material, it is very rickety. The fabric is thin, the color is not beautiful, not as sturdy as the standard umbrella. Although the size is cheaper, the size is smaller, even though the titration is open to the size, while the price is cheaper, the aperture is much smaller. "
Mr. Dung also shared: "Every customer likes cheap. But buying cheap but grab the witty is also not. How can a parachute fold up thick fabric, 2-layer structure, alloy frame … but only cost 100,000 VND. The cost of materials, production, and transportation, warehousing, etc. cannot be cheap. VND 100,000 is not enough for me to buy capital even though it is standard for sale.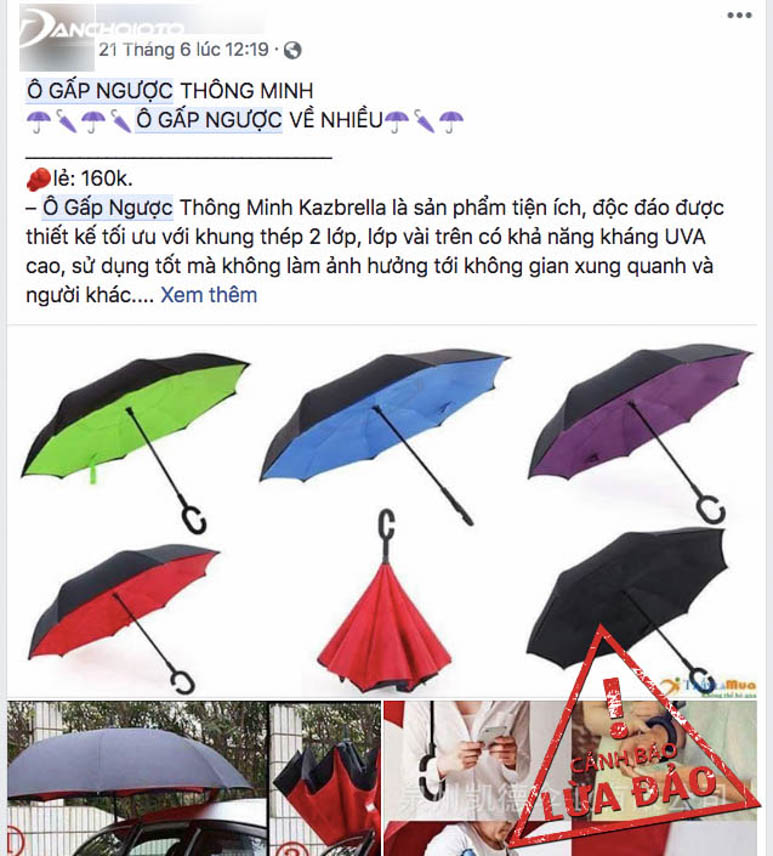 Although folding quality is difficult to cheap like that
Indeed, the cheap folding umbrella is hard to compare with the quality umbrella, even bringing a lot of hassle to the user. Mr. Tran V. Tinh (Tan Binh District – Ho Chi Minh City) said: "At that time I did not know, so I bought a folding umbrella, but at first I thought I could buy a good price. Although very weak, turn on / off stuck very hard. Bad colored fabric, completely not like the picture ".
Refer:
Car felt ceiling

Car wrap

What is covered under the car
In the same situation, Ms. Mai H. Yen (Di An – Binh Duong) shared: "At first it looked so beautiful, but the price was only 170,000 so I bought it. Who expected to receive the goods is very disappointed. Although not strong, weak weak. Especially, when opened, it is not round but keeps slack in the middle, looks very ugly and rough. It is true that cheap is mine is not wrong at all. Later I bought an upside down umbrella of the quality, cost up to 400,000, but the price is high but different from the cheap umbrella. Nice fabric, strong frame, very smooth folding and opening. "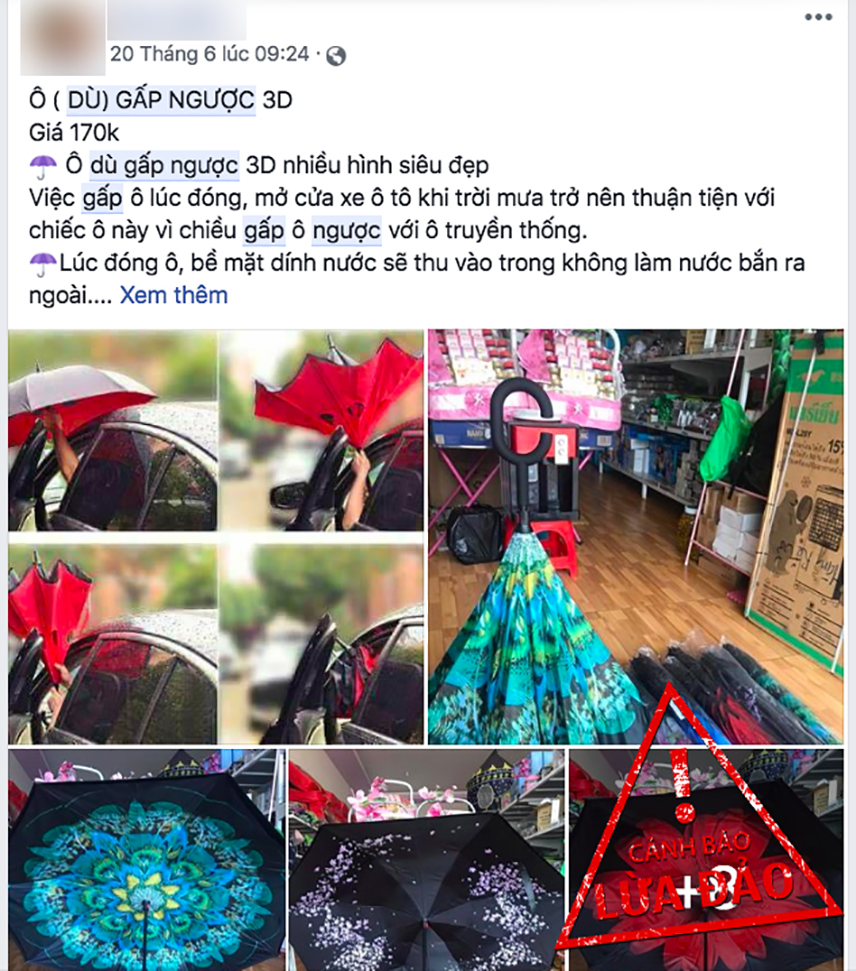 Cheap folding umbrellas often have weak frames, when they are loose
Talking about the sales policy, Mr. Dung said: "Most of the sales places are smart and smart, while the imported ones come with a warranty from 6 months to 1 year. In the course of use, if there is any problem, it can support the warranty, it can be exchanged for return. But buying cheaply despite folding will not have this policy. Compared with low-quality reverse-folding umbrellas, quality reverse-folding umbrellas often have higher prices, specifically the price is about VND 400,000 per unit. Although high, but users will own a folding umbrella right back design and superior materials, offering the best experience.
Buy folding car umbrella where good?
Currently, there are many places selling quality folding umbrellas. Through research, we found a number of quality reverse umbrella sales sites, such as KOTADA Vietnam. This channel specializes in selling reverse boxes through online payment. The channel provides very detailed product information, especially with a 1-year product warranty policy. In addition, customers can return and exchange products within 7 days if not satisfied.
Hopefully through today's article, I can introduce you to one more smart product, a very useful accessory for automotive users in general. See you in the following articles.
Tran Quan