#Return #interest #social #circuit #Uki #achieved #profit #months


At the end of 2018, a social software entered the top 10 social app download rankings, and Momo, Tantan and Soul also called Stranger Social F4.At the stage when daily active users were approaching 2 million, this software was reported by competitor Soul for publishing illegal content. It was successively removed from mainstream app stores in November 2019, and was not relaunched until the end of February this year. According to the 21st Century Business Herald, in March this year,Soul partner Lee was approved for arrest on suspicion of damaging business reputation and product reputation.
This software is Uki. According to the information provided by the team, as of now, Uki has approximately 30 million registered users, and daily active users have recovered to approximately 1 million. Five months after going online, the company has achieved profitability.
Uki: discover new friends
Uki was officially launched in May 2018. It is an interest social app. It has received two rounds of financing. Among them, the A round of financing includes Jingwei China. In Uki, around the starting point of "discovering new friends", there are a series of gameplay methods such as instant matching, voice-controlled dating, dynamic squares, finding U friends, and voice parties:
Instant matching: one-click matching for quick friendship;

Voice-activated making friends: use voice to meet new friends, you can start a dialogue with your favorite voice by singing;

Dynamic Square: Share dynamics anonymously, you can send private messages to users;

Find U friends: Recommend users according to the preferences of making friends;

Voice party: Enter the chat room party voice chat according to the needs of expansion, play, radio, etc.
Uki
In the view of Uki founder Sun Mingjun, the existing social products are not enough to meet everyone's needs:
On the one hand, from a wide range of social products, there will be a follower function, but follower is only a one-way relationship. In essence, users are unilaterally interacting with the published content. In contrast, an effective social connection is a two-way relationship. Both parties can interact and feedback, which is the interaction between users. In social relations, it is difficult to maintain close interaction with 3-5 people. Then the head users who follow or accumulate the number of fans to a certain scale will not be able to effectively connect with everyone and bring users What is met is not social needs, but conversion to content consumption.
Secondly, the logic of most social products is still "scene connection + display information", and the first priority is to meet the needs of head users. Under the deficiencies of the recommendation algorithm, users with better performance in various aspects get more recommendations, while ignoring most of the long-tail users who perform in the middle and lower information.
Sun Mingjun said to 36 krypton,What Uki wants to do is a social product that promotes interaction between the two parties and caters to the needs of mid- to long-tail users, so that users can produce their own highlights and find people who appreciate them.
At the same time, Uki's recommendation logic is to hope that users with medium and long tails can also be discovered. For this reason, Uki has set up a scoring system based on user behavior and recommends users with higher scores. In terms of data performance, 20-30% of user growth comes from this.
From the perspective of users, Uki's user portraits are more evenly distributed in demographic information such as region and age, rather than focusing on a certain group of people. Sun Mingjun also said that if Uki focuses more on a certain group of people, it is actually a social product. A restriction.
Build social networks to increase user stickiness
Founder Sun Mingjun said that after Uki was taken off the shelves, he also saw the shortcomings of social products in establishing social networks.In previous products, there were more of one-to-one social relationships. Users would leave one after another due to the break in the relationship, which accelerated the process of weakening the relationship chain. However, under the strengthening of the group relationship, when one person in the same circle wants to leave, other users This person will be retained, and Uki is adjusting and strengthening this new social logic.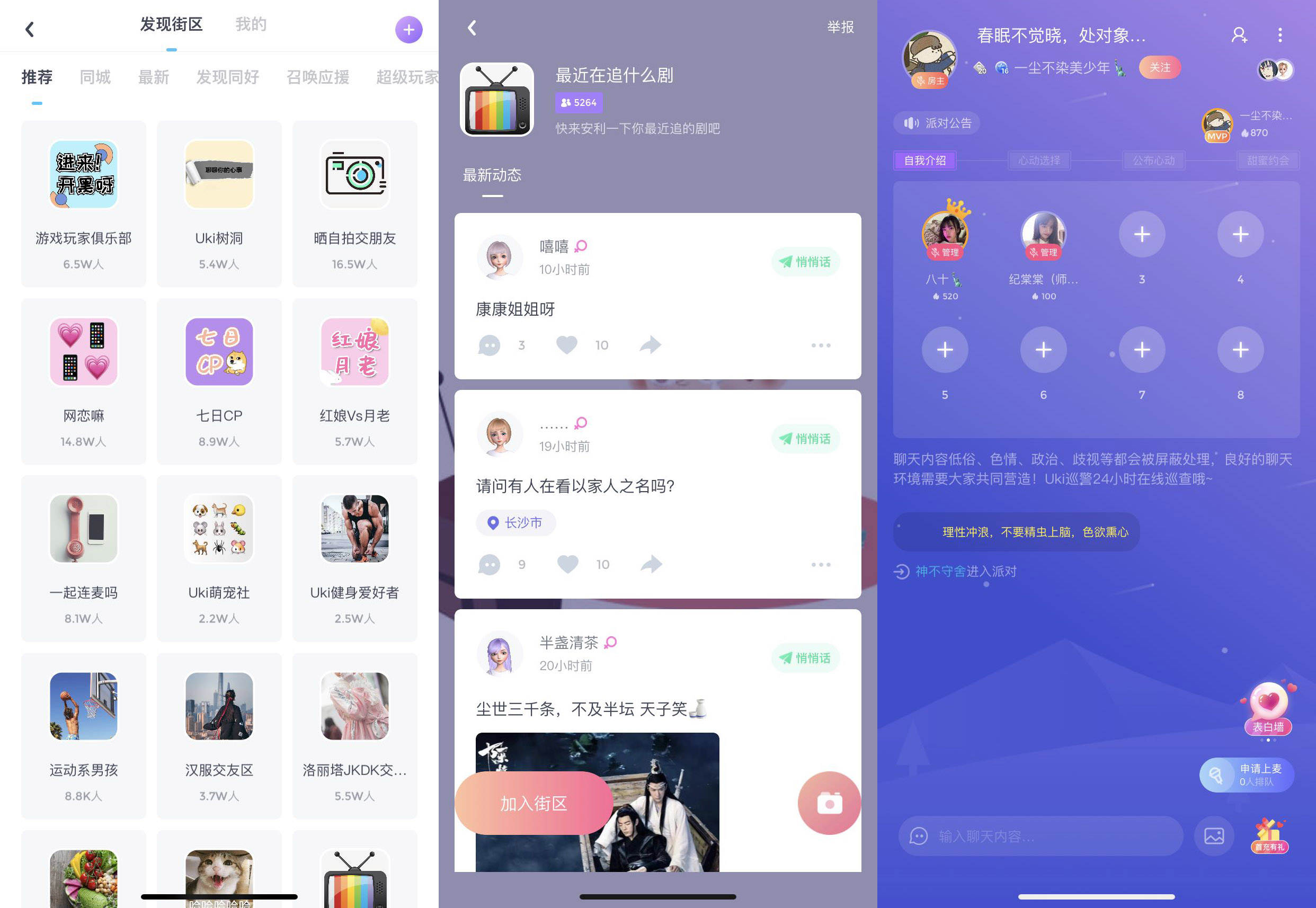 Uki block & party
In other social products, there are more and more attempts to use multiplayer games, group chat rooms and other forms to build the concept of "circle", but in Sun Mingjun's view, the attempts of these functions are more like "islands" that cannot be connected. Uki What I want to do in my chat room and the block being optimized is to gather people with the same interests and topics together to form a network of mature people. At the same time, Uki's recommendation algorithm will also take advantage of it.
Social products are constantly being introduced and new. Not only have the "front waves" that dominate the rankings all the time, "back waves" have also been pouring into this industry. In 2019, the social entrepreneurship of large factories and new companies has been jokingly called the "new generation of social The first year of the product". In Sun Mingjun's view, various social products are still solving their core logic or finding a scene to do social activities. They lack products that take into account user experience and create value for users. Compared with other Internet industries, social products still remain relatively high. There is a lot of room for development in the backward stage.
Sun Mingjun believes that Uki is more like a virtual community. The growth of the community relies on adjustment and trial and error space. Relative iteration will be slower and requires data and algorithm support. From the perspective of the social industry, there are not many opportunities for product innovation, and more products still focus on innovation in target users and profit models.Uki wants to focus on the innovation of recommendation algorithms at present and in the future, and further explore the starting point of "discovering new friends" to try various social scenarios to improve the efficiency of making friends.
In the context of the team, Uki's Shanghai headquarters has about 180 people, developed by Shanghai Niuga Information Technology Co., Ltd.
.