The hype is at its maximum, influencers and the press are talking about it, the latest demo of Resident Evil Village, or at least its first part called "Village", was available for a short time for PlayStation players. Lasting half an hour, it allowed you to discover a very small part of the action locations, as well as some peculiarities of this new episode of the saga, without showing too much.
So now is the time to talk to you about it and give you our impressions of this trial version that we tested on PlayStation 4 Pro.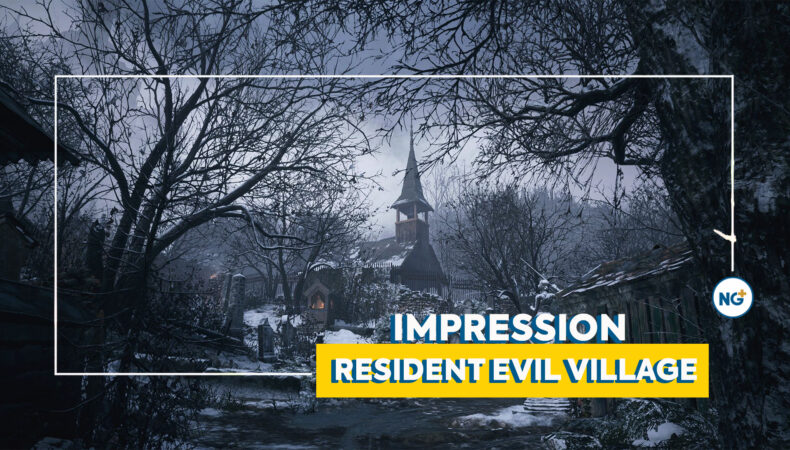 We expected a lot this gameplay demo of Resident Evil Village, so much so that we were really afraid of being disappointed by what it would offer us and if it is ultimately quite short, requiring much less than half an hour to complete, it nevertheless offers a good overview of some mechanics of gameplay that will not fail to bring back some memories to old fans of the saga.
She therefore suggests that we take a little tour of the game's village, just before Ethan wins Lady Dimitrescu's famous castle. We start next to a small cemetery and end in a hut in which dramatic events take place, featuring the death of a few villagers who had hitherto survived the scourge that fell on their places of life.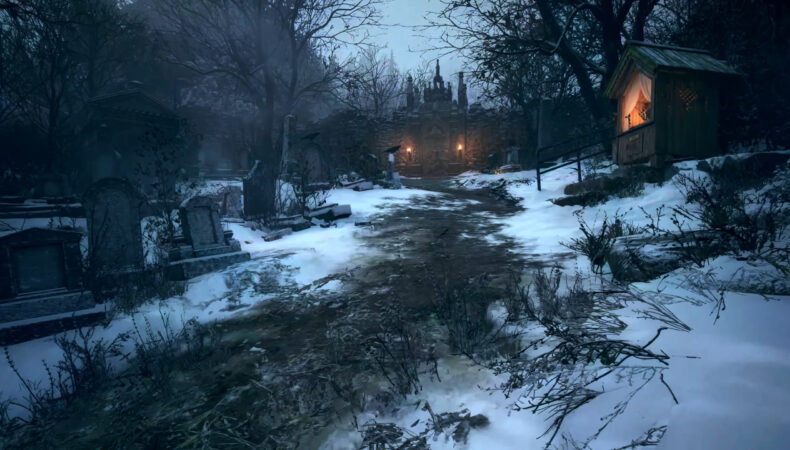 A more narrative episode?
Resident Evil VII had the particularity of being much more narrative in its first part than in its second, and again, a lot of storytelling elements occurred at the beginning of the adventure and during a few key moments that we will not discuss here. However, the scenario tended to run out of steam quite quickly and miss its point because of clichés too present and a more choppy pace.
The story having never been one of the strengths of the saga, it had not bothered us too much, even if Capcom had made efforts to make the writing much less nanardesque, something that we recognize as successful. However, there were still many weaknesses, such as a main character too erased and a final act dispatched and therefore much less interesting. It also lacked this link with the previous episodes which made the final surprise much less relevant.
With Resident Evil Village, Capcom seems to want to continue on the same path, with a character of Ethan perhaps more expressive and especially a lot of cut-scenes. To be honest, half of the demo is made up of it and the writing even seems pretty good, although a little artificial at times, using strings and worn-out clichés, as evidenced by this intriguing little old woman who seems a little crazy. that we meet at the beginning and end of the journey.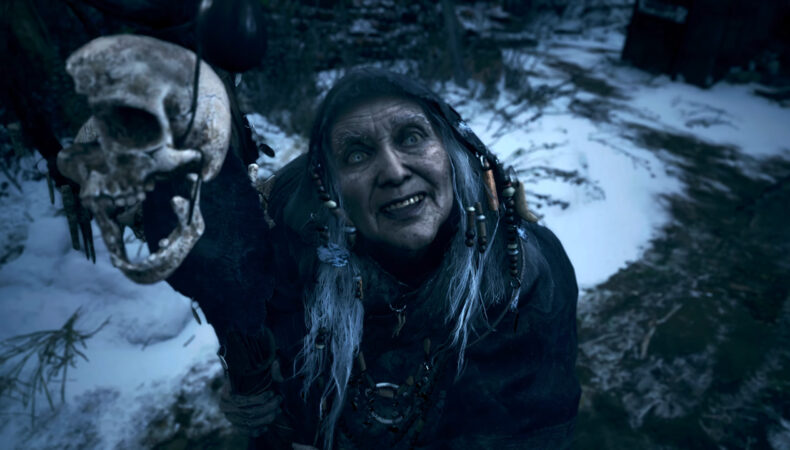 Exploration seems to be one of the first components of Village, which invites us to visit the places, the houses of the inhabitants, and to search everywhere to find something to survive in this hell. Our actions are nevertheless quite restricted in this demo, which puts us on a track, while the environment seems much larger, especially because it is sure that many closed doors that we pass will not be. in the final version.
Also, there emerges from this place an atmosphere as cold as its snowy setting, it seems frozen in time and we really have the impression of finding ourselves in a lost village that has missed the train of modernity.. It stinks of death and blood and the place seems isolated from everything, plunged into a palpable chaos populated by creatures who watch for the slightest of our missteps to swoop down on us like a lioness on the hunt. The artistic direction is frankly successful and promises a lot for the future.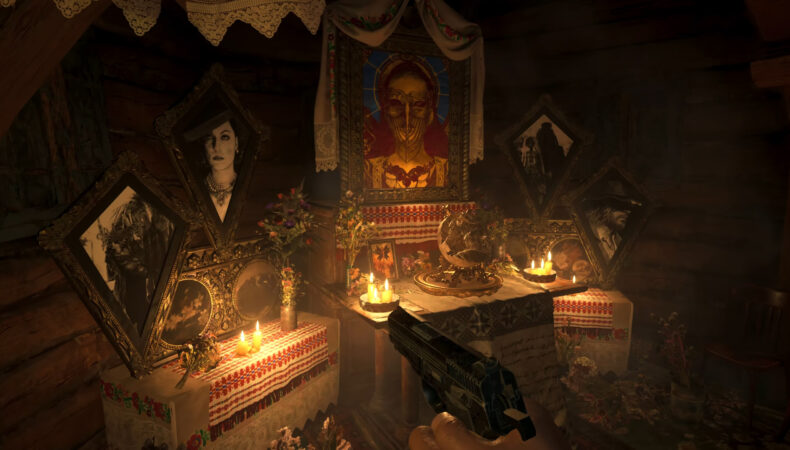 When Resident Evil 4 resurfaces
While many players are asking for a remake of the incredible episode 4 of the franchise, it could well be that Resident Evil Village meets some of their expectations. There are indeed, and as we suspected, some game mechanics from this emblematic opus which marked a revolution for the franchise, and more generally for video games..
It begins with the inventory which is completely modeled on the one to which we were entitled in 2005, and it goes to the treasures that can be found everywhere (and sometimes well hidden), in particular on the downed enemies who drop also like in Resident Evil 4 some objects. We even had to shoot a statue to retrieve a diamond, which brings back memories.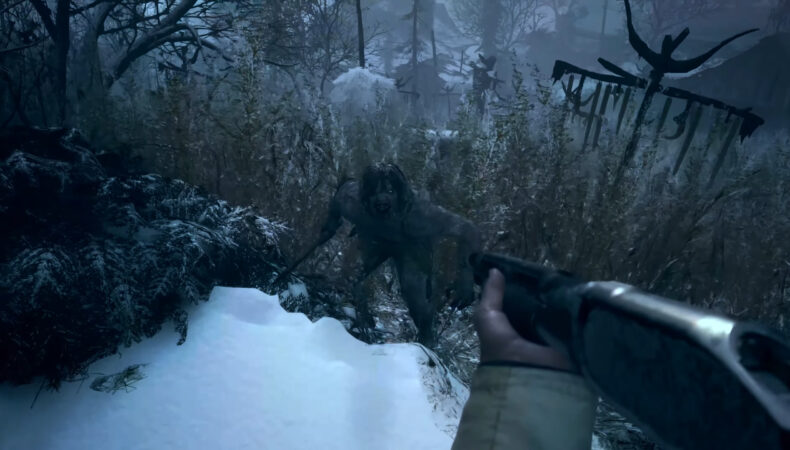 Otherwise, the merchant not being present in the demo, we could not experiment with either the buy / sell system, or the possibility of improving Ethan's attributes, as well as those of his weaponry, but again this very close to what we experienced with Leon. The rest, from the gunfights to the progression, is rather modeled on the last canonical episode to date.
The aim is still more flexible and Ethan a little faster in the execution of his movements, we can now step over obstacles and even barricade ourselves in a house to repel the few werewolves who roam in these places. In the demo, there are 3 of them and they are lively, aggressive and fight with claws as well as with bladed weapons. Our hero defends himself with what he has, a pistol, a shotgun and even a mine that inflicts devastating damage.
We were also able to try some other features of the title, in particular some mechanics related to puzzles, very classic incidentally, or even make a few objects. We also had the possibility to blind our attackers by exploding bags of flour when they approached it, or to barricade us in an old barracks to shelter us and kill the lycans from the inside in safety, knowing that barricading oneself offers only temporary security.
In short, Resident Evil Village left us with a very good impression with the controller in hand and on top of that it was downright pretty, the RE Engine is once again technically very solid, even on PS4 Pro. Really exciting version and which totally reassured us, even if in resolution mode the game is a little less fluid and suffers from a few jerks absent in performance mode.
---
This first foray into Resident Evil Village totally won us over. Capcom clearly aspiration to offer us one of the most ambitious episodes of the saga, as evidenced by the gameplay mechanics including some of the best ideas of the saga. It remains to be seen once again what this will give in the long term, especially in terms of the scenario and the pace.
Because we all remember a Resident Evil VII which ran out of steam in its last part, and even if very different, because here the exploration, the depth of the game, the staging and the gameplay seem more in-depth, it does not You shouldn't claim victory too quickly either. Nevertheless, this Village demo made our mouths water and we can not wait today to get our hands on the final version of the game..
See you next week for our review of the "Château" demo.
---


Riku