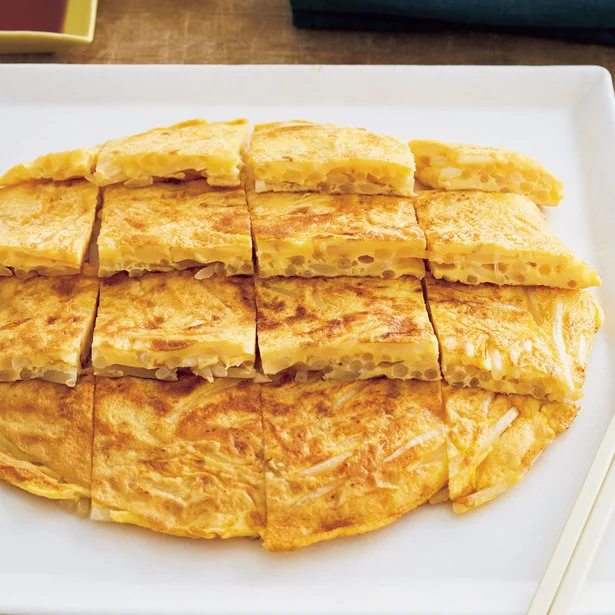 Bean sprouts egg chijimi
Fluffy egg sauce toast
Spicy miso egg
Souffle omelet
Chinese style savoury custard
When you use it, it decreases at once, and you have to buy more! After that, have you ever noticed the eggs lined up in the fridge after buying too much and became sick again? Here are 5 selections of single-use egg menus. Up to 10! We have collected recipes that allow you to consume eggs at once.
Bean sprouts egg chijimi
[Materials for 2 people]
3 eggs, 1 bag of bean sprouts (about 200g), dough (a little grated garlic, 5 tablespoons of soup stock, 2 tablespoons of flour, 1/3 teaspoon of sugar, a little salt), salad oil, vinegar, soy sauce
[How to make]
1. Put the dough ingredients in a bowl and mix, then break the egg and mix. Add bean sprouts and mix further. Moisturize with egg-rich chijimi dough.
2. Heat 1/2 tablespoon of oil in a frying pan over medium heat, pour 1 into it and bake for 3-4 minutes. When the top surface has hardened, cover it with a plate and return it with the frying pan. Slide it back from the plate and bake in the same way.
3. Take it out, cut it for easy eating, and serve it in a bowl. Mix and add appropriate amounts of vinegar and soy sauce.
(204Kcal for 1 person, 1.5g salt)
The fluffy dough matches the bean sprouts with a crispy texture. Let's have it lightly with vinegar. Bean sprouts are an ingredient that you can buy at a reasonable price, so it is also recommended when your wallet is in a pinch.
..