You want to access and control your computer remotely on your iPhone but don't know how to do it. Along refer to the following article of ElectrodealPro.
Related posts
How to remote Desktop on Windows 10
How to control a remote computer with Chrome Remote Desktop
Microsoft released Remote Desktop for Mac 10 new, intuitive interface
Supremo Remote Desktop – Control your computer remotely with a super convenient Smartphone
Instructions to access remote computers using Chrome Remote Desktop
To control a remote computer on an iOS phone, the solution is to use Microsoft's Remote Desktop tool. This tool is designed to allow users to access the computer screen, open files and work on applications, … right on iOS devices.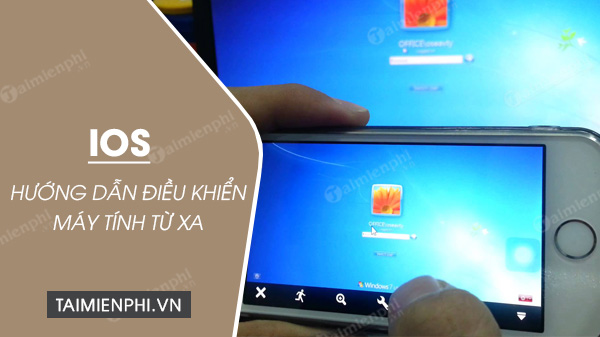 Guide to control a computer with an iOS phone
See also: Control a remote computer with TeamViewer on Android
Remote computer control on iOS phone
1. Allow remote access
To set up remote desktop access on your iPhone, first on the computer you visit Settings => System =>Remote Desktop and enable options Enable Remote Desktop.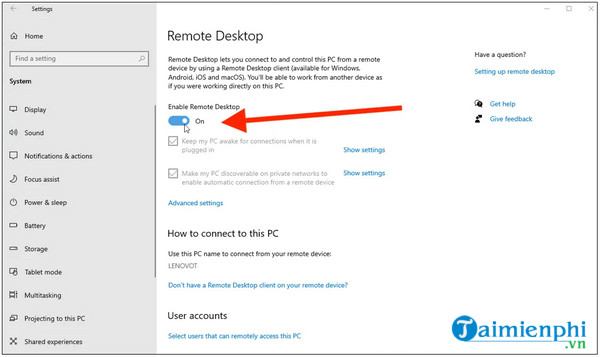 Default options Keep your PC awake for connections when it is plugged in and Make my PC discoverable on private networks to enable automatic connection from a remote device are all activated. To view or edit, click on the link Show settings are in each option.
Also, remember to save the computer name to use when establishing a connection.
2. Set up remote access
Click on the link Advanced settings and turn on options Configure Network Level Authentication. This option is designed to add an extra layer of security, preventing other users from accessing unauthorized.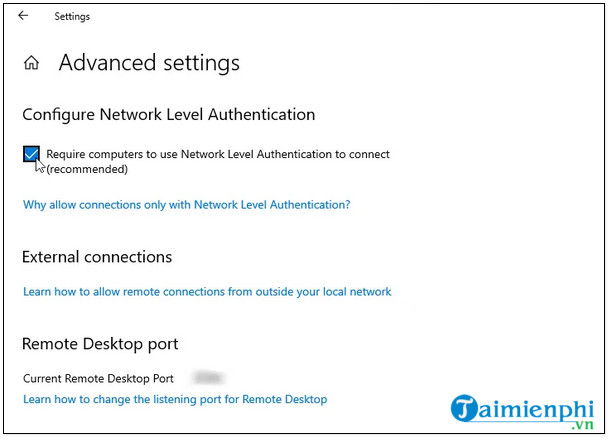 If you intend to connect to a computer on the same network via VPN or other software or applications, you can skip the section. External connections. Item Remote Desktop port shows the default ports to accept remote connections.
3. Remote login
By default, users who have an Administrator account on their computer can access the device remotely. If you're using a Microsoft account or a work account to sign in to Windows, you can use that account to log in remotely.
If you want to grant remote access to another account, click the link Select users that can remotely access this PC in the bottom corner, click select Add and enter the username for the account you want to use.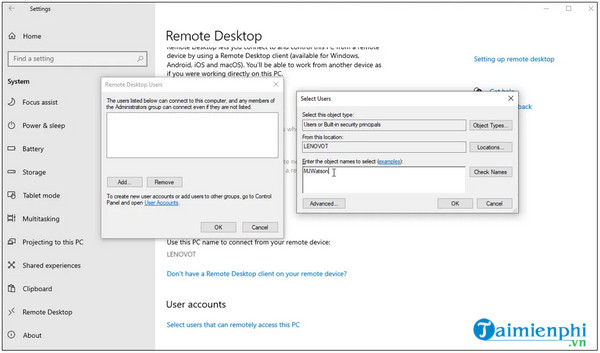 4. Set up remote access on iPhone, iPad
The next step, on your iPhone (or iPad), open the App Store, find and download an app called Remote Desktop.
Download Remote Desktop and install it here.
=> Link to download Remote Desktop Mobile for iPhone


Open the application, then click on the symbol (+), select Add PC.

5. Add the computer on the iOS device
On the Add PC window, enter the computer name or IP address in the field PC Name. Enter the username you want to use in the box User Account, or set the item Ask When Required to enter the username each time you connect.
In the item General, enter any name in the box Friendly Name. Turn on connection Admin Mode to open the Windows server management console. Optional Swap Mouse Buttons allows to swap left and right mouse buttons.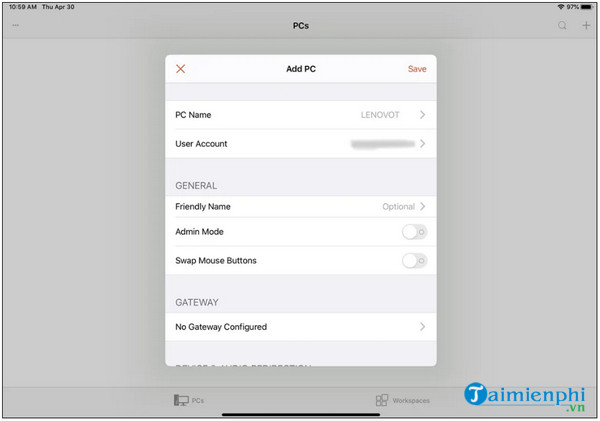 In the item Gateway, Enable and set port preferences if you use them Remote Desktop Gateway to secure remote connections.
6. Configure session features
Scroll down to find the item Device & Audio Redirection and enable features you want to use while connecting remotely on iPhone.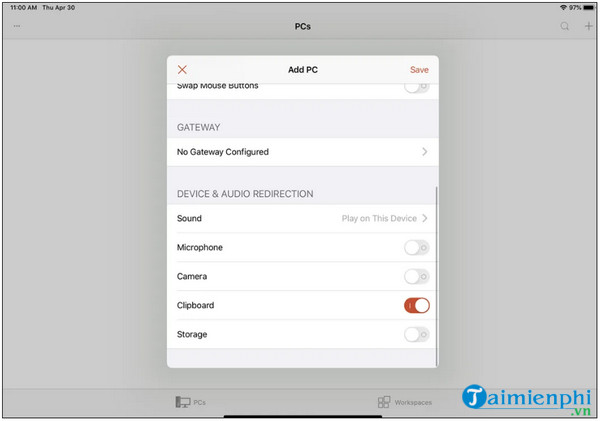 7. Connect remote computer on iOS
In this step, find and click to select the name and computer icon that you just set up. When you first access the computer, the Remote Desktop application may ask you to verify the connection to that computer. Choose an option Don't ask me again for connections to this computer and choose Accept.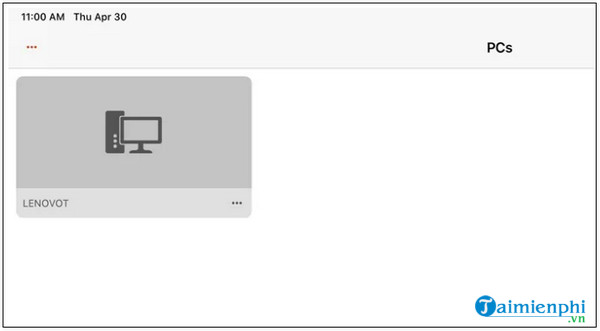 After successfully connecting to the remote computer, you can open applications and windows on the computer, … right on your iPhone device.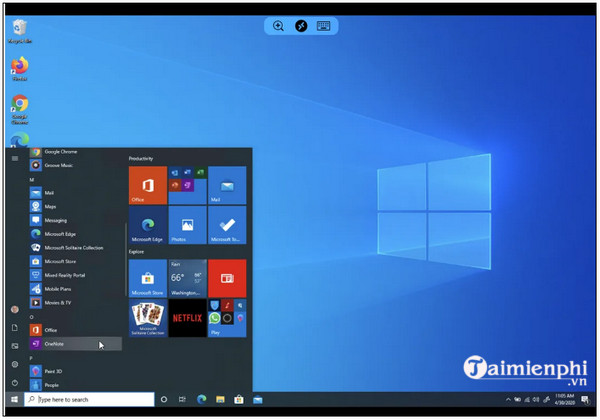 To control the remote session, the application displays a small toolbar in the top corner. Click the magnifying glass icon to enlarge or reduce the screen. Click on the keyboard icon to display the device keyboard.
8. Remote connection management
Click the middle button icon to display all remote connections. Find and click any connection to switch to another session. To return to the main window, click the homepage icon. Select the hand icon to switch to the touch screen mode, or click the mouse icon to switch to mouse mode.
Finally, click the X icon to disconnect that session or press select Disconnect All PCs to end all current sessions.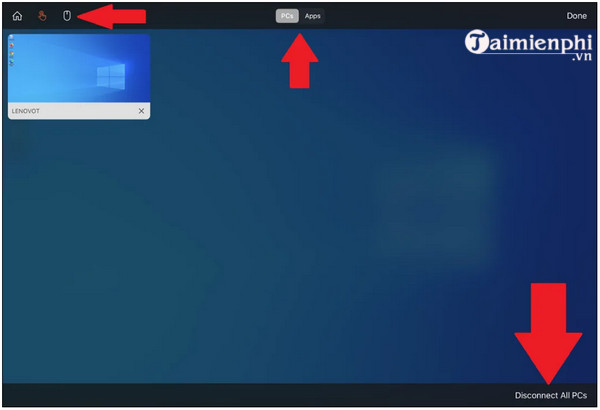 In addition, you can also see for yourself Top 10 computer connection and remote computer software so you can choose for yourself the best and most suitable software.
See also: Computer connection software
https://thuthuat.taimienphi.vn/dieu-khien-may-tinh-tu-xa-tren-dien-thoai-ios-50511n.aspx
Above is how to control a remote computer on an iOS phone. Hopefully the above article has provided you with useful information. Good luck!
.