I'm still at home this year, so I keep on watching NETFLIX movies and dramas while drawing.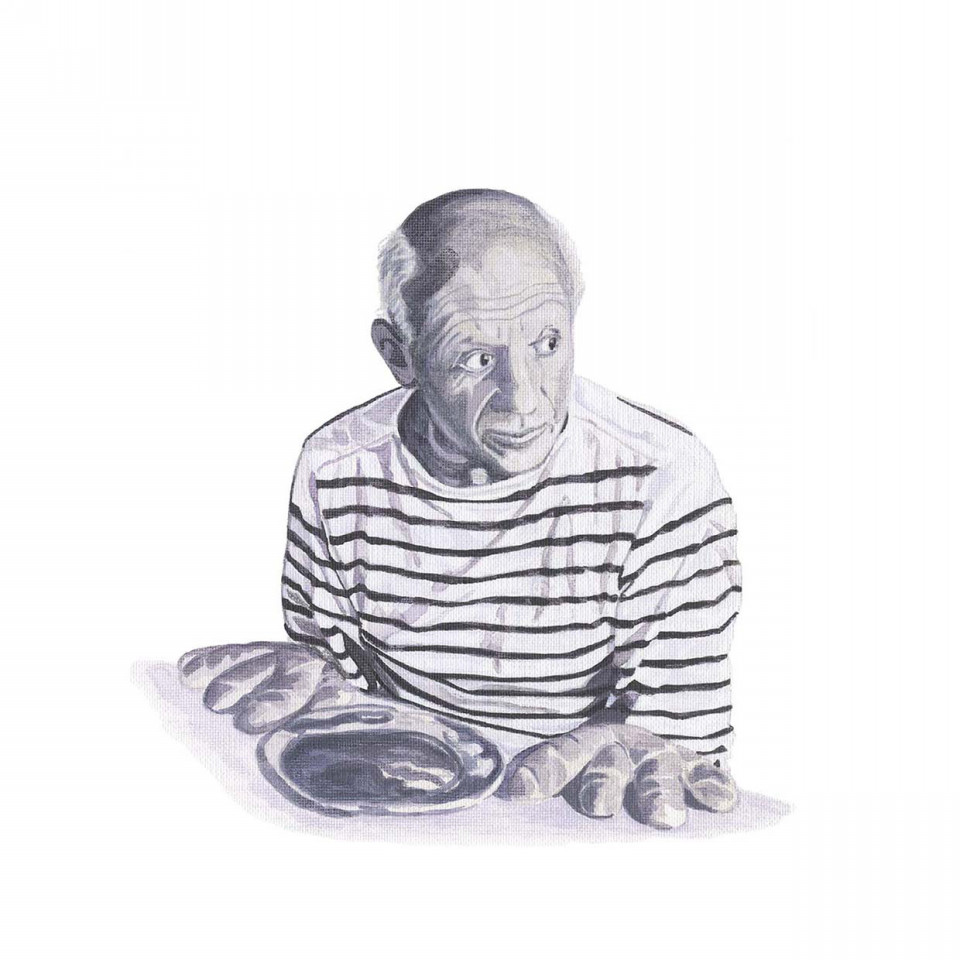 I'm sorry.
Picasso has nothing to do with it.
From 2020 to 2021 I watched a lot of dramas, and I would like to introduce some of them.
The first thing I was addicted to was the American drama "Queens Gambid".
A chess-themed drama.
As soon as I saw the hotel room in Paris in episode 1, I was fascinated.
The color scheme of the image is unique, and the character of the girl who plays Beth as a child is also good.
Elizabeth Harmon (Beth), whose mother died in an accident and became an orphan, begins living in an orphanage.
The janitor, Schebel, is interested in chess, which he used to play alone, and asks for teaching.
Beth, 13 years old, is taken over by Mr. and Mrs. Wheatley.
When I look up a chess game, I need to pay a participation fee, so I write a letter asking Schebel to lend me some money. Participate in a chess game with the money lent by Schebel, who knew Beth's talent.
Most of the participants are men, and Beth wins.
This is how Beth's chess life begins.
The friendships with friends and foster parents Alma that I met through chess, and the way they succeed while worrying, are awesome.
The content is interesting, but in addition to that, the interior design of her fashion and homes, hotels and match venues in Mexico, Russia and Paris is amazing, so it's exciting to see.
Next, I was addicted to the Spanish drama "Paper House".
A story about eight robbers, each with their own special skills, standing in the Madrid Mint and escaping with 2.4 billion euros.
The leader who attempted the robbery is called a professor, and each of the seven members of the robbery group is given the name of the city of each country.
When negotiating, I started to see it because I wore a Dali mask and it was visually fashionable and interesting, but there was also a bargain with the police and a bargain with 67 hostages, so I was thrilled and traitored. Is it really possible to escape because there are some outings and twists? ?? I really enjoyed it.
And the French drama "Agent Story".
The original title is "Call My agent !!" "Call my agent !!", but in Japan, an agent feels like a manager …..
It's a story of agents struggling every day to motivate their actors.
This drama was interesting and I watched it over and over again.
I could only choose French and Portuguese for the audio, so I couldn't understand this while drawing a picture, so I watched it while reading the subtitles.
After looking at it several times, I found out what it was, so I kept playing it in French.
The stage is an entertainment agent.
Matthias betrays his friends for his calm career.
Matthias' assistant and mistress Noemi.
Andrea is a good man and has a lot of energy.
Andrea's assistant and newcomer Camille.
Andrea and her best friend Gabriel.
His assistant, dry Elve.
Noemi and Elve make me laugh the most.
When I started watching it, I saw it from season 1 to season 3 in a blink of an eye with a funny laugh.
In addition, Juliette Binoche, Charlotte Gainsbourg, Beatrice Dalle, Monica Bellucci, and Jean Reno have appeared as the actors.
When I was a student, I liked French movies and watched them a lot, so when an actor I knew came out, I got excited.
It's a comedy, but I like the fact that it's not a comedy comedy.
The last is the British drama "Afterlife"
I found this drama thinking "I want to hear British English …", but this was good! !!
Tony, the hero who lost his beloved wife and desperately desperate, seems to be harsh and rational, and it seems to be unpleasant to see, but for some reason he laughs at his words and actions.
If you keep looking, you'll find that he's not a bad guy.
The truth is, a man with a gentle humor.
It depicts Tony gradually accepting his wife's death in relation to the people around him.
The whole story is full of black humor, but it's also a funny and heartwarming story, and you may like it the most among these four.
In Japanese dramas, I often see "Fruit Takkyubin" and "Midnight Diner".
In addition to movies, I can watch dramas from all over the world, so I've become completely accustomed to staying at home these days.


romi watanabe